The cast of Final Fantasy 7 are incredibly popular, and their stock has only risen with one of the biggest hits of 2020. Some of its changes didn't necessarily please everyone, but Final Fantasy 7 Remake introduced the likes of Cloud, Aerith and Tifa to a new audience as well as satisfying many existing fans.
Most reviews, including my own, reserved praise for the superb characterisation of the main cast who were depicted perfectly, and nicely expanded in many areas.
There's one character whose popularity rivals even that of protagonist Cloud Strife. She may not be as well-known in the mainstream as the likes of Lara Croft or Princess Peach, but I think we're at the point where we can call Tifa Lockhart one of the most popular female characters in video game history.
There is no shortage of great female gaming leads, particularly in the RPG genre, so what makes Tifa so loved by fans? With huge SPOILERS from the original Final Fantasy 7 as well as Final Fantasy 7 Remake, here's an exploration of why Tifa has improved with age, and has become a better character than ever.
She can be sensitive as well as kick ass
It's become a bit of a cliché that being a strong, female character can mean being overly feisty and spunky. Tifa's character strikes a terrific, rounded balance of different strengths without falling into a sassy stereotype.
This point is something that stood out in an interview with her voice actor Britt Baron, who loved exploring the different sides to the character compared to other video game parts she had played.
"I've played video game characters before where they're kind of one note. It's either, you're a soldier, you're fighting, you're a crazy assassin, you know, and that's basically it. You're aggressive. You're tough, and that's the character…"

"What I was drawn to about Tifa is that she is this amazing fighter, and she is out for revenge, and she does have fury inside of her … But at the same time, Tifa is still empathetic and leads with her heart"
Tifa can be delighted to receive a flower and wish to fill her bar with them, and the very next day join an operation to blow up a mako reactor. She'll enjoy wearing an exotic dress and threatening to smash up a creep whilst wearing it.
Her true power doesn't just come from her physicality, but also her emotional strength and sensitivity.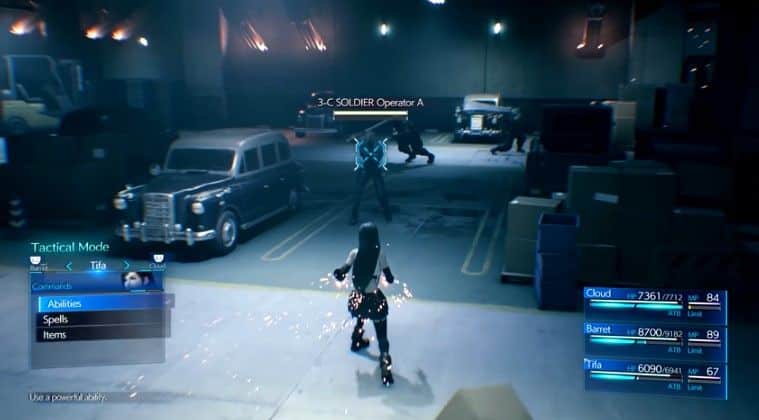 She is great fun to control
One of the best parts of Final Fantasy 7 Remake was the individuality of the characters during battle. Everyone had a distinct style – a far cry from the original where limit breaks were the only meaningful things to differentiate the characters.
Of the four playable Remake characters, Tifa is surely the most fun to control. Her immense speed and power truly capitalises on the action side of the gameplay. Moreover, she can build up ATB bars like there's no tomorrow, with her Unbridled Strength ability also adding extra combos to normal attacks.
Tifa was also by far the most efficient character when it came to building the crucial stagger damage bonus. Her triangle attacks would bump up the stagger percentage, with massive boosts to this granted by higher chi levels. Combining a couple of these with moves like True Strike could reap massive dividends against bosses, provided they didn't break your flow with the deadliest ability in the game – a cutscene.
The only areas where Tifa falls a little short are in the HP and vitality stats, nothing that can't be solved with a couple of HP Up orbs. Her agility also meant she was extremely effective with the Parry materia, which allowed her to pull off a sliding dodge that always felt great.
Outside of battle, it was a bit of a disappointment that Tifa's only controllable Remake section was the clunky monkey bar segment in the Shinra building. Thankfully, there's no doubt she will get a bigger and better piece of the limelight in future instalments. One of the most important parts of the original, was Tifa's stint leading the party in Cloud's absence before finding him washed up in Mideel.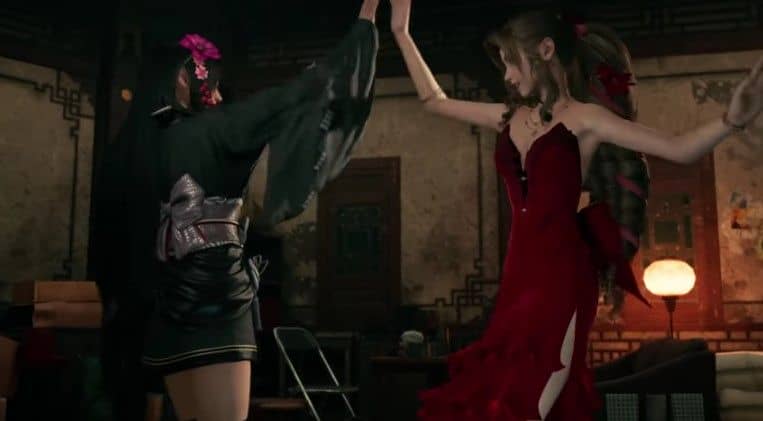 Her relationship with Aerith
Final Fantasy 7 is famous for its love triangle between Cloud, Tifa and Aerith. The original was packed with dialogue choices forcing Cloud to pick between them, all feeding into a calculation behind the scenes that determined who joined him on the Gold Saucer date. Yuffie and Barret were admittedly also available, but it was quite difficult for these dates to arise without specifically knowing how.
The great thing about this dynamic is how little bitterness or jealousy is felt. Credit for this should also be given to Aerith, but it's still refreshing to see how well the supposed rivals for Cloud's affection actually hit it off. Sure, there are a few hints of envy early doors but these quickly dissipate.
In both versions of Final Fantasy 7, the duo immediately bond at Don Corneo's mansion. And since Cloud always gets picked by Corneo in Remake, they get a great scene ending with the meme-spawning Aerith chair shot.
With pleasant banter throughout the sewers, there's a strong mutual respect quickly built up. They work together to fix the water pump, and even agree to go on a shopping date where Cloud carries all their stuff. This bond is encapsulated best when the pair work together to stop Cloud's spiky-headed skin plummeting into the water.
This is another testament to Tifa's friendly and reasonable personality. She probably feels a bit weird about Cloud meeting a pretty flower girl, but she doesn't show it.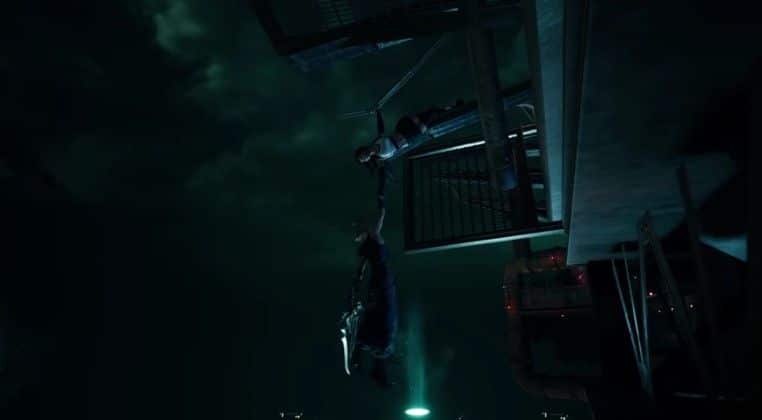 She isn't a damsel in distress
Tifa easily avoids the other cliched female lead trope of being kidnapped and in constant need of a saviour. When Cloud fusses about saving her from Don Corneo in Wall Market, it's all part of her own plan. She puts herself in danger for the sake of the people in the slums, and is more than capable of holding her own.
The youthful Tifa sits on the Nibelheim well and tells Cloud how much she longs for a hero to come and rescue her. But in fact, Tifa is the one who ends up saving Cloud on multiple occasions. In Final Fantasy 7 Remake, she arrives in the nick of time to grab Cloud's hand and pull him from certain death after his battle with Rufus (OK, technically it would have been prevented by the Whispers).
"You gotta be better than this if you're gonna play the hero"
Back in the original, it's Tifa again who rescues Cloud in a very different way. During the lifestream section, it's her compassion and determination that piece together his muddled mind. In finding the resolve to face the hard truths from Cloud's past, she helps restore him to his true self.
These two examples perhaps embody the two sides of Tifa Britt Baron is talking about – her incredible physicality to one-handedly haul Cloud to safety, and her empathetic heart to pursue the truth for the sake of her childhood friend.
Tifa doesn't need saving. She does the saving.

She is deep and conflicted
Even in the original version, Tifa has inner doubts that make her a far deeper, more interesting character. Hints are dropped throughout the original of her quiet pessimism of Cloud. She is reluctant to face it, but when the secrets of Cloud's past are exposed we learn that Tifa always felt something was not quite right. She says that Cloud knew things he shouldn't and didn't know things he should. Deep down, she's aware the story he recounted in Kalm doesn't tally up with her own account.
It takes Tifa some time to process this and voice her worries, but they are always just below the surface. Another example of this comes in Gongaga, where visiting Zack's parents with Tifa prompts an awkward reaction where she refuses to accept that she knew him. Her denial of the truth, whether consciously or subconsciously, likely comes out of kindness towards her childhood friend and also fear that her doubts may be right.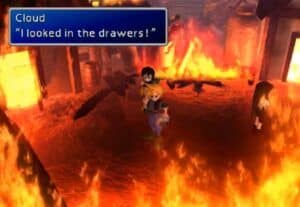 It's only when the party reach the Northern Crater and are confronted with the illusion of a burning Nibelheim does Tifa finally start to face the hard truth. Maybe it's because Cloud confessed to looking in her drawers…
The Remake explores this doubtful, nuanced side of Tifa too, but more heavily in relation to her doubts of Avalanche. Barret believes the planet is worth the collateral damage. Cloud is in it for the money. Tifa, however, feels far more conflicted. Though she supports the cause, she questions whether there is a better way that doesn't cause so much pain.
This was something the developers were keen to expand on within Tifa's character, and it's an incredibly relatable viewpoint when we put ourselves in the shoes of Avalanche's eco-warriors.
"I know we have to think big if we're going to make a difference. But not like this. I just… I feel trapped"

She runs an awesome bar
Darts, pinball, eggs and chips, a secret hideout, pictures of the original Final Fantasy 7 on the wall. Seventh Heaven is the sort of watering hole we'd all love to frequent if we lived in slums at the foot of a giant pizza-shaped metropolis.
She also makes a mean Cosmo Canyon, the house special cocktail even Cloud has to admit is beautiful. Greg from How To Drink, a mixologist who has over a million Youtube subscribers suggests the recipe could be along the lines of:
8 ml. Lime Juice / 15 ml. Amaro Nonino / 15 ml. Curaçao / 15 ml. Luxardo Bitter or Campari / 8 ml. Simple Syrup / 45 ml. Absolut Citron
It sounds like a bit of effort, but I'm sure it's worth a try.
It can't be easy to run a business in the slums, but Tifa isn't deterred by the rough economy down in Sector 7's underbelly. When the plate falls, cruelly destroying Seventh Heaven, Tifa vows to build another elsewhere. I'm sure it would be even more popular than the last one.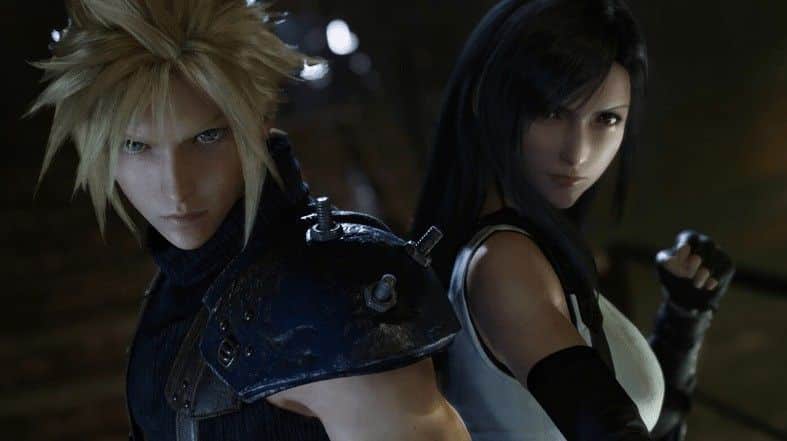 She doesn't throw herself at Cloud
It's commonplace for RPG protagonists to attract an army of potential suitors, and Cloud is no exception. But whereas Jessie compliments and propositions him at every turn (sometimes in jest), Tifa is far more respectable and understated. Again, she strikes a great balance of friendly banter and playful chat without being overbearing.
Let's be honest, Cloud's personality isn't a lot to write home about, especially during Remake and the opening part of the original. He is rude, abrasive, obsessed with money and just a little murderous. Gotta love him.
Though it does seem like she wants to love Cloud on account of their history, she holds herself back a bit. Part of this wants to truly understand him and work through the many emotional barriers he puts up. Another side to this, as discussed above, is that she can't quite put her finger on why something seems a bit off.
Whilst she is always pleasant and friendly to her childhood pal she is not over the top, which for my Gil is a good quality. In the original their bond grows through the ordeals they overcome together, and feels all the more satisfying when they, err, consummate the relationship at the end of disk 2.
It's Final Fantasy 7!
I'd be lying if I said I didn't have a little bias when it comes to this game. And I bet I'm not the only one.
It's considered one of the best games of all time. It's the title that revolutionised an entire genre and brought JRPGs to the forefront of gaming.
Being the main female lead of such a beloved game undoubtedly has an effect. As much as I think the reasons above show Tifa's character deserves such popularity, it's undeniable that Final Fantasy 7's legendary status among fans only boosts it further.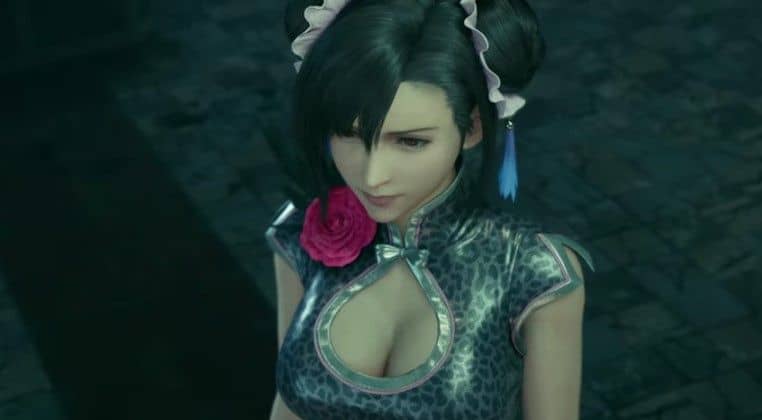 Her looks
Sure, I've saved the obvious until last. There's no getting away from it, Tifa is incredibly attractive. The sheer amount of fan art, cosplay and interest in her chest size would suggest her appearance is understandably a huge draw for many fans.
But to be honest, Tifa isn't as sexualised as some other video game females. Her outfit isn't as skimpy as Velvet's from Tales of Berseria, and she doesn't stick her ass out during battle like Ann from Persona 5. Not that I'm being prudish, but it goes to show that Tifa's beauty is not dependent on an overly revealing costume.
Finally it's worth remembering she is hugely hygiene-conscious, which is always a great trait to have. We never do find out if she takes the shower she mentions approximately 7,777 times in Remake and I'm sure this line was to show her general respect for cleanliness and had nothing to do with fan service.
Is there anything else that makes Tifa such a popular character?