We knew for a while that Final Fantasy 7 Remake would only cover Midgar, a section of the original that could be completed in under five hours. With the average playthrough anywhere from fifty to sixty hours, it understandably led a lot of expectant fans to question whether the game should have progressed the plot further.
I'm willing to give the benefit of the doubt. Remake delivered, and Midgar is by far the largest single location within the Final Fantasy 7 world, making it a more natural choice to be the subject of an entire game. But with it only covering perhaps a tenth of the original runtime, it begs the question of how many games will this retelling of Final Fantasy 7 actually take?
The developers themselves don't seem to know the answer, with Nomura suggesting the instalments may be shortened in order to reduce the gaps between the entries. Given how the first ended we'd surely all welcome a swifter sequel, but with these comments in mind, exactly where will Final Fantasy 7 Remake part 2 end?
I guess now the whispers are defeated, nothing is certain. Not the places we visit, or the order we visit them. But the developers have stuck to their gun-arms about keeping the core story similar, stating an intention to "follow the general flow of the original story". Therefore I think we can still expect to retread largely the same steps as the original, including all of the main locations.
With SPOILERS for the original Final Fantasy 7 and Final Fantasy 7 Remake, there are a few options of where to draw the next curtain.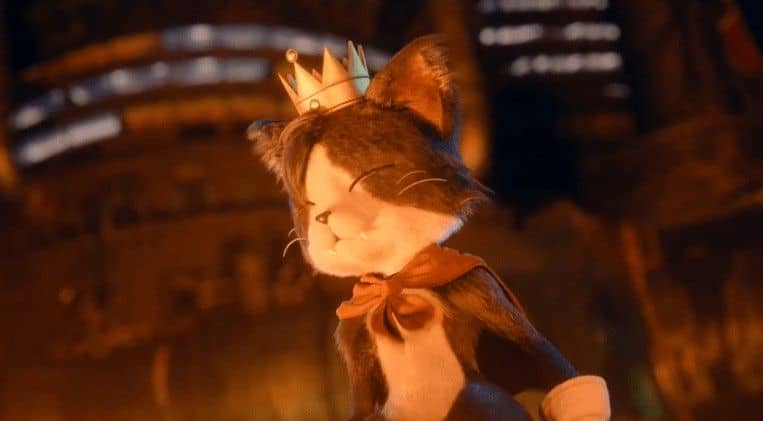 The Gold Saucer
Surely we will at least pass Junon and Corel to reach Dio's entertainment complex. Square Enix weren't shy of including mini-games in Final Fantasy 7 Remake, so the Gold Saucer is sure to be a treat. It seems we'll probably get another chance to ride motorbikes, dance-off, throw darts and maybe even do some pull-ups (which would not be very popular). New games will likely include Chocobo Racing, which has some decent potential after being pretty horrible in the original, along with basketball and shooting lasers in the Speed Square.
Snowboarding and submarine battles were locked out when the Gold Saucer was first visited, and I wouldn't be surprised if this occurs again, saving Square Enix the hassle of creating them.
It'll be a lot of fun, until it all ends with an abrupt visit to Corel prison and a showdown with Barret's friend and Marlene's biological father, Dyne. Though I'm looking forward to this, I'd like to think this would make the game far too short, and if it wraps up here we're probably going to end up with at least seven Final Fantasy 7s. Actually, maybe that's not so bad.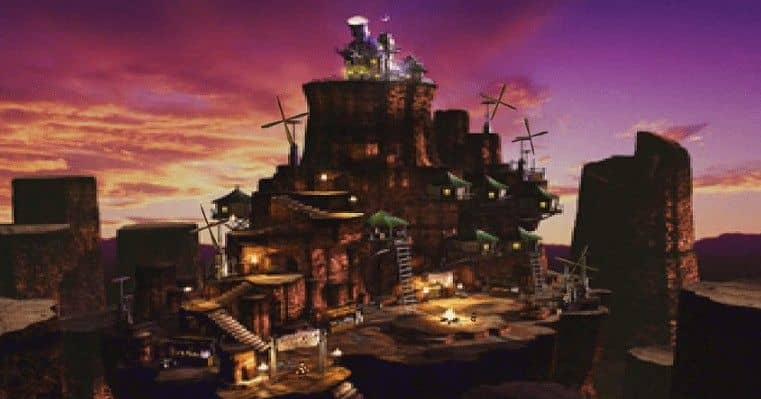 Cosmo Canyon
I for one am immensely looking forward to Cosmo Canyon, one of the most atmospheric locations of Final Fantasy 7 with some of the coolest theme music. Red XIII's home is the point we meet Bugenhagen and learn more clearly how Shinra are draining the planet of its life energy.
The cosy embers of the camp fire would be a great place to throw in a multi-option 'date' event like the one at Aerith's garden, and Gi Nattak was actually a troublesome boss if you didn't know you could throw a Phoenix Down or an X-Potion at him. Rest assured this loophole will be firmly shut when he is faced again, and could be a testing challenge to finish Chapter 2.
Like the Gold Saucer, I'd be a bit disappointed if this is how far we got, as it still seems a relatively short journey, but I guess it would mean three more playable characters (Red XIII, Cait Sith and Yuffie who will not be optional) as well as trips to Kalm, Fort Condor, Junon, Costa Del Sol, Corel, the Gold Saucer and Gongaga. There's a lot of content to be included here, but still a very long way to go.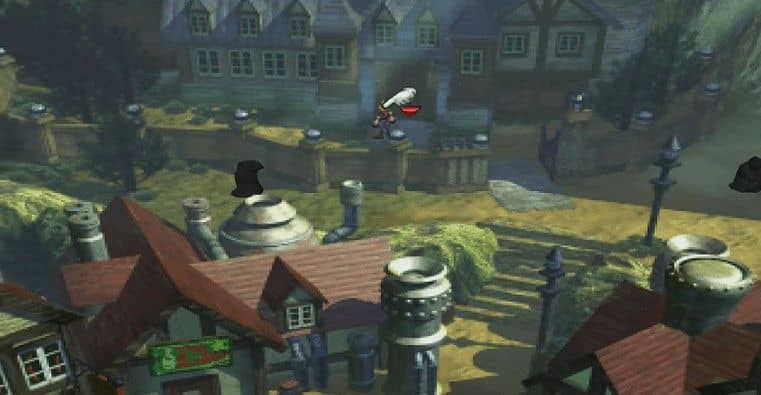 Nibelheim
A little further on could be a better place to draw matters to a close. Cloud and Tifa's hometown, burned down by Sephiroth five years ago, remains eerily unspoiled with townsfolk unaware of the tragedy and a small army of men in black cloaks ready to hand you items. Meanwhile, the creepy Shinra Mansion stands ever looming on the edge of town.
This was not strictly necessary in the original, but a hunt for clues throughout the derelict rooms of the mansion rewarded you with a tough battle against Lost Number and the chance to recruit fan-favourite optional character Vincent Valentine. Again, it is certain his inclusion will be compulsory.
As the site of Sephiroth's mental breakdown, this would be a great place for some more of Cloud's infamous flashbacks and maybe a big plot revelation or two before leaving us hanging.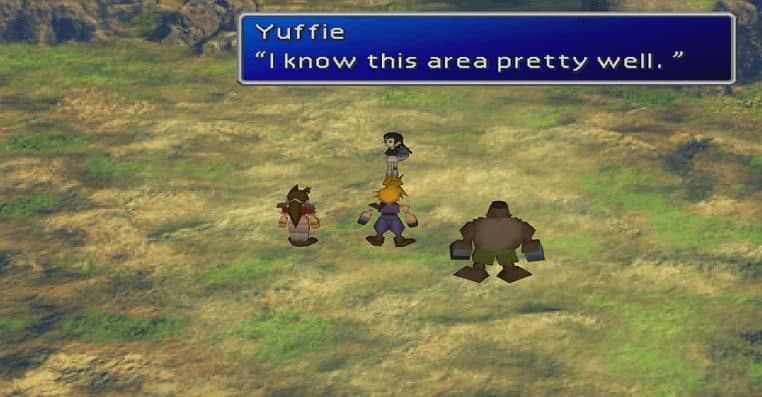 Wutai
Yuffie's hometown Wutai was another optional area in the original. The young ninja stole the party's materia and led them on a merry dance around the traditional Japanese buildings before falling into Don Corneo's clutches.
Since Square Enix are clearly intent on milk— err, expanding the Final Fantasy 7 world as much as possible, there's no doubt Wutai will also be a mandatory visit when Remake's plot reaches it. The war between Midgar and Wutai has already been mentioned on a few occasions, most notably when Avalanche were accused of conducting terrorism on its behalf. It therefore seems likely Wutai will be made much larger in size, and more pivotal to the overarching plot.
The problem with this is that Wutai comes after Rocket Town, which is where Cid is recruited (and would be a rubbish place to end the game – Palmer as the final boss?!). If part 2 were to reach Wutai, it would likely mean Square Enix having to develop the entire party as playable characters, and since Red XIII disappointingly didn't even make it into the party properly this time, it seems like it could be a barrier.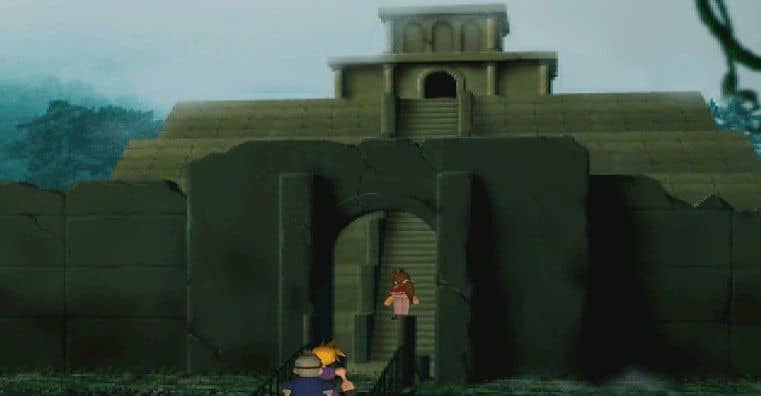 The Temple of the Ancients
But if we are allowed to recruit the whole team, then maybe we'll get as far as the Temple of the Ancients, one of the most important points of the original story. It's where the black materia is found, Tseng meets his maker, and where Cloud and Aerith are deemed perfectly compatible shortly before Cloud beats her up.
It also happens to be the home of – relatively speaking – the hardest boss in the original, Demon's Gate. No other boss required me to grind so hard to defeat it, and this could be a fantastic way to conclude the second chapter. It would also grant us an opportunity to delve further into Aerith's Ancient powers and perhaps show us some dramatic visions of Meteor hitting the planet, or even lending a clue as to how Sephiroth seems to know the future.
It's actually the last point we play as Aerith in the original, and ending the game here will keep us guessing as to her fate, despite being agonisingly close to the part we are so eager to reach.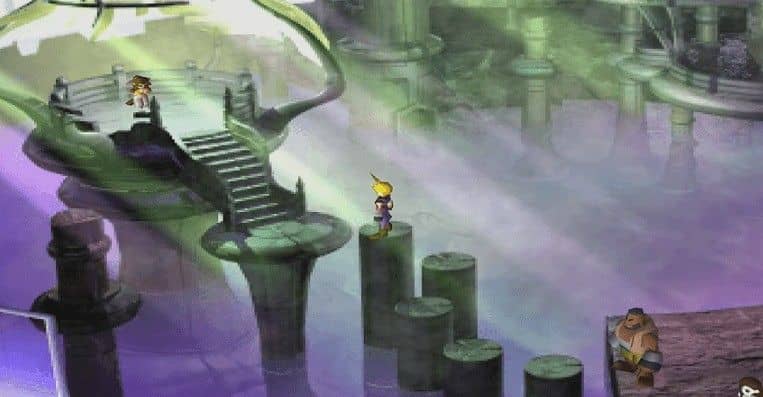 The end of disk 1
Namely, here. We all know what happens in the original, and one of the many, many questions still lingering after Remake's ending is whether these events will be altered.
If we do indeed get to the City of the Ancients there is at least a chance that we'll get to the ending within a reasonable number of games. And whatever version we get of arguably Final Fantasy's most famous scene, it's sure to be a massive talking point. We've seen how divided passionate gaming fanbases can be in 2020, and whatever happens is definitely going to split people.
Purists would argue Aerith's death is still a massive part of the story, and changing this is to strip away Final Fantasy 7's core. Others see the defeat of the whispers as an opportunity to save her, and are frantically praying she will survive.
Honestly, I doubt the next chapter of Final Fantasy 7 Remake will get to this point, but it would certainly be a way of Square Enix generating further hype for the title. My guess is they'd not-so-subtly hint this is where the story will conclude, effectively printing money on behalf of all us fans desperate to learn Aerith's fate.
What do you think? Where will Final Fantasy 7 Remake Part 2 End?

Read my Final Fantasy 7 Remake review here.