In 1997, Squaresoft blew the minds of the gaming world by releasing a title that revolutionised the RPG genre and cemented its place as one of the greatest games ever made. 23 years later, Square Enix have taken the brave step of trying Final Fantasy 7 all over again.
I feel this review of Final Fantasy 7 Remake needs an important precursor, just so you know my angle. Final Fantasy 7 is my favourite game of all time. In fact, it's probably my favourite… thing, of all time. I have played through it countless times, still listen to the soundtrack, and vote for Cloud Strife in any poll of the best videogame characters. Comparisons to the original simply come with the territory.
The sheer fact this game exists was enough to send me into a giddy frenzy when it dropped through my letterbox. Only when the words 'Final Fantasy 7 Remake' actually flashed across the backdrop of Midgar and I heard the train hurtling towards the first Mako Reactor did I actually believe it wasn't an extremely elaborate prank. Especially as so long passed without any meaningful news of development, and at one point reports suggested Square Enix had ripped everything up and started all over again.
After all the cautious pessimism of long-time fans dreaming of this moment for decades, it's… partially here. Final Fantasy 7 Remake is just the first instalment of a full-length Final Fantasy 7 series, covering only the section set within the sprawling metropolis of Midgar. In the original, this was effectively a four-to-five-hour prologue before the journey really started. Here, we have a drastically extended edition spanning some 40 hours of gameplay. Whilst it isn't quite the masterpiece of a fanboy's dreams, Final Fantasy 7 Remake is a superb game in its own right and sets things up for the momentous adventure still to come.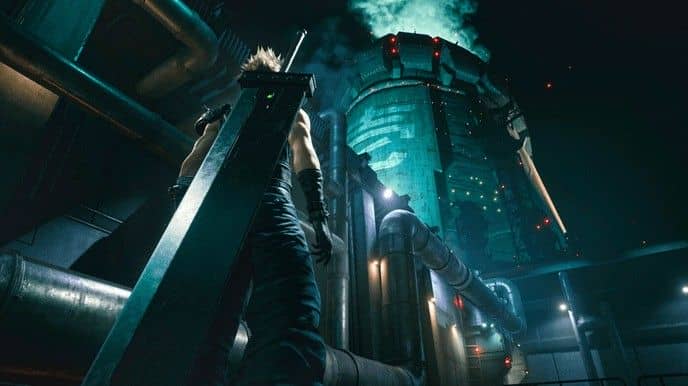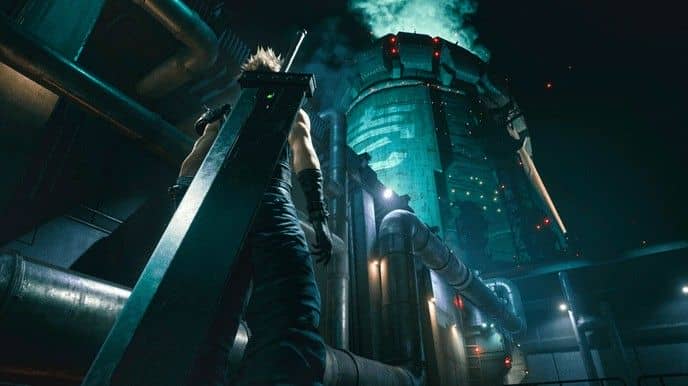 You're basically whacked in the face with the immense graphical overhaul. The opening cutscene, tripled in length from the original, immediately boasts that the new version of Midgar is a living, breathing beast teeming with life, and it rarely lets up. The characters look and sound incredible, with faithful designs oozing style (well, as faithful as you can be to faceless block-people). Somehow even Cloud's obscene hairstyle has been made to look somewhat realistic.
Remake sets us up with the same premise as before. Cloud Strife, cold-hearted mercenary, takes a job for a group called Avalanche to bomb one of the eight reactors within Midgar draining the planet's lifeblood for the profit of energy company Shinra. The edginess of starting a game literally carrying out a terrorist attack was perhaps lost on youngsters of the late 90s, but Remake refuses to let you off the hook as Cloud is soon forced to walk further through the crumbling nearby streets witnessing the devastation of innocent people first-hand.
The main characters are all depicted perfectly, their personalities and dialogue hitting the mark at every point. Cloud's casual, distant exterior immediately clashes with Barret's aggressive passion to save the planet. Meanwhile, Tifa's doubts and fears are given increased screentime and we see more of Aerith's purity than ever. It's clear everything about their actions has been carefully considered, and even the most ardent fans of each one won't be disappointed with the justice done to their beloved heroes.
Other than the obvious visual improvements, the most significant departure is in the battle system, where the classic Active Time Battle (ATB) is amalgamated with more modern action elements. The screen no longer randomly swirls into battle, but enemies now spring out of their hiding spots into conveniently open spaces, Cloud drawing his sword and delivering a one-liner as he engages his latest foe, giving a dynamic experience that doesn't take a break. We don't get a victory whirl of the sword too often but Barret loudly hums the good old fanfare from time to time.
In battle, players press square to use standard attacks which charge their character's two ATB bars. The bars also fill themselves up over time, but landing attacks considerably speeds them up, meaning it's never a case of sitting and waiting. Once ATB bars are full, players can slow the action to bullet-time speed and spend them on special commands such as magic, items and abilities. Though one character is controlled at a time, commands can be issued to the other party members who will refrain from using any action that costs ATB unless specifically directed.
The four playable characters in Final Fantasy 7 Remake all have completely unique styles and strengths. Cloud wields his sword at close quarters but is capable at magic, Barret uses his trusty gun-arm to pepper opponents from range, Tifa plays like a beat-em-up character, smashing enemies at speed with martial arts whilst Aerith blasts energy from afar, slower but with far more magical prowess than the others. You can smoothly flip between characters on the fly with simple press of a directional button.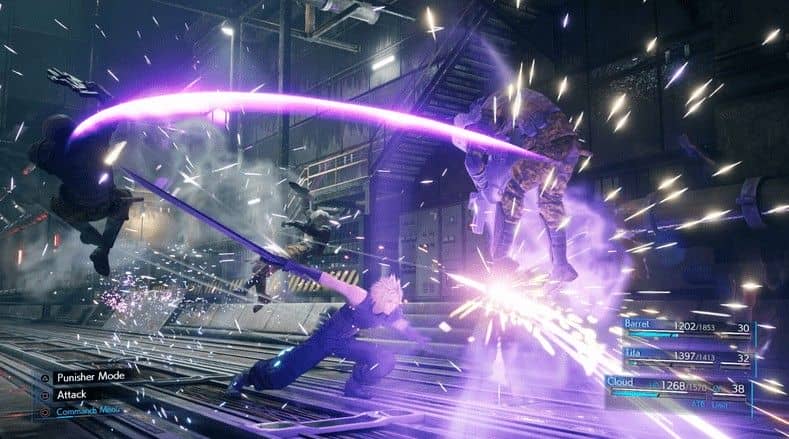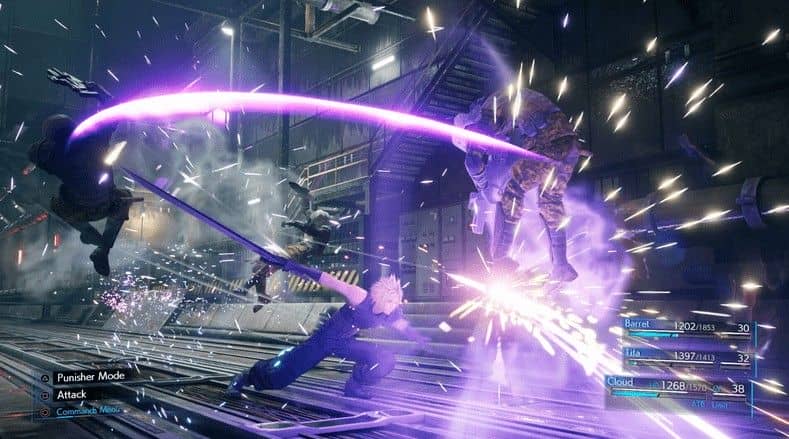 Along with dealing damage, attacks also affect the enemy's stagger gauge, a new mechanic that most notably comes into play against stronger foes. Filling the stagger gauge incapacitates the enemy for a small amount of time and earns a damage bonus, granting an opportunity to launch an all-out attack with your most powerful moves to take them down. Among those are limit breaks – unique, super attacks that come with their own mini cutscene, available when enough damage is taken by the character and their limit gauge is fully charged. The only issue is that it is tactically better to swap characters as soon as you instigate them, meaning you miss out on the cutscene.
Now, it's easy to misunderstand the battle system. If you treat it like, say, a 'Tales Of' game where you can comfortably get through the entire game controlling nobody but the main character, you'll struggle to succeed and also miss out on the variety of the characters. Final Fantasy 7 Remake heavily encourages you to switch characters in two main ways – firstly, a character's ATB gauge charges much faster when you're in control, and secondly enemies tend to target whoever you're controlling if you linger on them too long. The best results are achieved by switching constantly and whilst this can feel overwhelming at first, it'll soon click and you'll find a nice rhythm of shifting between characters at just the right time.
The AI generally plays conservatively and other than the odd inexplicable occasion of a ranged fighter rushing in as the boss winds up a huge attack, your uncontrolled party members tend to stay out of trouble and are competent at blocking and dodging. On auto-pilot, they don't go out of their way to deal much damage and with that in mind, I find the system best thought of as real-time version of turn-based battling. When the penny dropped for me, this became my favourite RPG battle system of recent times and probably the entire Final Fantasy series.
Materia goes hand-in-hand with this, and works as well as ever. For those unfamiliar, characters have space within their inventory to equip a set number of powerful orbs known as materia – these confer things such as elemental magic (fire, ice, thunder, wind), stat boosts, additional commands such as the ability to steal, or support materia that can connect to another and provide extra effects. For instance, linking an elemental materia to a separate fire materia will imbue attacks with fire and will be particularly useful against enemies weak to it.
It's a joy to tinker with materia setups to find combinations that work best in certain situations, and there are plenty of new, unfamiliar options appropriate for the changed battle system. However, I'd say Final Fantasy 7 Remake could do with a quick-transfer option for changing materia over from one character to the next, which can be an arduous task when party members are swapped during the story.
One criticism of the original materia system was that no character was truly unique as – outside of their limit breaks – they could be customised in exactly the same way by equipping the same materia meaning it didn't particularly change the gameplay no matter who you chose in your party. High on my wishlist was a bit more individuality in battle, and it's safe to say Remake more than delivers on this. Not only are the playstyles of the characters completely different, but each have their own unique ATB abilities that can be used by expending only the ATB gauge without costing valuable MP.
More of these abilities are unlocked throughout the game from different weapons, and are mastered forever after a small amount of usage, encouraging you to equip the new weapons but not keeping you apart from Cloud's famous Buster Sword for too long. It's a lovely touch to see the materia you've equipped transfer onto the character models, including in cutscenes.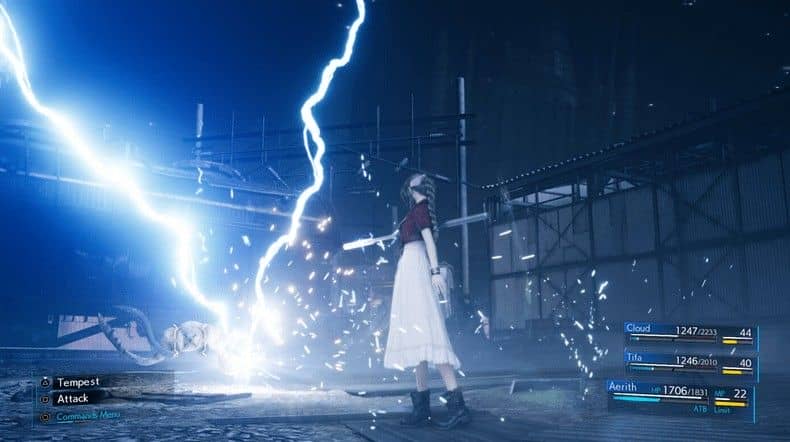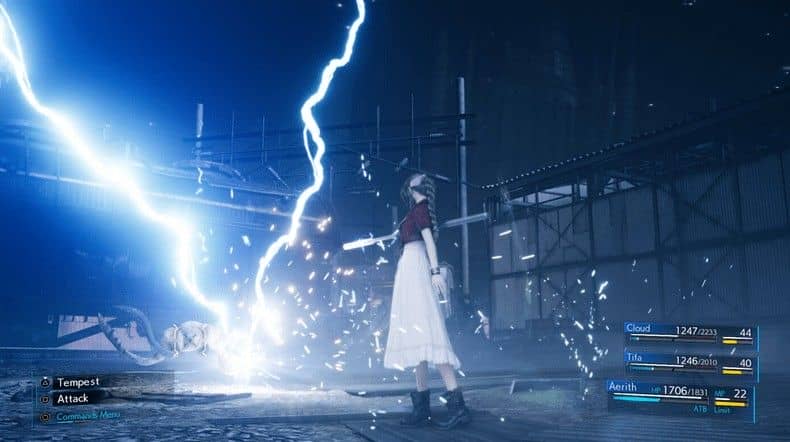 The main flaw of Remake's combat is not so much with the battle system itself, but with the regular transitions made by bosses into their next, more dangerous phase. Most bosses have about three stages and it can't be coincidence that the second always seemed to activate just after I inflicted a stagger. The most frustrating thing about this is that you're urged to let rip at this point and have likely spent all your ATB bars and a chunk of MP unloading your attacks, only to have them agonisingly cancelled out by a cutscene.
It's a great shame because otherwise, boss battles are a joy to behold, requiring far greater thought and strategy as you attempt to exploit their weaknesses and gain the upper hand. On occasion, the formidable foes of Remake even remind me of Dark Souls or Zelda, where is it just as crucial to consider the boss's attack patterns and gauge which moves are best blocked or best dodged. And though the transitions can annoyingly disrupt the flow, the spectacle left as the battle reaches its climax is often something special.
Outside of battle the locations, characters and music simply cannot fail to evoke waves of nostalgia in long-time fans. A few hours into the game, I recognised a piece of slightly reimagined music from the original classic soundtrack, and decided I didn't like the point they had introduced it. This was perhaps the moment I understood the gravity of the task at Square Enix's door. It is absolutely impossible to please every member of such a passionate fanbase, and believe me – if you are a fan of the original you will not like every change. There are some brave and divisive creative decisions made, which I will certainly not spoil. What's more, there are probably a few things you've been pronouncing wrong for 23 years.
Turning to the music, Remake's composers have completely knocked it out of the park, adapting the original spine-tingling soundtrack with improved versions of classics along with plenty of completely new tracks. For me, there were a couple of slight missteps (the Mako Reactor music didn't contain the same foreboding atmosphere as the original) but on the whole this soundtrack is simply unbelievable and is one of the best video game soundtracks you're likely to hear.
Final Fantasy 7 Remake's expansion of classic moments is at times pure bliss, but at others unnecessary overindulgence that goes a step too far. I'm delighted to spend a bit of extra time clambering over rooftops with Aerith (who throws in a brilliant "Let's mosey" reference!) and walking through Sector 5 interacting with the common people to show just how lovely she is. But we probably don't need to separately explore the area alone whilst she helps someone out, or slowly walk through her garden picking flowers.
This is essentially Remake's greatest weakness – its insistence on slowing things down. Sometimes that's in largely inconsequential sections, like a couple of tedious chapters that could probably be omitted entirely, or optional mercenary jobs you feel obliged to complete but are clearly shoehorned in to pad the gameclock nearer the golden 40-hour mark that justifies its status as a "full game". I can't remember the last RPG that didn't have a quest requiring me to search for missing cats, and it slightly saddened me when Final Fantasy 7 was reduced to it.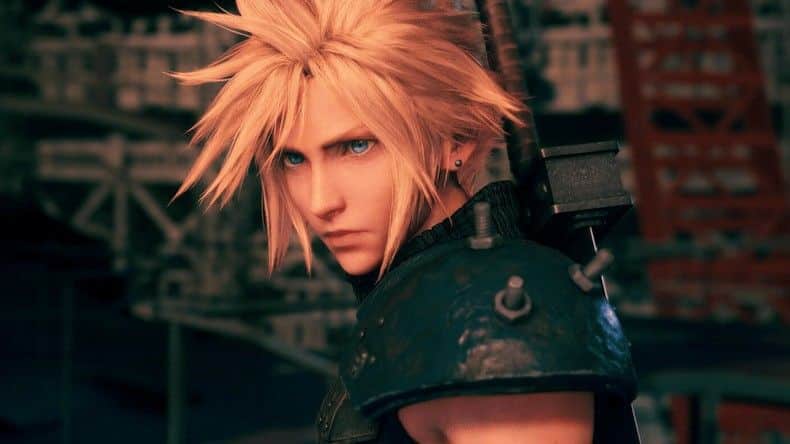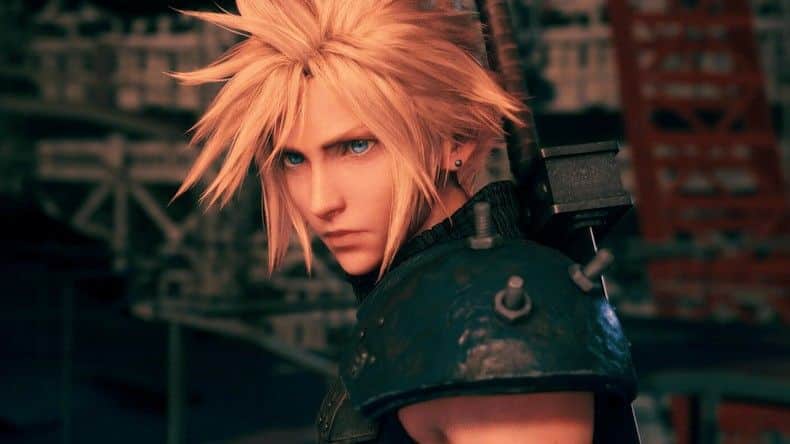 Often, the pace is quite literally slowed as Cloud is forced to gradually squeeze past a giant piece of debris or walk at a snail's pace because the game demands it. These sections usually add nothing, and the cynic in me strongly suspects it's Square Enix's way of avoiding some longer loading screens. After all, it is clear the PS4 has been pushed to its limit (break) by Final Fantasy 7 Remake, with examples ranging from occasional drops to the framerate to more plentiful instances of talking to an NPC only for everyone to stand there silently for about five seconds before the conversation starts. Finally, there are a handful of bafflingly low-res landscapes that wouldn't have looked out of place on some of my failed RPG Maker projects of the mid-noughties.
These issues are made up for by the glorious set pieces, climactic events and boss battles brought to life in a way that was simply not possible in 1997, and experiencing these expanded story beats again acts as a reminder of just how much the original was truly ahead of its time. Its themes, like Midgar's enormous class divide, Shinra's corporate greed, the ecological motivations of Avalanche and the collateral cost of their terrorism methods all feel so well-placed and poignant today. The only thing that would have made Remake more relevant to the real world was renaming Aeris to Greta, but evidently Square Enix opted for Aerith in the end.
Fan of the original or not, Remake is a rollercoaster ride. The recent time I haven't spent playing and replaying has been spent thinking about and discussing it. Make no mistake, there is a 10/10 game here when it wants to be, but Final Fantasy 7 Remake gets bogged down in monotonous padding a little too often for it to quite be considered an all-time great like its PS1 counterpart. Thankfully, Square Enix have got a few more instalments to get it spot on, and with the groundwork laid we are most certainly in for one hell of a journey.
Final Fantasy 7 Remake is available here.