During Yuito's route in Scarlet Nexus, the first difficulty spike of any note comes in the first battle against Kasane. This occurs during the training mission in Phase 2. Kasane craftily lurks in the parking lot near the exit of the Kikuchiba Mid Level Shopping District and ambushes Yuito's team, leading to a one-on-one battle between the psychokinesis users.
Though she's a tricky customer, Kasane can easily be taken down with the correct method. Here is how to beat Kasane in Phase 2 of Yuito's story in Scarlet Nexus.
Do you have to beat Kasane?
In this battle, it's actually worth noting that you don't have to emerge victorious. The story will progress either way.
However, if you're anything like me, your pride simply won't allow this to happen. Winning will reward you with a Power Enhance: Mk I plug-in, which is a pretty scant reward but it's far better than losing.
Recommended Level
Since this is so early in the game, there's no particular level requirement. In fact, once you've got used to her attack patterns you can get through the battle without taking many hits at all. This is a battle of tactics and skill rather than strength. You'll be fine at any level, provided you follow the guidance below.
How to beat Kasane in Phase 2 (first fight)
If you've taken on Yuito's route first, then Kasane's fighting style may come as a little surprise. Unlike Yuito's close-range slash attacks, Kasane fights with whirling daggers which can do damage from range. The bigger her combo, the bigger her area of effect, meaning she can whittle down your health pretty quickly if you aren't careful.
The key here is to generally keep your distance, attack opportunistically and use psychokinesis regularly. You'll need some melee attacks to build your psychokinesis gauge back up, but it's important to not be greedy when you do it. Overindulging on a close-range combo often leads to Kasane regrouping and hitting back with a combo of her own.
The only exception to this is when Kasane is knocked down. which she occasionally can be with psychokinesis. When this occurs, you can safely attack at close quarters until she gets back up. When she's on her feet, retreat again.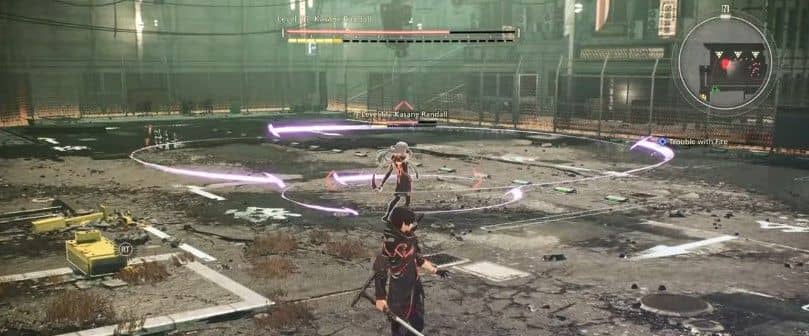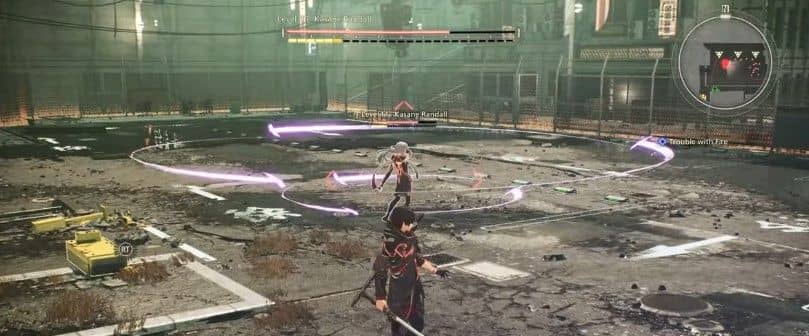 Learn Kasane's attack pattern
Kasane only actually has two attacks – a regular combo and psychokinesis projectiles. Her regular combo has three attacks which starts with a ranged spurt of knives which travels a little further than you might expect, and can easily take you aback.
Once she has attempted her first attack, she will always follow through into the full combo. Stay back until her third attack, which is a large whirling circle of daggers (pictured above). Once this attack subsides, there is a window of opportunity. Rush in and land a few melee hits – I'd recommend going for the special/heavy attack which charges more psychokinesis gauge. Once you've landed one or two of these, get back again!
Your best bet is to be just on the edge of her range, so you can lure her into attacking you with this combo before dodging backwards. To give a guideline, the picture above is just outside her range, so you should generally try be slightly closer than this. When she misses, it will always give you an opportunity. You can even hurl a projectile or two at her whilst she is performing the attacks, before getting some melee hits just after she's finished.
As for psychokinesis attacks, these are clearly telegraphed and if you can score a perfect dodge then you'll have the chance to throw it back her way. Honestly, without access to Tsugumi's clairvoyance you are probably better off just spamming the dodge button whilst she's winding this up and making sure you stay out of harm's way. These can hit for a sizeable amount of damage, and if you do happen to land a perfect dodge then just be ready to intercept for some decent damage.
I'd suggest simply getting as far away from her as possible when she's charging a psychokinesis attack, and then hitting her with your own psychokinesis as soon as her projectile has missed you. Even if it wasn't a perfect dodge, this will still be a handy hit.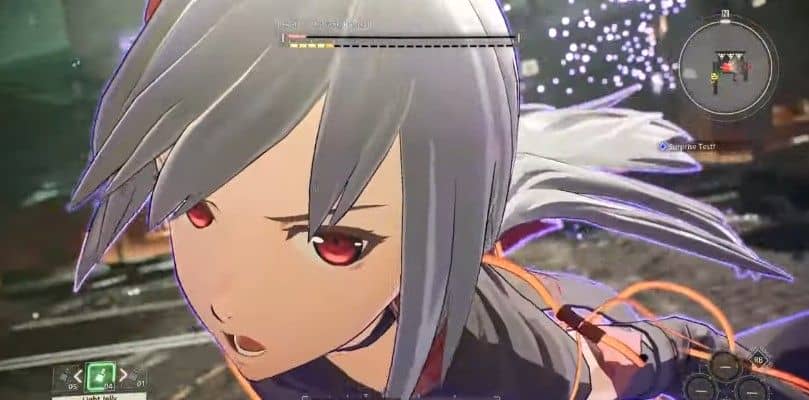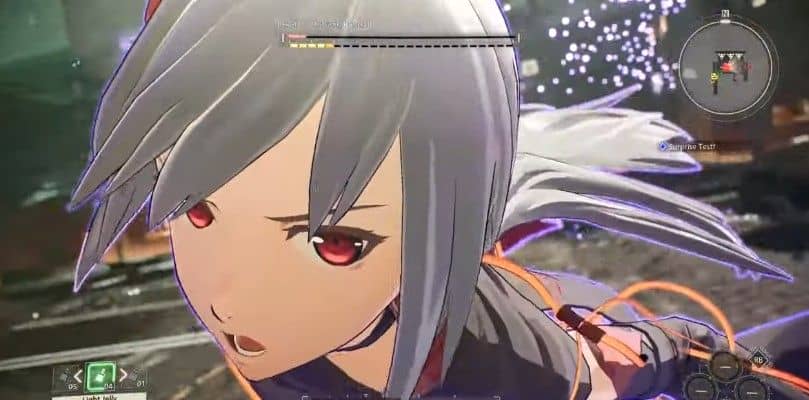 Use gimmicks, but beware
There are some gimmicks on the battlefield in the form of telegraph poles (L2 on Playstation, LT on Xbox), which can of course be utilised for big damage to Kasane's health and more importantly, her crush gauge. A couple of points are important here.
Firstly, these take a little longer to charge than a regular psychokinesis attack, so Kasane can interrupt you if you're not careful. The best time to grab a gimmick is just after Kasane has missed you with a psychokinesis attack, or when you see her final combo move being used. Both will leave you with plenty of time to snag the gimmick object and use it against her.
Secondly, once you've activated the attack, Kasane can counter-attack with psychokinesis of her own. This happens more often when Kasane is on lower health, and there is the possibility it will activate a brief quick time event where you'll have to hammer a button to overpower her. This is circle on Playstation and B on Xbox. Warning: you can't coast through this half-heartedly – it takes some serious button mashing.
If you fail to come out on top during this arm-wrestle of psychokinesis, then Yuito will take the damage himself, which can be very troublesome. Don't take any chances. As soon as the attack is activated, prime yourself to repeatedly tap the button either way. If it transpires Kasane doesn't counter-attack, then this is simply a nice bonus.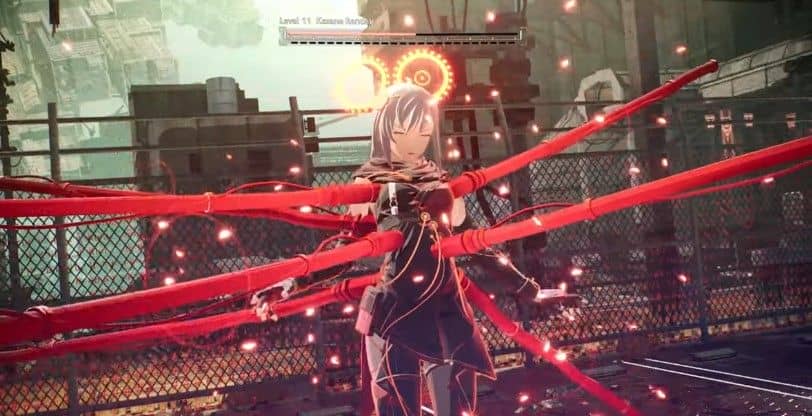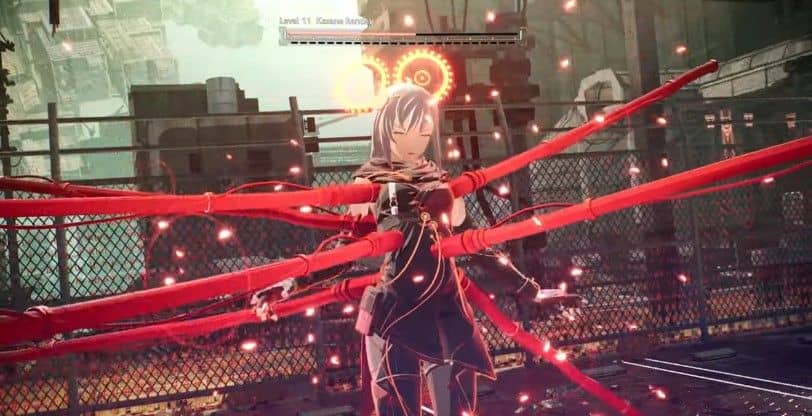 Brain Crush quickly
If you're using the above tactics, you'll definitely manage to deplete Kasane's crush gauge during the fight.
This is great, but it's another area where you shouldn't overindulge. Kasane recovers very quicky from this, so resist the temptation to get a few free hits in before using your brain crush.
If you're close to her, you can probably land a couple, but I'd recommend you don't take any chances. Brain Crush her immediately when she hits the deck and the prompt starts flashing.
Use items at around half HP
Kasane's combo can whittle down a lot of health very quickly, so you should err on the side of caution. Consume a Light Jelly when you're down to about 50%, or perhaps a little less if you want to live life on the edge.
If you don't have a decent supply of these, then Satori is waiting just before the parking lot for you to stock up.
By using these tips of how to beat Kasane, you should be home and dry.
Check out some other Scarlet Nexus tips below, which will hopefully assist during the rest of the game.