The Tree Sentinel boss is an early, optional foe who may very well be one of the first enemies you encounter in the Lands Between. If you tackle him immediately, he can serve as a stark warning that Elden Ring takes no prisoners with its difficulty.
Realistically, Tree Sentinel is better fought a bit later on, once you've gained a few levels and familiarised yourself with the gameplay a bit more. However, he's still no cakewalk and can take you out within one or two attacks. Tree Sentinel can be defeated in several different ways, but we'll provide the most efficient strategy for beating him at a relatively low level.
Here is our full Tree Sentinel boss guide of how to beat Tree Sentinel in Elden Ring.
Tree Sentinel boss fight: General Tips
Before we get onto the attack pattern and specific strategy, here are some general tips that apply during the Tree Sentinel boss fight.
What level to fight Tree Sentinel?
The recommended level to fight Tree Sentinel is Level 20.
Look, he can be beaten far earlier with this if you fight on horseback and nail the strategy, but level 20 with some points allocated to your health will give you far more margin for error.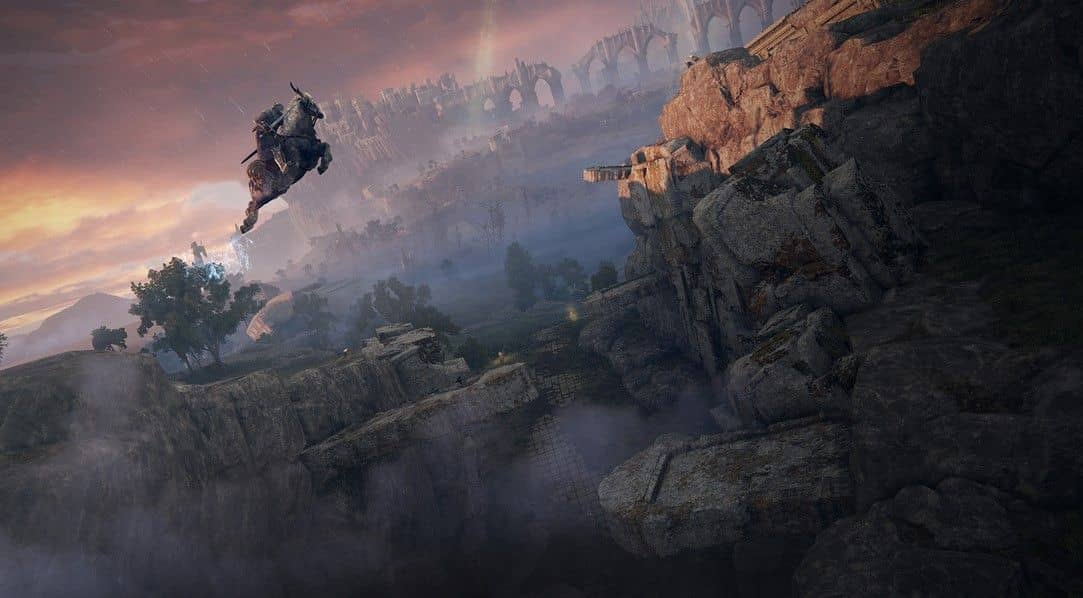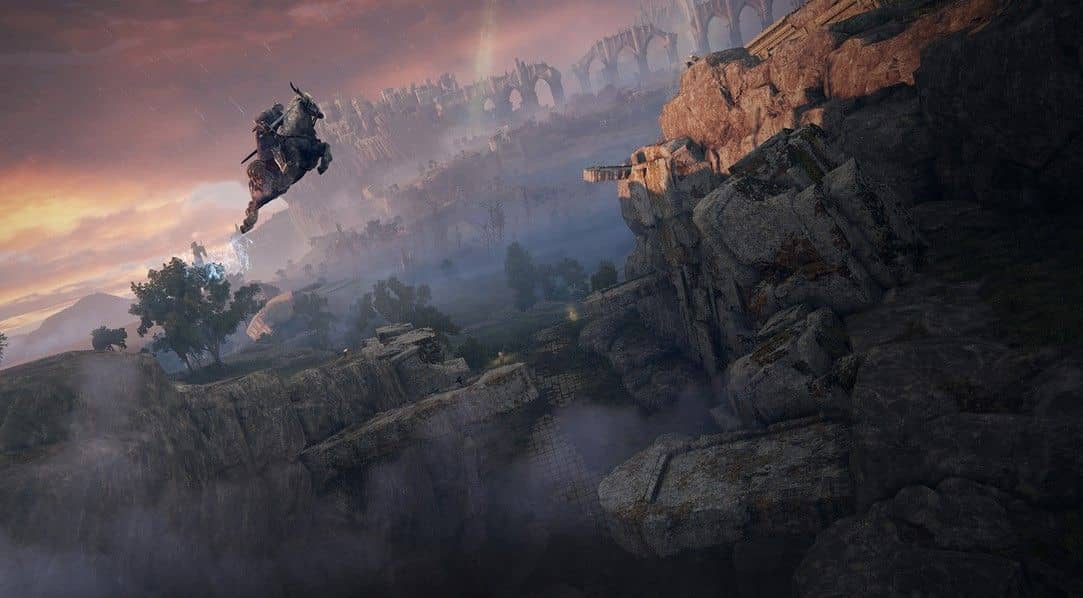 Fight on horseback
Tree Sentinel is on a horse, and your best bet is to follow suit. Torrent the Spectral Steed should be unlocked by now, and he offers enough speed and agility to elude Tree Sentinel's attacks before galloping forward to strike back.
If you haven't unlocked Torrent, rest at three Sites of Grace and Melina will appear to introduce you to your steed and provide the means to summon him. Make sure the Spectral Steed Whistle is set as one of your quick items in case you are knocked off and have to promptly re-summon him.
Another thing to watch out for is accidentally jumping off Torrent mid-battle. If you press down on the analogue stick, your character will leap to the ground and your steed will disappear. You can easily re-summon him but this error can leave you vulnerable at the wrong times. Be careful and get used to applying the correct pressure on the joystick.
Fight two-handed
As a direct follow-up, an important point to note about fighting on horseback is that shields have no purpose. If you fight two-handed, this will not change your attack speed at all but will do more damage. Therefore in battles like this one, where you are prepared to fight on Torrent from the start, it's a no-brainer to hold your chosen melee weapon with two hands.
You can do this by holding Triangle (Y on Xbox) and then pressing the attack button of the hand in question. That's R1 for a weapon in your right hand, and L1 for a weapon in your left hand.
Remember to reverse this afterwards if you don't want to continue two-handing your weapon.
Attack quickly in short bursts
Tree Sentinel can be an awkward boss to master because he doesn't leave any huge openings where you can counterattack repeatedly.
Instead, virtually every attack leaves a small window for one or two hits. This is a battle won by chipping away slowly rather than obliterating him in a long, lethal assault.
As we'll cover in the strategy below, the key is to avoid his attacks, wait a split-second to make sure he has stopped, before sprinting close and landing a blow before retreating again. It can get attritional, but it works.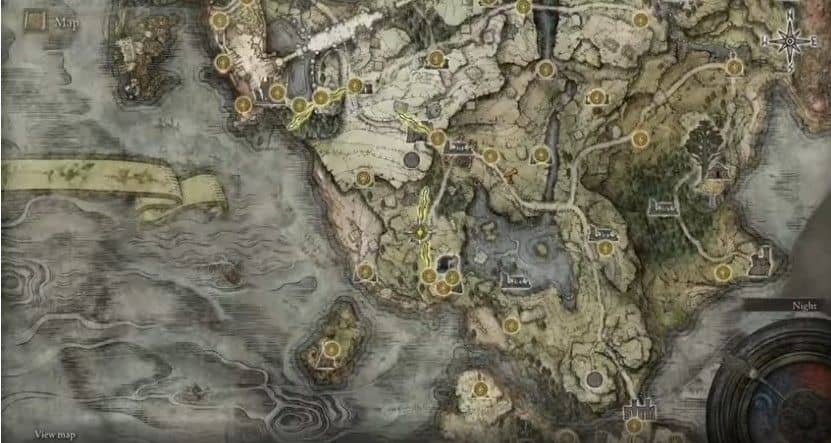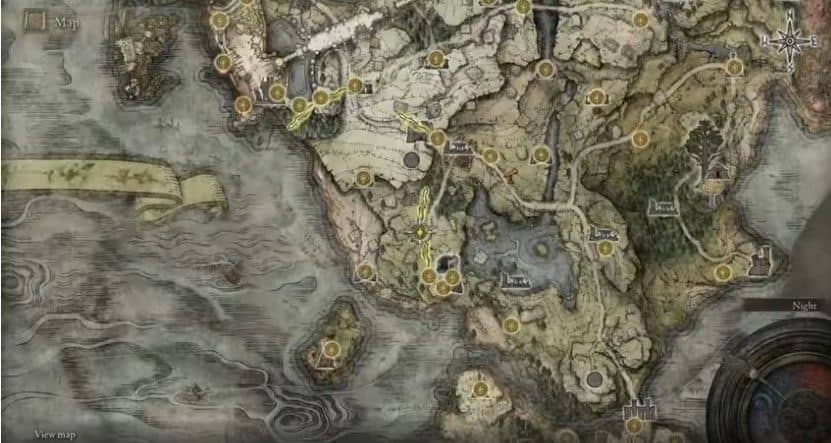 Unlock summons if necessary
Even at an early stage of the game, you will soon gain the ability to summon allies to assist in battle. This is not to be confused with summoning other players to fight for you, but these are NPC warriors known as Spirit Ashes.
Summoning is unlocked by visiting the Church of Elleh after acquiring Torrent (location pictured above). You'll find a witch named Renna who will give you the Spirit Calling Bell and the Lone Wolf Ashes. She doesn't stick around forever but later on the Twin Maiden Husk merchant at Roundtable Hold will sell you the bell for 100 runes and the Lone Wolf Ashes for 500 runes, which is a bargain.
If you're close to the Tree Sentinel, the icon on the left will indicate you can summon a companion. It's likely you'll only possess the wolves at this stage, and these are perfectly fine. They'll probably get defeated if you summon them early on, so it's advisable to save them until Tree Sentinel is on around half health, giving a welcome distraction for his attacks along with some solid assistance to deal damage.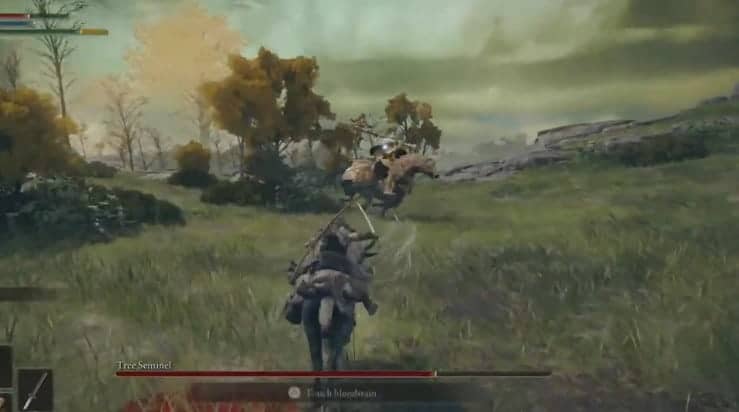 Tree Sentinel Boss Guide: Attack Pattern
Tree Sentinel has a series of notable attacks, which we'll cover below with some tips of how to avoid them.
Halberd Swing – Tree Sentinel will most commonly perform a simple swing of the Halberd, which is easy enough to dodge to the side but often transitions straight into another attack. Therefore it's important to get a bit of distance away so he stops attacking and gives an opportunity to strike back.
Halberd Thrust – The next attack is a bit different, where his horse will rear into the air before he aims a long, straight thrust towards you. It has decent range and must be avoided to the side. Like the swing, he'll usually shift straight into another attack if you aren't far enough away.
Halberd Slam – Another variation where Tree Sentinel will hop forwards whilst raising his Halberd and slamming it down. This is another straightforward one to avoid and it doesn't have a huge range. Like all standard Halberd attacks, quickly move to the side when you see him winding up.
Running Underarm Swing – When Tree Sentinel gallops towards you, he'll telegraph an underarm swing that's easy to see coming but sometimes tricky to avoid as it reaches a bit further than it looks. If you aren't careful he can catch you with this and deal a significant amount of damage (even one-shot if your level is too low). Keep a wide berth when you are avoiding this one and circle around to briefly counter him when he's finished.
High-Jump Slam – In the second half of the battle, Tree Sentinel can leap high into the air before slamming a crushing blow into the ground. This causes a quake that has a wider area of effect that most attacks, so when you see him high in the air, sprint away and put some distance between you.
Horse Stomp – If you are close to Tree Sentinel, his horse will raise its front legs before slamming them down on the floor. This is more of an issue for fighting on foot, and doesn't really come into play for the horseback strategy.
Shield Bash – Tree Sentinel will lift his shield and force it down towards you. Again, this doesn't happen as much during a horseback strategy where you don't stay close to him, but he will use it occasionally. This is another attack that reaches deceptively far as Tree Sentinel can cover a fair amount of ground whilst performing it. As such, don't get complacent when you see this one coming and keep a decent distance away. Counter when he's missed by running around his other side and landing a few hits.
Strafe Attack – One of the hardest attacks to read and dodge comes when you are close by and Tree Sentinel's horse literally slides across the ground towards you. It's quick and doesn't have much wind-up time, leaving you unprepared. It's not a hugely powerful attack but the best way to avoid it is to simply not spend too much time close to Tree Sentinel.
Magic Shield – Tree Sentinel will briefly hold up his shield, causing it to expand and glow gold. This isn't much of an issue for the horseback melee strategy but if you are using any ranged magic, the shield will reflect it back at you while it's glowing. Needless to say, refrain from doing this when you see the glowing shield.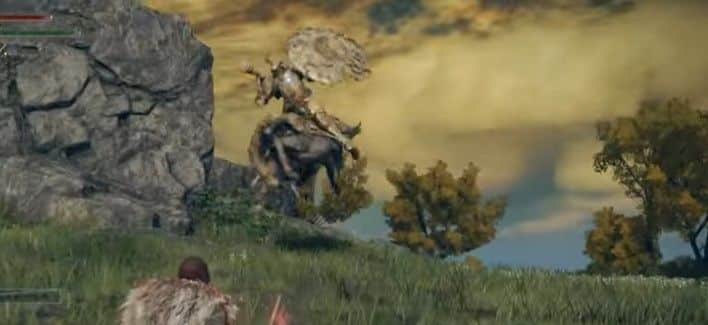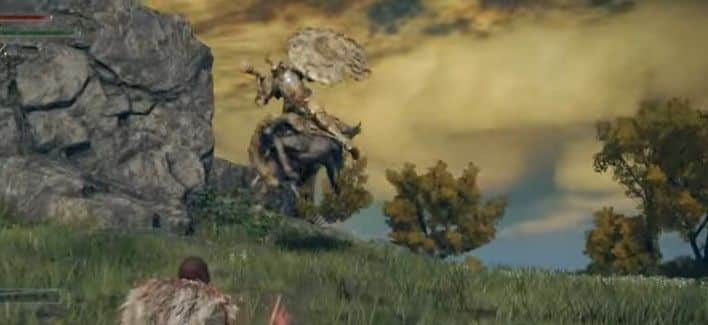 How to beat Tree Sentinel: Strategy
Make sure your weapon is set to two-handed and your Spectral Steed Whistle is available. Your first attack is one of the only occasions where you can land a solid combo. Sprint towards Tree Sentinel and stop next to him, striking three or four times before retreating quickly into the open area to avoid his first attack.
Keep your distance and wait for Tree Sentinel to run towards you and attack. Most of the time, he will approach from your right-hand side and swing his weapon. Some of these attacks have a surprisingly wide reach so don't take any chances and sprint directly out of his range whilst he attacks. Stay locked onto him and once he has missed, turn around and hover just outside his range for a split-second.
If you rush in too quickly, Tree Sentinel will transition into another attack, but if you stay away long enough you will see him relax and stop attacking. This is your chance – sprint in with Torrent and hit him quickly. You can sometimes get two light attacks in before his next attack, but this depends on your timing. A safer bet is to use a single heavy attack during these windows.
Whilst his attacks have a degree of variation, the strategy is almost exactly the same for all of them – hang back and get out of the way. Sometimes his attack will conclude before he reaches you, but most of the time you will have to move sharply back or to the left. The most deceptive attack is his underarm charging swing which reaches further than it seems, so beware and maintain a wide berth when this one is coming at you.
You can sometimes get consecutive attack windows if Tree Sentinel uses a short-ranged attack like the Shield Bash or strafe whilst you are getting away. If this happens, make sure he will miss and circle straight back around to hit him again before escaping. Pay attention to the battlefield as you can get cornered by a cliff or snagged by a tree if you aren't careful.
Once he's down to around half health, if you are planning to summon then sacrifice one of your small attack openings to use your Spirit Calling Bell instead. They'll take a little while to join in the action so keep applying the same tactics until they help out.
If they pull away his attention, then you may want to play a bit more aggressively to land more hits but this is risky since he has a lot of attacks that cover a wide range. Take your chances if they come, but I would still largely advocate taking your time and continuing with the same approach of keeping your attack windows short and sharp.
When you have nailed this strategy, victory is only a matter of patience. Stick at it and you'll defeat the Tree Sentinel.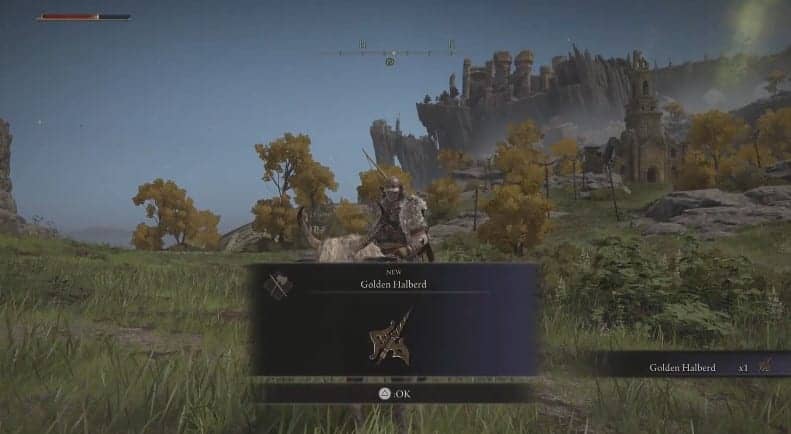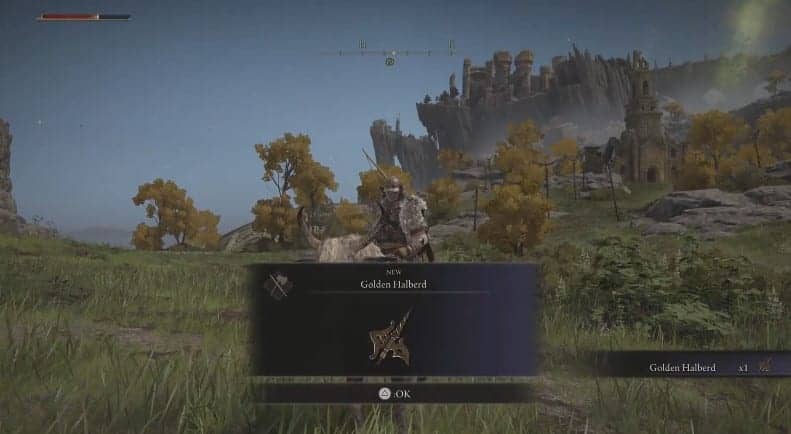 Tree Sentinel boss rewards
Beating the Tree Sentinel will reward you with 3,200 runes and the Golden Halberd. The runes will likely be enough to gain a level or two, but unfortunately the Golden Halberd requires 30 Strength, 14 Dexterity and 12 Faith to effectively wield it.
However, two-handing increases your Strength by 50% so you will only need 20 Strength to wield it like this.
Recap
Here are our most important tips of how to beat the Tree Sentinel boss recapped:
Level up a little before taking on Tree Sentinel (we recommend level 20)
Unlock Torrent and the Spirit Calling Bell first
Fight on horseback at all times during the fight, and fight two-handed
Approach with a wide berth and sprint to the side to avoid Tree Sentinel's attacks
Wait a split-second to make sure he's not following up with another attack; then gallop towards him and counter with one or two hits
Retreat when he starts winding up another attack and put some distance between you
Repeat this pattern to whittle him down whilst avoiding his hits
If you are using summons, wait until around half-way through the fight
Hopefully this Tree Sentinel boss guide of how to beat Tree Sentinel in Elden Ring helps you do the business and take him down.
Check out our Margit boss guide below; he is likely the next difficult boss you will encounter.