Pins are a crucial element of NEO: TWEWY, bestowing your party with skills to vanquish the Noise. Most aspects of the pin system are explained in the game, or are fairly self-explanatory. However, one or two key points are not clarified, including the evolution of some of the most powerful pins out there. That's where we come in.
Here's how to level up pins in NEO: TWEWY, along with everything you need to know about the pins that display a cryptic "???" evolution clue.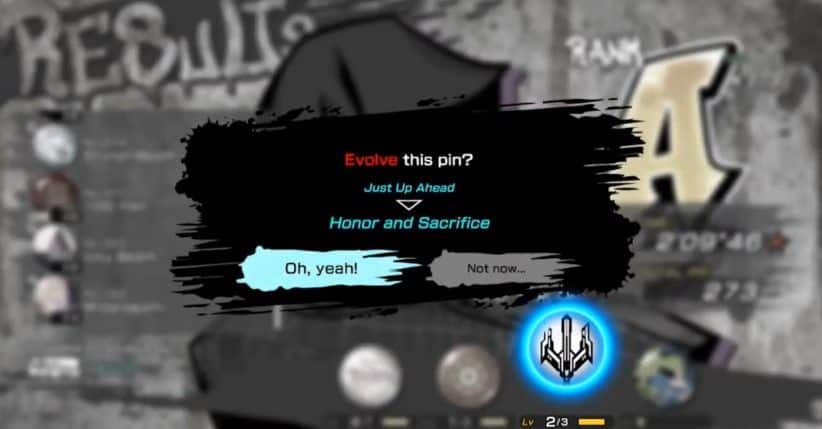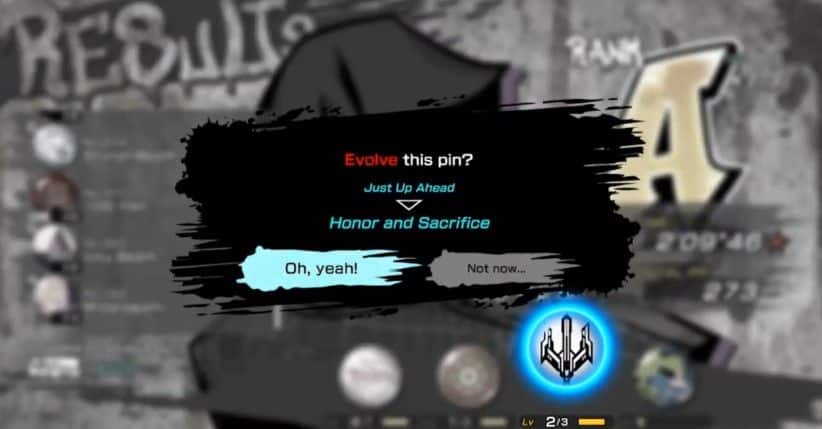 How to evolve pins in NEO: TWEWY
Most pins are evolved in a straightforward manner. Simply fight battles with the pins equipped and amass PP until it reaches its maximum level.
If the pin is capable of evolution, you can then choose to evolve it. These pins generally just become more powerful versions of the original, so it's always worth doing. You'll also need to evolve your pins regularly if you wish to acquire a 100% competition of your pin collection.
Not every pin can be evolved. To check if a pin is capable, visit the Pins section of menu and scroll through the information on the right-hand side of the screen. Next to the word "Evolution" it'll say "Yes" or "No".
This is with the exception of certain pins that have "???" in this section.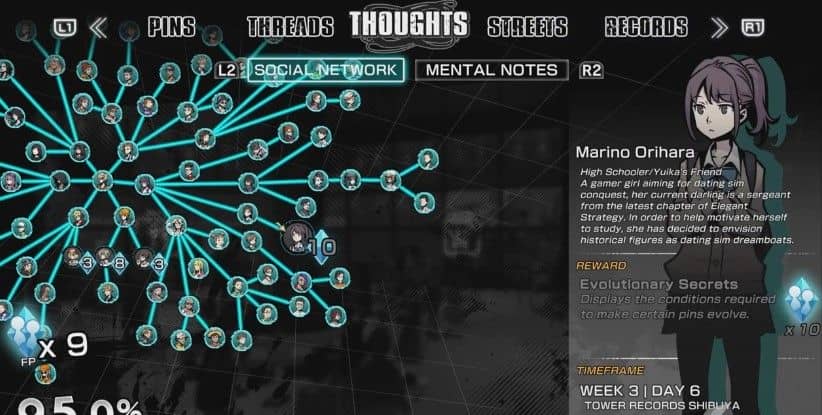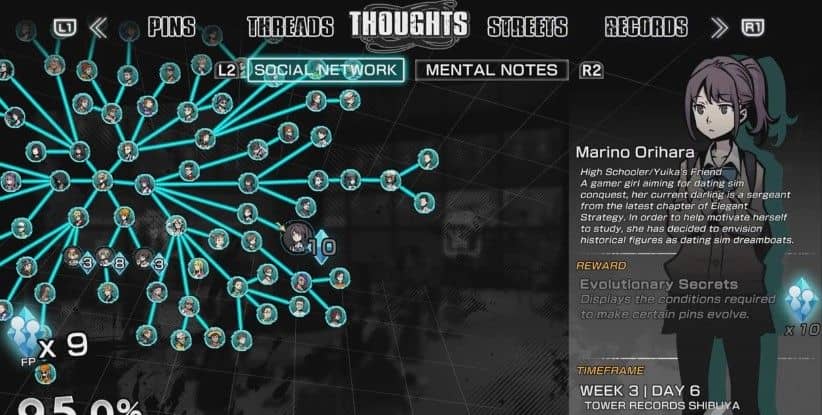 How to evolve ??? pins in NEO :TWEWY
After a while you'll notice that some of your pins don't confirm their evolution status either way, leaving a mysterious "???" instead. These pins technically get "mutated" rather than evolved, but it's essentially the same process.
These pins must be equipped to a certain character when they are mastered. Once it reaches its maximum level, provided it is equipped to the right character you will be prompted to mutate it as before.
How would you know which character corresponds to each pin? Well, on Week 3 Day 6 a specific skill called "Evolutionary Secrets" can be unlocked from Marino Orihara. Once you have completed a tricky Dive mission, the "???" clue will be replaced with the name of the character who must master the pin.
An important point to note is that if you master the pin with the wrong character, it can no longer be evolved.
Fortunately, nothing is missable within NEO: TWEWY so you can always get another pin, but some will require you to replay entire previous days to scoop a duplicate and try again. You can check through your records to see which enemies dropped the pin, and if this is a day-ending boss then it's a frustratingly long-winded retrace of your steps.
As such, it is definitely worth making sure you do not accidentally master the pin prematurely and only ever equip these pins to the right characters. Either wait until you have unlocked the skill in the Social Network, or read our specific guide below to find out who should equip each pin.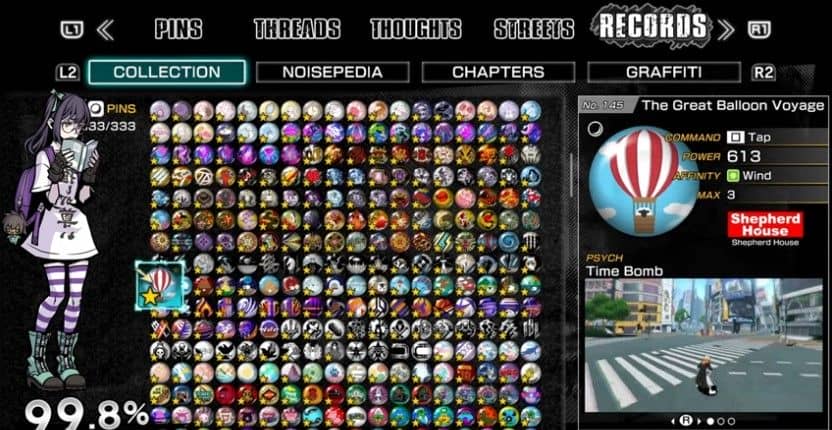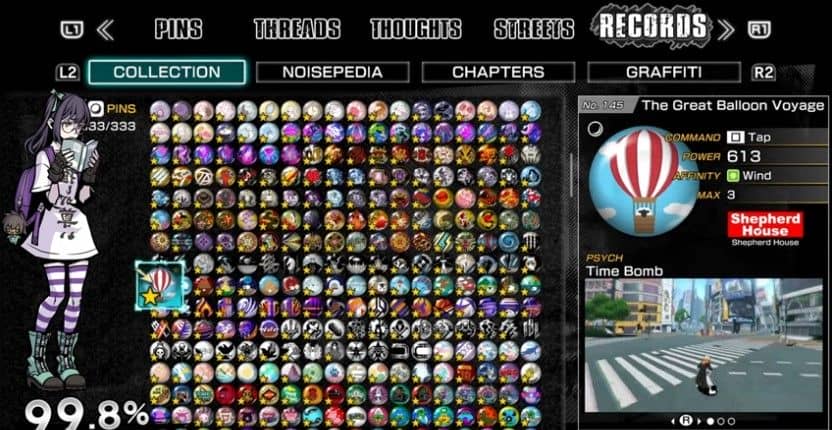 List of every ??? pin and how to evolve it
This list will confirm the pin names, as well as the specific character that must equip it whilst it is mastered. You can level up pins with other characters as long as the final level is not earned. However I wouldn't recommend this just in case you accidentally level it too far. Once the pin is evolved/mutated, then you can switch it to a new character of your choice.
Note that this list contains SPOILERS of characters who join your party late in the game. Proceeding further will reveal the full list of playable characters.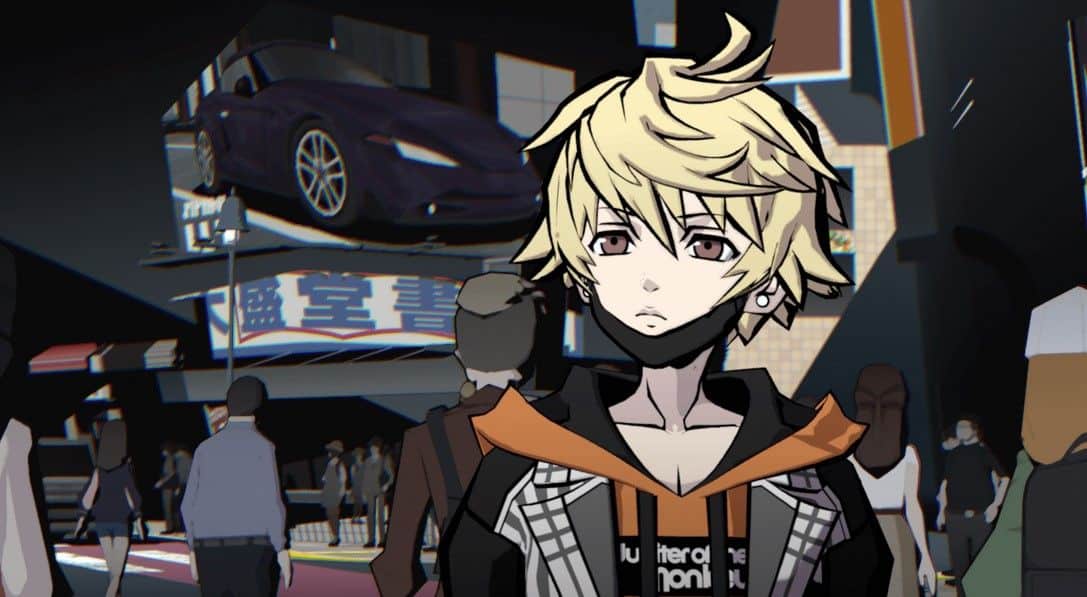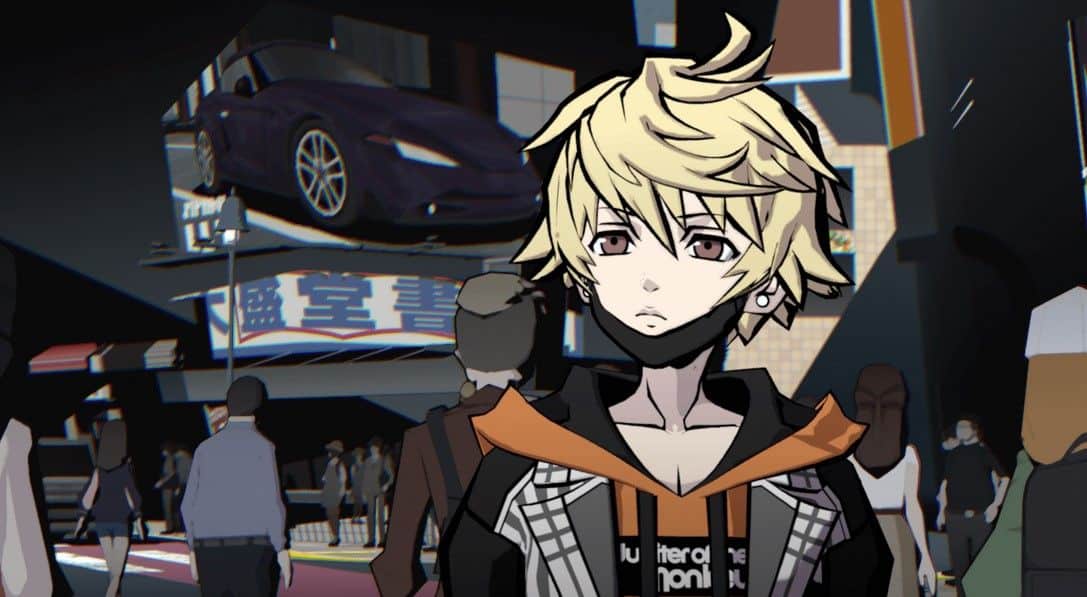 This list is in order of pin number.
Once Upon a Dream (Pin 004) – Level 5 with Fret
My Precious Moments (Pin 008) – Level 15 with Rindo
Riled-Up Ribbon (Pin 011) – Level 3 with Neku
Topo the Adventurous (Pin 016) – Level 5 with Beat
The Benevolent King (Pin 021) – Level 10 with Shoka
Disco Divekick (Pin 032) – Level 3 with Beat
Slashcircle (Pin 055) – Level 6 with Beat
Classical Cacophony (Pin 068) – Level 5 with Neku
Polar Princess (Pin 073) – Level 5 with Fret
Kocho Void (Pin 097) – Level 3 with Shoka
Be of Two Mines (Pin 114) – Level 3 with Shoka
Let the Rain Fall Down (Pin 128) – Level 5 with Minamimoto
The Great Balloon Voyage (Pin 145) – Level 3 with Nagi
A Moonlit Night Inside (Pin 153) – Level 3 with Nagi
The Cozy Hilltop Windmill (Pin 156) – Level 5 with Nagi
The Woolly Jazz Player (Pin 161) – Level 5 with Rindo
Shishio (Pin 166) – Level 7 with Rindo
Jupiter of the Monkey II (Pin 179) – Level 6 with Neku
No Turning Back (Pin 192) – Level 3 with Minamimoto
Lovebird Magnum (Pin 215) – Level 5 with Fret
HOG FANG (Pin 239) – Level 10 with Beat
Doku Doku Panic (Pin 267) – Level 5 with Shoka
Snap Crackle Popcorn (Pin 271) – Level 3 with Nagi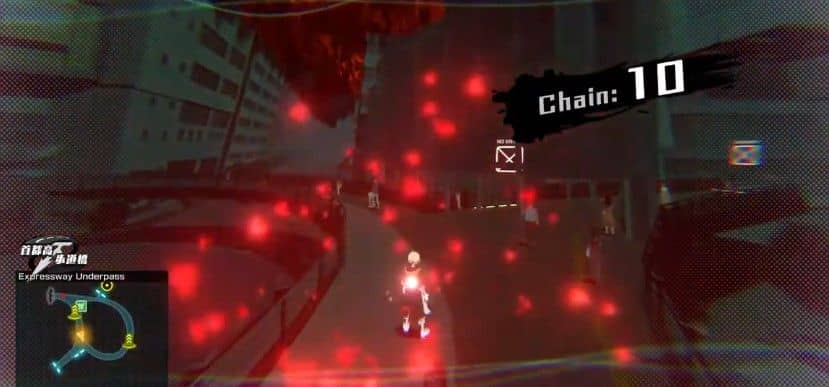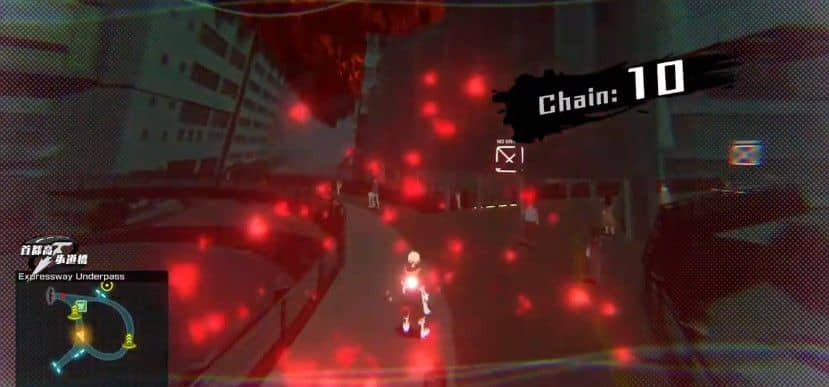 Tips to farm PP and evolve pins quickly
Pin evolution is key part of building your strength in battles, so here are a few quick tips to reach maximum pin levels. Most pins can be evolved fairly quickly with the following advice.
Chain battles together
If you're purely going for PP, then a multiple-chained battle is the best opportunity. You'll receive a PP bonus of an extra 0.1 multiplier for each additional battle chained together.
At the start of the game you can chain a maximum of 5 battles, but after unlocking certain Social Network nodes this can increase to as much as 20 in a row!
When you're aiming for pin evolutions it's usually a good idea to chain at least a few together. Don't bite off more than you can chew, as you have to start the entire battle again from Reduction 1 if you fail. These lengthy chains are always easier when you equip a pin that restores HP.
If you can find a blue noise at the same time, then you'll get the added benefit of an increased drop rate.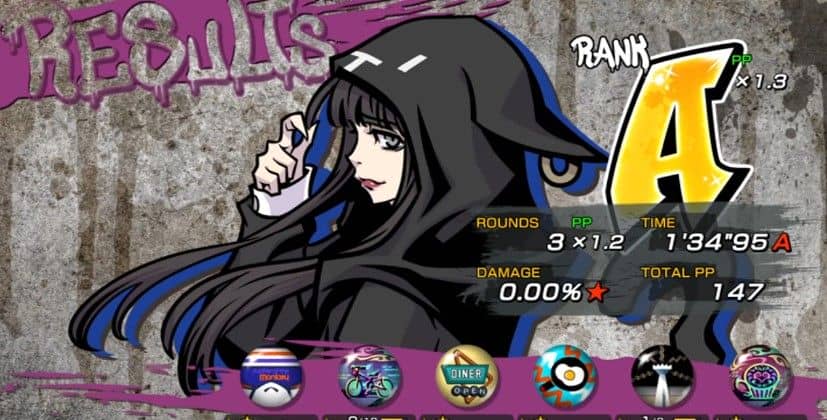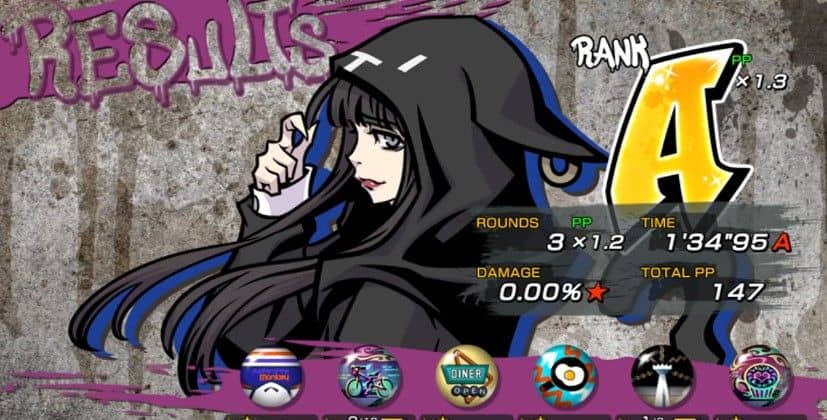 Increase Battle Ranking
Another way to significantly increase your PP and level up your pins is to get the best battle ranking possible.
Your battle ranking is based on your speed and damage taken. Simply put, win battles as quickly as possible without taking much damage and you will get the best ranks. Aim to Beatdrop constantly and take out the toughest foes first. The ranking bonuses are:
Star Rank: 1.5 x PP
A Rank: 1.3 x PP
B Rank: 1.2 x PP
C Rank: 1.1 x PP
D Rank: 1.0 x PP
E Rank: 0.8 x PP
If you can get a top ranking during a multi-chained battle, this will stack together and is often enough to level up a fresh pin all the way to its master level.
Constantly switch out maxed pins
It can be tempting to settle on a pin combination that works for you, but this won't be the best way of efficiently levelling them up. Until you get to the final parts of the game, you're best swapping out a pin as soon as it is mastered. Generally you can still end up with very similar setups that won't disrupt your play-style despite completely different pins equipped.
If you are struggling through the battles, temporarily switch back to your favoured pins when you sense a the day is coming to an end and a boss is around a corner. On the other hand, if you are blitzing through them then the PP from the boss fight will be handy.
This guide should give you everything you need to know to evolve ??? pins in NEO: TWEWY. For more tips, check out our articles below: