This is a spoiler-free NEO: The World Ends with You review, mentioning only some basic early-game story elements.
NEO: The World Ends with You is a sequel that comes well over a decade after the original dropped on the DS in 2007. This became a cult classic best known for its terrific soundtrack, mind-bending plot, and neat art style, leaning heavily into Shibuya's fashion culture. Releasing a sequel after such a long time is a risky move, especially with an IP that was already fairly niche in nature.
Like the original, NEO: TWEWY centres around an event known as the Reapers' Game. Players of the Game are whisked from reality into a dimension called the Underground (UG), where they essentially become ghosts imperceivable to the general public. On the other hand, they gain special abilities to read minds and battle against Noise, enemies born from negative human emotions haunting Tokyo in the background.
The Game lasts a week, where teams are assigned bizarre tasks each day by the Gamemaster, with the overall winners granted the opportunity to return to the real world (the RG). Points are earned according to the plot rather than an actual gameplay mechanic, and we quickly learn the Game is full of unpleasant – and unfair – surprises. The Game is adjudicated by the Reapers themselves, who play hard and fast with the rules and can switch from jovial to deadly at the drop of a hat.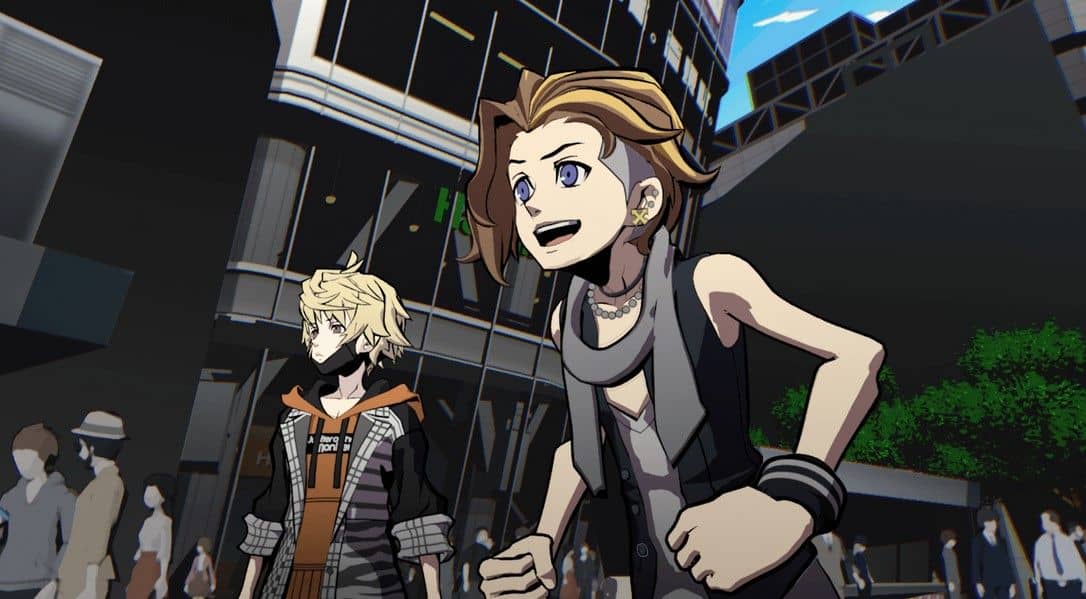 Two such players are the protagonist Rindo and his best friend Fret, who are dumped straight into the action and form a team that must succeed against the odds or face permanent erasure. Throughout their time in the UG, they attempt to build up a network of allies that may just prove strong enough to conquer the Noise, complete their daily missions and stand against the Reapers blocking their route back to reality.
NEO: TWEWY's depiction of Shibuya is split into numerous areas, adopting surrealist elements and regular switches to the camera angle. It all works nicely, boasting vibrant colours and a striking art style. Over the course of the Game you'll get to know the Shibuya district very well as Rindo and his team are constantly running back and forth through the areas, unlocking new ones by completing tasks set by the Reapers acting as gatekeepers.
Many real-life landmarks such as Shibuya 109 (renamed to Shibuya 104), the Scramble Crossing and Tower Records are all included, making for a setting that feels true to life. I'm less familiar with Shibuya's outskirts, but I nonetheless enjoyed exploring them in search of the enormous horde of collectible items. The most important of these are the hundreds of fashion pins on offer, which grant characters the all-important Psych power capable of defeating the Noise during combat.
On top of the ability to wield pins in battle and read minds outside it, characters have other individual powers beyond these. Rindo can turn back time when situations become particularly dire. Fret can jog people's memories, and latter party members can perform feats such as diving into minds to erase Noise and teleporting to hidden areas.
These powers are all cool ideas in principle, but fall well short of their potential. I always enjoy a jaunt through time where players must tweak history to test how it alters the present, but in the case of NEO: TWEWY the answers to these conundrums are spoon-fed and frankly boring.
Similarly, Fret's method to remind people of necessary information simply entails a basic mini-game that can invariably be conquered in seconds. Diving into minds involves a gauntlet of battles with a few conditions attached which is a little more interesting but still fails to push the boundaries very far. Even the generic mind-reading of NPCs is virtually pointless, and is another gameplay mechanic that misses an opportunity to try something engaging.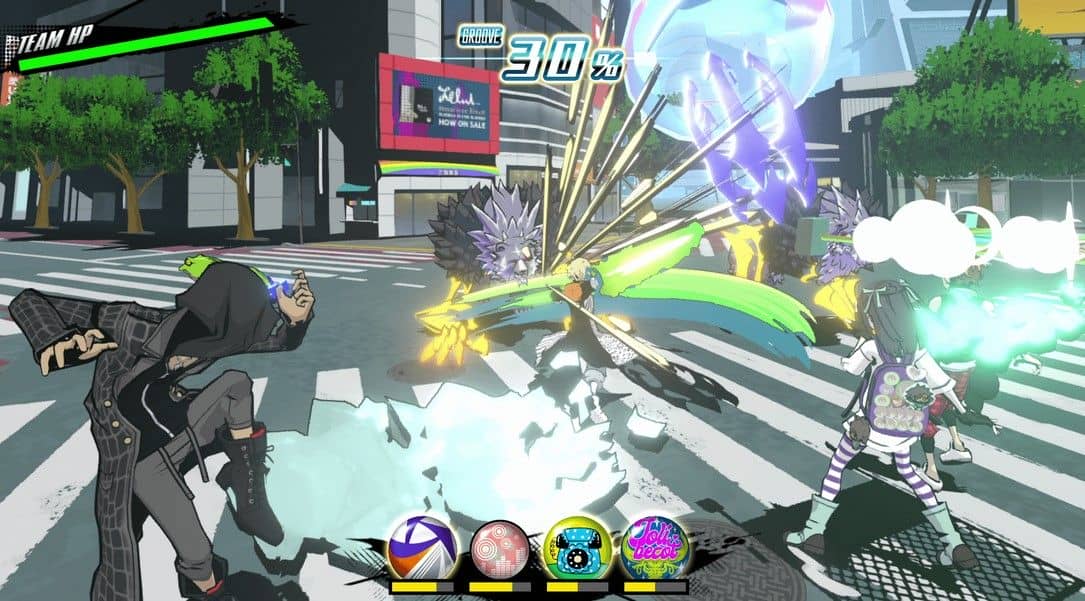 When it comes to the battle system itself, NEO: TWEWY adopts real-time action combat. Battles are typically against Noise taking the form of beastly creatures, but sometimes occur against humans on other teams within the Game.
Each character equips a pin which is automatically assigned to a specific button on the controller. Simply pressing each button in battle will activate the pin to attack, and can be used until it runs out of juice. The trick is to time your attacks wisely, so your pins don't all run out of charge at the same time and leave you vulnerable.
There are no useable items and the party shares a health bar, leaving little tactical input. The only nuance outside of your pin combination is a Groove percentage that is increased by chaining together different attacks when certain conditions are met and a brief Beatdrop window is opened. Reaching 100% Groove allows the party to unleash an all-powerful attack that can often wipe out the entire battlefield.
Despite an abundance of different pins to find and equip, a lot of these operate in exactly the same way. The animations may look different, but similar pin types overlap regardless of their element and brand. You'll soon end up with a mixture of rapid-tap attacks and hold-down attacks, which either charge up or inflict perpetual damage until their power depletes.
Put this all together, and despite its basic nature the battle system is reasonably solid – it's fun and fast, complimented by some terrific battle music. However, the simplicity ensures that even when switching pins regularly it isn't long before battles become pretty repetitive and don't pose much of a challenge.
On the plus side, an excellent little feature to balance this out is the ability to manually adjust the difficulty or your party's level up and down. This can be done swiftly, providing rarer items and an increased drop rate for pins that can be flogged for cash if necessary. Drop rate is also boosted by chaining together multiple battles consecutively, so my method of choice was to do the lot whenever I felt overlevelled.
If you're lucky enough to find a rare triple-drop blue Noise, you can reduce your level, up the difficulty, chain together a heap of battles and let the rewards roll in. I loved this mechanic as it allows players to adapt the challenge so things are never too easy, offering genuine gameplay benefits alongside a suitable difficulty balance.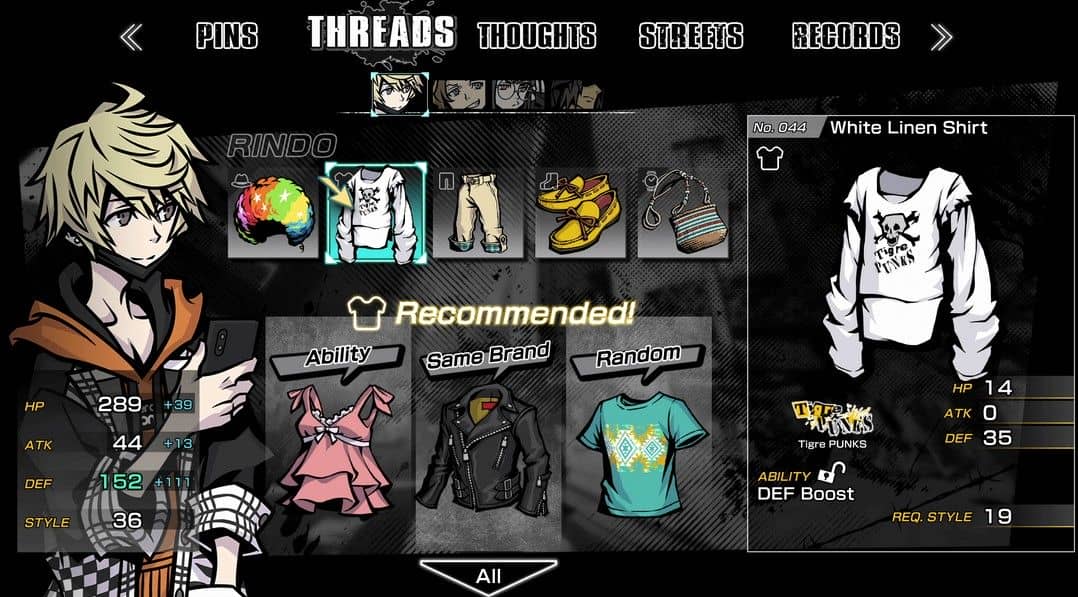 Elsewhere, the interface isn't so kind. There's a lot of scrolling through menus with a constant need to switch around pins and trawl through an obscene amount of equipment (which takes the form of extravagant outfits and fashion accessories). There is an auto-equip function which isn't always the most reliable, but it's probably less infuriating option than checking every single item for each slot of each character to see which ones will grant the best stats.
Now, it took me a very long time to get through NEO: TWEWY. It's not like the game is particularly lengthy, but the nature of the Reapers' Game can get monotonous. The team is given a silly task to start a day, and it's usually a case of getting through it using the bespoke character powers before rinsing and repeating with another arbitrary mission the next day. There are some breadcrumbs of an overarching plot scattered throughout, but these are mostly confined to mysterious private conversations between the Reapers that don't mean very much.
The main characters didn't make a great first impression on me either, hindered by nonsensical dialogue that no normal person would ever say. I found Fret more irritating than endearing, and Rindo isn't an overly engaging protagonist. He spends long periods of the game being miserable and apathetic, occasionally showing interest in text messages from a girl named Swallow. The problem here is that Swallow is an anonymous online gamer whom Rindo has never met in real life, making it difficult to buy into the relationship and its importance.
This repetitive in-game day cycle had me playing in short bursts rather than extended sessions. After a while, monotony started to set in elsewhere – battles were simplistic, the characters weren't gripping me and I started to wonder whether I would even make it to the end. With each new piece of absurd dialogue, I couldn't help feeling I was perhaps getting too old for this.
Then it all clicked.
Like a flurry of perfectly-timed Beatdrops, NEO: TWEWY dished out the best it had to offer in quick succession and everything changed. The battle system added new mechanics. Characters reached pivotal moments in their arcs. My party expanded to make more pins available. The main plot turned away from the monotonous missions. My pin collection was suddenly big enough to give some further variety. Even the brilliant soundtrack cranked up a notch.
All of a sudden, I was loving every minute. I completed the game within another day and felt sad to leave the party behind. Admittedly, this all took too long – coming somewhere around two-thirds to three-quarters through the game, but I can't remember feeling such a dramatic change of heart in some time. Perhaps Persona's Phantom Thieves did it.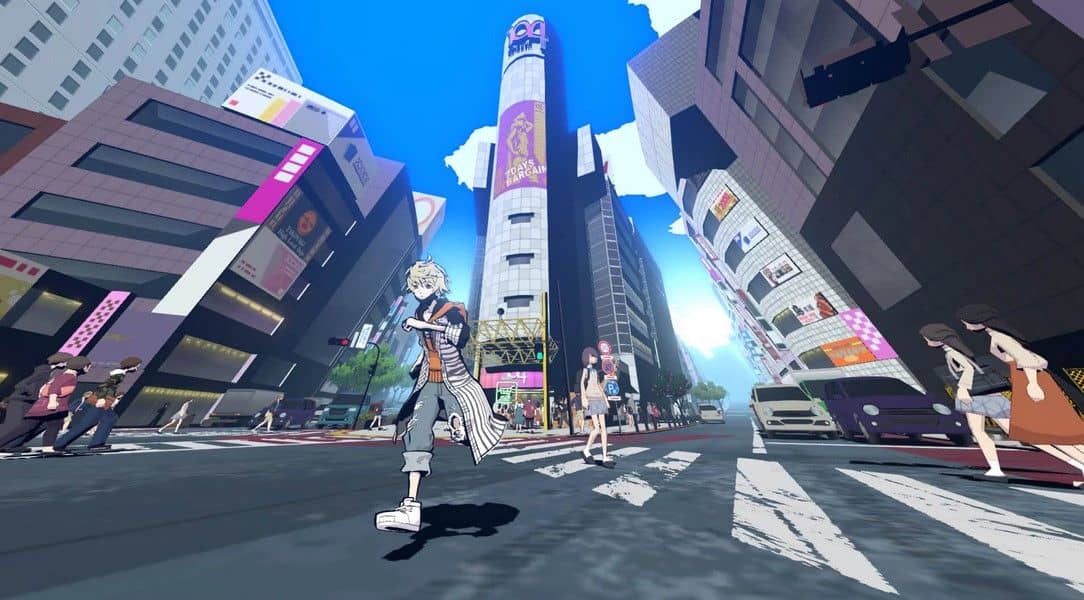 Nothing encapsulates this better than the killer soundtrack, which was already a huge plus. By now, the small smattering of strong initial tracks had expanded into a plethora of new songs and fresh versions of previous songs. Every time I entered a battle I was excited to find out which battle theme would play, silently celebrating each bopping intro no matter which one I got.
I was enjoying the new hits and simultaneously feeling strangely nostalgic for the tracks that had stuck around since the beginning. This carried through to the end, where I was also satisfied enough with my pin collection that I could settle on a final setup that didn't require me to tinker it around every couple of battles.
Many of these positive developments could have occurred sooner, but the good news is that NEO: TWEWY packs in a lot of post-game content, rewarding those who stuck with it and weren't quite ready to let go. I came away with a really positive impression of the game, though it still isn't perfect by any means.
Far too many important events occur via cartoony portrait panels rather than cutscenes. This isn't a big deal for generic dialogue, but lots of the action-based altercations occur in this manner. At best, these events lose their impact, but at worst they are embarrassingly vague to the point that it's hard to even know what is happening. On the rare occasions we get cutscenes, they are actually superb, making their general omission all the more disappointing.
Despite the latter-game improvements, the battle system is still more about knowing how to combine your pins together than adapting to the enemies. Over the course of the game only a handful of foes require a thoughtful approach, and as satisfying it is to relentlessly chain together a whirlwind of different attacks, it still never forced me to change my approach much – including boss battles.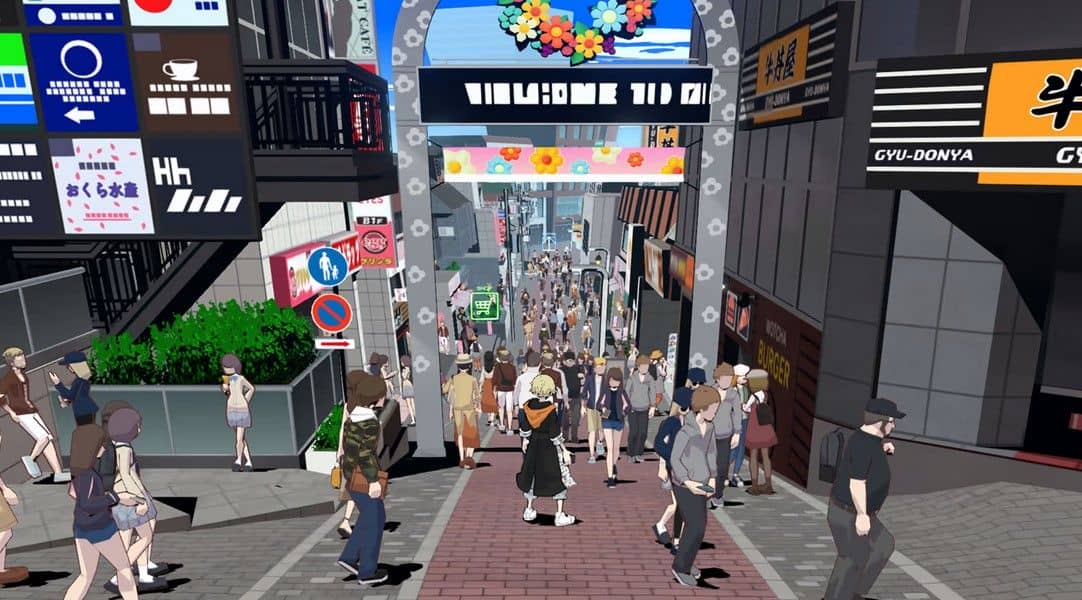 Admittedly the character development in the final act is terrific, engaging me far more than I thought possible beforehand, but some of it comes rather out of the blue and could easily have received some more foreshadowing. Perhaps most notably, without spoiling anything, there are plenty of characters and references to the previous game, ultimately making it hard to keep up for contemporary TWEWY fans and nigh-on impossible for new players. This is all within a plot that already contains its fair share of jargon and convoluted deus ex machinas.
Even as someone who played and loved the original TWEWY, it was tough to remember all of the characters and events. This comes with the territory of making a sequel of a niche RPG some fourteen years after the original, and I would have welcomed a few more recaps and prompts throughout the journey. As it is, I'd highly recommend anyone playing NEO: TWEWY either plays the original first (it's now remastered on Switch) or watching a plot summary online.
NEO: TWEWY ends up as a bit of a odd one. It trundles along before hitting its stride and hurtling towards a conclusion that gripped and satisfied me whilst strangely leaving me wanting more. I wish it had picked up the pace a bit earlier, but it ends up taking you on a fun, wild ride. The flaws become far easier to ignore when the plot and characters reach their captivating best and you simply embrace the madness of the Reapers' Game. I'm still not sure NEO: TWEWY is exactly a game for everybody, but eventually it was one for me. Sometimes, persistence pays off.