This is a review of Ys VIII Lacrimosa of Dana on Nintendo Switch.
I'll confess I made an early Google search to try and decipher what the extravagant title of Ys VIII Lacrimosa of Dana actually means. It turns out "Lacrimosa" is the Latin for "weeping", most notably the title of a Mozart requiem. Dana takes less research, and is the name of the mysterious blue-haired lady on the cover. Rest assured, it all gets a lot clearer as this entertaining adventure progresses.
Ys, meanwhile, is a JRPG series fitting the very definition of cult classic. The titles may not be particularly well-known or commercially successful in the West, but you'd be hard pressed to find someone who has played the Ys series and doesn't absolutely love it.
With no obligation to play any of the other games in the series, Ys VIII is actually a terrific entry point for new players, with the next instalment soon due for localisation. There are occasional nods to other titles, but these amount to no more than Easter eggs that will please long-time series fans but not alienate newcomers.
Ys VIII starts with yet another escapade for flame-haired adventurer Adol Christin. Being a self-proclaimed 'Adventurer' sounds far better than 'Homeless and unemployed' but his latest quest is forced upon him as a voyage upon a ship called the Lombardia is suddenly interrupted by a deadly sea monster. Despite Adol's best efforts, the opening sequence finds him and the Lombardia's other passengers shipwrecked on the mysterious island of Seiren.
The premise remains fairly simple in the opening hours, as Adol explores the island in search of other castaways – who enjoyed a remarkably high survival rate – and a way to escape Seiren's isolating clutches. As more characters are rescued, they band together to form Castaway Village, a settlement that soon becomes a genuinely pleasant place to live.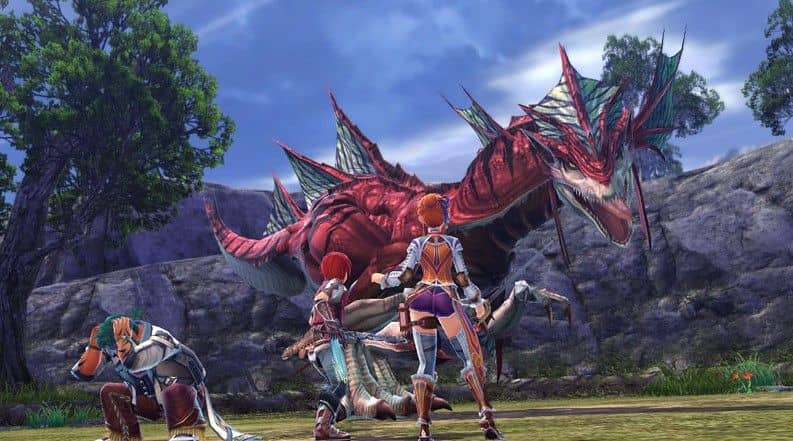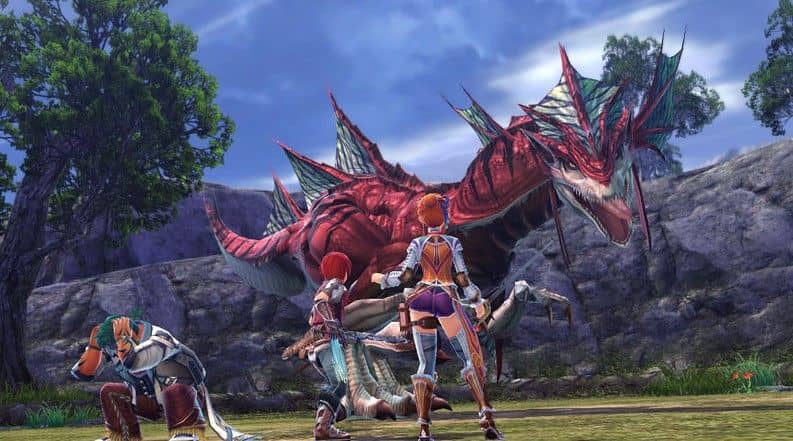 The main problem faced by the motley crew is that Seiren is home to hordes of monsters, the most dangerous of which being Primordials (ie, Dinosaurs). As a stroke of luck, virtually everyone on the island has a talent that proves beneficial to Adol, whether it's brewing medicines, crafting accessories or forging weapons.
Unlike many other Ys games, Adol's party expands to include several other playable characters. These include Laxia, a distrusting noble who happens to be skilled with a rapier, and huge, loveable fisherman Sahad whose weapon is an enormous anchor. These characters, as well as others recruited, have solid backstories and development and can be switched around on the fly depending on whose weapon type is most effective against the enemies faced.
As Adol and his companions continue their excursions around the island, he starts receiving strange visions hinting that there is far more to it than meets the eye. The titular Dana is, quite literally, the girl of Adol's dreams. Part of this is probably owing to – even for JRPG standards – her incredibly skimpy outfit, but their apparent psychic connection also keeps us guessing throughout the tale.
The initial dream sequences contain only static images with dull, out-of-context exposition, but later become playable sections that have you control Dana herself. Once they got going, I actually came to love playing as Dana. The simplicity of handling a single character was appreciated, and the chance to delve further into her past and the unusual link she shares with Adol was equal part intriguing and tantalising. Adol is almost exclusively a silent protagonist (he gets a small handful of voiced lines) but Dana has her own personality that shines through in a refreshing and likeable way.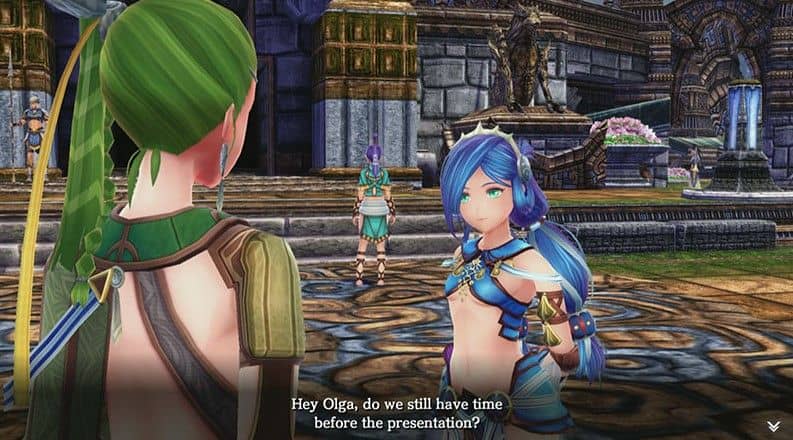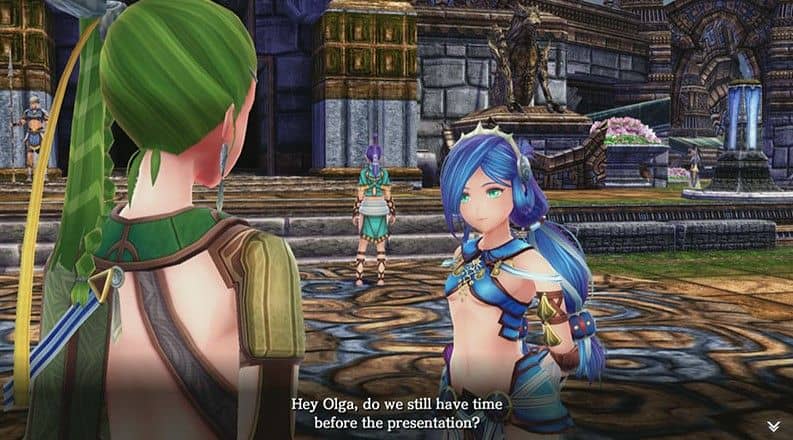 Going into further detail will risk spoilers, but the air of mystery continues to grow towards a dramatic climax that really pays off (as long as you get the true ending! There is a spoiler free guide to make sure you get it here). It's easy to liken Ys VIII to a Lost/Jurassic Park crossover, but this would probably be an unfair oversimplification of a terrific, gripping story featuring some fantastic characters.
The gameplay of Ys VIII features the trademark frenetic action of the series. If a Sonic the Hedgehog RPG were ever made, I would expect it to closely follow an Ys-based model, where everything is fast. The speed of the characters as they run, roll, attack and switch around all combine for a sense of pure adrenaline. This is only aided by the excellent soundtrack, mostly rocking guitar riffs that fit the mood perfectly. The speed only lets up when you run low on health and can opt to stand still and wait for it to regenerate. You could use an item instead, but who would use consumables when you can heal for free? Since you can do this in any safe spot outside a dungeon, sometimes I wished it would hurry up as much as the rest of the game – but I guess it's a reminder that sometimes patience is a virtue.
The pacy play is mostly an incredibly good thing, and combat contains a host of other mechanics that promote it from a mindless hack-and-slash affair. Rolling away from an attack in the nick of time executes a flash move, which reduces the enemy to slow-motion but speeds up your character, also making them temporarily invincible and granting a golden opportunity to land a flurry of hits. Similarly, a well-timed block will activate a flash guard and offers a window of critical hits. These always feel great to pull off, and are exceptionally useful against tougher foes.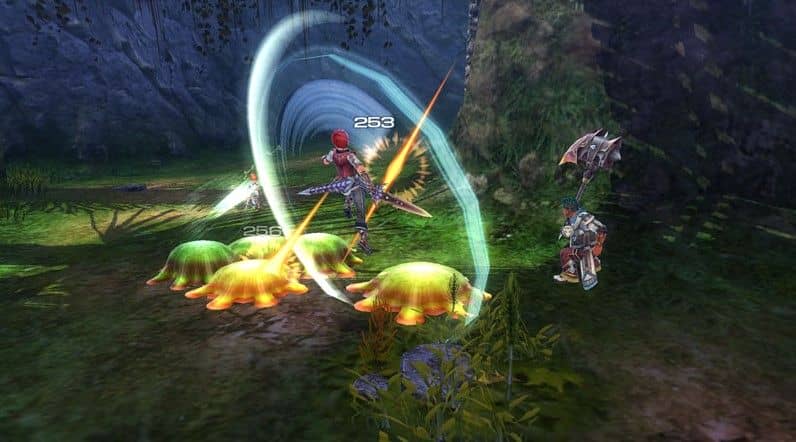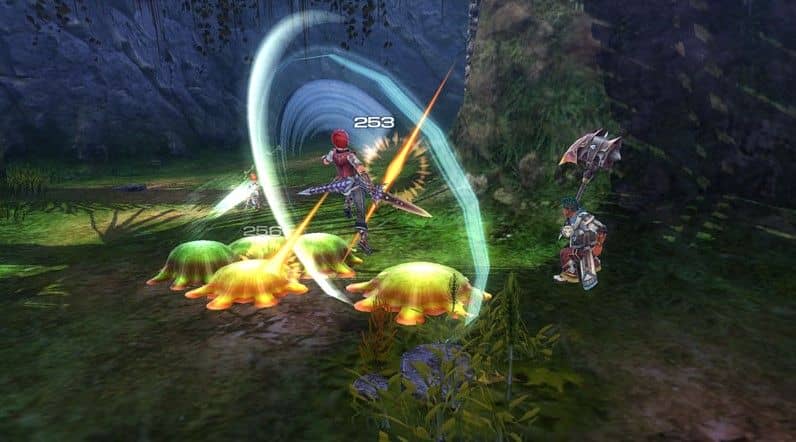 Offensive skills are learnt frequently and up to four per character can be set at any time. These attacks can stun enemies, increase the area of effect, or simply deal significant damage. They drain the SP gauge, but one of the best things about Ys VIII is how quickly it charges back up purely from landing enough attacks or effectively blocking and dodging. The game is also kind enough to replenish half of a skill's SP if used to finish off a foe, encouraging you to really let loose and unload as many different attacks as you want.
The downside of the generally frantic and fun combat is that the battles can get a little messy when multiple enemies appear at once, and on these occasions it may be prudent to unleash an Extra attack, each character's ultimate cutscene-inducing move that deals some truly devastating damage.
The trouble I found here is that the default command to use an Extra attack is to press the dodge button whilst holding the block button (also the button held to use normal skills). The fast pace of battle makes it far too easy to perform this attack by mistake. Unlike normal skills, the Extra gauge takes a while to charge, leading to much frustration on the embarrassingly frequent basis I completely wasted it. I'd recommend rejigging the controls in the options screen to prevent similar misery. Of course, a different solution is to be a bit more competent.
Another unfortunate feature of an overcrowded battlefield is the odd drop in framerate. It is worth mentioning Ys VIII was originally a PS Vita game, but that was small comfort to me on the occasion my game literally stopped altogether. Thankfully, putting my Switch in sleep mode and returning retrieved my position without losing any data, and in any case an autosave is never far behind you.
For these reasons I preferred the boss battles against the giant creatures that regularly appear, sometimes literally from thin air. Taking on one stronger opponent for an extended period allows you to more carefully analyse their attack patterns, perform more flash moves and generally feel like you're using more skill than spamming abilities amidst a gang of weaker enemies. Not that this isn't extremely satisfying in itself.
Ys VIII can pose a challenge, but your AI teammates are so adept at avoiding damage that you basically get three lives. General monsters are best tackled with the individual character whose attack type hits its weakness, but against bosses and primordials a different tact pays dividends. I found myself launching an assault with Adol, and when he was low on health simply switching to Laxia, followed by Sahad, who would not have suffered any damage whatsoever in that time. Only when all three characters had been reduced to the brink would I actually use a healing item. It sometimes feels a bit cheap, but it encourages the player to utilise every party member and spend some time playing with their distinct style.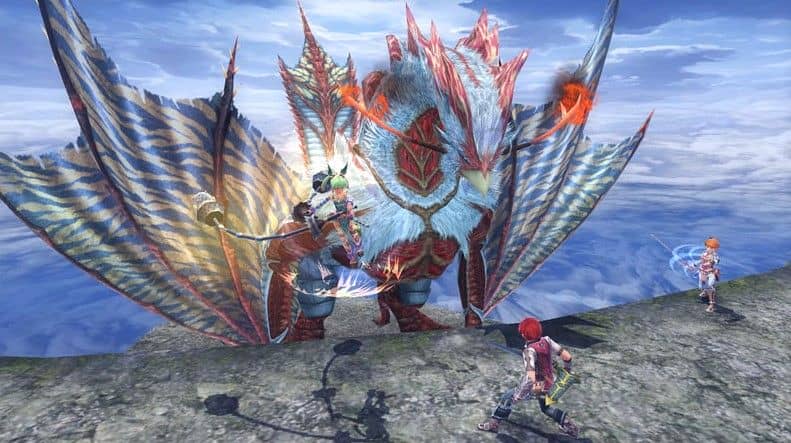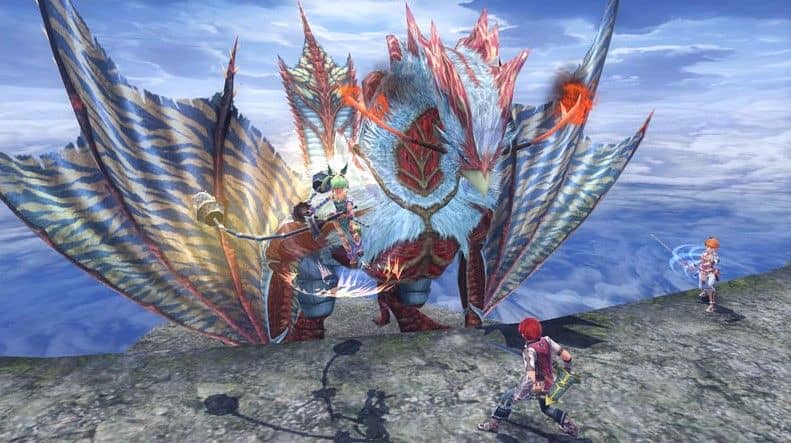 The main quest most commonly involves exploring Seiren, naturally an enjoyable and rewarding experience where a host of Metroidvania or Zelda-style elements are introduced. Areas are often closed off until the relevant bit of adventuring gear is found, such as gloves to climb up vines or special boots for walking over boggy marshland.
With each addition to Castaway Village, more areas become accessible with help requests. If Adol encounters an obstacle blocking the way, there'll be a set number of castaways required to open the path. Some of the feats achieved are bordering on superhuman, as we see enormous boulders or vast piles of rubble cleared by a handful of people, but it's actually a neat gameplay mechanic that makes it worthwhile to scour every corner of the map to increase the village's population.
The efficiency of fast-travel means backtracking to open up new parts of previously explored areas doesn't feel tedious, and at Adol's pace, sprinting, jumping and rolling past enemies not worth your time is easy enough. But as you scale the map at speed, it's hard not to notice the arbitrary invisible walls. These sometimes disrupt your flow, and appear in strange places where you are required to jump over holes and gaps to progress past one part, but elsewhere on the very same map segment are forced to walk all the way around a low wall for no discernible reason.
Every now and then, exploration is broken up with raids when Castaway Village's resident parrot squawks an urgent request for Adol's aid. This signifies an assault on the village from waves of monsters who need to be fought off in a gauntlet of timed battles that earn grading and treasure upon completion. These are mostly optional, but the thought of leaving the castaways to fend for themselves was not something I could contemplate, and the rewards are usually well worth the effort.
Castaway Village also has a notice board alerting Adol of specific requests made by its inhabitants. As you'd expect, these contain typical mundane fetch quests for certain materials, but hunts for dangerous enemies are always welcome and a bunch of others end up being genuienly interesting, such as escorting a castaway to the top of a mountain without the aid of any other teammates. Like the raids, Adol is usually rewarded handsomely for his assistance.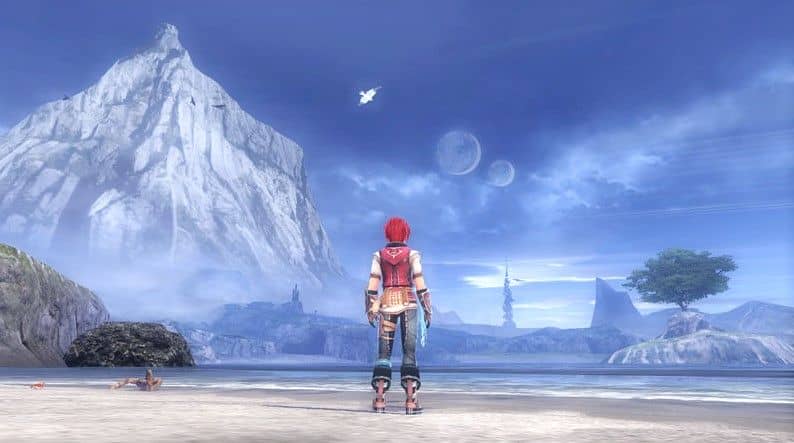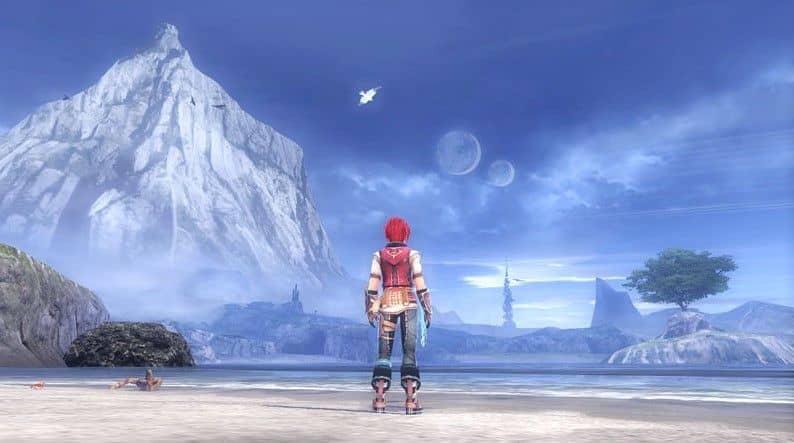 Further activities include a fishing mini game starting to feel obligatory in the RPG genre, as well as bonding events with the other castaways. The latter are available provided you have completed their requests and presented them with a bespoke gift, either crafted at the village or found in the wilderness. These events aren't as deep as something like Persona, or Falcom's own Trails of Cold Steel series, but they add a nice splash of colour to the characters and provide a further bit of payoff for the extra tasks Adol has completed on the island.
The number of different elements juggled in Ys VIII means it's rarely boring, but some can suffer from a touch of monotony. The raids, which occur in only two different map types, start to feel tiresome towards the end of the game when the plot is ramping up (and I simply couldn't bring myself to skip them!). Elsewhere, exploring Seiren's similar-looking cave, beach and mountain areas is understandable on the island setting, but most segments feature only two or three enemy types, where I couldn't help craving a bit more variety.
Seiren doesn't match the size or scale of some of the larger open world titles, but to its credit Ys VIII doesn't pack in a bunch of arbitrary filler to bloat its roughly 40-hour playthrough time for the sake of it. Sometimes the fact Falcom don't work with a triple-A budget shows, but I'd argue a bit of graininess and a few more loading screens than we'd like are a small price to play for the charm they invariably pack into their underrated array of titles (also be sure to check out the Legend of Heroes).
In fact, that's all the more reason to buy this hidden gem. The wonderful characters, rapid musical score and exciting combat more than make up for the few flaws of Ys VIII. Much like the colourful inhabitants of Castaway Village, it deserves to be rescued from obscurity and brought home.
Ys VIII Lacrimosa of Dana is available for Nintendo Switch here, PS4 here and PS Vita here.