Yosuke Tendo is one of the final bosses of Yakuza: Like A Dragon, and certainly one of the toughest. He is a powerful foe with an enormous amount of HP, but the most challenging aspect of the battle is his ability to perform instant kill attacks. If one of these lands on Ichiban, it's all over.
This sets the Tendo boss fight apart from the difficult Majima and Saejima battle, which allowed you to travel back a relatively short period to grind in the Arena. If you are defeated by Tendo, you can retry but you've gone an awfully long way without saving your game.
It'll take some time, but it's a winnable fight when you know what to do. Here's how to beat Tendo in Yakuza: Like A Dragon.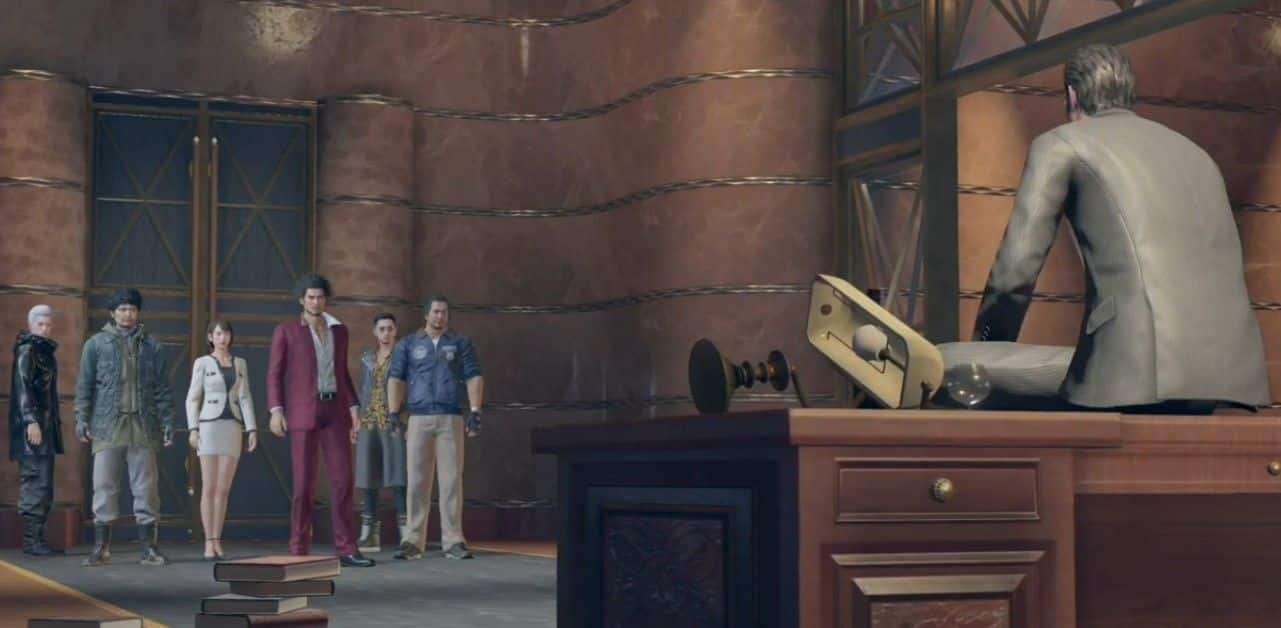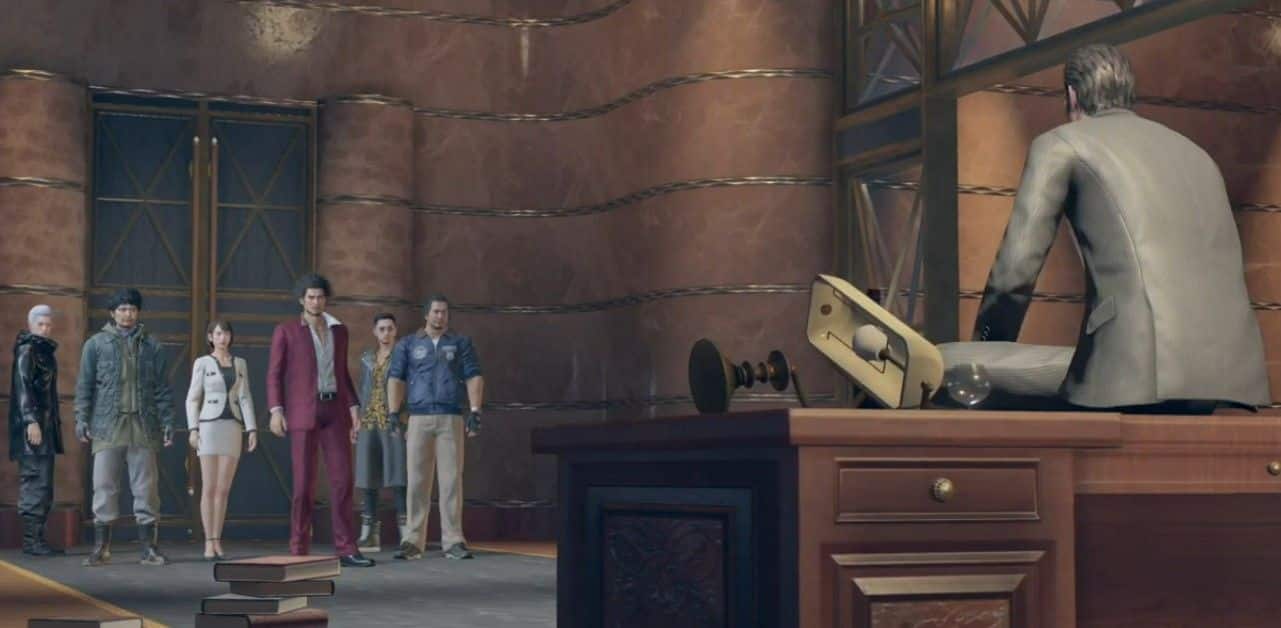 Recommended setup
Tendo is only weak to electric attacks, and there aren't many of these in the game. They include Ichiban's Essence of Orbital Laser, which is unlocked by conquering the business management mini game. There's also Fulminating Forecast from the Fortune Teller job, which is available to all male characters and can be used with other jobs once learned.
Since there isn't exactly an opportunity to build up new jobs and switch over at this point, you'll have to work with what you've got. Default jobs will be fine, so aim to have a party with the following:
A healer who can heal multiple party members (Ichiban in Hero class can do this, but it's great to have someone else to free up Ichiban to attack, such as Saeko)
A character who can debuff defence (eg. Nanba's Gnarly Breath in default Homeless Guy job)
Someone who can inflict poison (eg. Joon-gi with Poison Shot)
Have plenty of items in reserve – stock up on Staminans and Tauriners of all strengths beforehand.
If you don't have any poison abilities on your current jobs, then Nancy-chan from Poundmates is another option, coming very cheap. Tendo gets in a lot of turns so this can be helpful to chip away at his health during his own attacks.
It's crucial to avoid one-hit kills to Ichiban in the second half of the fight. If ichiban has Peerless Resolve and Essence of Orbital laser, then equip him with an accessory to reduce MP consumption such as Fighting God Mouthguard or Extreme Skill Mouthguard. If Ichiban does not have Peerless Resolve, then you should equip him with a Sacrifice Stone to prevent instant kill.
The ideal scenario is to have Ichiban able to use two Orbital Lasers without requiring MP recovery, alongside a different character who is able to heal the party.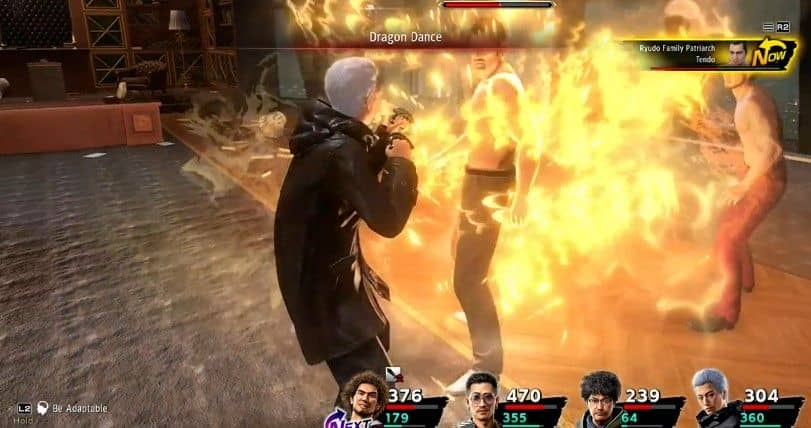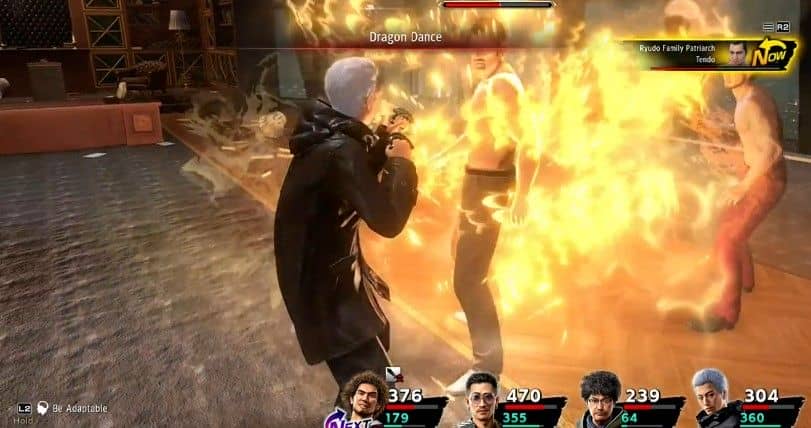 Recommended Level
Tendo is at level 60. Anywhere around or above this number will be great, but mid-to-high fifties will be able to do the business. You'll naturally level up throughout Millenium Tower and its many battles, so hopefully you won't be far off.
How to beat Tendo in Yakuza: Like A Dragon – first phase
The Tendo boss battle has two phases. The first will last until he is reduced to half of his health, which will trigger a cut-scene and make him even more dangerous.
Tendo packs a punch immediately. Royal Beatdown and Relentless Finish are fairly bog-standard physical attacks, which hit a single character with a combo that can be blocked if you time it right. These do moderate damage, but nothing to overly worry about and won't take anyone out if they're above half health.
The skill to watch out for is Dragon's Descent, which will prompt Tendo to glow gold. The party will discuss an upcoming powerful attack, which comes on his next turn. Tendo will use Dragon Dance which is by far the most dangerous attack of his first phase. He will show who is targeted by looking directly at them whilst he charges up. If the character in question gets a turn in first, then a guard should keep them alive as long as they're on decent health. If a different character gets the turn, then heal the targeted party member with a skill or an item.
The first phase isn't that difficult, but it will take a long time. Keep health consistently at a safe level and try to keep him poisoned and with debuffed defence as much as possible. Use Essence attacks to chip away at his health and utilise MP recovery items when necessary. Since his next phase is far more dangerous, I'd suggest trying to save your best items and Poundmates for now.
Most importantly – make sure you use Ichiban's Peerless Resolve before you reduce Tendo to half health. This will provide a heart above Kasuga's health bar which will denote the fact he is protected from one fatal attack.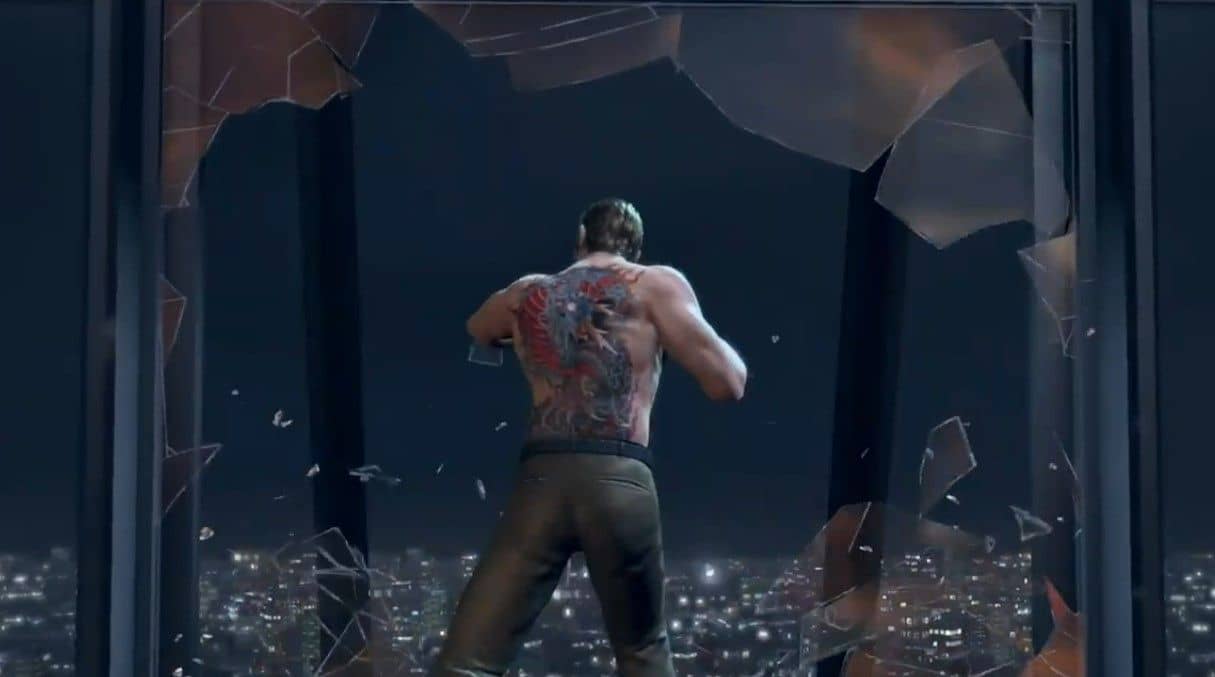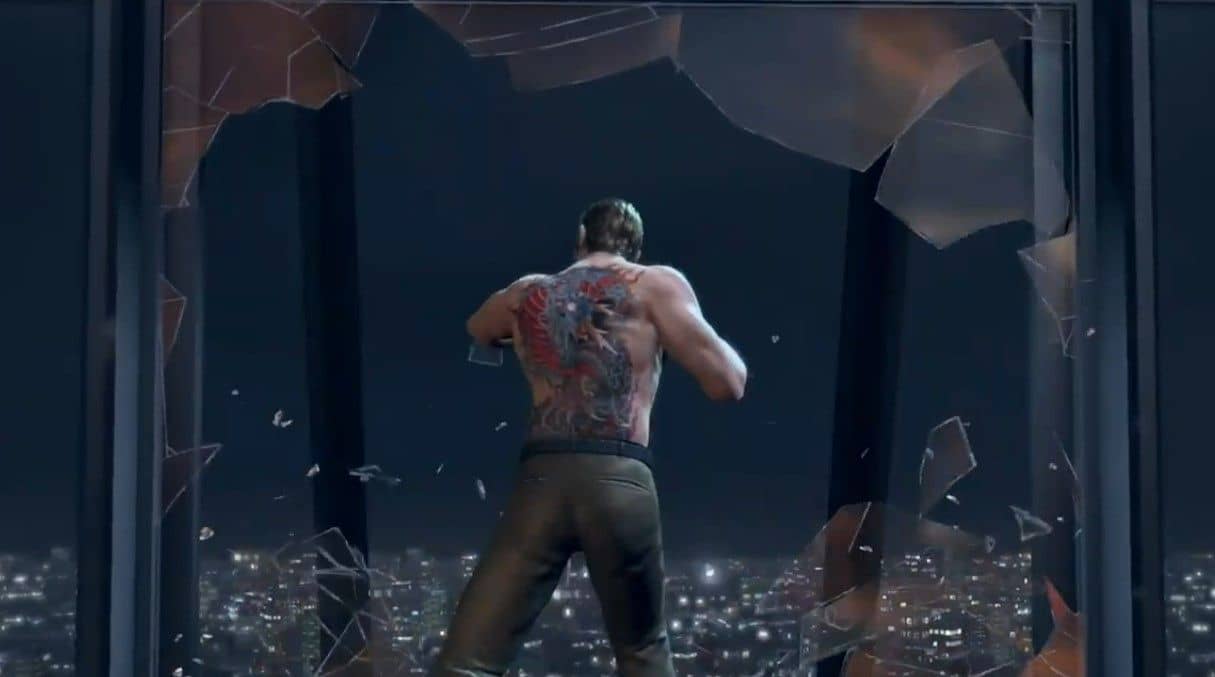 How to beat Tendo in Yakuza: Like A Dragon – second phase
Watch the awesome cut-scene and observe some dialogue around Tendo's increased power.
The most dangerous moment is when Tendo uses God's Warning. This means his next move will be God's Right Hand, which can result in a one-hit KO to a single party member. Sometimes he takes his turns consecutively, which is why Peerless Resolve should remain cast on Ichiban at all times. Again, he will indicate who is being targeted when he charges the attack.
How to avoid Tendo's God's Right Hand instakill
This is undoubtedly one of the most frustrating issues in the whole game. It's bad enough that Tendo's God's Right Hand can kill someone in a single hit but sometimes he gets two turns in a row so he can charge up and target Ichiban without any possibility to protect yourself! One small mercy is that it doesn't always work, and sometimes just deals minimal damage.
There are a few options you can use to protect yourself. As already discussed, Ichican's Hero class comes with the skill Peerless Resolve, which unlocks after reaching rank 16. You should have this by now, and doesn't even cost much MP, so make sure you always have Peerless Resolve active. If Ichiban is KO'd and revived, then cast it again. This only protects Ichiban himself, but will at least prevent a cheap game over.
Secondly, there is a Poundmates character named Mr Masochist, who greatly boosts defence on all allies when called upon. If you have him (by completing Fifty Shades of Play sidequest), then it's worth a turn during the second phase to considerably bolster the whole party's resilience.
Another possibility is to equip a Sacrifice Stone to Ichiban if you have one. I would only recommend this as a last resort, since it breaks upon use and doesn't bestow any other useful abilities. If you are using Peerless Resolve, then you should be fine without a Sacrifice Stone.
Finally, you can actually knock down Tendo and interrupt his attack. This doesn't always work, but if you have already taken one of the steps above then you can hit him with your strongest available Essence attack after God's Warning and hope for the best.
Tendo's other attacks
Tendo also raises his left fist with Devil's Awakening, which means he's about to follow with Devil's Left Wing. This is a devastating physical attack, but will simply do raw damage and doesn't inflict instant kill. As before, he can still charge with Dragon's Descent but this is nowhere near as dangerous as God's Right Hand either. For these attacks, simply keep your health as high as possible and guard if you get a turn with the targeted character. As with all of his attacks, try and time a perfect guard to reduce damage.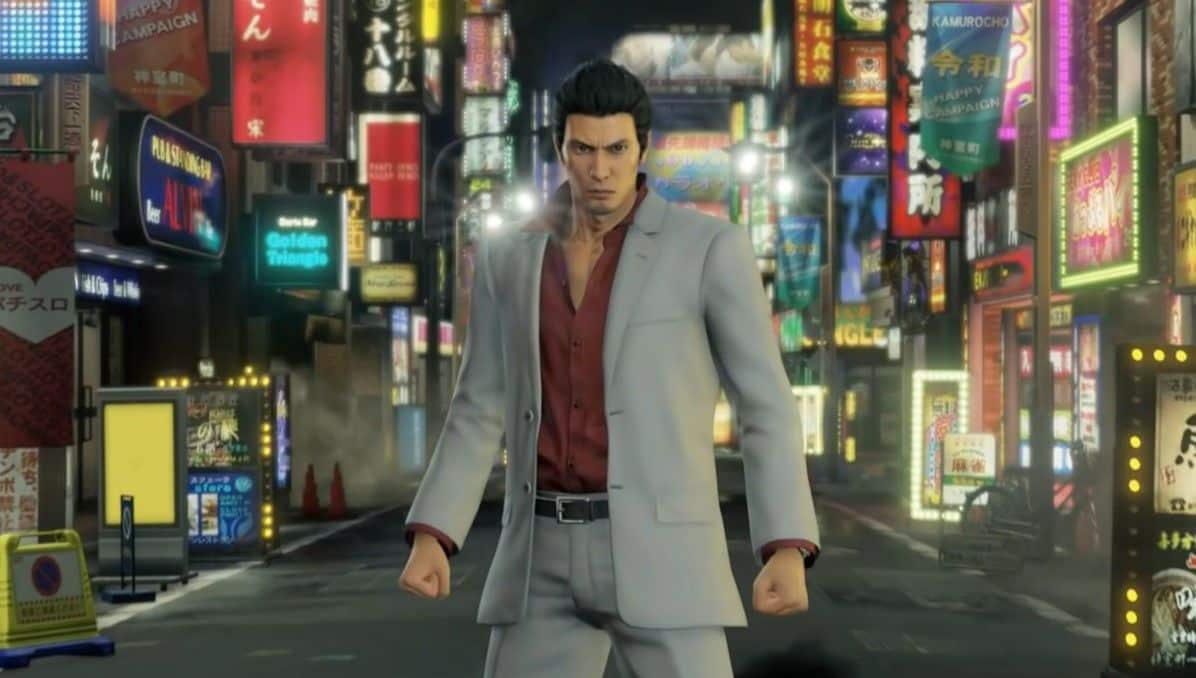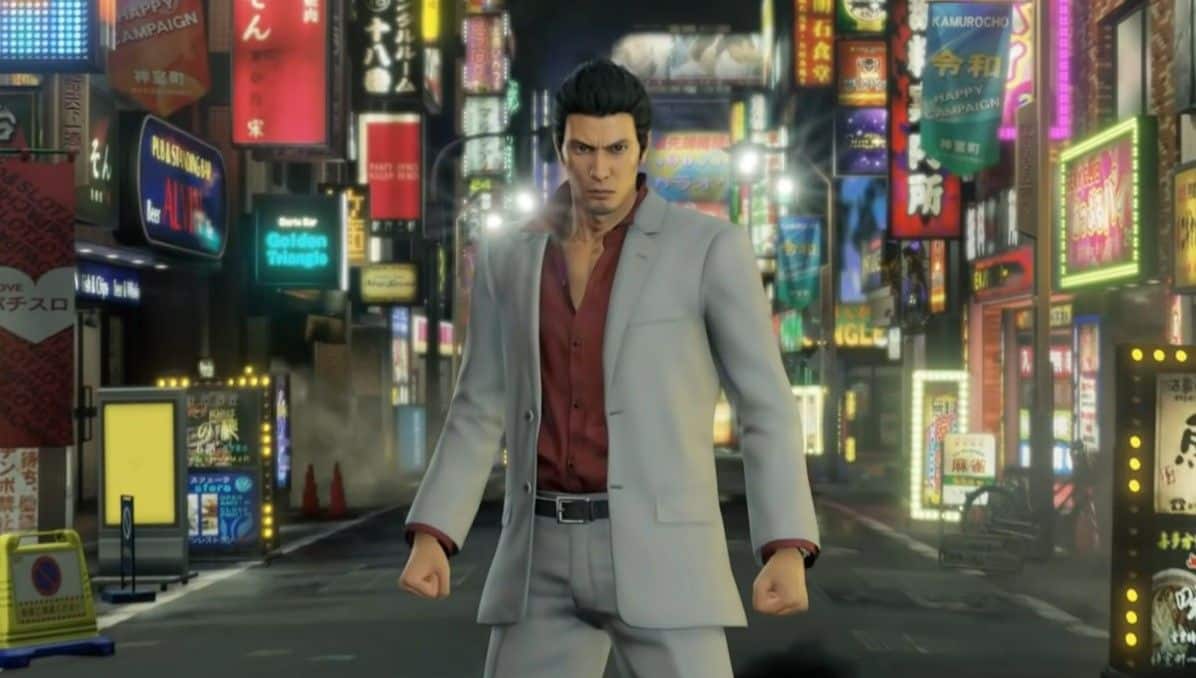 Use items, Poundmates and your best attacks
Tendo's second phase is the time to let loose with everything you've got. There are some other fights after this one, but Tendo is the final big test. As such there is no need to be shy with your items – use them to heal HP, MP or both, whenever you're in a pinch.
Things like Rocket Launchers are also pretty strong as offensive items, and your Poundmates are definitely worth using – if you haven't called Kiryu or Majima yet, then Tendo's second phase is the best time to use up their freebie first-usage. Debuff Tendo's defence first for maximum effectiveness.
I would suggest hitting Tendo with Orbital Lasers every time Ichiban is on high HP and has enough MP. Prioritise healing whenever a character falls below half, or even two-thirds health when Tendo is about to strike next, but on your attacking turns try and keep him debuffed and poisoned whilst using your best Essence attack to whittle him down to zero, which will mark the end of one of Yakuza: Like A Dragon's hardest boss battles.
Recap
There you have it. With our guide of how to beat Tendo in Yakuza: Like A Dragon, you should be able to come out on top. Here's a brief recap of the strategy:
Stock up on HP and MP recovery items
If Ichiban has Peerless Resolve and Essence of Orbital Laser, then equip him with an MP-saving accessory; if not, equip a Sacrifice Stone
Keep everyone's HP above half since Tendo can sometimes attack consecutively
Chip away at his health with Essence attacks during his first phase
On his second phase, watch out for God's Hand which can instantly kill – use Peerless Resolve to prevent Ichiban's death if you have it
Use all of your best attacks whilst trying to keep Tendo poisoned and debuffed
Tendo's second phase is a good time to use freebie Poundmates of Kiryu and Majima
That's everything you need to know. There'll be another couple of battles to follow, but nothing that comes close to Tendo's difficulty. You'll be well on your way to completing Yakuza: Like A Dragon and enjoying the conclusion to a superb RPG.
Check out our full spoiler-free review of Yakuza: Like A Dragon below: