Ryuji Sakamoto, also known as Skull, is one of Persona 5's main protagonists and party members. He is a second-year student at Shujin Academy, where he is regarded as a delinquent due to his bleached hair and aggressive demeanor, and one of the Phantom Thieves of Hearts' founding members.
Ryuji is liked by a lot of people because of his humor and personality. All the characters in Persona 5 Royal are written gracefully, and Ryuji Sakamoto is no exception.
Since Ryuji is such a likable character, many people end up wanting him as a member in their party. Ryuji is available outside the 2D classroom on school days or the Shibuya arcade on holidays both during Daytime. Since you cannot miss him in the game, do not worry about not encountering him. You will interact with him as you play through the story and missions. He, just like your other party members, has 3 personas. His starting persona, Captain Kidd, looks like a cool pirate captain. It definitely fits the playful personality of Ryuji.
In this guide, we will take you through steps on how you can go about obtaining Ryuji on your team, his personas guide, and everything else you need to know about him. Make sure to keep on reading if you want to know all that!
Also Check Out: How To Unlock 3rd Semester In Persona 5 Royal?
Who Is Ryuji In Persona 5 Royal?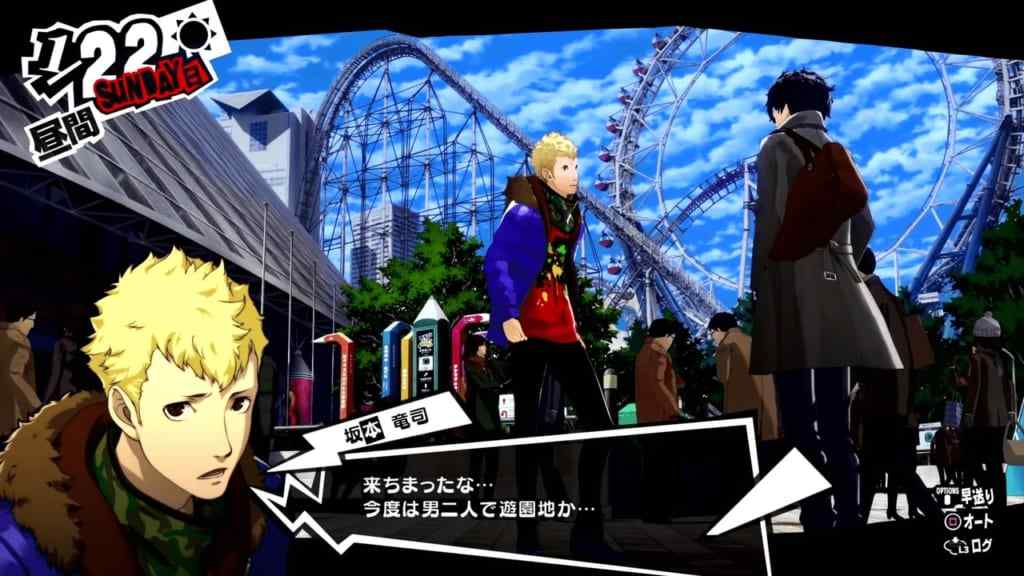 Ryuji (also known as "Skull") is one of the earliest additions to the team and an excellent physical damage dealer in Persona 5 Royal. Captain Kidd, his Persona, wields a combination of highly damaging physical attacks and useful electrical magic, as well as access to the attack-boosting "Tarukaja" and "Matarukaja."
Ryuji is a valuable member of the team throughout Persona 5 Royal's early game and continues to be useful in the late game when facing foes who do not have resistance against physical and/or lightning damage. He also has good defensive stats and HP, which contribute to his survivability in combat, though his Wind weakness can be problematic against certain opponents.
How To Unlock Ryuji In Persona 5 Royal?
Ryuji is your first friend and confidant in Persona 5 Royal. He is not missable by any chance in the game. The protagonist is required to interact with him to progress the story. Therefore, as you keep progressing the story, you will unlock Ryuji.
Without spoiling any of the story stuff, as Ryuji is the first confidant, you do not need to wait that long to obtain him. Ryuji becomes your first friend ever in the story. When you have interaction with him, he is added as your confidant.
What is Ryuji's Persona Like In Persona 5 Royal?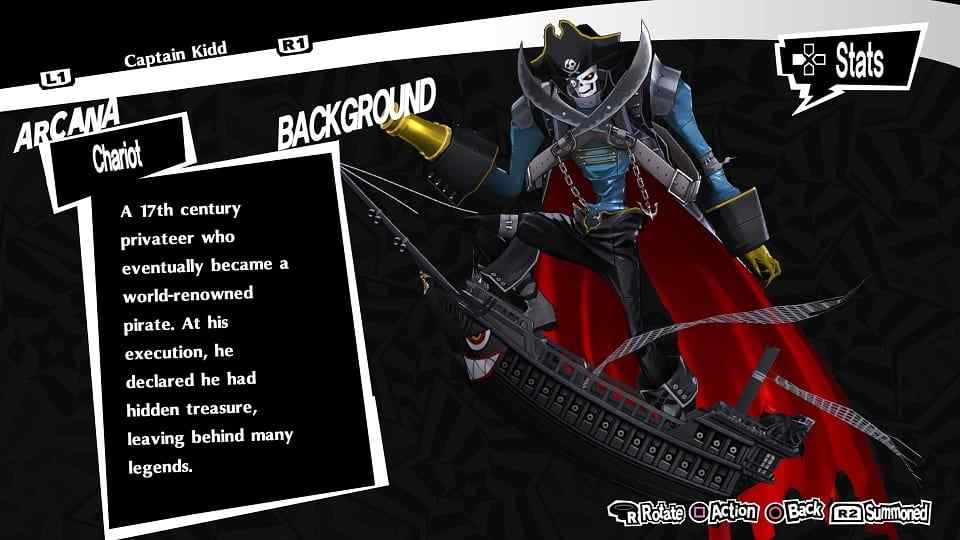 Everyone on your team of Phantom Thieves has 3 personas. Ryuji is no exception as well. Just like all the others, Ryuji possesses 3 personas as well. The 3 personas can change or evolve depending on what you choose to do.
Ryuji originally joins your party with his persona called Captain Kidd. Captain Kidd is received at the start of the game, when Ryuji awakens his persona in Kamoshida's Palace.
When Ryuji's Chariot Confidant reaches level 10, Captain Kidd is upgraded to Seiten Taisei. Seiten Taisei also gains the ability to Evade Wind. Evolving the persona automatically upgrades Ryuji's stats as well. Finally, when you reach the 3rd semester, you can upgrade the persona even more.
Ryuji's final Persona, William, can be obtained by speaking with Ryuji during the January bonus semester. William gains the skill Fighting Spirit, which gives the entire party charge, and his trait is upgraded to Eccentric Temper, which increases any ally's damage by 80% whenever they attack.
Also Check Out: Best Romances In Persona 5 Royal
What Is The Best Build For Ryuji In Persona 5 Royal?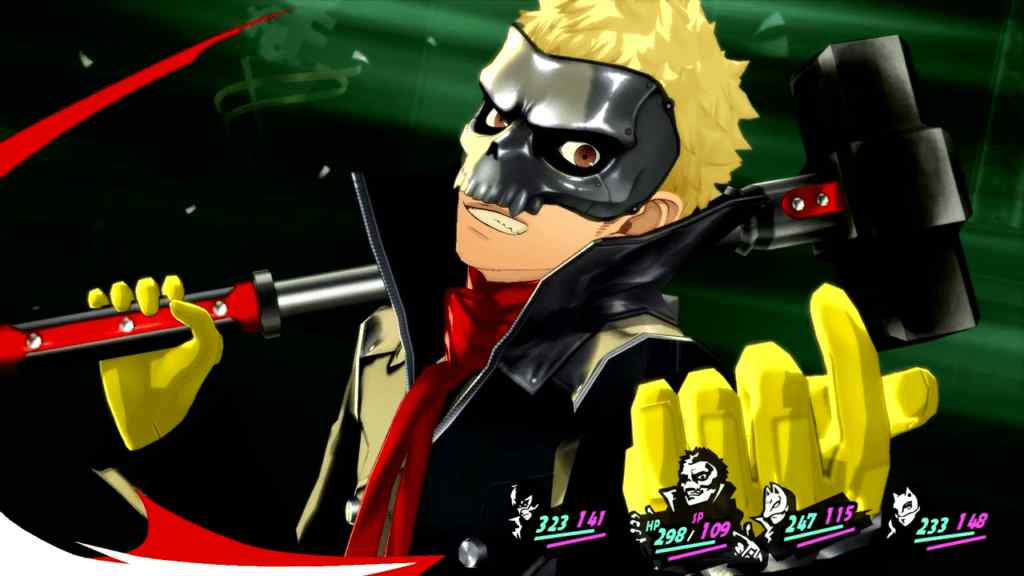 Acquiring the best gear in Persona 5 Royal requires a lot of different activities, such as gathering loot from shadows, cleaning up gear at the laundromat, and executing personas with the Electric Chair. Below we will be talking in detail about the best equipment you can get for Makoto in Persona 5 Royal.
Best Weapons For Ryuji (Skull)
1. Judge Mace
The Judge Mace is an excellent early upgrade for Ryuji that can be found while exploring Kamoshida's Palace and will be useful until Untouchable begins stocking new gear during the Madarame arc.
It not only has better stats than any other available weapon at this point in the game, but it also has a low chance of confusing any enemy hit with it. It can be found inside a chest in Old Castle 2F, East Building 3F.
2. Imprisoned Mjolnir
Mjolnir, one of Ryuji's most powerful weapon options, is a tremendously powerful hammer created by executing Thor using the electric chair. It has 280 attack and 88 accuracy, as well as increasing the power of Ryuji's electrical attacks, making it an excellent choice for players looking to improve his magic's effectiveness.
If you choose to execute Thor during a Fusion Alarm, you will receive the Imprisoned Mjolnir, Ryuji's strongest available weapon in terms of raw stats.
This is an excellent choice for increasing Ryuji's damage potential, as it has 324 attack and 88 accuracy while retaining the electrical magic boost of the original Mjolnir. Thor is a Chariot Persona of level 64.
3. Fine Ruyi Jingu Bang
The Ruyi Jingu Bang is an extremely powerful alternative weapon for Ryuji. This powerful weapon was created by executing Hanuman with the Electric Chair and boasts 270 attack and 88 accuracy. It also applies Tarukaja to Ryuji at the start of battle, increasing his attack power and saving the turn required to apply it manually before attacking.
Using the Electric Chair to execute Hanuman during a Fusion Alarm instead results in the Fine Ruyi Jingu Bang. This has 290 attack and 88 accuracy while retaining the original's auto-tarukaja effect.
Players who don't want to spend the time acquiring and executing Thor for the Mjolnir, or who want to boost Ryuji's power without spending a turn buffing him, will find this weapon extremely useful. Hanuman is a level 64 strength persona who can be found in Shido's Palace as a shadow.
4. Pumpkin Bomb (Electric Chair Execution: Jack O'Lantern)
The Pumpkin Bomb is a good weapon to give Ryuji as soon as the Electric Chair is unlocked in the Velvet Room. This shotgun has a medium chance of inflicting burn, as well as 150 attack and 85 accuracy.
This gives it a lot of versatility, and it can also set up technical attacks by combining the burn effect with wind attacks from Joker or Mona. To obtain this weapon, simply use the Electric Chair to execute Jack O'Lantern.
Waiting for a Fusion Alarm before performing the Itemization will result in the Pumpkin Buster, a stronger variant with 160 attack and a high chance of inflicting burn, making it even more effective in combat.
5. Megido Buster
Megido Fire and Megido Buster are the game's ultimate shotguns. Players will need to execute Shiva in the Electric Chair to obtain Megido Fire, which has 350 attack, 85 accuracy, and a high chance of inflicting burn.
This gives it the same level of effectiveness and flexibility as the previously discussed Pumpkin weapons, but with significantly more power.
When Shiva is executed during a Fusion Alarm, the Megido Buster is created, which has 380 attack but otherwise functions identically to the Megido Fire. Shiva is really a powerful Judgment Persona at level 82.
Also Check Out: How to Progress in Persona 5 Royal?
Best Armor For Ryuji (Skull)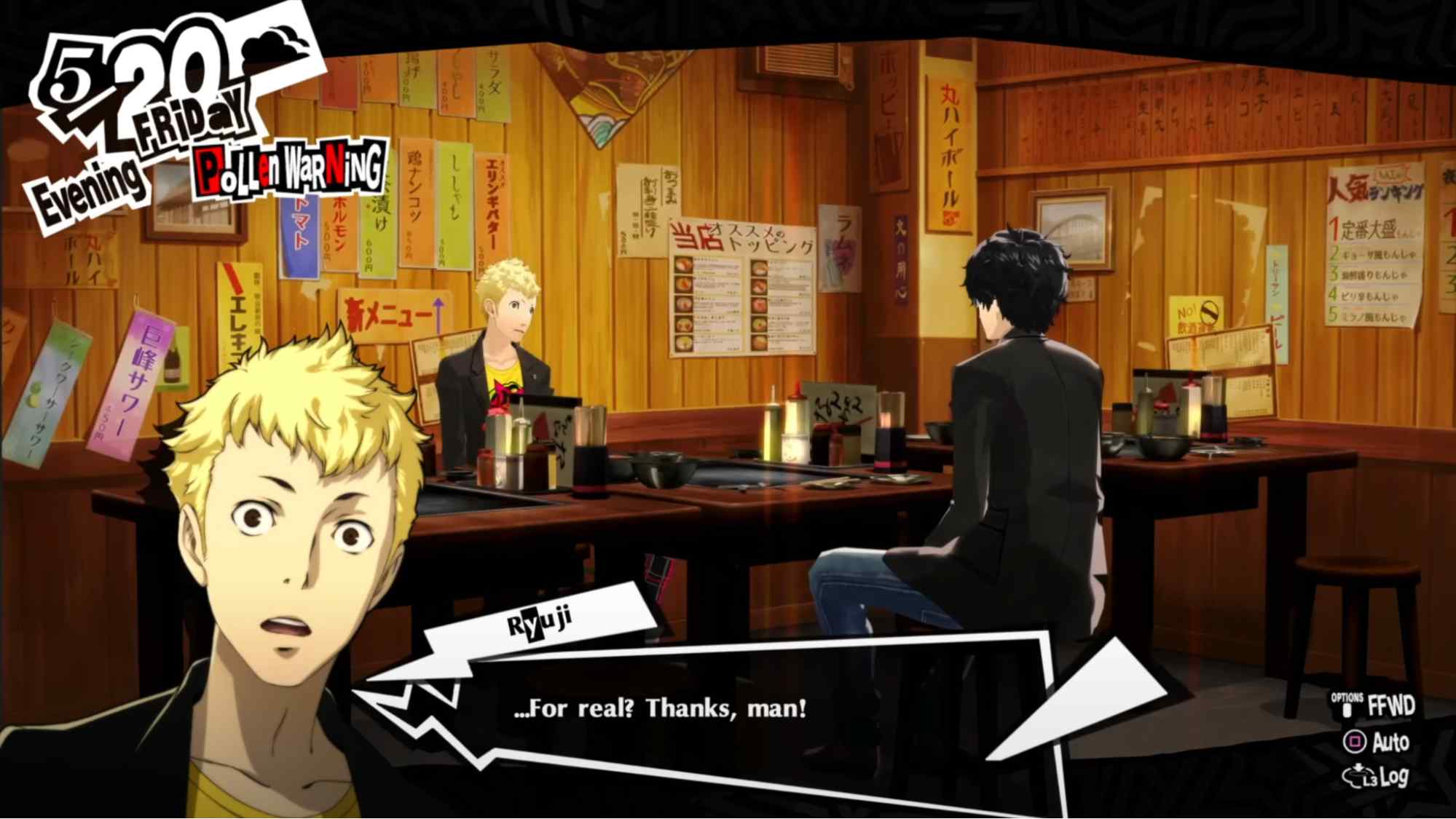 1. Dishonored Haori
The Dishonored Haori is a useful pick to complement Skull's excellent natural defenses, with 140 defense and 8 evasion while increasing endurance by 5. It can be obtained by laundromat-washing Sooty Man's Armor.
Sooty Man's Armor can be found in treasure chests in Mementos' Path of Kaitul section, which opens up after completing the Kaneshiro arc. It is also a drop from Take-Minakata or a reward for successfully negotiating with them.
2. Lucky Underwear
The Lucky Underwear is a very good armor option for Skull that can be acquired during the Third Term content added by Royal. It has 330 defense and 15 evasion, and raises the wearer's HP by 50.
It can be acquired by washing Sooty Bolt Armor at the laundromat. Sooty Bolt Armor can be found in Treasure Chests in the Path of Da'at section of Mementos, which becomes available during the Third Term, or by successfully negotiating with Thor.
3. Tantric Oath R
The Tantric Oath is one of the greatest pieces of Armor in the game, and it can only be obtained by Executing Satan with the Electric Chair. It has 325 defense, 18 evasion, and an effect that greatly reduces all magical damage. This makes it an excellent choice for any of the game's male characters.
The Tantric Oath R is the best piece of armor in the game, and it can only be obtained by Executing Satan with the Electric Chair during a Fusion Alarm. This version has 350 defense and otherwise the same stats as the original Tantric Oath.
Best Accessories For Skull
1. Ring Of Vitality
The Ring of Vitality and Captain Badge both grant Life Surge to the character who wears them. This increases their HP by 30%, making characters such as Ryuji even more tanky.
The Captain Badge is obtained by completing all of the Big Bang Burger challenges, whereas the Ring of Vitality can be purchased for 60,000 at 37 Degrees Celsius in the Shibuya Underground Mall.
2. Champion's Cup
After collecting all of Kamoshida's Will Seeds and completing his Palace, the Champion's Cup is obtained. It enables the equipped character to use a skill that heals the entire party while also applying Tarukaja to the entire party.
Ryuji makes fantastic use of this accessory because he is tanky enough to survive even the most vicious hits and then heal/buff the party in a single move.
3. Divine Pillar
The Divine Pillar is a difficult item to obtain because it is a rare drop from the formidable Reaper found in Mementos.
This bonus boss is a difficult opponent, but those who defeat it can obtain the Divine Pillar, which reduces all damage received in exchange for removing the equipped character's Dodge ability. This is an excellent accessory choice for a character as naturally tanky as Skull.
What Is The Best Endgame Build For Ryuji?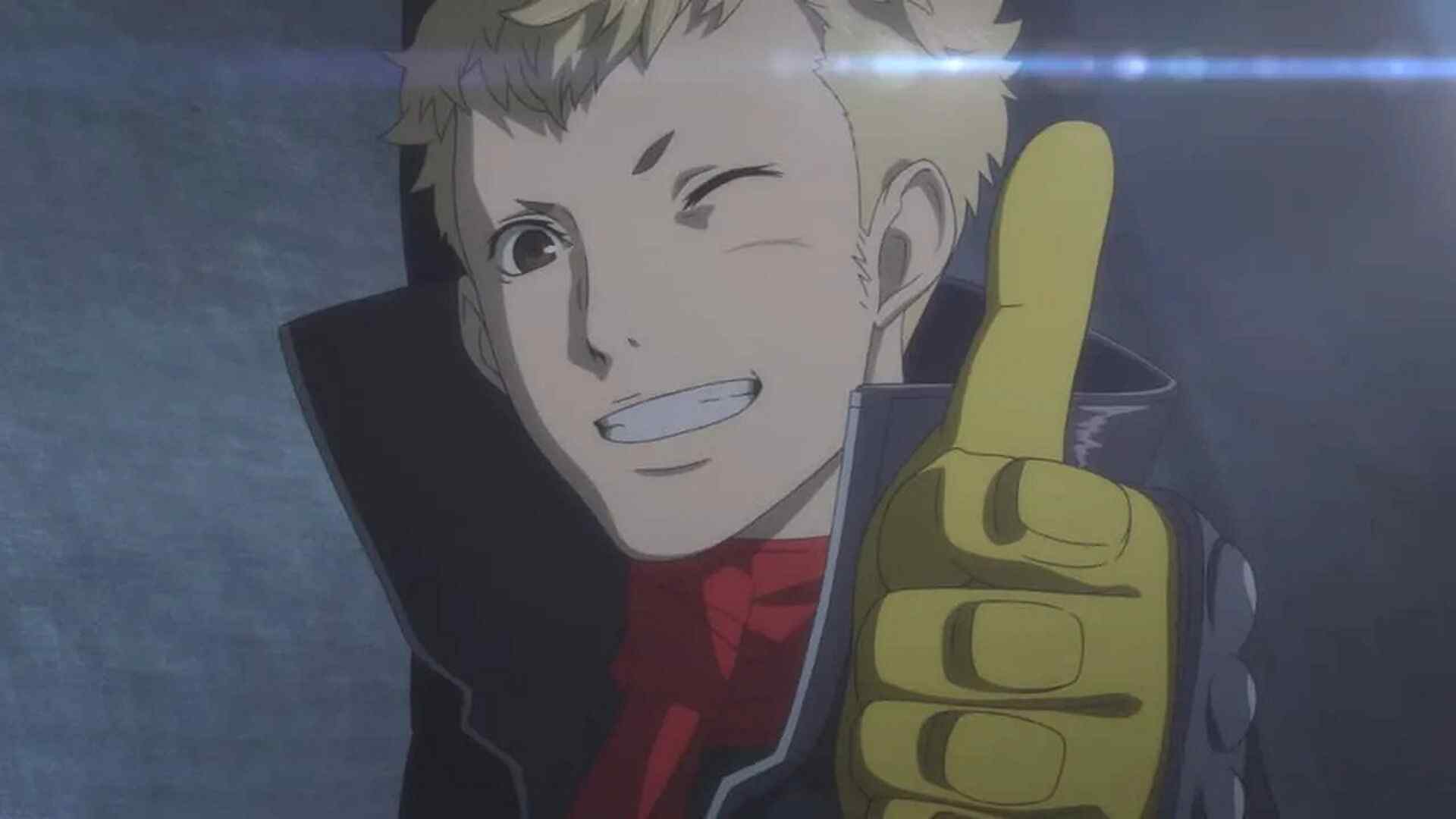 Every character in Persona 5 Royal gives you an option to pick 8 skills for them. Ryuji is no exception. He, just like others, offers you 8 skills to pick. There are many skills to pick from but overall, the following skills are the best Ryuji skills you can pick. These skills will help you through the whole game!
God's Hand
Agneyastra
Matarukaja
Fighting Spirit
Ziodyne
Maziodyne
Shock Boost
Elec Boost
Something to note is that Swift Strike was previously superior to Agneyastra in vanilla Persona 5, but that is no longer the case in Royal. You could remove Ziodyne to make room for Evade Wind, but it's not strictly necessary.
It's up to you whether having the option of casting single or multi-target spells or being able to avoid wind magic (which you rarely encounter) is preferable. We would recommend the prior one (casting single or multi-target spells) as magic is rarely encountered in this game.
Also Check Out: Best Equipment in Persona 5 Royal
What Do You Need To Know About Ryuji's Persona In Persona 5 Royal?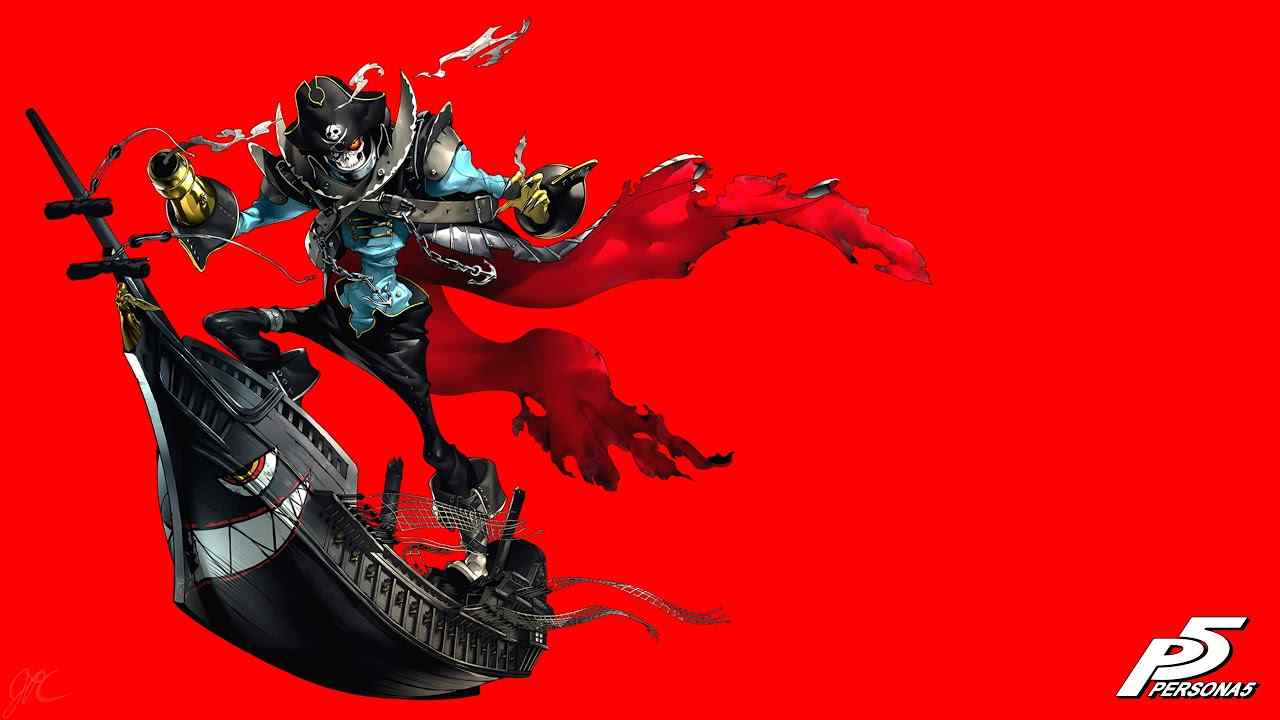 In Persona 5 and Persona 5 Royal, William is a Third-Tier Ultimate Persona available only to Ryuji Sakamoto or Skull. This Persona is associated with the Chariot Arcana.
William is inspired by "William Kidd," a Scottish privateer who became a notorious pirate in the 17th century. When his comrades plundered a ship without his knowledge, he earned the reputation of an outlaw.
While most of his characteristics are similar to those of Ryuji's original persona, Captain Kidd, there are a few differences.
William forgoes tattered pirate garb in favor of a punk outfit reminiscent of Ryuji's heist garb. The yellow on parts of William's design emphasizes this even more. Aside from that, he no longer sails on a ship but instead pilots a modern-day yacht.
Ryuji's Persona, Captain Kidd and the more he evolves into, is really good at physical damage. So he is especially helpful and useful when facing foes who do not have any resistance to physical attacks or damage. Ryuji and his persona will definitely thrive there!
Conclusion
So there we have it! Ryuji is a very fun character, not only on your team but around yourself as well. He has a playful personality and is super humorous.
In general, he is a very likable character and one of the first friends and confidants you meet in Persona 5 Royal. We hope this guide is helpful to you in building Ryuji well and getting him ready for the bosses and more!