Some people are hesitant to start a relationship with Tae Takemi. This is generally because she is a much older woman than Joker. But that is all a useless concern once you get to know her and see her side of the story. She is a scientist, and has a lab. When you initially meet her, she asks you to be her guinea pig.
That means you will have to test various drugs for her. This might seem weird and dangerous to do at first, but it's worth it in the end. These tests are for the greater good, revealing how compassionate and caring she is beneath her angry, tough self. Given her backstory, the most important takeaway from this relationship is seeing Takemi happy in the end.
To date Tae Takemi, you need to visit the suspicious doctor as soon as possible. Once you go there, you need to agree on being the guinea pig for her and let her test different drugs on you. In addition to this, you need to have ranked up Guts and other social stats for the romance route as well, plus more. We will go into details about all of this in the article below.
In this guide, we will go into details about how you can go about dating Tae Takemi in Persona 5 Royal. We will go through step by step so that you have no difficulty in doing her romance route and you glide through everything with ease. If you are interested in all that, make sure to keep on reading!
Also Check Out: How Many Palaces Are In Persona 5 Royal?
What Do You Need To Romance Tae Takemi In Persona 5 Royal?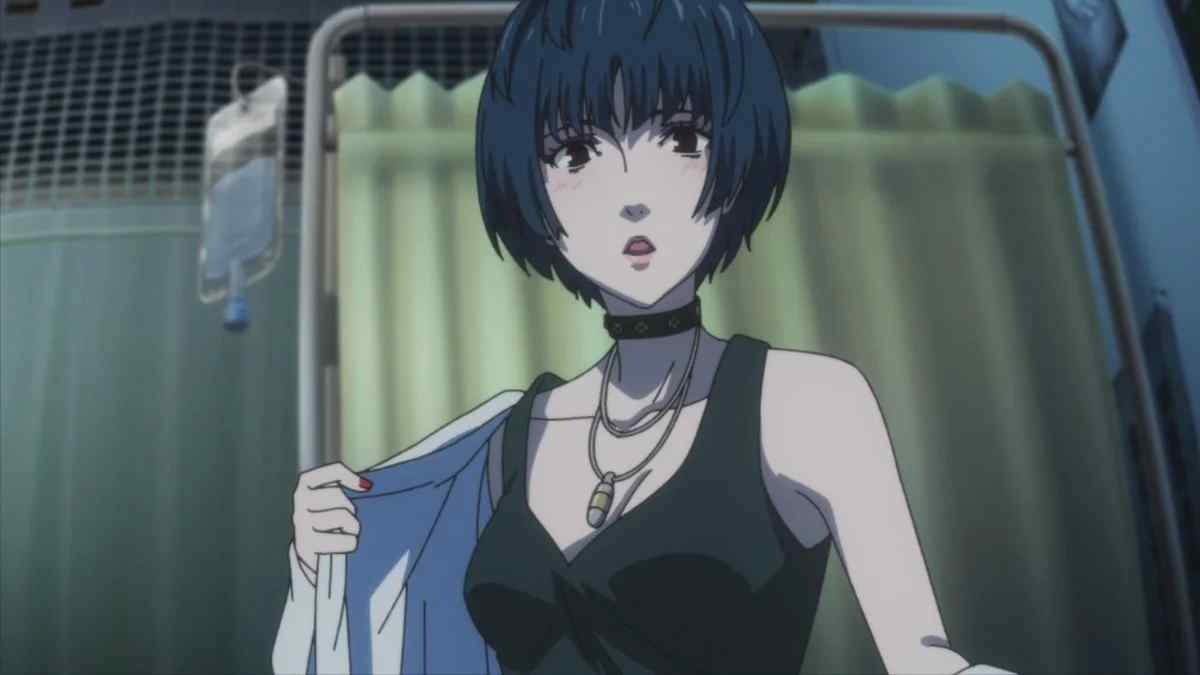 There are a few steps and things you must do in order to date Tae Takemi in Persona 5 Royal. These steps are critical if you want to pursue romance with her, so make sure you follow them carefully and don't skip any of them. To date Takemi, you must do the following:
Visit the suspicious looking doctor as soon as you possibly can.
Agree on becoming Takemi's guinea pig.
Let her test drugs on you.
Rank up your Guts social stat (for clinical trials).
Reach rank 4 on your Charm social stat.
Complete the mementos request that is offered.
Pick up gifts for Tae Takemi and give them to her.
Choose the romance initializing dialogue option.
Below, we will go into detail about each of the steps listed above. By following all of the listed steps, you will actually cement your romance with Takemi and she will become your girlfriend.
Dating Tae Takemi In Persona 5 Royal
Following are the steps you need to follow in order to secure your romance route for Tae Takemi and make her your girlfriend in Persona 5 Royal:
1. Visiting The Suspicious Looking Doctor: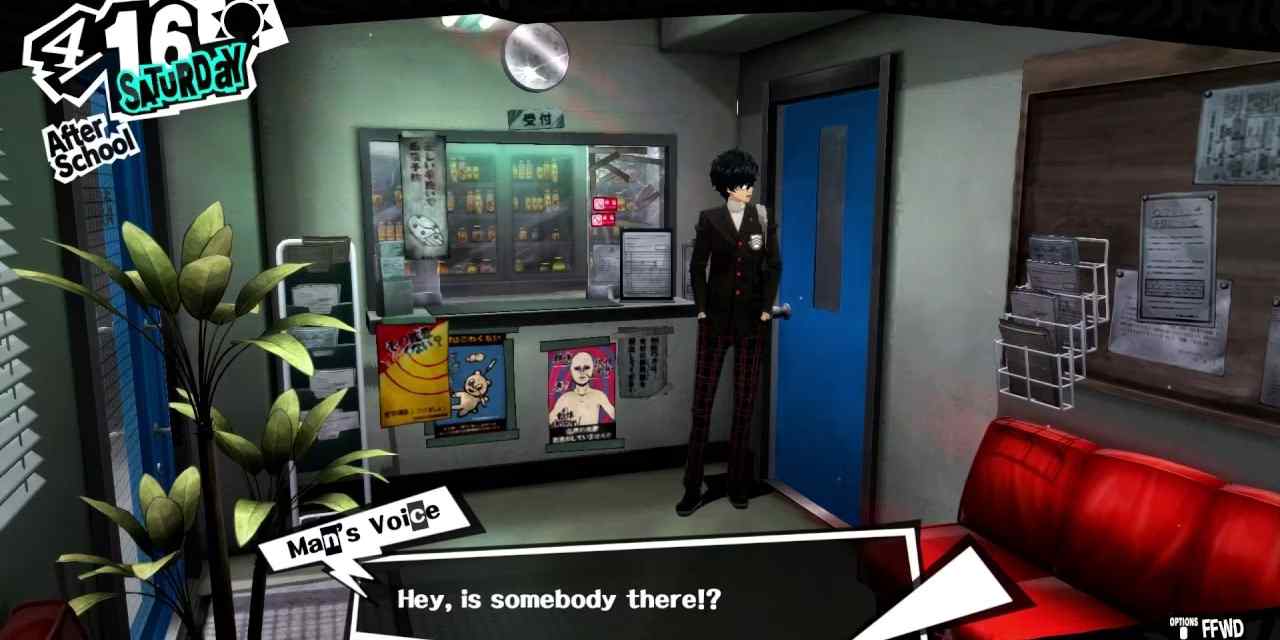 After you have been in Shibuya for about a week, Tae Takemi will pay a visit to Leblanc, and Sojiro will inform you that she is a physician in the area. Takemi is located just around the corner from the café on the same street. Following this chat, on 4/16 her Confidant will become available to her.
Tae's link begins earlier than Ann's does, making it among the game's more advantageous early connections. You need to pay her a trip as soon as humanly feasible, so try to schedule it for the following day after school. When you return to speak to Takemi about a unique kind of medication, you will have the opportunity to overhear a discussion while you are there.
2. Becoming The Guinea Pig (Initializing Clinical Trials):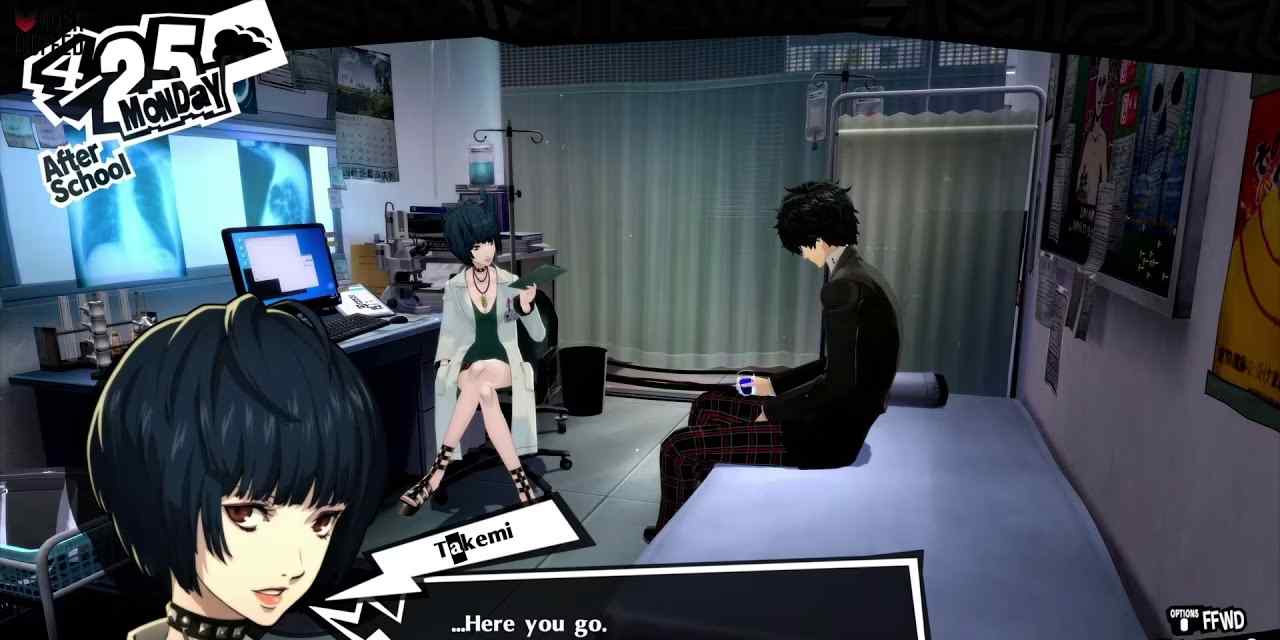 Takemi is going to be nervous about administering the drug to you initially. After you have persuaded her that she needs assistance, she will offer you a bargain. Takemi will provide you with exposure to a modest choice of her drugs in return for your assistance with the clinical trials that she is conducting.
Your Guts will get stronger as a result of the challenging tasks you have to do. In addition to the social advantages that come with participating in these tests, the conclusion of this transaction will signal the start of your engagement with Tae Takemi.
3. Rank Up Your Guts Social Stat To Rank 2: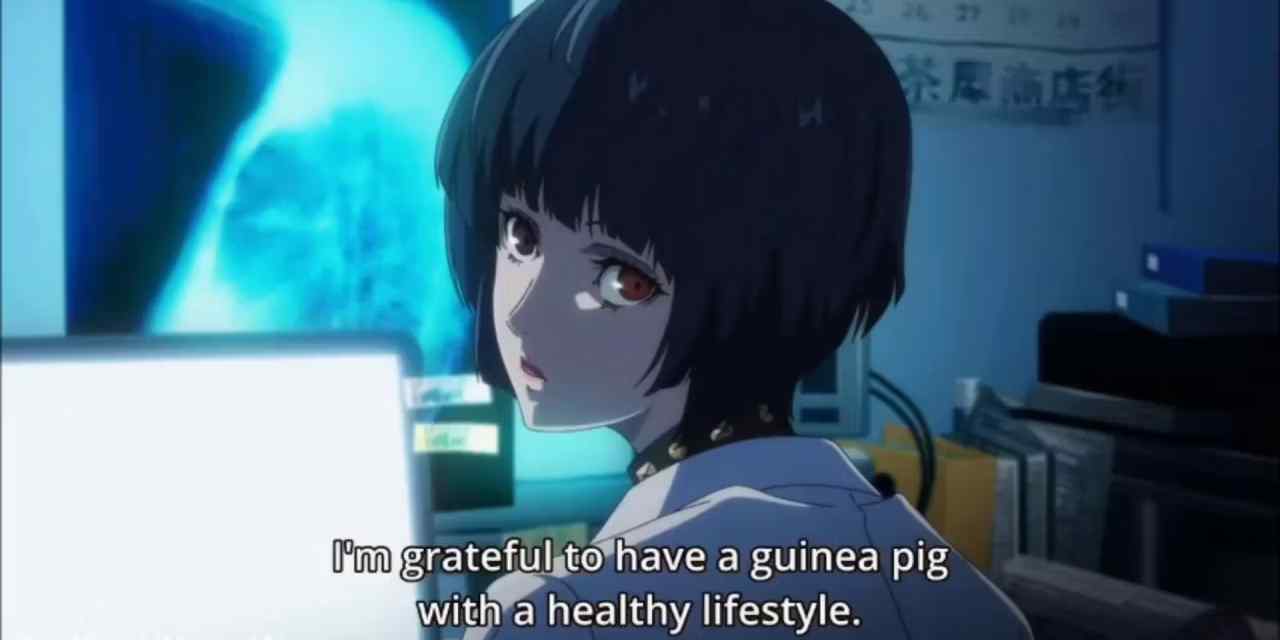 Following the initial meeting with the Takemi you will need to work on improving your Guts social stat in order to proceed with the Takemi's Clinical trials. As more content becomes available in the game, you will have more opportunities to level up your social metrics in your downtime. In Persona 5 Royal, completing a variety of actions will increase your Guts.
If you want to know all about raising the Guts and other social stats in detail, make sure to read our Ultimate Persona 5 Royal Social Stats Guide!
Also Check Out: How To Date Kasumi In Persona 5 Royal?
4. Reaching Rank 4 On The Charm Social Stat: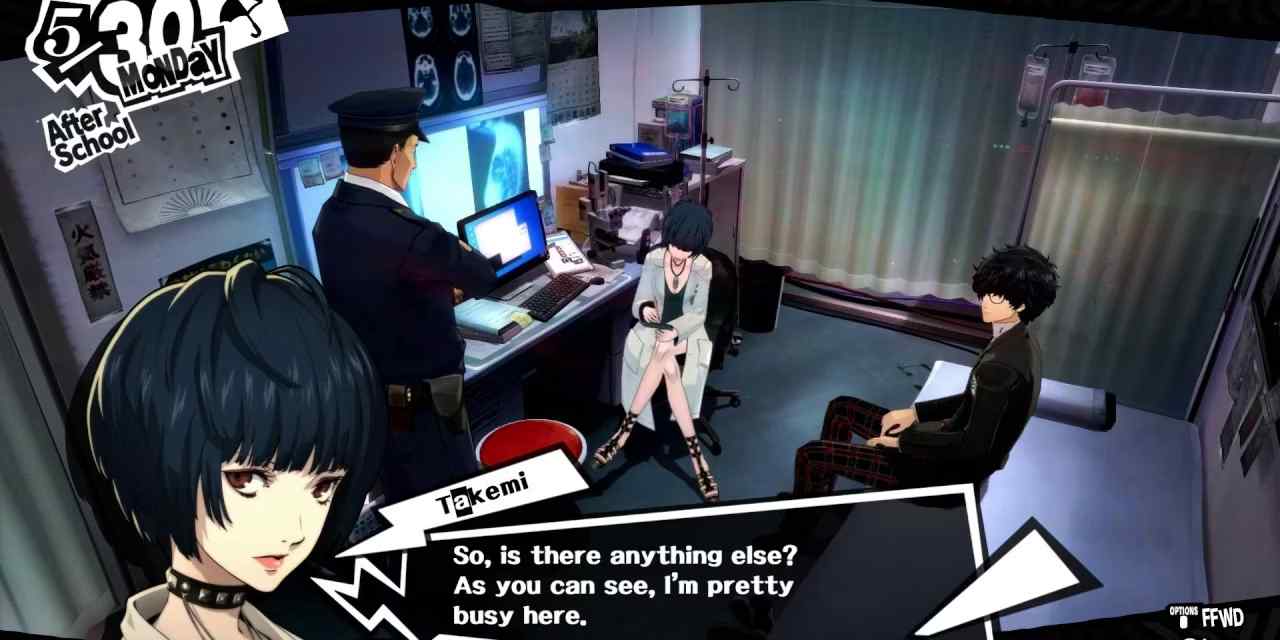 If you spend a while with Takemi, you will have a better understanding of her motivations for being so intent on developing medicine based on the results of her clinical studies. She has compassion for a sick youngster who was one of her patients in the past.
With each test, she moves another stage closer to being able to assist Miwa. Before Joker can go past Rank 7, they will need to meet yet another condition for their social stat. At this stage, you absolutely need to have level 4 Charm.
You can always refer to our Ultimate Persona 5 Royal Social Stats Guide for a detailed guide on leveling up the social stats. Once you've ranked Charm up to 4, you can continue Takemi's Confidant and help her with a special request.
5. Completing The Mementos Request: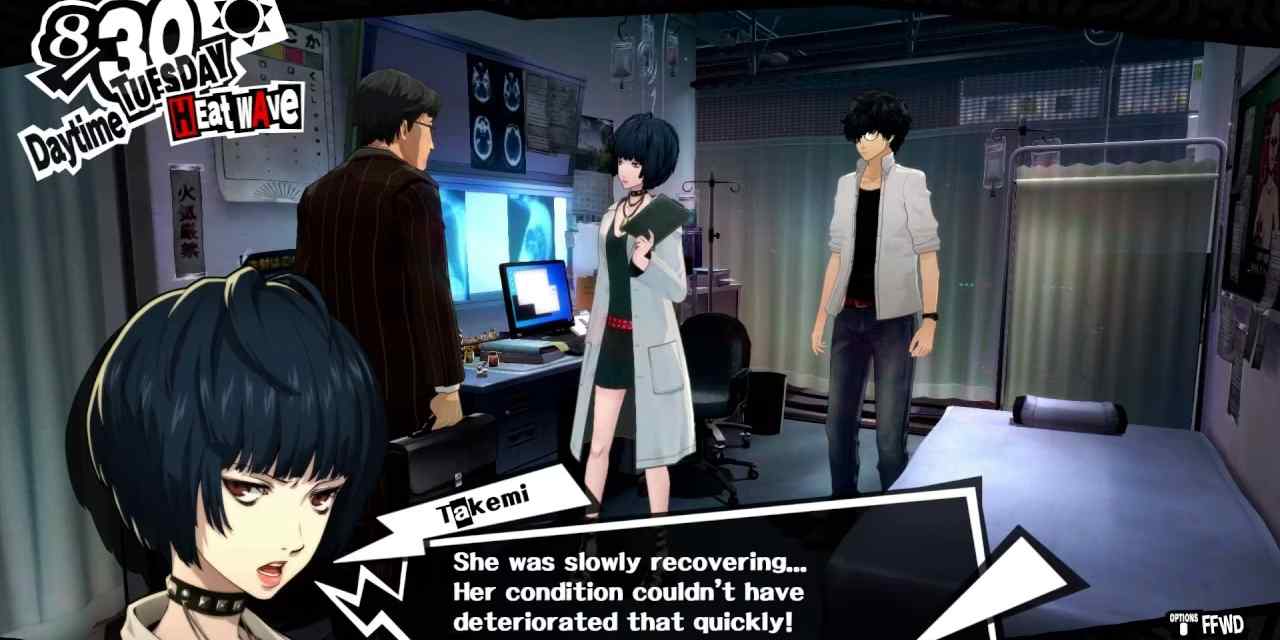 After reaching rank 4 in the Charm social stat, the remaining ranks of rank 7 will become available. At this stage, a malicious doctor arrives to taunt Takemi and asserts that Miwa has passed away. In order to move on from the seventh level of Takemi's Confidant rank, Joker as well as the Phantom Thieves will need to travel to Mementos as well as eliminate the target there.
Path of Chemdah, Area 2 is where you will find this task to complete. Due to the fact that this foe is not very difficult, you should spend the day completing any pending Memento requests in addition to completing this assignment. After the shadow has been vanquished, you can return to Takemi and have a conversation with her to raise her Confidant level at 8.
6. Picking Up Gifts and Giving Them To Takemi: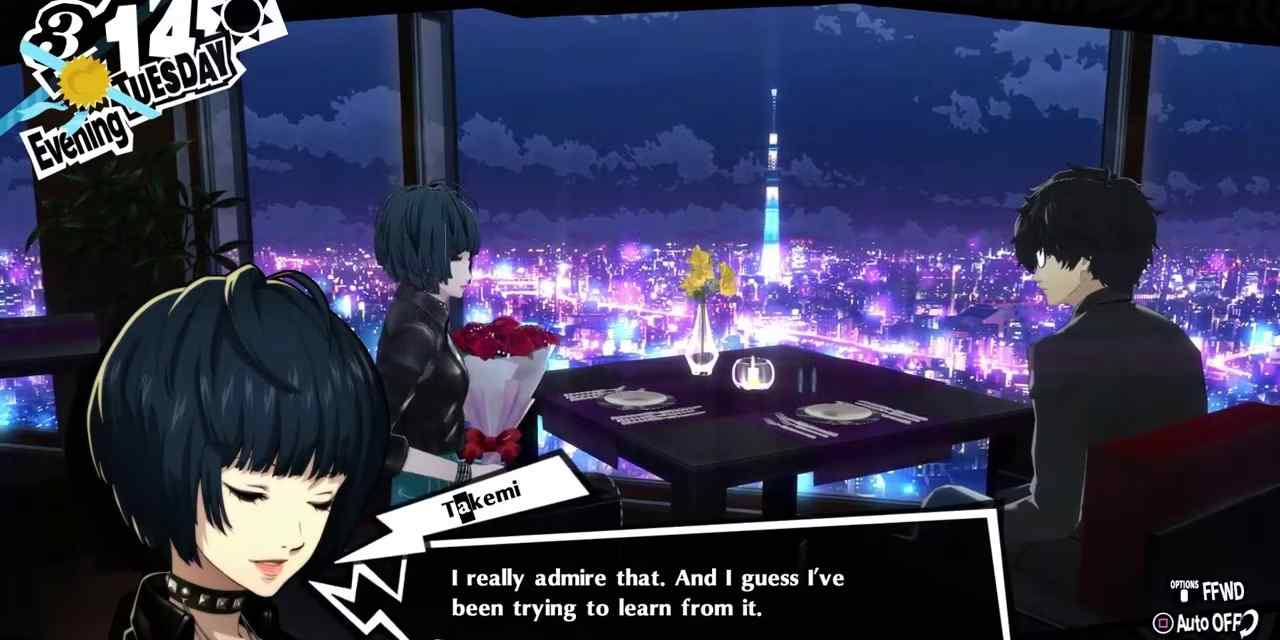 Takemi enjoys the company of well presented presents just as much as any other potential relationships in Persona 5 Royal. They serve the purpose of preventing the fruitless sessions that might take place when Joker does not have the required social status to advance to the next tier.
Takemi can advance her Rank through simple hangouts because she is one of early Confidants available in the game. This gives her some breathing room. Whenever you have the opportunity and the time, be sure to offer her any presents that you have. You will be able to fast advance through the final few levels of this Confidant if you do it this way.
If you want to know all about every gift you can give to Tae Takemi in Persona 5 Royal to make her happy, make sure to read our Ultimate Persona 5 Royal Gifting Guide where we list down the best gifts available for not only Takemi, but every confidant in the game!
Also Check Out: How To Play Mini-Games In Persona 5 Royal?
7. Selecting The Romance Dialogue Option: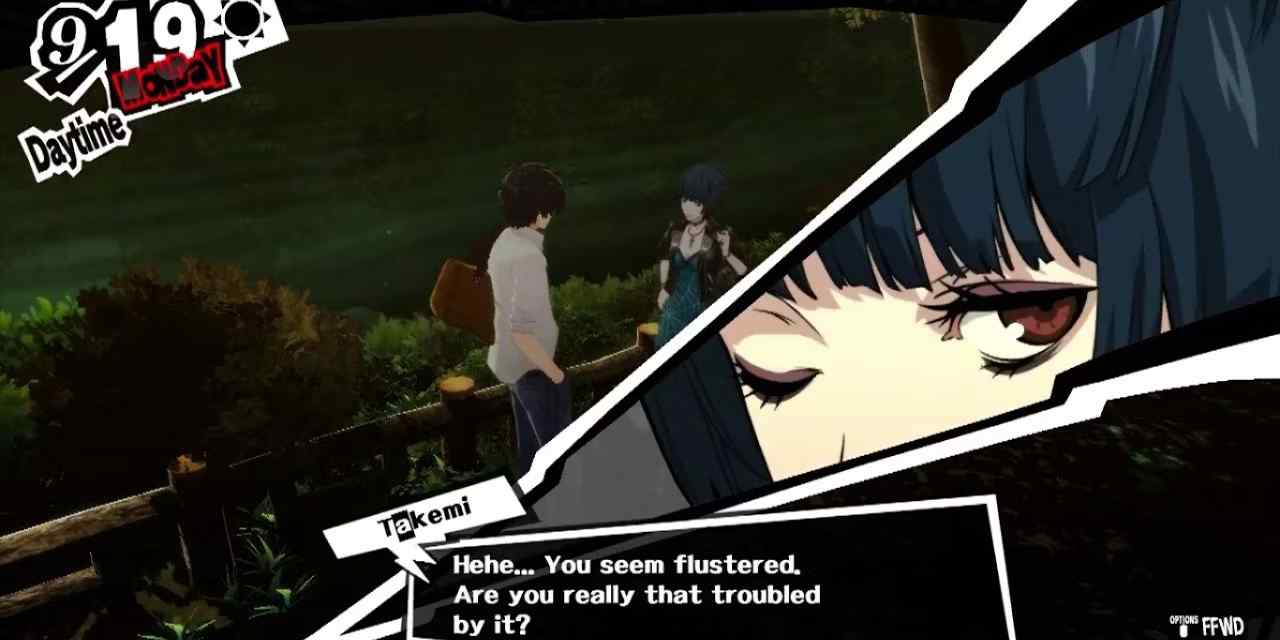 After you have defeated the doctor who is harassing Takemi, she will inquire as to the purpose of all the help you have provided for her. In answer 3, you should answer her, "I wanted to see you" which will indicate that you are interested in pursuing a romantic relationship with her. Takemi will not let you off the hook easy and will require you to express your emotions to her on several occasions.
Use the phrase "I love you" as a follow-up to this declaration to get her another step closer to agreeing to the romantic relationship. Lastly, when she questions whether you are making a joke, you should respond with "It is not a joke." This will ensure that she feels you are serious about wanting to be together with her. You and Takemi are now officially in a romantic relationship from this point forward.
Conclusion
And there we have it, everything you need to know to date/romance Tae Takemi in Persona 5 Royal! Many people get turned off from this romance option because Takemi is a much older woman than Joker, and many people do not like her Clinical Trials tactics as well. Despite all of this, she really is a good person at heart and you will find out why she is doing all that (and it's for a good reason as well).