Steam is a massive platform for the distribution of video games that is accessible in every region of the world. This indicates that you can access it in any nation, on any platform, to purchase games for your computer and play them whenever you choose. You'll see Steam installed on every gamer's computer without fail.
Steam provides alternatives for regional pricing as well as purchase, given that it is accessible in such a large number of locations throughout the world. This indicates that you don't need to purchase the games in US dollars since the prices may be converted into a price that is more favorable to your nation. For instance, if you are from India, Turkey, or South Asia, the price will be adjusted to be appropriate for your own country's economy.
Because of this factor, the cost of video games might vary greatly from location to location. Many individuals frequently ask if they can change their Steam Currency to one that has a lower cost or if they can change their place of residence to one that is outside of their own nation. Even after your account has been created, you can still switch the currency you use on Steam.
This is the quick answer. Having said that, doing so is quite another matter.
However, there is no need to stress about the possibility that it will be a laborious process for you. In this post, we will go over the several methods by which you may alter the currency associated with your Steam account, regardless of the reason.
Related: Why Is Music So Important In Persona Series?
If you are leaving your home country, or even if you just want to change it because you want to pay less for the games, we will go through the steps that you need to do in order to make the switch successfully. Before you go ahead and accomplish all of this, there are certain prerequisites and other details that you need to be aware of, and we will go over all of those things in this article.
If you want to know all of this information, make sure to keep on reading!
What Do You Need To Know About Changing Currency On Steam?

You can pay a lower price for most games because of changes in currency rates. Indie video games tend to be more affordable in nations with weaker economies.
However, you must bear in mind that changing the currency on your Steam account even though you do not reside in that nation violates the rules and conditions of Steam and, in the end, is detrimental to the players who genuinely reside in those countries.
As a result of many gamers abusing this way of changing currencies, Steam eventually ends up boosting the suggested price of the games in those countries.
This is not as much of an issue if you earn much money while residing in another nation. On the other hand, this is a major deal breaker for those who call such countries their home. This means that they will ultimately be responsible for paying for more, although earning a far lower income than those residing in a developed nation.
If you are truly planning to move to that country and earn a living there, none of this information is relevant. In this post, we will discuss both potential outcomes and provide suggestions for what you ought to or might do in each scenario. If you are interested in learning all of that information, be sure to keep reading because we are going to go into the specifics of this issue.
How To Change Steam Currency If You Are Moving To Another Country?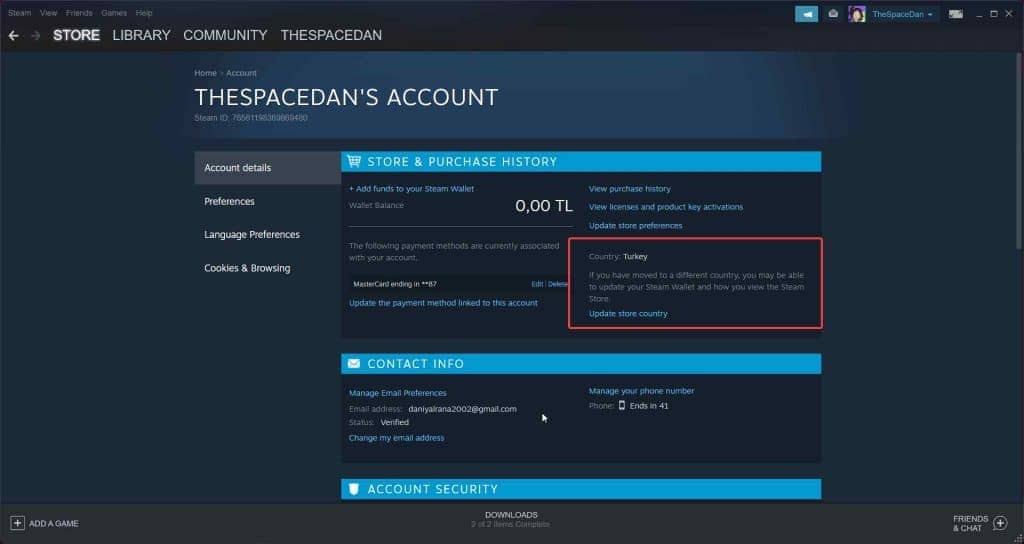 If you are relocating to a new country, changing the currency on your Steam account is very straightforward. You will need to follow these procedures to change the region and currency associated with your Steam account to your respective region.
However, you should only do so once you have moved to your respective place. This is significant because you will not be presented with the choice to do that until you move. Once you have arrived at your new location, proceed with the instructions described below:
Open the Steam client on your PC or phone.
Hover the mouse on your username, and press "Account Details."
There you should see the option to change the store to the respective country you are in.
On doing that, go back to the store page.
Now you need to save the country in your account. To do that, you need to make a small purchase using the credit card/debit card issued by the country.
On making a purchase, your new place will be successfully saved into your account.
Following these steps guarantees that your Steam currency will be changed forever until you decide to change it again.
How To Change Steam Currency Without Moving?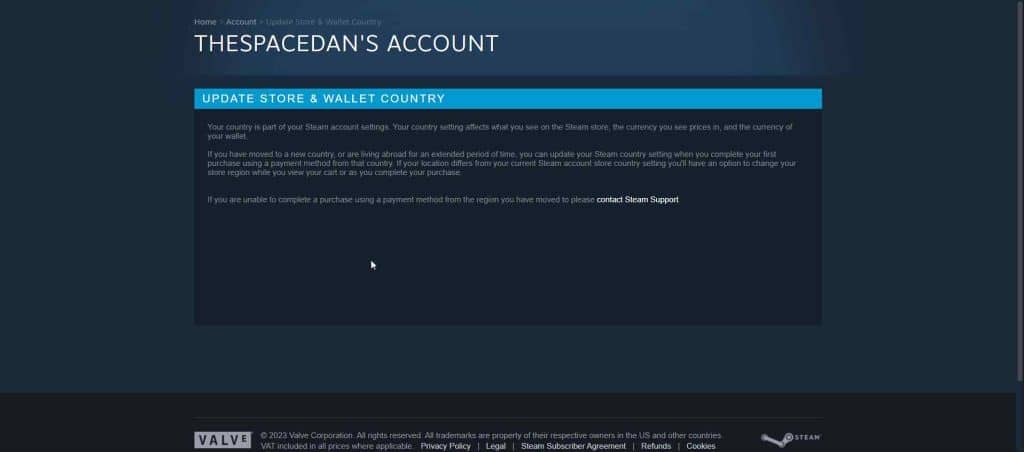 Altering your currency on Steam does not require moving to a new location. However, you should be aware that doing so violates the Terms and Services of Steam, which could result in you being banned from the platform.
Because Steam is not really able to filter out who the legitimate people are and who the advantage-feeding people are, this reason has not been the cause of a significant number of ban cases that we have seen. As a result, we can assert that this is safe, even though we do not accept any responsibility for any bans that may result.
Following are the steps you need to follow to change your currency on Steam:
Download any good VPN you know of. We recommend UrbanVPN for this as it is free and will get this job done from experience.
After downloading the VPN, open it up and connect to the country or region you want to change your Steam currency to.
After it is connected, restart your Steam client.
After you have restarted your Steam client and it has opened up, click on your account name and head over to "Account Details."
On the update country section, you should see an option to update it to the country you connected to the VPN. If you do not see the option, you might have done something wrong or need to restart your Steam client again.
Once you have selected the country, you need to save the newly connected country on your account, as just leaving the process at this stage will undo all the changes once you turn the VPN off.
Make sure you have some funds in your Steam wallet and that your credit card/debit card is supported by the new region you are in or get some new funds for the region you just shifted to and add them to your account.
Head over to the store, search by price, and get the least expensive game so that money is well-spent.
Once you reach the purchase screen, you must enter a fake address for the new region you just shifted to. To do that, search Google for "fake address generator for x," with x being the region you just shifted to.
After completing the purchase, your new account region setting is saved permanently.
You can now restart the Steam client and close off the VPN. The new currency option is now cemented into your account.
When you go about purchasing games like this, you will pay a lot less overall. Be aware, however, that doing so is against the Steam Terms and Services and could result in a ban or suspension from Valve if you are not careful; consequently, you must carry out each step in the manner we have outlined above.
Frequently Asked Questions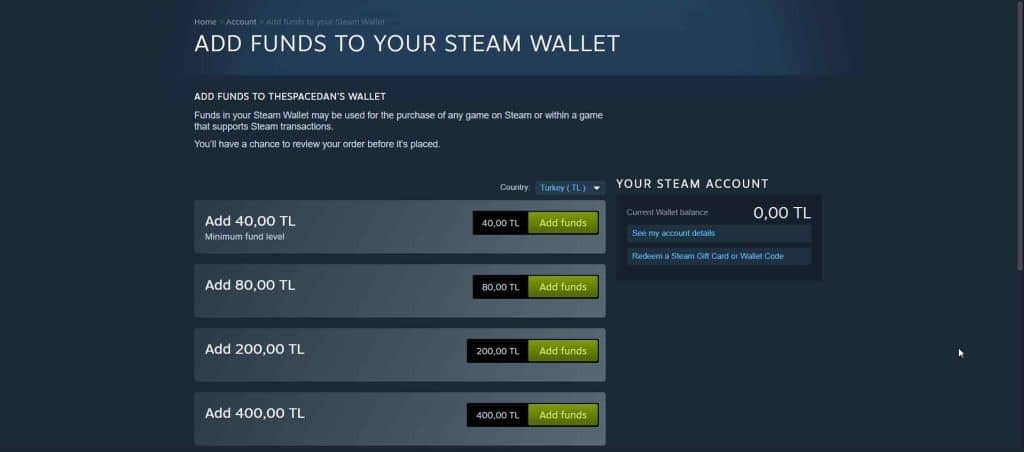 Will I Get A Ban For Changing My Steam Currency This Way?
Even though this is against the Terms and Services of Steam, we have not yet experienced any ban cases from changing the Steam currency in this way, and nor have we heard of any.
My Currency Did Not Change And Reverted After I Closed Off The VPN.
Your currency did not save because you did not make a purchase. Making a purchase is essential to let Steam know that you are a legit case and that you really are a real user purchasing stuff from the new region.
Do I Need To Keep The VPN Running Every Time I Turn Steam On?
No, once you have purchased in a new region, you can permanently close off the VPN and use Steam like you usually would.
What Happens To The Funds I Already Have In My Account If I Change To A New Region?
You will not lose any funds on changing the region; all of them will be simply converted to the new region's currency on changing the region.
Final Thoughts
And with that, we have covered everything you need to know to make any necessary adjustments to the currency you use on Steam. It is never a good idea to go against the Terms of Service of a company, even if changing your region could provide you with benefits and be very beneficial financially.
In light of this, you ought to always be ready for the worst possible outcome if you engage in activities of this nature. Nevertheless, we hope you find the information presented here to be of good use.