You can start a relationship with a player or an NPC and even marry them! But because of some circumstances, you might wanna break up with your partner, and you are confused about how to do so.
Using a Wilted Bouquet, you can easily break up with someone in Stardew Valley. You can craft a Wilted Bouquet using a simple Bouquet. You can use the Wilted Bouquet to break up with your girlfriend or boyfriend in Stardew Valley.
We will discuss how to break up with a player on an NPC in Stardew Valley.
Also Read: How To Give Gifts In Stardew Valley?
How To Break Up With Your Boyfriend Or Girlfriend In Stardew Valley?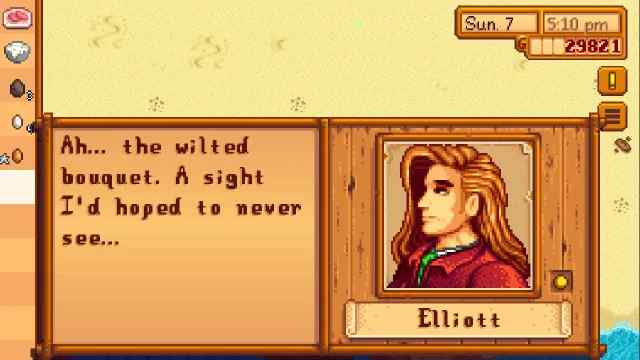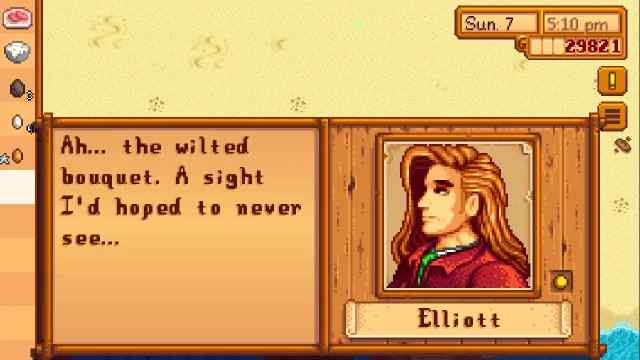 You can break up with someone in Stardew Valley using a Wilted Bouquet. It is similar to a simple bouquet that you give to other players to start a date with them. But in this case, if you give the Wilted Bouquet to a player or an NPC you will break up with the person in question.
How To Get A Wilted Bouquet In Stardew Valley?
To obtain or get a Wilted Bouquet you will have to first get a simple bouquet and then craft the Wilted Bouquet out of it.
Here are the steps that you can follow to get a Wilted Bouquet:
Go to Pierre's Shop: First of all, you will have to go to Pierre's shop. He opens his shop daily from 9 am to 5 pm. You can still enter the shop after 5 pm, but you are not able to use it because Pierre is no longer available on the sales counter
Buy the Bouquet of Flowers: After reaching Pierre's shop, you will have to get the simple Bouquet which is called the bouquet of flowers. You can get a bouquet of flowers for 200g.
Craft the Wilted Bouquet: After getting a bouquet of flowers, you need to place the bouquet of flowers into a furnace along with one coal.
Then, all you have to do is give your boyfriend/girlfriend the Wilted Bouquet. Upon giving this to your boyfriend/girlfriend your relationship will end with the person in question.
What Happens After You Break Up With Someone In Stardew Valley?
When you break up with someone in Stardew Valley, nothing special changes. You are still able to talk and interact with the person like before. The only thing that will happen is that the person will not appear at your future weddings.
How To Divorce With Someone In Stardew Valley?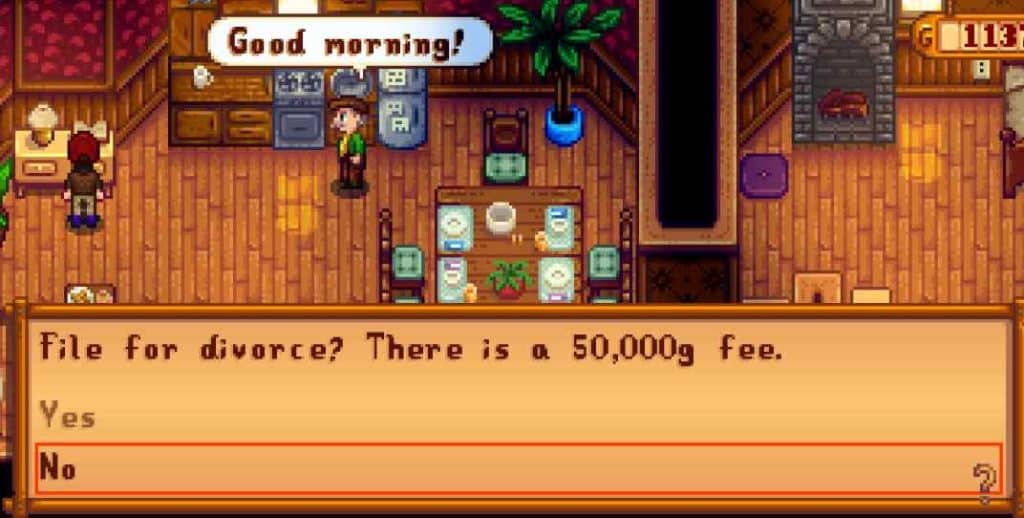 Divorcing is not the same as breaking up. If you married a person and now you want to divorce them, then you will have to file a divorce properly. Don't know how to file a divorce in Stardew Valley? Don't worry we've got you covered.
A small book in the Mayor's Manor's library gives players the option to divorce their spouses if they choose to do so. A 50,000g divorce fee is required. Players who file for divorce but decide later in the day (before Lewis' house closes at 10 pm) that they no longer want the divorce to have that option.
The next day, their friendship level will reset to zero hearts, and their spouse's room and special outdoor area will all be gone if they don't cancel. The label "(ex)" will be placed next to their name.
When a character's marriage ends in divorce, the former partner often returns to their previous home and acts coldly towards the player. They also won't take any of their gifts. Remember that the player can still enter the ex-bedroom spouse's or home as if they had 2 friendship hearts with the ex. Any offspring of the union will remain at the farm.
The day after the divorce is finalized, any items the player had left in the ex's room will be retrieved and stored in a chest. Ex-spouses will not celebrate the player's wedding or treat them normally during Festivals after the divorce is finalized.
Also Read: How To Save In Stardew Valley Switch?
Conclusion
Breaking up and divorcing someone are two different things in Stardew Valley. For a breakup, you just have to get a Wilted Bouquet for 200g and give it to your boyfriend/girlfriend.
For a divorce, you have to file a divorce from the Mayor's Manor properly, and it is much more costly to divorce someone. A Divorce costs around 50,000g
It is better just to fix things with your partner, if you cannot afford the divorce.