Elden Ring has a host of challenging bosses, and most people run into some trouble when they are ambushed by Margit, The Fell Omen.
Margit is the first main story boss, representing a major difficulty spike that may well cause you to question whether Elden Ring is for you. He appears near Castleward Tunnel, and must be defeated in order to reach the terrific legacy dungeon Stormveil Castle.
If the phrase "Put these foolish ambitions to rest" is starting to haunt your nightmares, you're in the right place. Here's everything you need to know about how to beat the Elden Ring Margit boss.
What level to fight Elden Ring Margit boss?
For many, Margit is the first boss that really tells you it might be worth exploring the surrounding area first. It's easy to run into him too early, and the consensus here is that you should reach at least level 25 before you take him on.
Of course, the Elden Ring Margit boss can be beaten at an extremely low level if you know all of the tricks, but there is no shame whatsoever in turning around and taking time to explore the Lands Between. Unfortunately, if you faced him unexpectedly you may have to sacrifice the runes you've left on the battlefield, but this comes with the territory of Elden Ring.
Is Margit a mandatory boss?
As it happens, you actually don't need to beat Margit to complete Elden Ring. However, if you do not defeat him then you will not be able to access Stormveil Castle and take on one of the main bosses. It's highly recommended that you defeat Margit.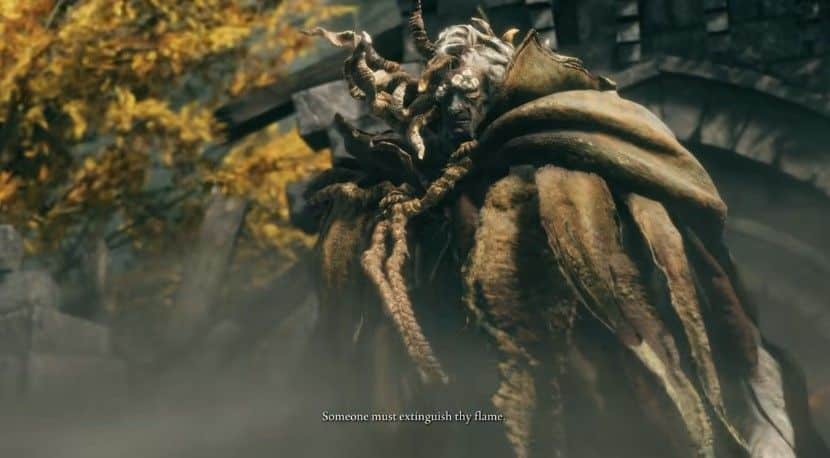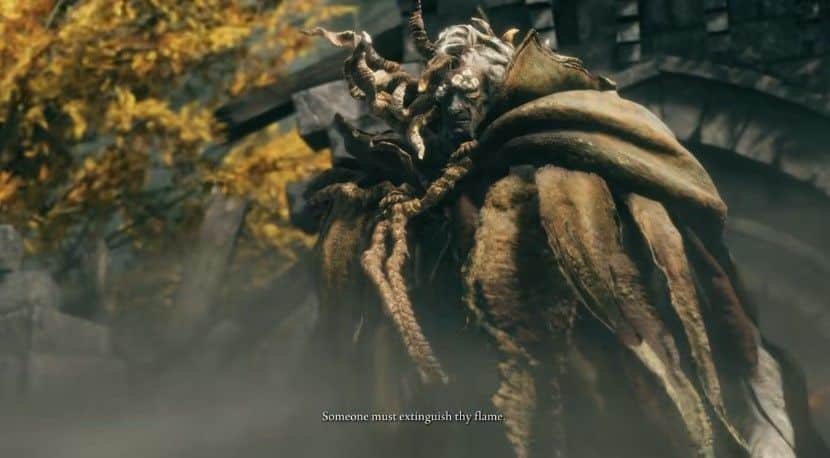 How to beat Elden Ring Margit boss: General tips
Before we start breaking down attack patterns and specific strategies, here are a few things to bear in mind.
You can block Margit's attacks – except for golden ones
Most of Margit's attacks can be blocked, provided you have a shield and sufficient stamina. This is with the exception of his golden glowing attacks. He has golden throwing knives, a golden sword and (in his second phase) a golden hammer which does serious damage.
This is something to learn in general – when enemies attack with glowing weapons, this usually can't be blocked without sustaining damage.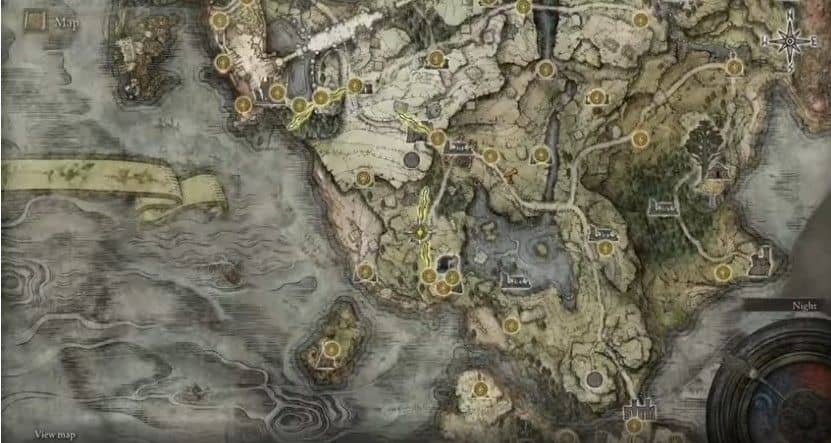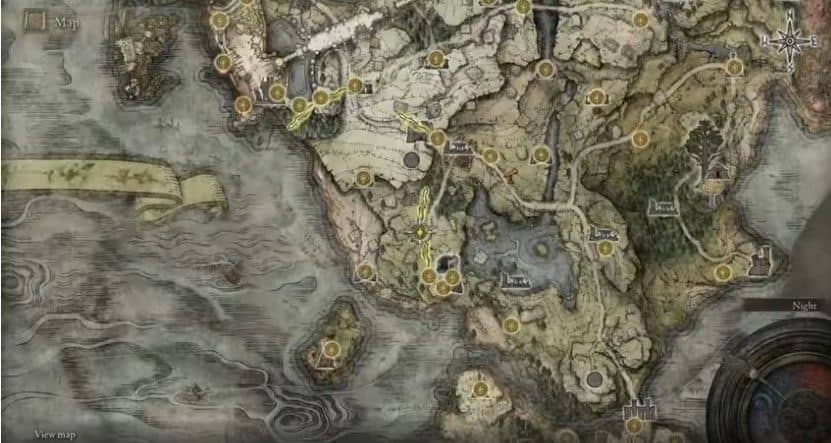 Acquire the Spirit Calling Bell
Summoning has its detractors, but at this relatively early stage it is one of the most useful tools in your arsenal. If you haven't already, make sure you pick up the Spirit Calling Bell and place some Spirit Ashes among your quick items.
This can be found by visiting the Church of Elleh after Melina grants the ability to summon Torrent. The Church of Elleh is on the Western side of Limgrave (pictured above). If you're still early in the game, you'll find a witch named Renna there who will give you the Spirit Calling Bell and the Lone Wolf Ashes when you speak to her.
If Renna is not there, then you might have missed her as she disappears after a while. Don't worry – head to the Twin Maiden Husks merchant in Roundtable Hold and purchase the Spirit Calling Bell for just 100 runes. The Lone Wolf Ashes are also available, costing 500 runes from the same place. These work as a handy distraction that can draw Margit's aggro away from you, as well as doing some solid damage themselves.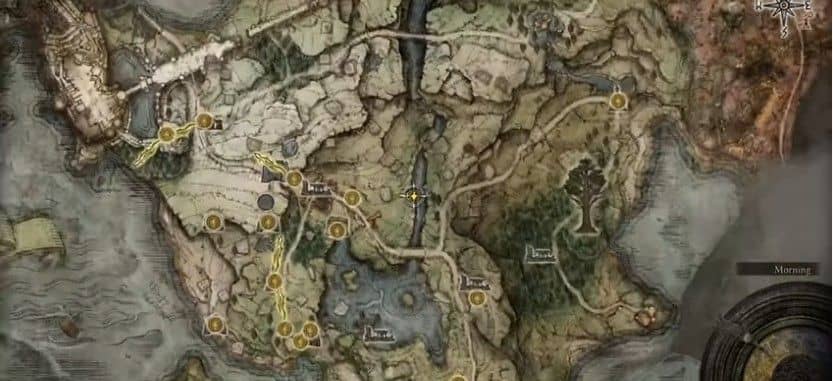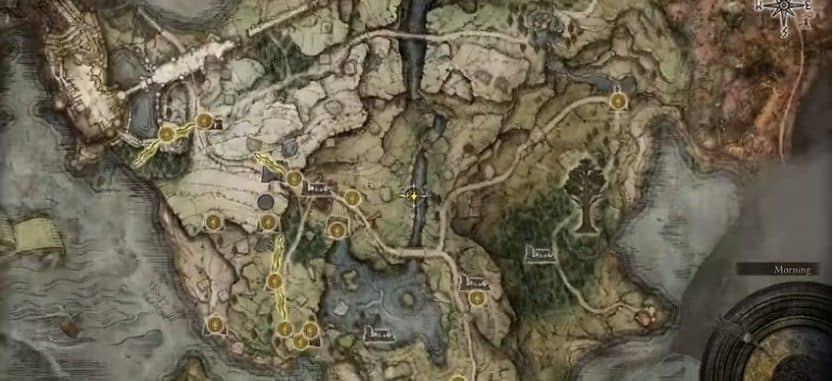 Obtain Margit's Shackle (optional)
If you're getting desperate, you can acquire an item called Margit's Shackle, which can temporarily pin Margit to the ground and open him up to a flurry of easy attacks. This can be used multiple times in his first phase to great effect. The catch? It's a pain to acquire, and it costs a whopping 5,000 runes (for context, you only get 9,000 for beating Margit)!
You must travel to Murkwater Cave in Limgrave. This is in the central area, through the ravine of water (pictured above). Unfortunately, you'll be ambushed by a tricky Bloody Finger Nerijuss who has troublesome blood skills. If you run away from him for a while, you'll gain assistance from Bloody Finger Hunter Yura who will draw him away and leave him open to your attacks.
Once he's beaten, journey into the cave where you'll shortly come across some of that ominous boss mist. Loot the chest within to be ambushed by Patches, who's a very simple "boss". Reduce him to half health and he'll surrender, giving you a choice to kill him or spare him. If you spare him, then retreat and rest at a Grace before returning to find Patches selling items including Margit's Shackle. If you kill him, then you must offer his Bell Bearing to the Twin Maiden Husks at Roundtable Hold to purchase it from her instead.
Add this to your quick items and use it twice during Margit's first phase. Note that this doesn't work in the second phase, so don't bother attempting it once Margit unveils his hammer.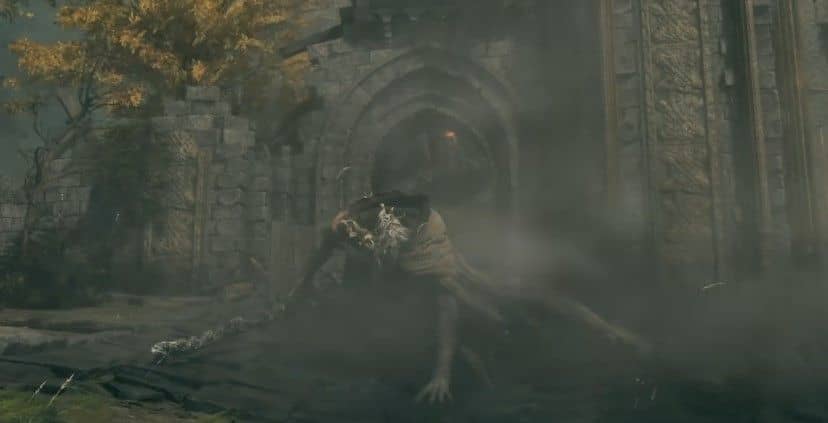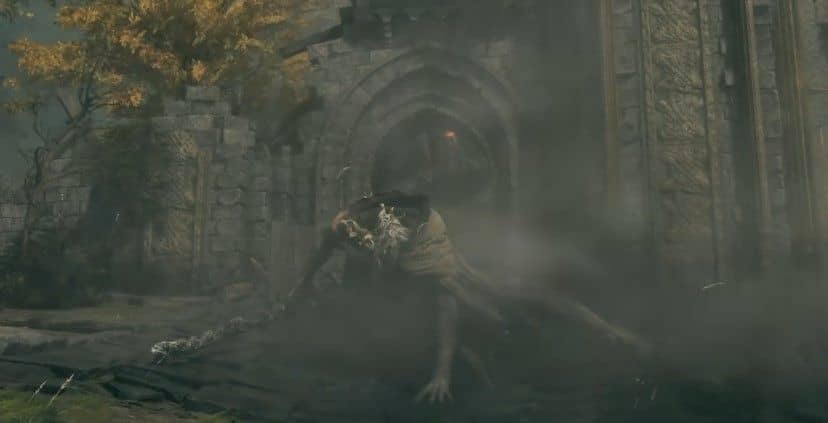 Margit Boss Guide: Phase 1 Attacks
Margit has a range of different attacks, which change slightly between phases. During the first phase, these are the main attacks to note.
Leap attack – not to be confused with a high leap in the air during the second phase, this is Margit's attack where he jumps towards you at a fairly horizontal angle before attacking with his staff. This is actually one of the best opportunities to strike as it can be dodged or blocked, and is one of the few moves that you can guard counter safely if you have solid stamina. Then get out of there!
Combo Attack – Margit can strike repeatedly with his staff and swords. He'll usually do this multiple times before a slower final strike into the ground. However, it's a difficult one to read because the number of strikes depends on how close you stay to him. You can block some of these attacks, but as soon as the golden swords are used you will have to dodge to avoid damage. Overall, the opportunity to hit back is limited.
Downward Strike – Sometimes Margit will simply lift his staff and perform a one-off slam into the ground. This can deal heavy damage, but also presents a big chance to attack if you dodge it. You can block it but it's likely to take out your full stamina and leave you vulnerable. Otherwise, strafe around him whilst locked on and attack from behind when he strikes.
Tail Spin – This seems to be a dynamic attack based on your position. If you go too far behind Margit, he can quickly whip his tail around and hit you. This is a fast attack that can be tough to anticipate. Keep your concentration and always be ready to dodge if you see his tail start swinging around.
Throwing daggers – Margit will throw two golden daggers one after the other. He has a nasty habit of doing this whilst you consume a flask, but this move is still quite easily dodged. You don't even have to roll if you have a solid amount of distance. Don't block this unless you are desperate. A shield will reduce the damage but not completely.
Occasionally, Margit will also finish a combo by jumped away from you and throwing a single dagger. This one is a bit tougher to avoid as it comes with less warning. However, it's still easily dodged as long as you aren't healing.

Margit Boss Guide: Phase 2 Attacks
Once Margit is reduced to around 60% health, he'll pay you a backhanded compliment and reveal a golden hammer, signalling his second phase.
"Well, thou art of passing skill. Warrior blood must truly run in thy veins, Tarnished"
This phase is similar to the first, but he'll now have a large golden hammer which deals significant damage. This changes his jump attack into a hammer slam and his combo attack will also incorporate the hammer, usually ending the combo with a slam into the ground.
He's more dangerous in this phase but his behaviour doesn't change that much. He'll start the phase by leaping in the air and attacking with the hammer. The hammer cannot be blocked, but any hammer attack into the ground presents an opportunity to hit him, provided you dodge the attack.
How to beat Elden Ring Margit boss: Strategy
Whilst every attack can be dodged, the important strategy here is to take advantage of two main opportunities, that can present themselves in slightly different ways.
These are Margit's jump attacks and his slam attacks. They come with a fair warning, so it's relatively easy to spam backwards dodges to avoid them altogether, but this is not recommended as you will lose your best chance to hit. Instead, you should make an effort to learn the timings of these attacks so you can dodge towards them whilst avoiding damage and giving an opportunity to strike back.
Also, be aware that you can fall off the edge. This is always the most frustrating way to die on a boss, so be careful and make sure this doesn't happen.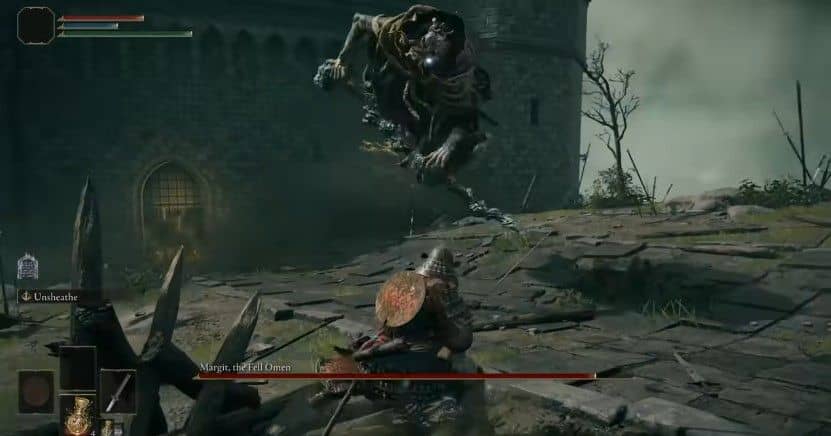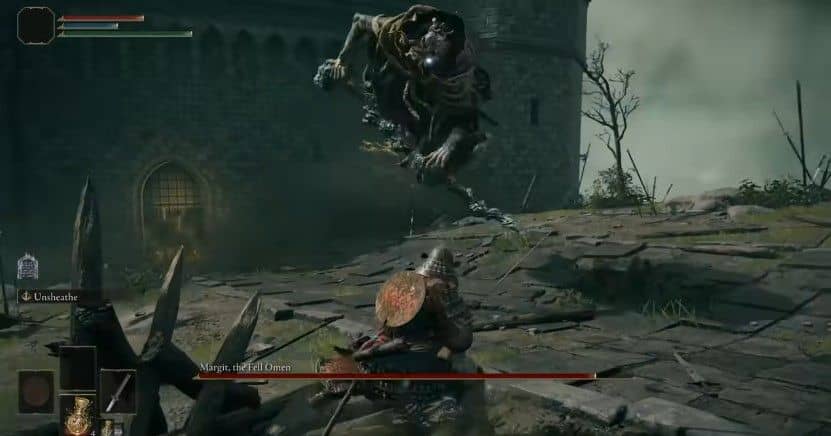 Read Margit's jump attacks
In the first phase, you should dodge forwards just as Margit strikes the ground. As already mentioned, you can guard counter this one to land a solid hit, but you will get a longer opportunity by dodging. You should be able to get a full combo in and deal some great damage.
In the second phase, the jump attacks are performed with the hammer. If there's one move in the entire fight you should learn to read, it's this one. It is a hefty blow if you get hit, but if you dodge towards Margit as it lands you'll get another chance to land some hits of your own. This isn't as big an opening as the first phase so don't get too greedy and escape backwards after two quick light attacks.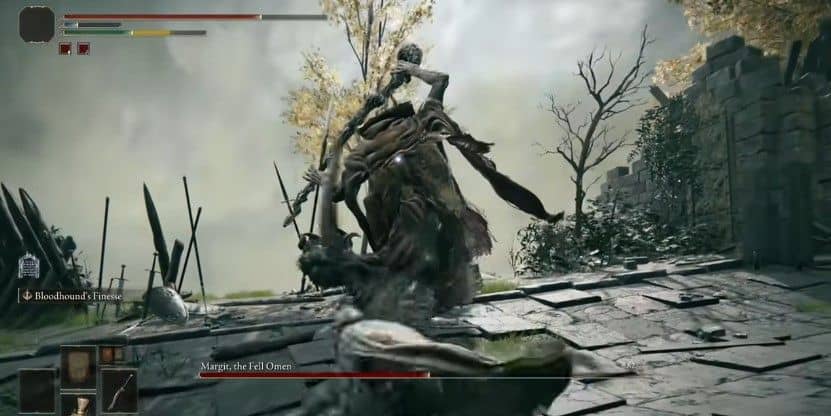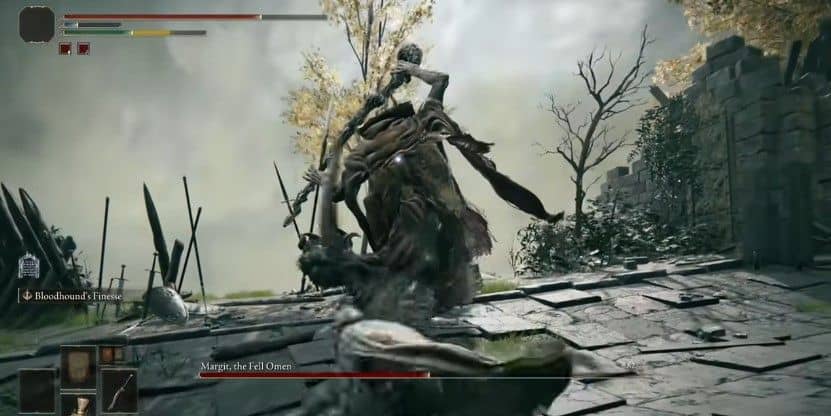 Read Margit's downward strikes
There are two types of downward strikes – one attack where Margit will simply lift his staff and slam it into the ground, and other times he will use this to finish a longer combo.
If he lifts his staff and charges at you quickly, then he'll follow up with a combo and this isn't the big chance to counter. However, if he lifts his weapon high whilst slowly walking forwards, get around him before he strikes into the ground. It's possible to do this by simply walking past him. If you roll too soon, sometimes he decides to withhold this attack altogether.
This one is the key opportunity in both phases, and you'll be able to get a full combo of around four or five comfortable light attacks. Don't go too far around him or he'll counter-attack with his unblockable golden sword or tail spin.
Between these two attack types, you should be able to do enough damage to whittle him down whilst dodging the rest of his moves. You can dodge and counter-attack his normal combos but these are far more unpredictable and difficult to master, so I'd recommend biding your time for the bigger attacks instead.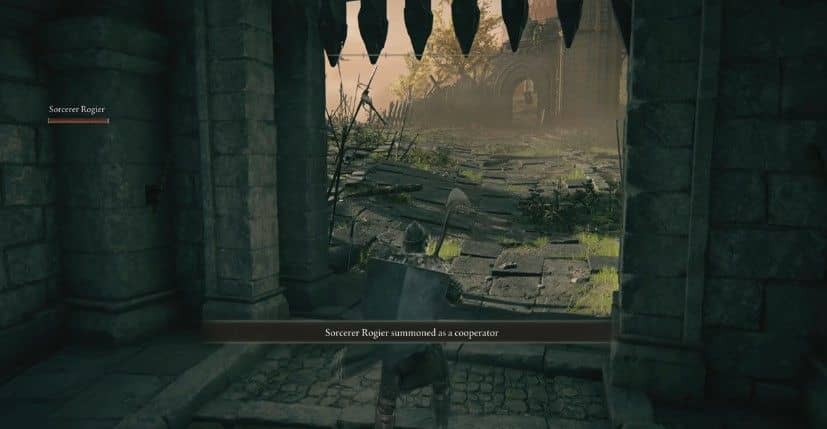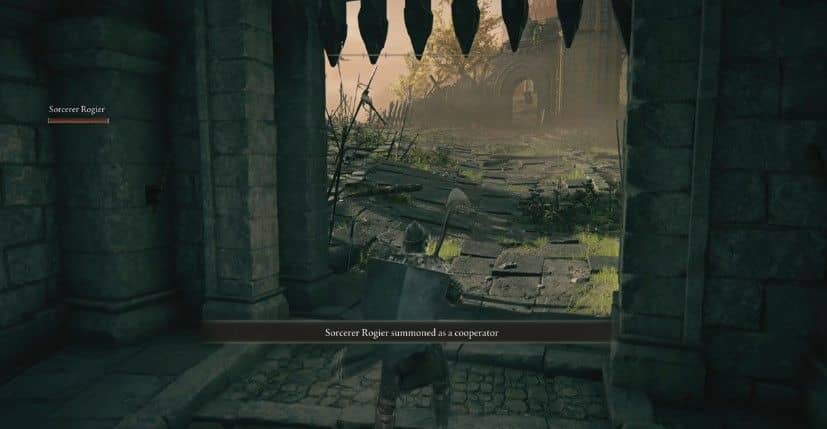 Summon help
There are two options here – the Spirit Calling Bell and the Sorcerer Rogier, who can be summoned just before you traverse the mist. The symbol is on the floor on the right have side of the door, and he can provide a welcome distraction that will help you get through the first phase. You can actually summon Rogier and a summon from the Spirit Calling Bell at the same time.
If you find your Ash summons keep dying in phase 2, then a safer bet is to save it until later in the fight. Use Sorcerer Rogier alone for the first phase, and when Margit performs his first hammer-slam, dodge backwards several times and quickly summon with the Spirit Calling Bell when you are out of range and have avoided the attack.
These summons can make all the difference. When Margit turns his attention to them, you should have a chance to get behind him and land enough to attacks to potentially knock him down. If so, land the critical hit and regroup. Otherwise, stay prepared for a tail spin and retreat when he turns his attention to you, so you can let your summons do the business until he faces them again.
Ranged build
A ranged build makes this fight a little easier, as you don't have to take as many risks with your dodging. Instead of dodging into his heavy attacks, dodge backwards and unload your attacks once he's finished and left himself open. He can still throw his own daggers from distance so your best bet is to lure Margit into melee attacks by approaching him, before repeatedly dodging backwards until he is exposed. This is your chance to pepper him with ranged/magic attacks before he recovers.
Once you've beaten Margit, you'll scoop a Talisman Pouch and 9,000 runes. The Talisman Pouch is a great reward as you can fill it with an item that confers a stat benefit, using only a tiny amount of weight. More importantly, you'll unlock the path to Stormveil Castle.
Elden Ring Margit Boss: Recap
There's a lot to take in here, so here's the most important information of how to beat Margit recapped as simply as possible:
Aim to be around level 25 or more before tackling Margit
If you wish, summon Sorcerer Rogier at the door and summon assistance with the Spirit Calling Bell
Dodge any attacks that glow golden
Wait for Margit's jump attacks or slam attacks, which present the best chance to counter-attack
With a melee build, learn the timings for these attacks so you can consistently dodge towards them rather than blocking or dodging backwards
With a ranged build you can dodge backwards and strike when he's finished
Keep your distance from his unpredictable combo moves
Acquire Margit's Shackle if necessary and use it twice in the first phase
There you have it. That's how to beat Margit in Elden Ring. The Fell Omen is the biggest challenge in the early hours of the game, and defeating him should give you confidence that you can conquer Elden Ring.
If our guide to the Elden Ring Margit boss was helpful, check out some of our other tips and guides below: