Persona 5 Royal has received rave reviews from both fans and critics. Persona 5 Royal, a remastered version of the wildly popular Persona 5, managed to elevate the franchise to new heights, improving on the few flaws of its predecessor and significantly thickening the plot, with features receiving widespread praise.
The JRPG may take over 100 hours of dedicated gaming to complete, but the length of time does not deter most gamers from enjoying this masterpiece, which has even spread beyond its borders and drawn new fans to the RPG and JRPG categories.
Selling over five million copies worldwide, Persona 5 Royal has ensured its gaming immortality by becoming the highest-rated game in 2020, and those picking it up should enjoy as much of its content as possible – especially the Thieves Den.
Persona 5 Royal has a new feature called The Thieves Den (My Palace). This is the Protagonist's private palace, where he keeps all of his thoughts and memories. Depending on your progress, you can unlock decorative items. Unlike the other Palaces you've visited, you can do anything in this new one, such as decorating, viewing awards, watching cutscenes, or looking at artwork. You can find Jose at this place too!
In this guide, we will go through how you can unlock the Thieves Den, what it has available inside it, and how and if it is useful. If you want information on all that, make sure to keep on reading!
Also Check Out: How To Date Makoto?
What Is The Thieves Den In Persona 5 Royal?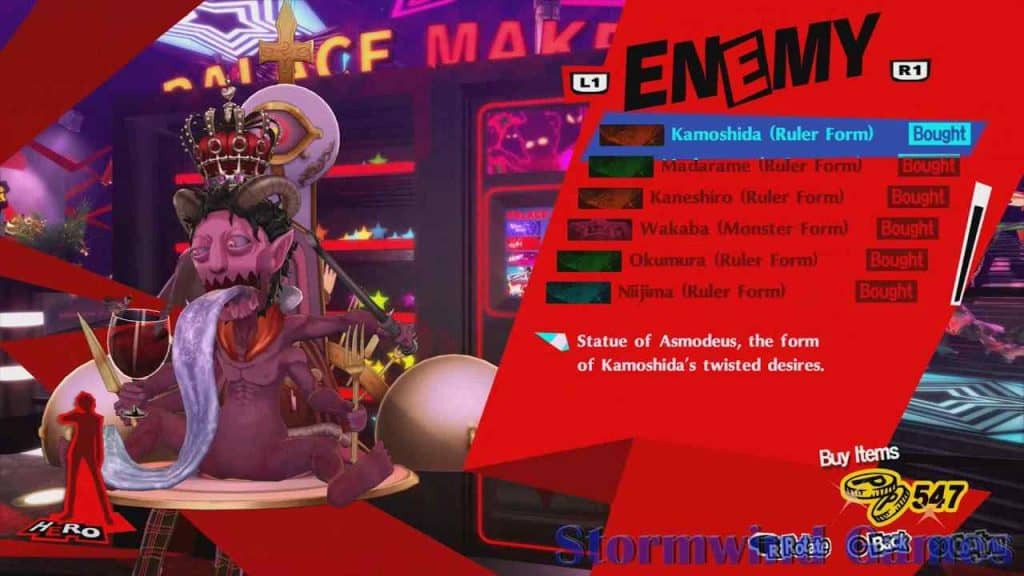 While players have been preoccupied with boss battles and glorious combat, an all-new interactive gallery mode has slipped under the radar among all of Persona 5 Royal's new features.
Raids on other players' palaces can be a lot of fun, so players may forget to treasure the memories they make along the way in their quest for greatness. Persona 5 Royal saves these memories for the players and allows them to relive their gaming glory days whenever they want.
Thieves Den, also known as the "My Palace" feature, serves as a shrine for players to store valuable collectibles. This collectible hub holds everything, including the game's art, music, story movies, and even card games. Using this feature, players can also keep track of new achievements they are attempting to obtain. Thieves Den has so many features that it would be sacrilegious for players to ignore them.
How To Unlock The Thieves Den in Persona 5 Royal?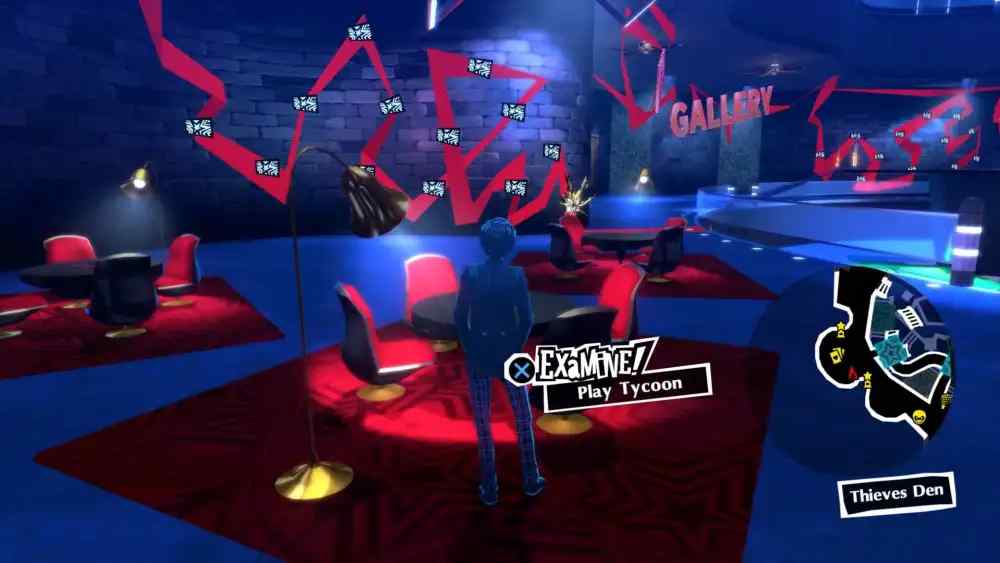 If you want to visit the Thieves Den in Persona 5 Royal, it is very easy to do so! The Thieves Den will be accessible on day 6/5 of the game. You must have cleared Kamoshida Palace and established the organization.
When you return to Leblanc, you will receive notification that the Thieves Den has been unlocked. After getting that notification, you can just go visit the Thieves Den and check out all the cool unlockables, art,  achievements and more!
Also Check Out: Who Is Jose In Persona 5 Royal?
What Does The Thieves Den Include In Persona 5 Royal?
The Thieves Den in Persona 5 Royal is a special place. It includes many items from your journey in it, along with a special minigame as well (which is based on the members of the Phantom Thieves). We go into details about all of the things present in the Thieves Den below.
1. Achievements: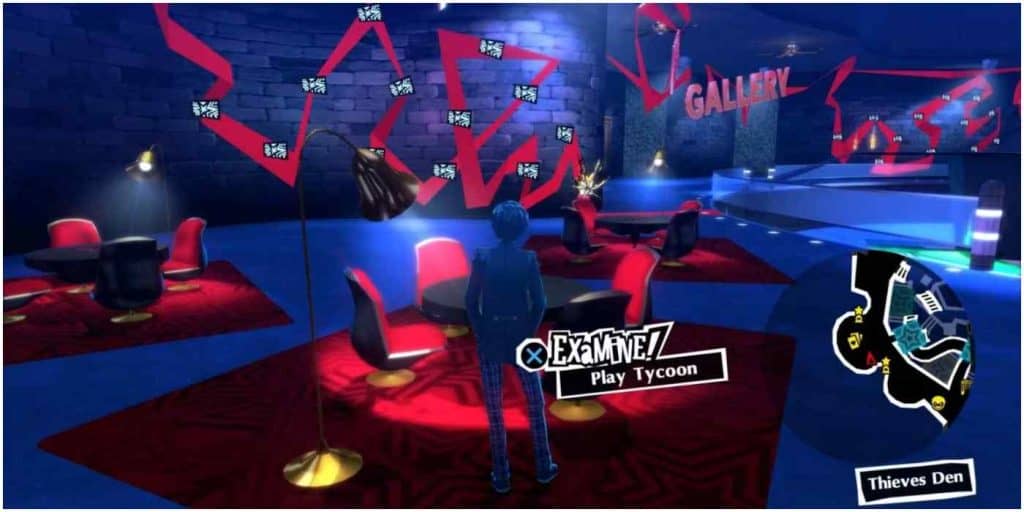 Thieves Den has 52 achievements for players to aim for and unlock, which are divided into four categories. School Life, Confidant, Battle, and Phantom are the four categories.
As an added bonus, for each unlocked achievement, players will receive P-Medals, which can be used to purchase special items for the Thieves Den, such as exclusive character artwork and anime cutscenes.
The number of P-Medals earned by a player is determined by the difficulty of the unlocked award, with the maximum value available for one award being 70P.
When a player unlocks all available awards, Jose bestows an Invisible Veil and a Letter of Royalty upon them. When equipped, these gifts grant unique abilities. The walls of the Thieves Den are decorated with art for each achievement the player unlocks.
2. Palace Maker Machine: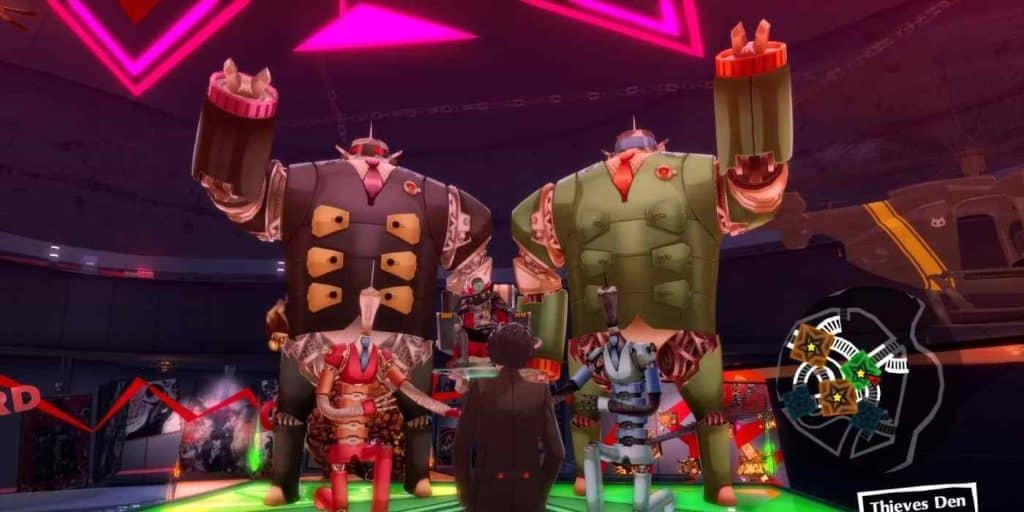 Customization features are popular among players. The Palace Maker machine in Persona 5 Royal brings this desired personalized user experience to the Thieves Den, where players can decorate their palaces with unique collectibles and decor.
Collectibles, the Thieves Den's crowning jewel, are a virtual trophy case for players to admire their hard work in the game. These collectibles, which include statues of Palace bosses and Personas, are related to the protagonist's daily life.
Certain items are only available after the player reaches a certain point in the game. For example, defeating the Reaper in battle unlocks the Reaper's statue.
If the player has formed deep bonds with friends in the game, they can appear as cognitive entities capable of conversation in the Palace Maker. This feature also provides information about minor characters in the story by allowing players to listen in on their conversations with other characters.
3. The Gallery: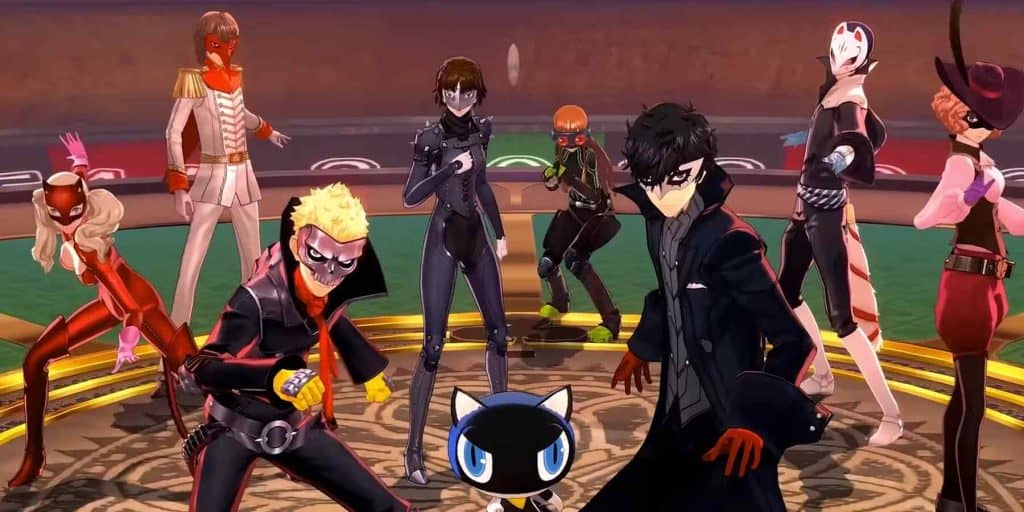 The gallery serves as the player's personal art collection. Again, customization reigns supreme, as players can change the background music in Thieves Den by visiting the music station and purchasing a new track.
Individual media displayed in the gallery can be purchased using the P-Medals obtained through game advancements in the Awards section. This feature sells a variety of items, including promotional artwork, concept art, animated cutscenes, and music.
In this mode, players can view dioramas of a few in-game locations, such as the Shibuya diner, allowing them to see these locations from various angles.
In contrast to the standard story mode, which is shown from a fixed angle, gamers can use this feature to learn more about a location. Animated cutscenes and dioramas, like collectibles, must be experienced firsthand by the player before becoming available for purchase.
Also Check Out: Social Stats In Persona 5 Royal
4. Tycoon Card Mini-game: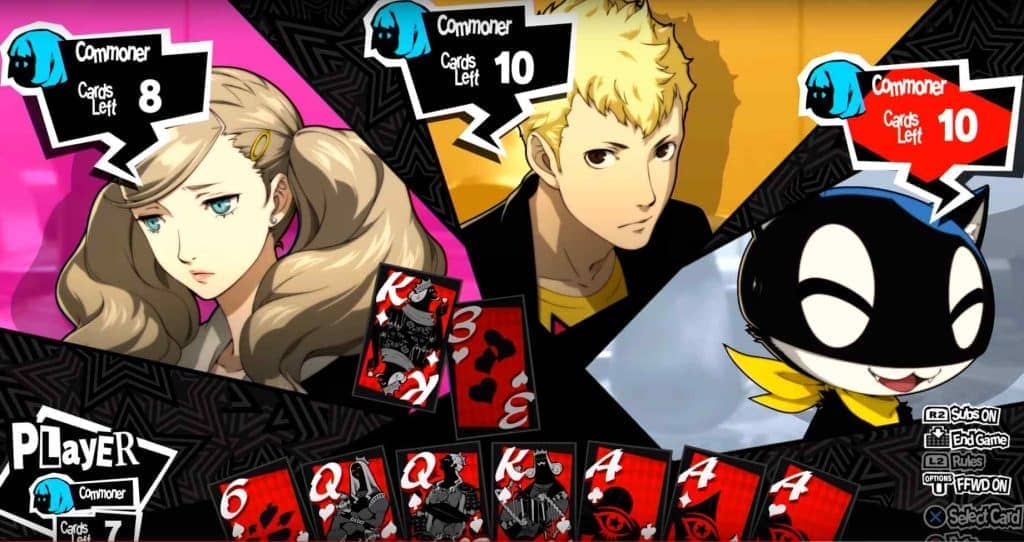 Tycoon, one of Thieves Den's more intriguing features, is a card mini-game based on Phantom Thieves members. While it may take some time for players to get used to the rules, it adds an interesting element for card game fans.
In this mini-game, players will compete in three rounds to get rid of as many cards from their hand as possible. When a card is placed on the playing deck, the next player must either place a higher value card or pass their turn.
The highest value is 8, and unless a player has four of the same card, a set must be broken when this card is played. The mini-game has three standard difficulties, and the rewards increase as you progress through these categories. Players are rewarded with P-Medals, which can be used to unlock more items in the Thieves Den.
The Thieves Den, which appears in the critically acclaimed Persona 5 Royal, adds a new dimension to an already packed game. While the feature has no real impact on the story's events, it provides a safe haven for achievements that most gamers are unaware they require until they use it for the first time.
What Is The Significance Of Thieves Den In Persona 5 Royal?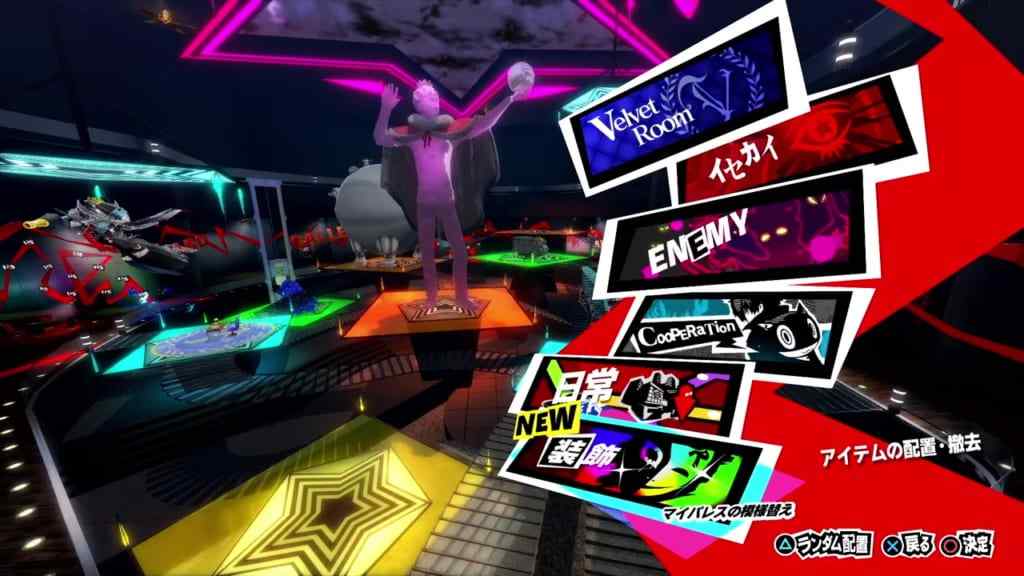 You might be wondering why this place The Thieves Den in Persona 5 Royal only exists for fun. It does not add any significance or point to the main plot or story. You can go and browse there for fun. You can play mini-games, watch old story cutscenes, look at achievements, enjoy some extra customization etc. It is all there for fun and adds even more to the fun of Persona 5 Royal.
Though, if you are not interested in any of this, you can choose to easily skip it as it does not offer any extra thing to the main plot or story. It is entirely optional! But hey, who does not like to play the card game with their favorite members from the Phantom Thieves?
Conclusion
That is all you need to know about the Thieves Den in Persona 5 Royal! Overall, it is a very fun and lively addition to the game and only adds even more to the lively world of Persona 5 Royal. You definitely need to check the Thieves Den by yourself to enjoy it to the fullest, and see what it is all about!