The second boss battle against Nagi comes in Phase 9 of Yuito's story. With further personality rehabilitation and enhanced powers, Nagi becomes a seriously tricky customer. This can be one of the most awkward boss battles in the game if you're not prepared, but there are certain tips and tactics that make him manageable. Here's everything you need to know about how to beat Nagi in Phase 9.
Recommended setup
Like most battles in Scarlet Nexus, Nagi can be overcome at any level with the right approach. Tactics and skill are the most important things here, but there are some preparations that can assist.
Make sure Gemma is in your party, since he's a HP-tank who is more likely to survive Nagi's attacks (particularly his Brain Field). It'll also keep his crucial sclerokinesis active a little bit longer. The other party member doesn't really matter but I'd probably go with Luka. His teleportation can be slightly more useful, and the other SAS abilities aren't needed for long bursts.
As for the necessary skills, then Concurrent SAS Activation is the most important one. If you have at least one of these nodes unlocked, then you'll be in better shape to maximise your attack output. For example, activating sclerokinesis and clairvoyance together will allow you to try and land some Read Attacks without worrying about damage. Pyrokinesis is also a good secondary SAS skill to activate for the damage boost and the chance to inflict burn.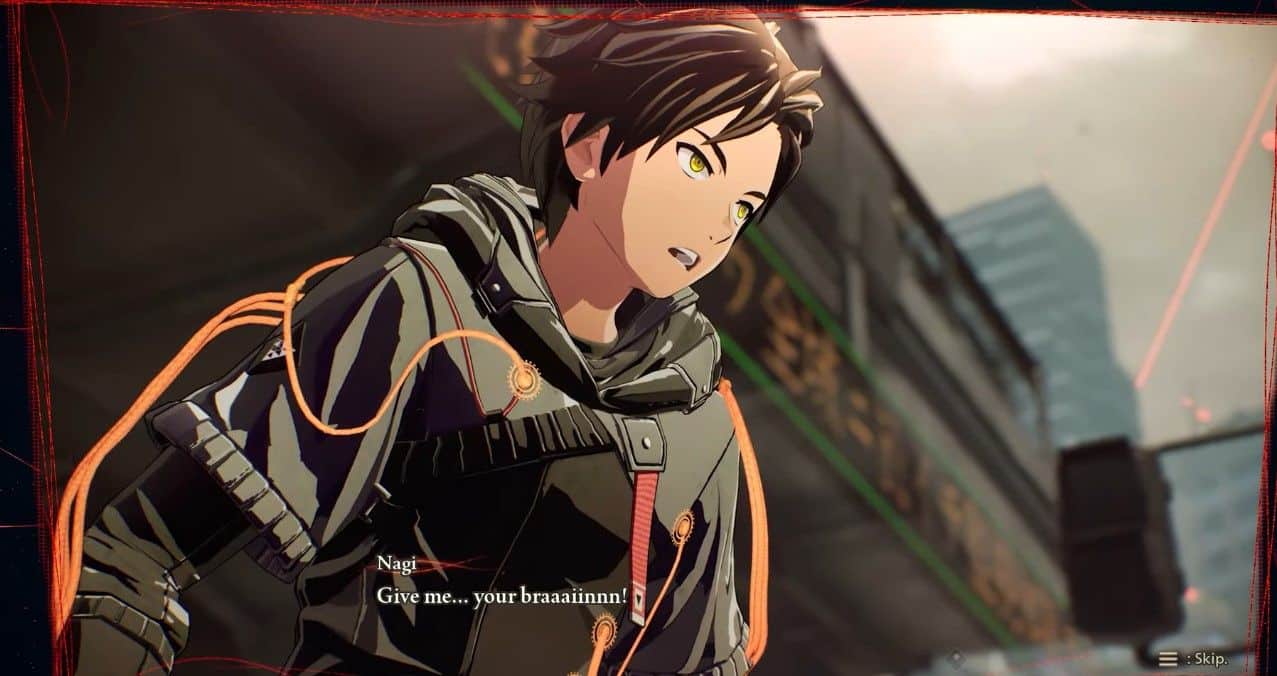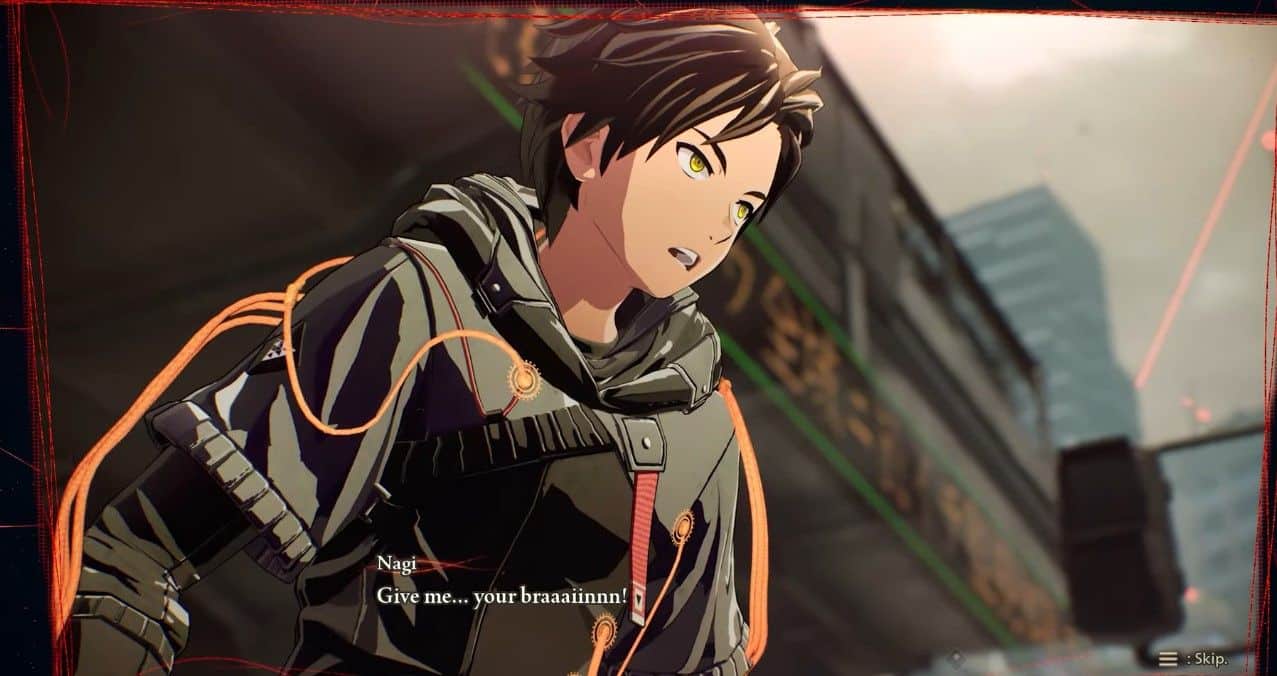 How to beat Nagi in Phase 9
Nagi has a multitude of aerokinesis attacks, but everyone's powers will be pretty useful at the right time. Generally, he will quickly run around the battlefield, staying away and hurling chakrams towards you. These can be dodged, but may eventually wear you down as he throws so many of them. If you pull off a perfect dodge, try and use a psychokinesis counterattack.
If you don't manage to counterattack, then activate sclerokinesis and use a normal psychokinesis attack, which will knock Nagi out of his rhythm. When he's briefly stunned, select teleportation alongside pyrokinesis to get close and land a combo. Once a few seconds have passed and you've completed a full combo, reactivate sclerokinesis because Nagi will start to counter-attack. Keep attacking until sclerokinesis is running low. Then it's time to reatreat.
Nagi's melee attacks are pretty powerful, so try not to get too close unless you have sclerokinesis charged, or a clear opening to attack. His close-range fisticuffs end with a jumping slam that can knock you off your feet and do serious harm. There's no need to engage at close range for the sake of it – each of Nagi's special attack phases will grant you an opportunity to stun him and attack with little risk.
However, if you do find yourself battling at close-quarters, then the combination of Tsugumi and Gemma should be used. Tsugumi's Read Attacks can help you hit hard on the counterattack, whilst Gemma can protect you in case you mistime the perfect dodge.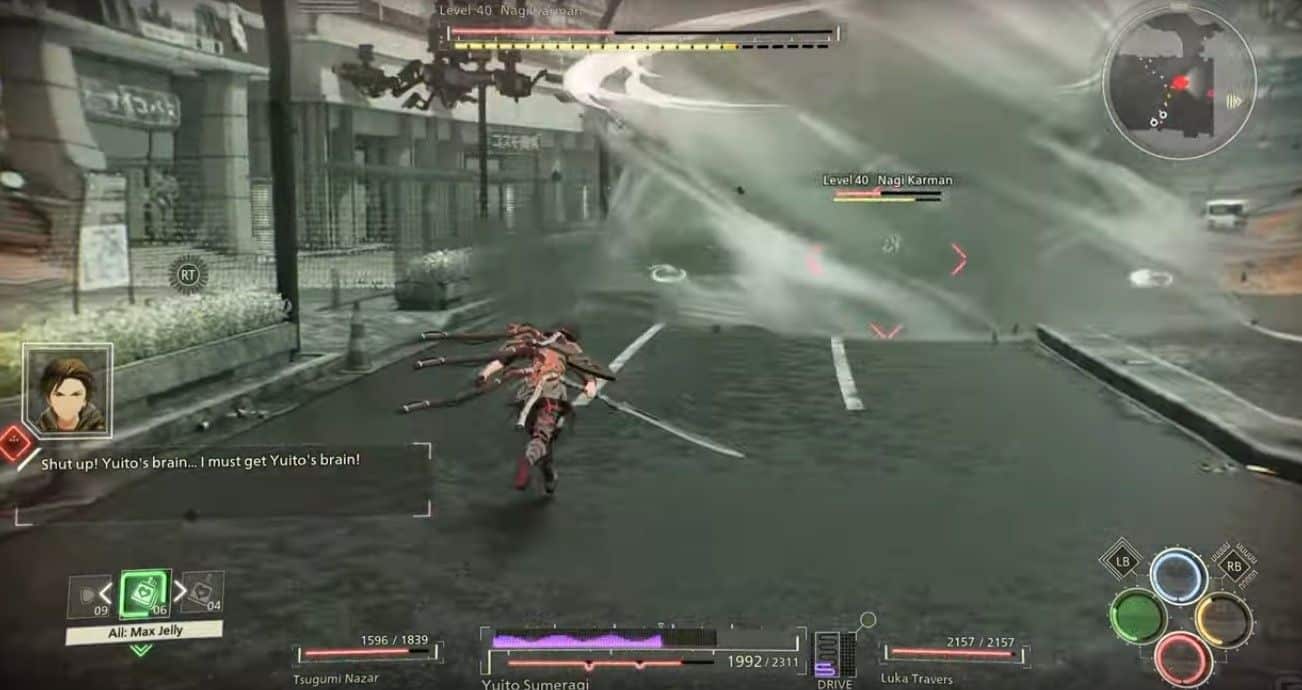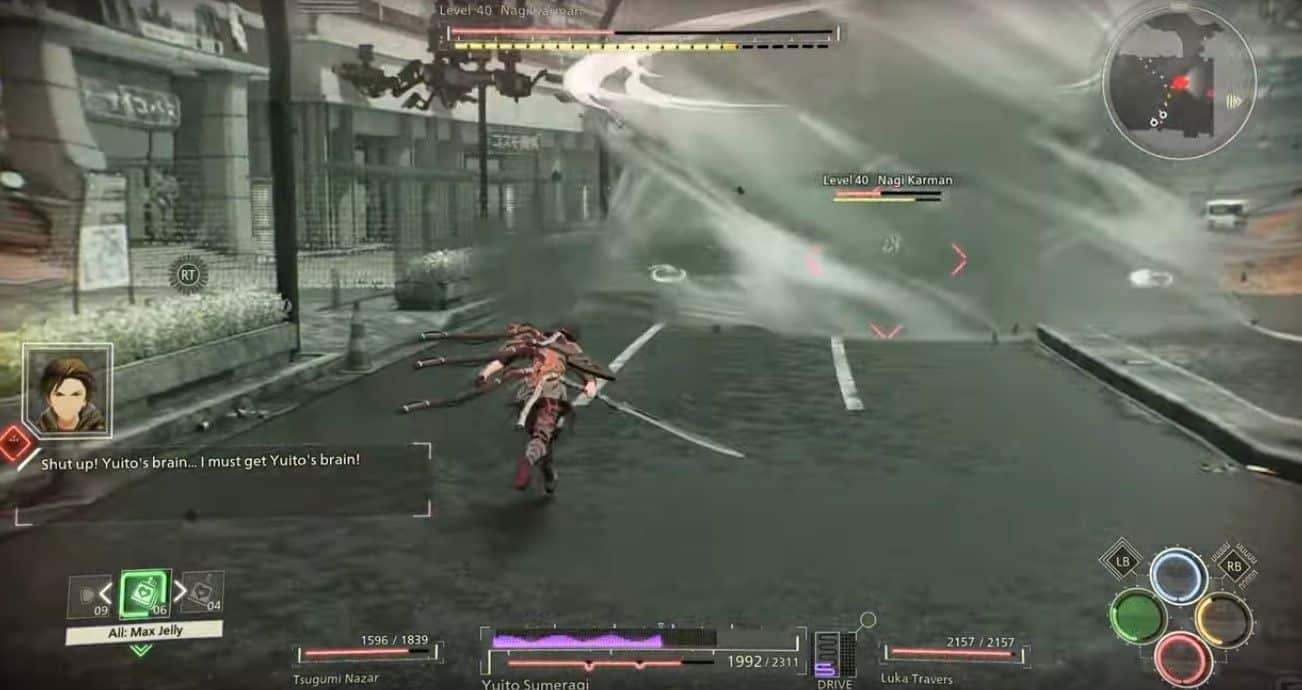 Nagi's special attacks
Nagi can also envelop the area in mist, cloaking his location where he'll throw even more chakrams. The answer to this is Tsugumi's clairvoyance. Activate it as soon as possible, hit the lock-on button (which will have been deactivated) and throw a psychokinesis projectile at him. If you get hit first, then you'll be knocked over and left vulnerable, so it is worth activating a concurrent sclerokinesis.
Once he's knocked back, once again use the teleportation and pyrokinesis combo to get close and deal some damage with boosted attack power. When he regroups, retreat back and get ready to use psychokinesis again, which should be fully charged by now.
Finally, Nagi can summon a whirlwind that protects him and creates a vortex of chakrams (pictured above). This is another easy one to avoid and a great chance to smash some heavy damage. The moment you see him blocked by the whirlwhind, select Luka's teleportation. You don't even need much SAS charge – just enough to launch one teleportation attack. Warp inside the whirlwind and hit Nagi with a melee attack, which will usually stun him for a reasonably long period of time. Once again, pyrokinesis is an easy choice to give your attacks some extra oomph.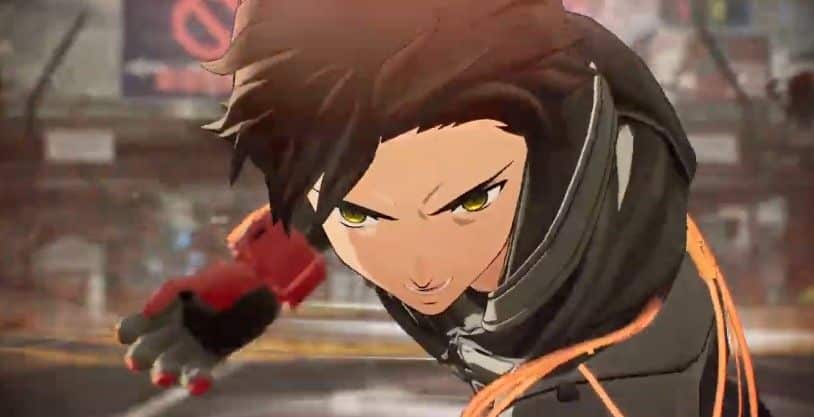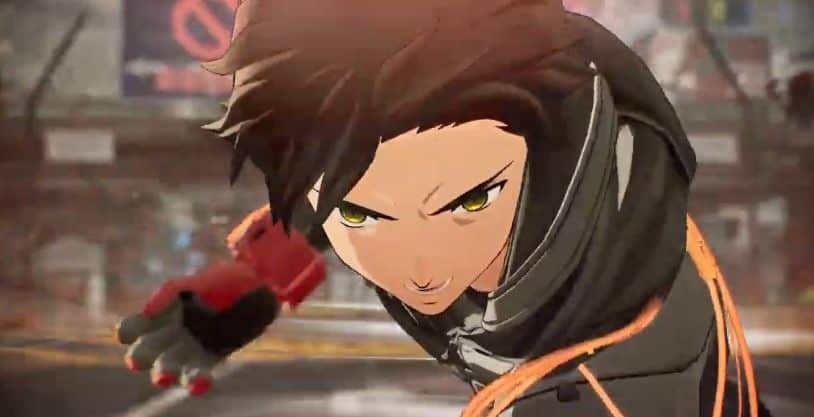 Nagi's second phase
After around a third of his health is taken down, then Nagi will be stunned for a few seconds. You can actually get in a few hits at this point, before a mini cut-scene will be triggered. Once you see it, run as far away as you can! Nagi will summon a couple of tornadoes before charging at you at breakneck speed.
It's possible to dodge to one side or even jump over him, but this attack really hurts your whole team if it lands. The best bet here is to activate teleportation and play it safe by hammering the dodge button and getting away from him. Eventually he will run out of steam and revert to his normal attacks. If you do happen to get hit, you may well need to consume a Jelly: All to get yourself back in decent shape.
During the second phase of the battle, you'll probably manage to knock down his crush gauge, which is a good chance to blast down significant health.
Use Brain Crush quickly!
Speaking of which, when you deplete Nagi's crush gauge, there is time to get a few hits in before activating Brain Crush. However, this is very risky – if you fail to do it in time, then he'll recover his full crush gauge!
I would sneak some attacks in only if you are right next to Nagi when he is knocked down – and even then it's best to only throw in one or two. Otherwise, use Brain Crush straightaway to avoid a disappointing missed opportunity.
During Nagi's Brain Field, focus on survival
Nagi has a whopping 40-second Brain Field, which will activate when he's down to around a third of his HP. You have access to the two best powers to stay alive – sclerokinesis and teleportation.
Don't squander these powers when Nagi is running around – sometimes he does this for quite a while and wastes his own time. Once he starts throwing some hurricanes your way, zip around the zone with teleportation. When it runs out, dodge for as long as you can and activate sclerokinesis when you need it.
This will whittle down the clock and you'll be able to resume the normal strategy. Nagi can actually use his clouding mist during Brain Field, so you'll need clairvoyance to keep track of where his attacks are coming from.
After the Brain Field is concluded, he will repeat the same attacks we've covered above. Continue to use the same tactics and you will shortly be able to take him down and win the second Nagi boss fight.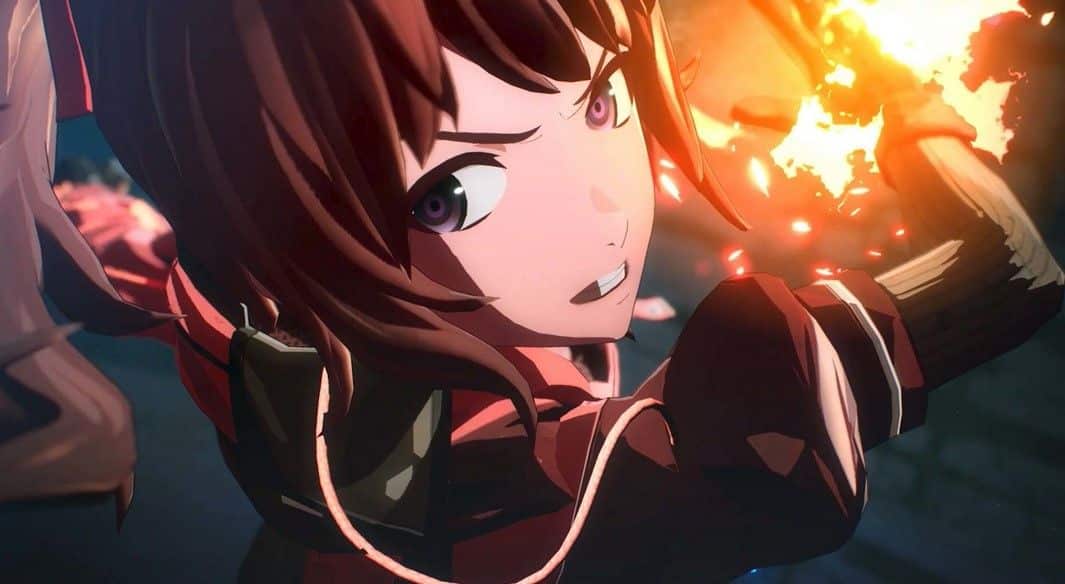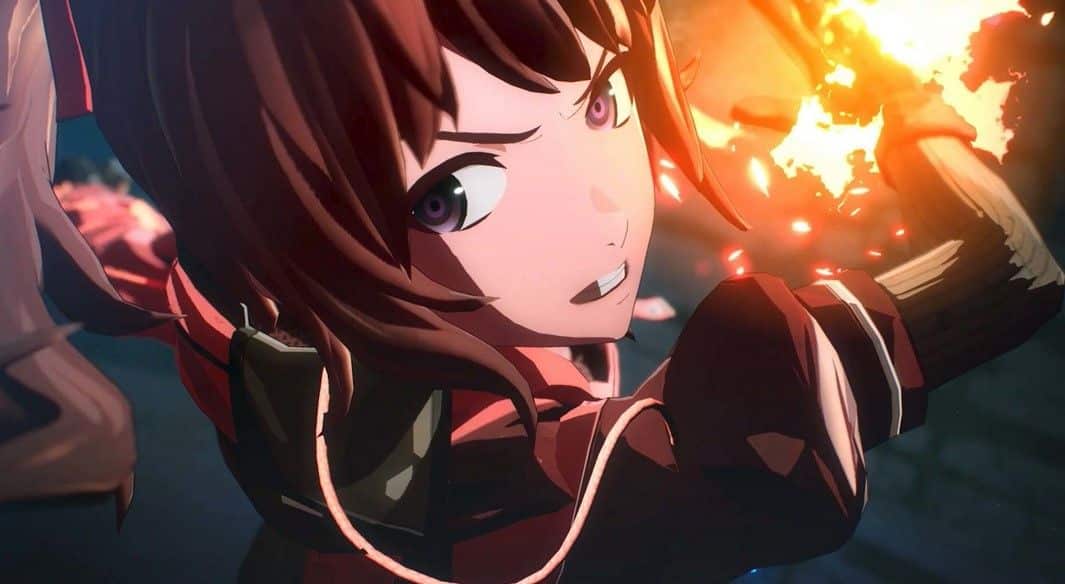 General Tips
Along with the specific advice for Nagi's distinct attacks and phases above, here are some general things to keep in mind throughout the encounter.
Use Sclerokinesis to beat the stun lock
The most frustrating aspect of the fight is Nagi's tendancy to keep you in a stun lock if you're hit by a projectile. Getting hit once usually means taking multiple blows, which can quickly drain your health.
The easiest way out of this is to use Gemma's sclerokinesis the moment you get hit by a chakram. This way you can move to either side and avoid further damage. You don't need a full gauge – as long as you've got enough charge to activate it, then switch it on and get out of there.
If you end up in a cycle of repeated hits but don't have sclerokinesis available, then the alternative is Luka's teleportation. Activate, spam the dodge button and escape, preferably zooming at Nagi for an attack of your own.
Nagi's Brain Drive
Even after surviving Brain Field, Nagi can activate Brain Drive. He is now far harder to stun, so you'll need to be a bit more careful with your attacks. This doesn't really change the approach, but you won't be able to exploit his vulnerable moments for as much damage. Simply attack a bit more conservatively, and retreat after landing fewer hits. Continue to utilise pyrokinesis whenever you get an opportunity, since the bonus damage will be handier whilst you are making it through this phase.
Combo Visions and Assault Visions
By now, you should have plenty of Combo Visions and Assault Visions. Obviously you should trigger Assault Visions whenever the prompt appears, which come with no downside whatsoever.
As for Combo Visions, I particularly like Tsugumi's in this battle as she blasts Yuito away from the action and attacks from range. You also don't really need her SAS power for very long – you only need it for the duration of a lock-on and a single psychokinesis attack, so you don't have to worry about keeping her SAS gauge full. Unlike, for instance, Gemma's, which I would not suggest using in case you need his power.
The best time to use Tsugumi's Combo Vision is just after you've finished a close-range combo when Nagi is stunned. Once he's regained his composure and it's time to retreat, opt for the Combo Vision which will get you away from him whilst inflicting some bonus damage.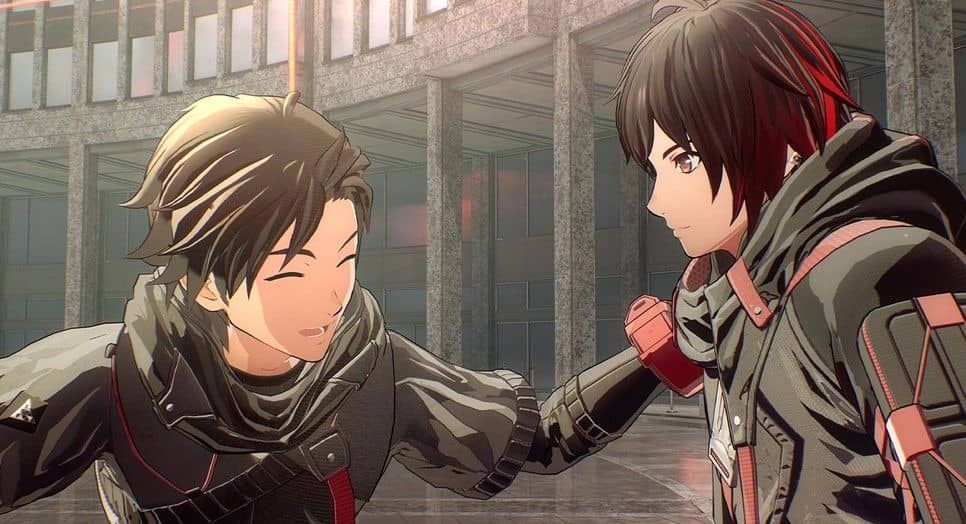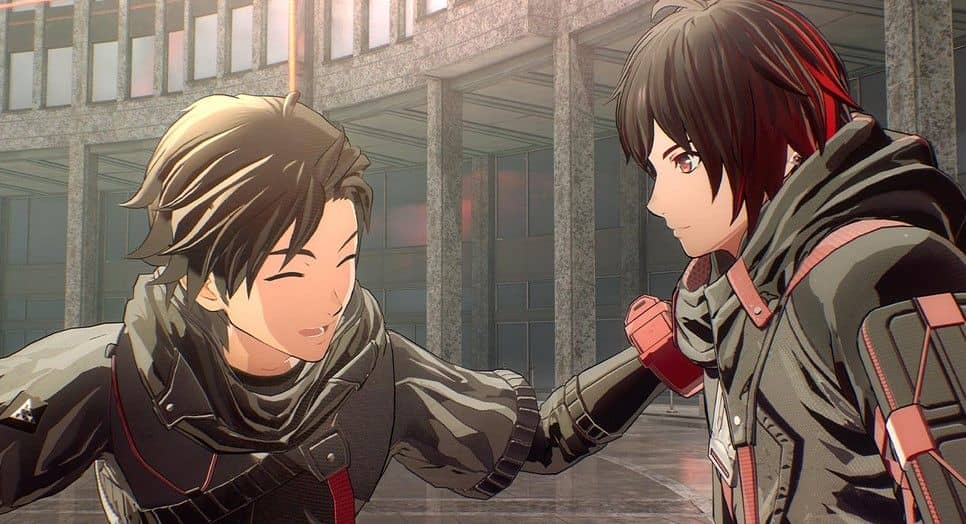 Recap
In conclusion, the strategy of how to beat Nagi in its simplest form is recapped as follows:
When Nagi is attacking from range, use psychokinesis to hit him whilst dodging and protecting yourself with sclerokinesis – once you've knocked him back, teleport in and attack
Use melee attacks as long as he's getting stunned, but retreat when he recovers
As soon as Nagi uses his cloaking mist, activate clairvoyance, lock on, use psychokinesis and warp to Nagi to deal heavy damage
As soon as Nagi uses his whirlwind barrier, use teleportation to get inside and deal significant damage
Activate pyrokinesis whenever you have opened up a good opportunity for melee attacks
Use sclerokinesis whenever you get hit by a chakram to avoid stun lock
Use teleportation to avoid his charging attack after the first cut-scene
Survive Brain Field with sclerokinesis and teleportation
Repeat the above tactics after Brain Field, but don't overindulge when he has activated Brain Drive
These tips of how to beat Nagi in Phase 9 should allow you to emerge victorious and continue with the story.
Check out the articles below for some further tips and advice for the rest of the game: