Persona 4 Golden is now available on Steam, so there is finally a far greater opportunity to experience one of the best JRPGs of all time. This is especially true after the huge success of Persona 5, which directed millions of new fans towards the series.
There are a multitude of different Persona 4 Golden endings, and it's easy to make a mistake a miss out on the best one. With NO SPOILERS, here is everything you need to know in order to unlock the Persona 4 Golden true ending.
How many Persona 4 Golden endings are there?
Persona 4 Golden has five main endings.
These are the bad ending, the normal ending, the accomplice ending, the true ending and the golden ending.
Technically the true ending is not the best ending, but the golden ending is basically the same with some icing on the cake. This is a guide to achieve the best ending, so you won't miss out on any content whatsoever.
Is the Persona 4 Golden true ending missable?
Yes. Not only is the Persona 4 Golden true ending missable, but it's actually very easy to miss. The game is a little bit mischievous, as it tempts you to finish it on numerous occasions despite having a plethora of extra content waiting in the wings. Don't worry – everything you need to know to get all additional content as well as the best ending will be right here.
To be safe, it's best to keep separate save files for the game's final months (from December onwards) just in case you make an error. Persona 4 Golden is an incredibly long game, and the last thing you'll want to do is start all over again.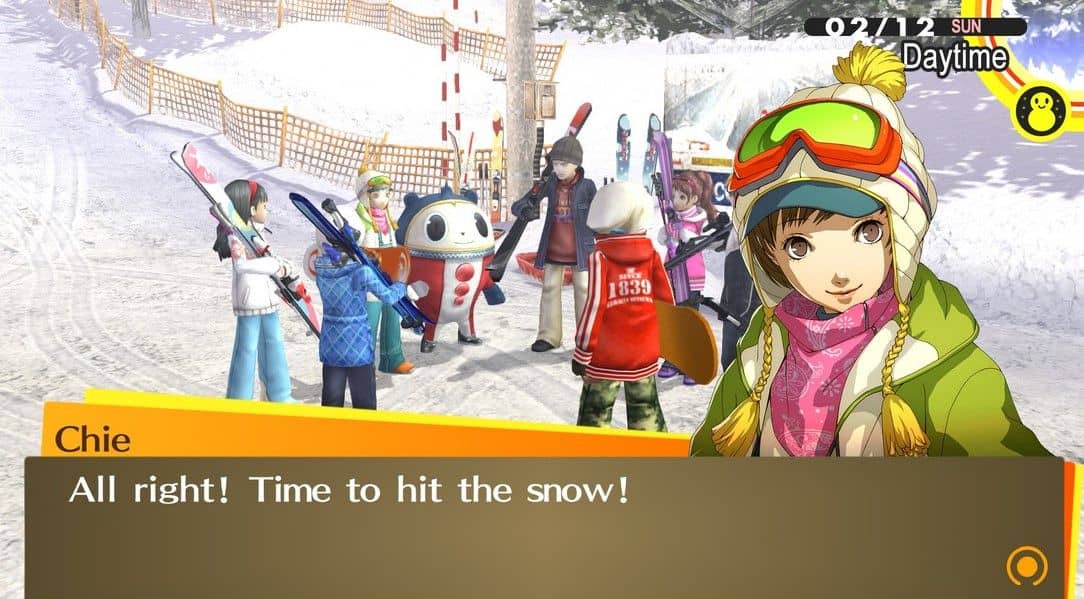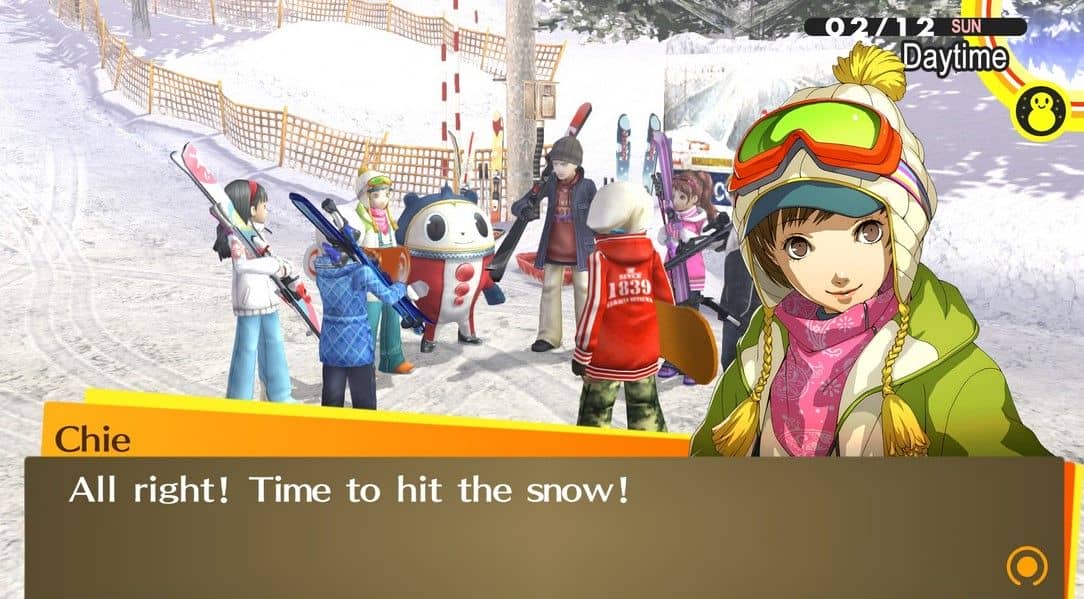 What's the difference between the Persona 4 Golden true ending and golden ending?
The true ending and golden ending are essentially the same, but the golden ending contains a fairly sizeable epilogue section with extra dialogue and another brief animated cutscene. This part of the ending is unlocked by completing an excellent additional gameplay section, which is a reward in itself.
How to get the Persona 4 Golden true ending
In chronological order, here's everything you need to do to unlock the Persona 4 Golden true ending as well as the golden ending additional content. We" include all relevant game dates so you know when it's time to pay close attention.
Pick the correct dialogue choices on 12/3 (December 3rd)
It's pretty obvious that these choices are important when they come around, and you'll have to select a series of correct options or you'll get the bad ending.
Without spoiling anything significant, you'll need to convince your team not to go through with what they are proposing. There are seven options in total:
Dialogue choice 1: This actually doesn't matter
Dialogue choice 2: Select "Wait a second here…"
Dialogue choice 3: Select "We're missing something."
Dialogue choice 4: Select "Namatame's true feelings."
Dialogue choice 5: Select "Something's bothering me."
Dialogue choice 6: Select "We're missing something…"
Dialogue choice 7: Select "Calm the hell down!"
After this, your future choices on this date don't matter and you'll be onto the next stage of unlocking the Persona 4 Golden true ending. You'll also max the Fool Arcana here.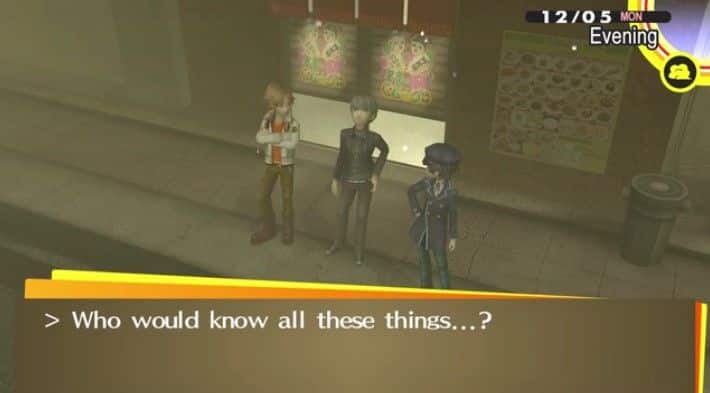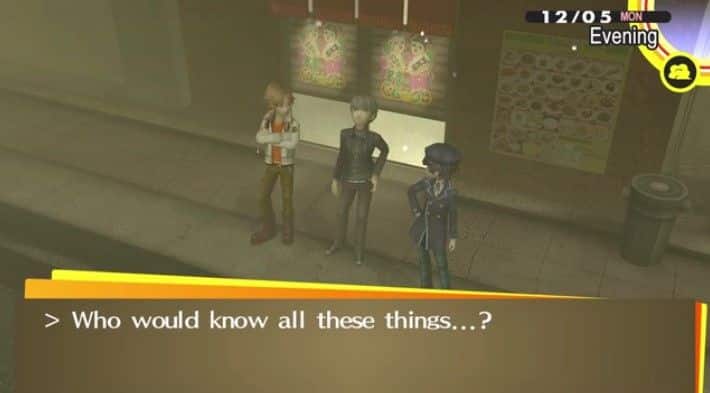 Uncover the culprit on 12/5 (December 5th)
Again, there are no story spoilers here and this is probably something you'll want to figure out for yourself based on the hints given by the game.
If you cannot figure it out, then the correct answer is on the third page of options – it's the third name on the third page.
You must select the correct choice here – if you fail to do so, it'll trigger another slightly different bad ending.
Once you have made this choice, select the option to "Tell your friends" the identity of the culprit, which will prompt the next phase of the game and once again point you in the direction of the Persona 4 Golden true ending.
Completing this requirement adds some extra content to the true ending itself, and also an additional gameplay section to complete.
This requirement is twofold. You must max the Aeon social link by 12/24, and if you achieve this, you'll gain access to a new dungeon that can be cleared on 2/13 called the Hollow Forest. It's not easy, so make sure you are prepared. There is a fair bit of time in between these two requirements, when you should just continue with the game as normal – as long as you've done everything else so far, you're on track.
It is possible to leave the dungeon on 2/13 and continue with the game, but this date is the only chance to complete it. Do not go home on 2/13 unless you want to surrender the chance to get the golden ending extras. You can leave the dungeon and return on the same day, as long as you don't proceed to the next day.
This is an easy one that will be taken care of anyway by completing Marie's step above, but it's still worth a reminder that it's necessary for the Persona 4 Golden true ending. Technically if you fail to max Marie's social link but do max at least one different person, then you'll be able to get the true ending without gaining the golden ending extras.
You only need to max at least one social link by the end of the game, and this will help unlock the absolute final dungeon (different to the Hollow Forest). It doesn't matter who – and obviously the more the better in order to get the maximum gameplay benefits.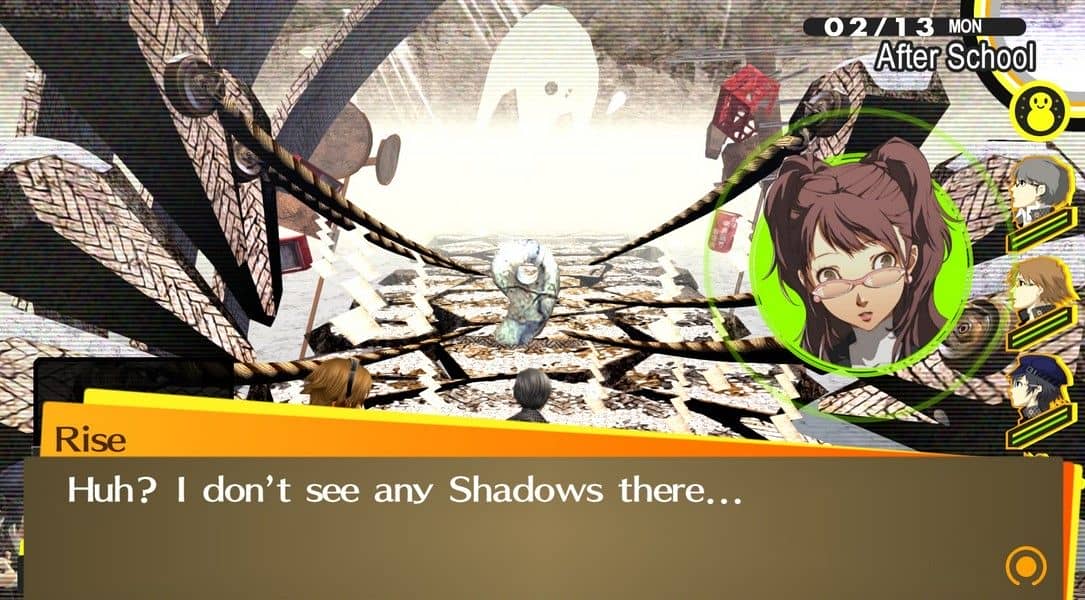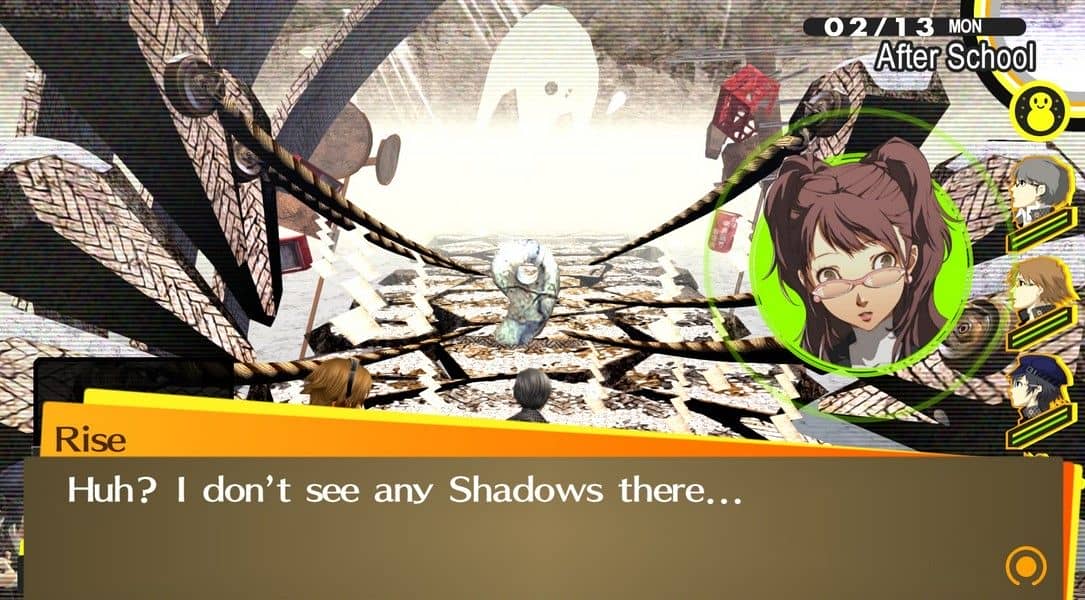 The last day of the game is a chance to take an emotional final stroll around Inaba… or is it?
You will need to go and individually speak to everyone whose social link you have maxed. Once you have done this, you'll be given the choice to go back to your house and prepare for the journey home. Select "No" and DO NOT GO HOME. To be clear, if the game has not specifically prompted you to go home, then you are missing someone and need to find them. When you are presented with the choice, if you choose to go home you will get the good ending but you will MISS the true ending.
Instead, go to Junes and examine the elevator. It will once again try and dissuade you! Ignore it and select "Yes" to enter the Food Court – eventually you will be required to make some further dialogue selections. It doesn't matter what you select, as you'll be prompted to head to the Riverbank to speak to Dojima and Nanako, who will give you some further hints about where to go next. Again, it is not fatal if you get these wrong first time but the answers should be easy enough.
Next, go to the Velvet Room and you'll be gifted the Orb of Sight by Igor.
Finally, go to the gas station and talk to the attendant. You'll need to keep on talking to him until you unlock a scene and eventually the final dungeon will be unlocked!
You can now enter the final dungeon. Clear it and beat the final boss to finally view the Persona 4 Golden true ending – along with the golden ending if you completed the extra dungeon on 2/13.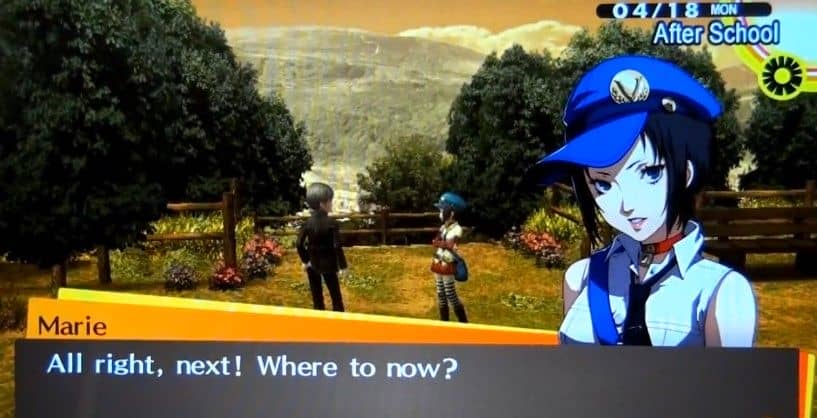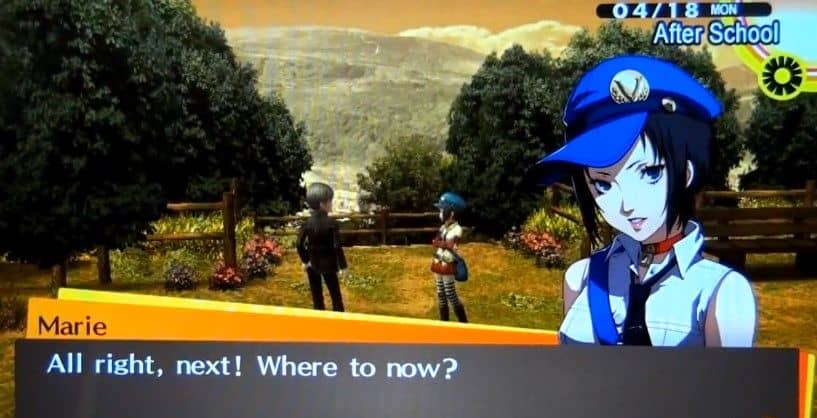 Is the true ending worth it?
Whew! Persona 4 Golden really makes you work for its best ending, but it's definitely worth it in the end. The Persona 4 Golden true ending – along with its golden ending and epilogue sections should not be missed.
There is an enormous amount of extra content including extra months of gameplay, bonus dungeons, boss fights and character scenes.
Failing to reach the best ending will deprive you of some of Persona 4 Golden's best parts. You should absolutely not miss out.
How do you get the other Persona 4 Golden endings?
For the sake of completeness, here are the details to unlock the other Persona 4 Golden endings.
Bad Ending(s): There are actually a few slightly different bad endings. These all depend on getting certain dialogue options wrong – there are a few permutations based on which answers you get wrong – these are all based on getting certain answers incorrect on 12/3 or selecting the wrong culprit on 12/5.
Accomplice Ending: Select the correct dialogue choices on 12/3 and select the correct killer on 12/5. However, choose "Don't tell your friends" to hide their identity. You'll then get the chance to see the accomplice ending on 3/20. Once you get here, pick the dialogue options that protects them and destroys the evidence.
This is a really interesting, dark ending which I would advise you to watch online even if you don't go for it in the game itself.
Good Ending: Make all the correct choices on 12/3, pick the correct culprit on 12/5 and tell your friends. However, on 3/20 if you choose to go home rather than going to the Junes Food Court, you'll end up with the good ending.
There you have it. Everything you need to achieve the Persona 4 Golden true ending, and the golden ending additional content, which is truly the Persona 4 Golden best ending.
Hopefully this will help you finish this superb RPG in style.