Trials of Mana is a fun action RPG which is hardly a Dark Souls level of challenge, but can occasionally be tricky. The fast-paced combat and lively visuals are a far cry from the original 1995 title, and as discussed in our review it's a relatively short romp, worthwhile for anyone with a penchant for traditional RPGs. For the players just starting the journey, here are my top Trials of Mana tips.
Pick Angela, and control her against bosses
Angela starts off as a bit of a liability – after all she's a witch who can't use magic. Her physical attacks are slow and weak, and as she slowly trudges through the snow early on you may regret choosing her.
But never fear – by the end of the game she is basically an omnipotent sorceress who makes Voldemort look like Paul Daniels. Her spells can be spammed against the strongest foes, and all except her very most powerful one can be cast almost instantly with no charge-up time.
Since the AI is usually as smart as a senile goldfish, her low HP can be a problem against bosses, meaning it's better to take matters into your own hands. Stay stocked up on faerie walnuts (MP healing items), keep her well away from the action and pepper those bosses with spells that hit their weaknesses.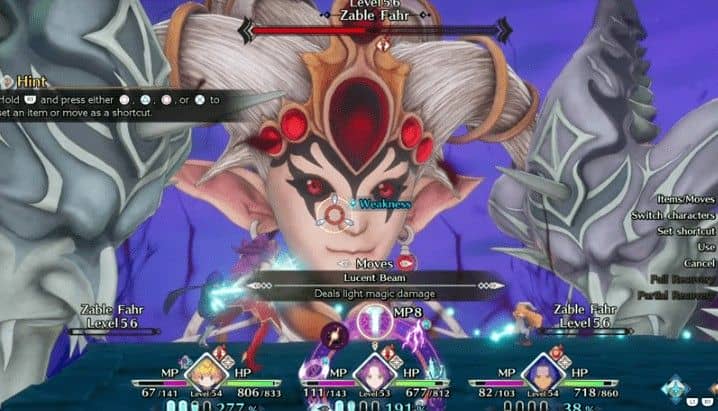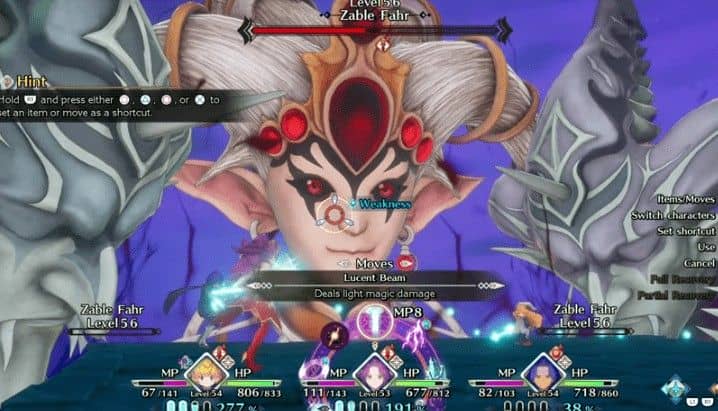 Check elemental weaknesses – for free!
Speaking of which – during boss fights, and even in some of the more awkward regular encounters on the field, there is a crucial tip that can help you turn the tide. When targeting an enemy, the screen will actually show you if the move you are about to use exploits a weakness.
In most RPGs, finding the boss's weakness costs you a spell or an item, but Trials of Mana is generous enough to let you do it free of charge. Of course, you actually need to have access to these elements in order to check them, so it's only after a few elemental spirits have been found that this strategy really comes into its own.
When Angela (or another character) has learned a bunch of spells, the start of every boss fight should be spent scrolling through her moves to see which one will work best. Select the spell, target the boss, and see if the target says 'Weakness'. If not, then cancel the spell without casting it and pick the next one until you find it.
Sell all of your old equipment
Equipment is a very simple concept in Trials of Mana. In virtually every town, there is one slightly better weapon than you had before, and one slightly better piece of armour. You buy them and equip them right there and then.
There is no crafting mechanic and therefore no reason whatsoever to keep any old equipment. Once you see a better selection in the shop window, sell on your old stuff to fund the adventure. They actually fetch a decent amount of gold and this is well worth doing to keep yourself able to afford the best available gear.
By the same token, if you get more than three of the same accessory, or a worse version of an accessory equippable by only one character, it's time to flog it.
Plant all your seeds
In one of the strangest aspects of Trials of Mana, item seeds found on the field or won in battle can be planted in boxes. These boxes are found at inns, and actually yield the best equipment in the game once you level up your item box enough and start collecting the best types of seeds.
Unfortunately the box levels increase at a snail's pace so there is no point holding these back. Plant every seed as soon as possible to keep that bar creeping up. The chances are you'll also earn enough healing items to get you through the game, saving more money for equipment.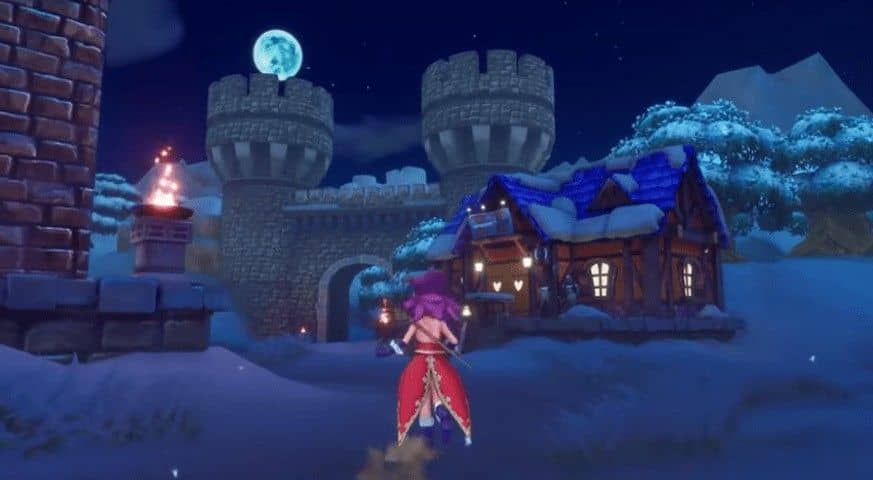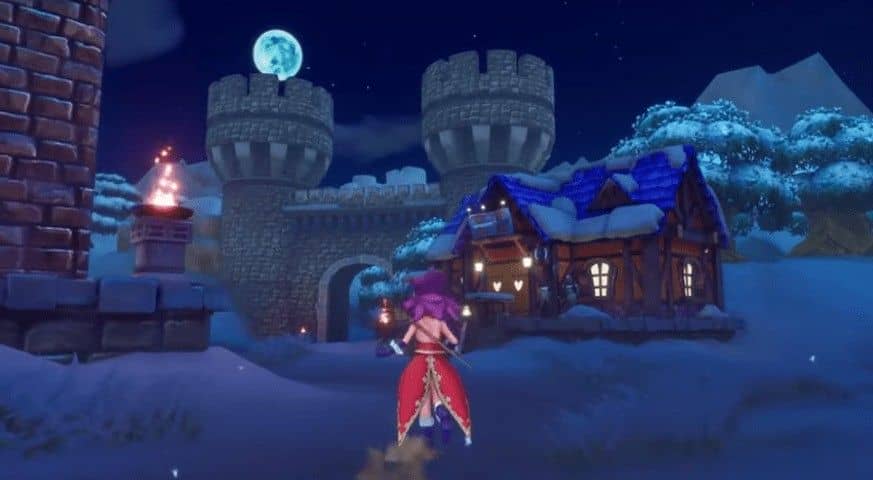 Search all new towns in depth
Another way of keeping hold of your cash is by scouring every town as soon as you arrive. The towns aren't very big, but generally contain plenty of consumables for you to plunder.
There are nearly always a few treasure chests, some shiny items lying around, a Lil' Cactus hiding and possibly a thought ability. Jump on the roofs, look around the corners, go in every house and talk to every NPC immediately upon arrival.
With the size of the towns this only takes a few minutes in each area, but is well worth it.
Don't waste revival items
I've already mentioned the AI, so I won't waste time insulting it further. However, it's fair to say that unless you are keeping a close eye on health, your teammates are going to end up in trouble and probably dying a lot.
There's nothing that irritates me more in a JRPG than winning a battle with a KO'd teammate, condemning me to forever look at their experience count and think that they missed out on 22 precious EXP points – which is insignificant within an hour of play but that's not the point!
In a game-saving decision, your fallen teammates receive full EXP upon victory. So in normal encounters, as long as your main teammate is nice and healthy there is no need to waste items keeping everyone alive. They even revive at the end of the battle with 1HP, and a level up is never far away, which grants a full HP/MP heal in itself.
"It's better to be at the bottom of a ladder you want to climb than halfway up one you don't"
It turns out quite a lot of people have said quotes to this effect, but I'll credit Tim Canterbury from The Office. Anyway, the point is that in Trials of Mana, the training screen is kind enough to show you which abilities are coming further down the line in each section.
When you unlock further classes for your characters, a lot more potential abilities rear their heads and it's crucial to decide which ones look the most useful. There aren't enough points to go around so Duran is better off boosting strength, and Angela will benefit from increased intelligence.
One of the most important Trials of Mana tips is to take a good look at each area and decide which moves and stat increases are going to be the most useful, even if they're currently out of reach. Prioritise the areas you've picked and don't waste those vital training points elsewhere for the sake of it.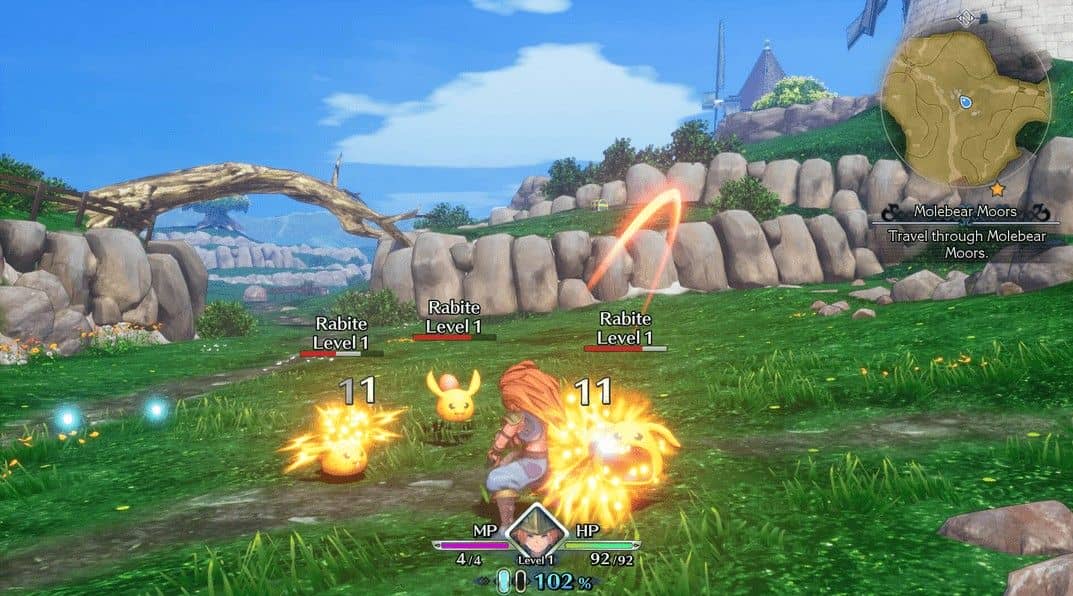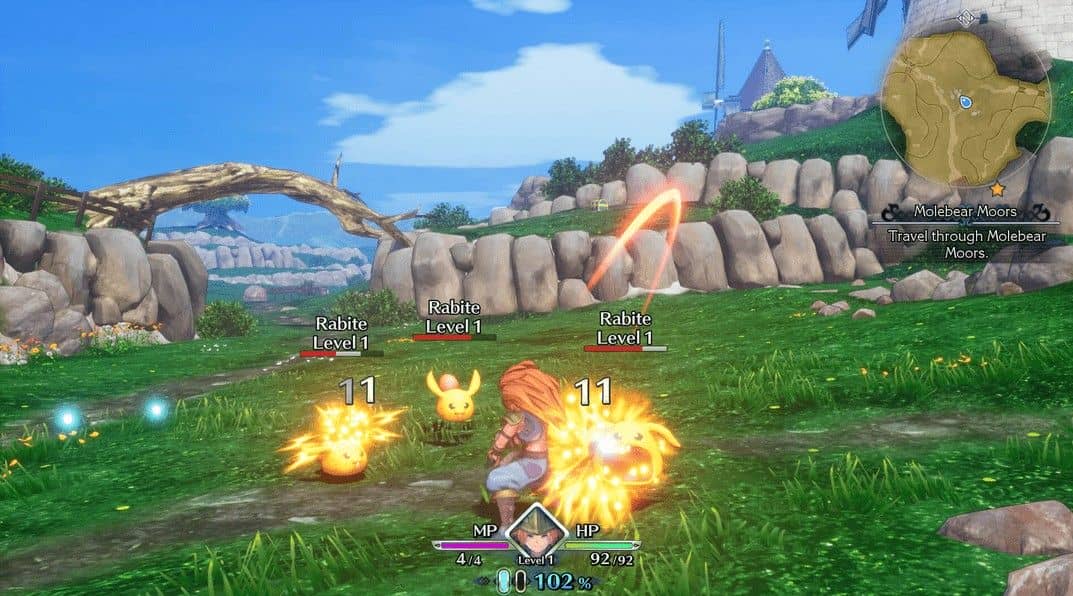 Use the knock-back combo a lot
The first combo – one light attack and then a heavy attack, knocks the enemies back and onto the floor. This gives you plenty of time to rush up to them and finish them off with an uninterrupted flurry of follow-up blows. This also interrupts pending attacks so is arguably the best way of consistently staying on the offensive and taking down foes.
This combo doesn't always work first time – on bigger, more powerful enemies you may need to execute this combo a few times before it knocks them onto their backside, but persist and it'll open things up to easily win the battle.
The other reason to use this combo is that it's only two strokes, meaning the animation doesn't take as long and if an ominous red warning spells danger, it's still easy to dodge your way outta there.
Take control of class strikes
One of the most irritating parts of Trials of Mana is that class strikes cannot be commanded from the move menu, and therefore your party members are liable to use them at baffling times, or not at all. The AI sometimes uses them on a weak, near-dead enemy who happens to be the last foe you face before a boss fight! Worse, they sometimes execute them just as you finish off the baddie, spending the attack for nothing. What a waste.
A better way of handling these may be to set their tactics to never use a class strike of their own accord, allowing you to swap over to them and actually pick the right moments for these valuable moves.
Even this isn't perfect – for some reason, you're not allowed to switch characters back during the lengthy class strike animation, leaving your teammates to run wild for a while which rarely ends well. But at least you're in control and don't use them up on thin air.
Were these Trials of Mana tips useful?
Trials of Mana is available on PS4 here and Nintendo Switch here.