There are numerous quests in Tales of Arise, but most are self-explanatory and can be completed by following the helpful green stars on the map. However, one of the more tantalising optional quests is Gourmet Saga: Soft and Fluffy, where its requirements are provided in riddle form.
To help you find the necessary ingredients and tick another quest off the list, here is everything you need to complete the Gourmet Saga: Soft and Fluffy quest in Tales of Arise.
How to find the Gourmet Saga quest in Tales of Arise
The Gourmet Saga quest can be obtained from Gourdeno, who is on Pelegion Level 2 after clearing the main quest "The Unliberated", which is fairly early in the game's second phase after battling the fifth lord.
However, for this quest to appear you must first have completed a series of other quests involving Gourdeno:
The first quest is Gourmet Saga: Berry Scavenging from Frozen Valley in Cyslodia where you must provide Gourdeno with 2 x Apple and 2 x Wheat.
Secondly, clear Gourmet Saga: Palace Delicacy from Viscint in Manancia where you must provide 2 x Beef, 4 x Potato, 4 x Tomato and 2 x Mushroom.
Finally, conquer the quest Gourmet Saga: Prairie Scent from Aqfotle Hills in Mahag Saar where you must supply 4 x Lettuce, 2 x Apple and 4 x Lemon.
These are all pretty easy quests and I always had the necessary ingredients in my possession already. As long as these are completed and you have sufficiently advanced the story, Gourdeno will show up in Pelegion.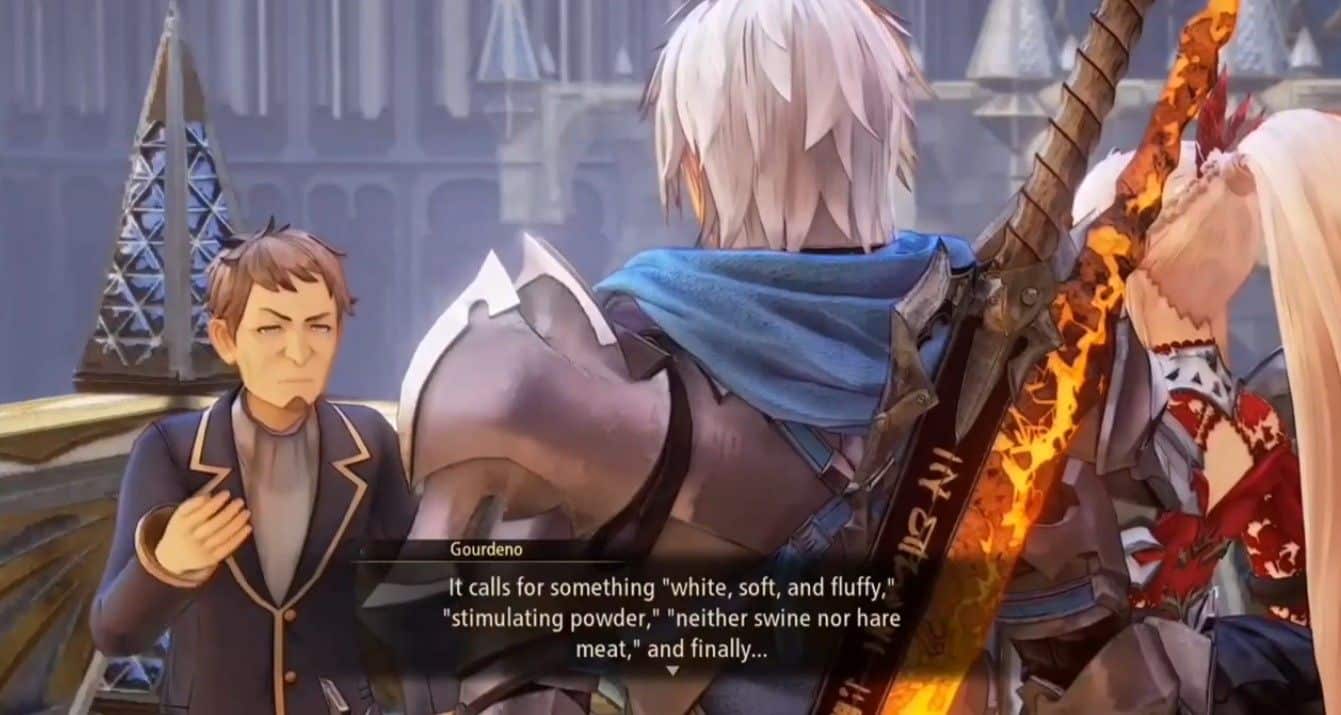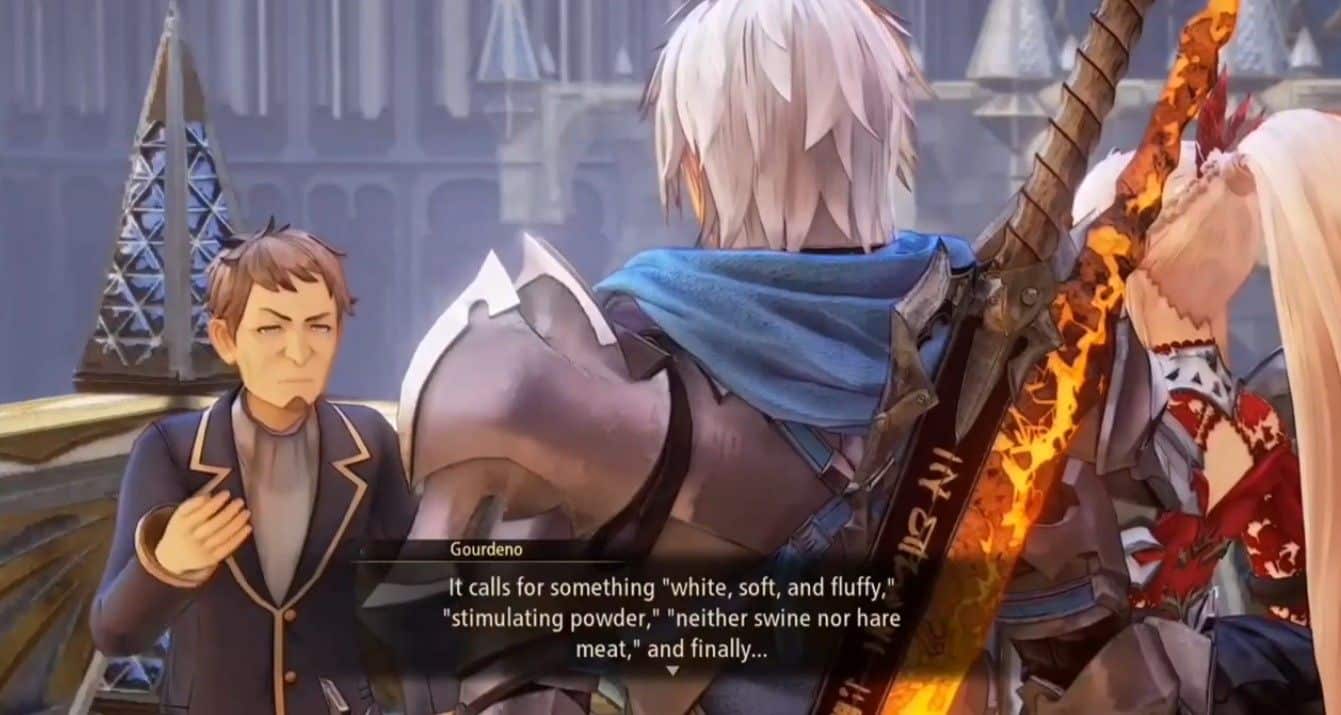 How to complete the Gourmet Saga: Soft and Fluffy quest in Tales of Arise
This time around, Gourdeno gives you a list of ingredients which aren't all explicitly stated. You'll need to provide him with:
6 x Rice
4 x Stimulating Powder
2 x Neither Swine Nor Hare Meat
2 x White, Soft and Fluffy Objects
Each of these ingredients will be covered specifically below.
How to acquire 6 x Rice
Rice is the only ingredient specifically stated within the quest, and it's an easy one to get. In fact, you've probably already got it if you are regularly hunting and scavenging around the field.
You can purchase Rice from the inn in Niez for 40 Gald each, or find it on the Latvu Marshlands just outside Pelegion. It's on the top level in the area just before the fishing spot, or on the level below right next to the ladder.
How to acquire 4 x Stimulating Powder
Stimulating Powder is in fact Pepper.
Like Rice above, there's a good chance you already have this and can tick it off the list immediately, but if not you can acquire it in several different places.
Pepper is also obtainable nearby in the Latvu Marshland, either on the top level by running away from the Pelegion entrance and continuing straight past the campfire until the part where the water dips, or around the centre of the level below.
Alternatively, it can be found in places like Kyrd Garrison, the Cave of Solitude, Aqfotle Hill and Adan Ruins. There should be plenty around to make this requirement another easy one.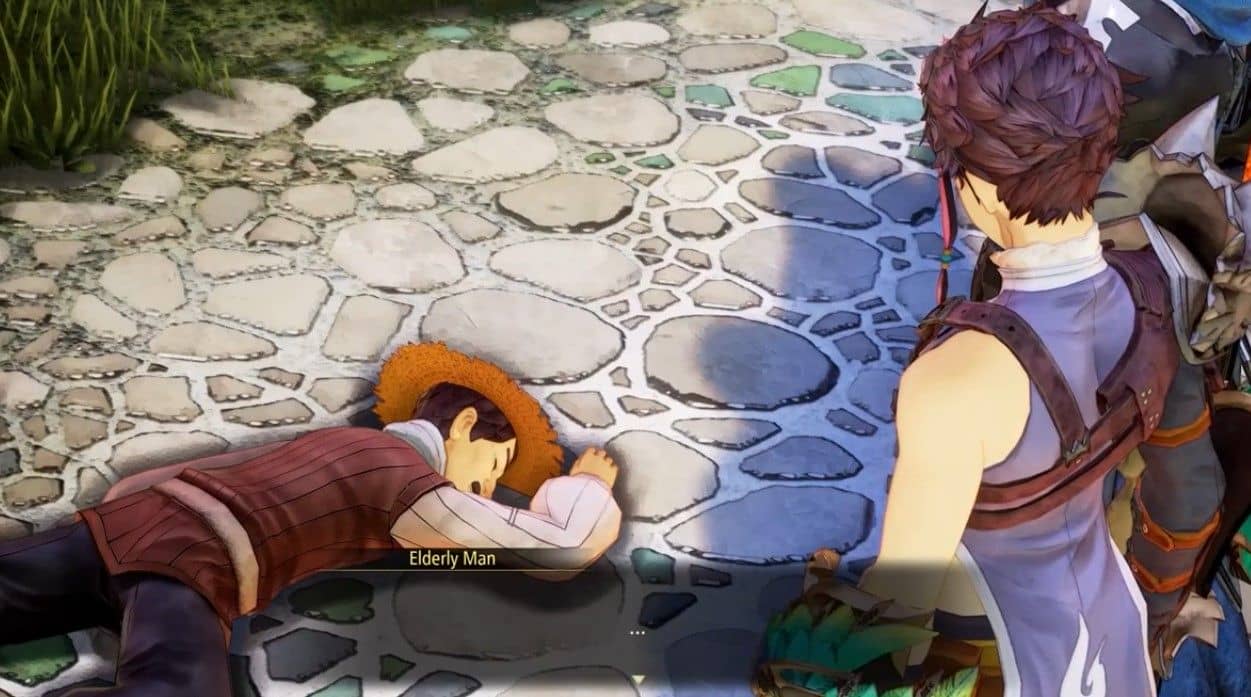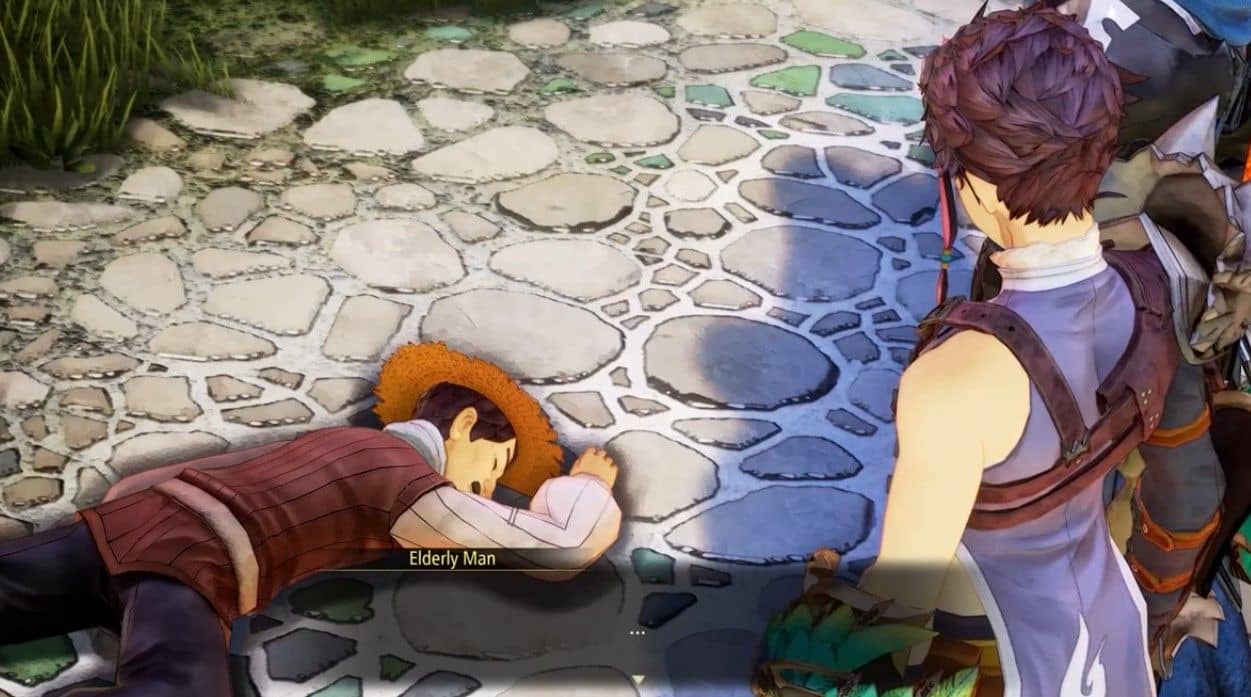 How to acquire 2 x Neither Swine nor Hare Meat
This is a roundabout way of describing Rappig Meat.
The only way to obtain this is from your very own ranch. By this point in the story, provided you cleared the necessary quest and unlocked the farm, you will be able to raise rappigs to acquire the meat.
Either fast travel to your ranch or talk to a merchant next to a campfire, elect to Raise Livestock, and send some rappigs to the barn. If you're in a hurry, pick Miracle feed or Speedy feed and wait until you get the prompt at the bottom of the screen telling you when they're ready to collect.
If you have not unlocked the ranch, you will first need to go to Traslida Highway and talk to the man collapsed on the street. Once you've agreed to help him, he will invite you to Pharia Ranch where you can simply speak to him and start raising animals. You'll also get 800 Gald and 110 SP for your troubles. This is probably the easiest quest in the entire game and one of the hardest to miss.
On a sidenote, it's a good idea to be raising animals at all times. Even if you always choose the free feed, it's still ingredients for nothing.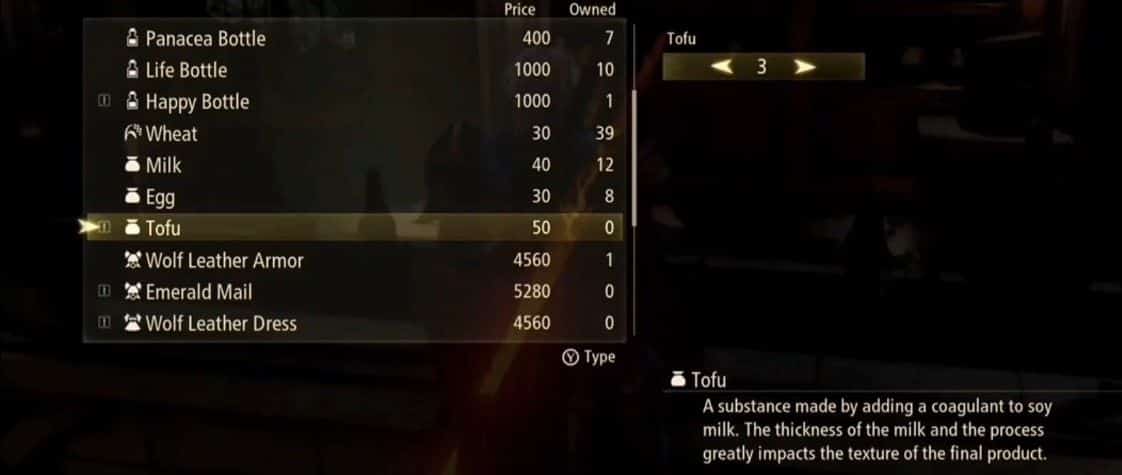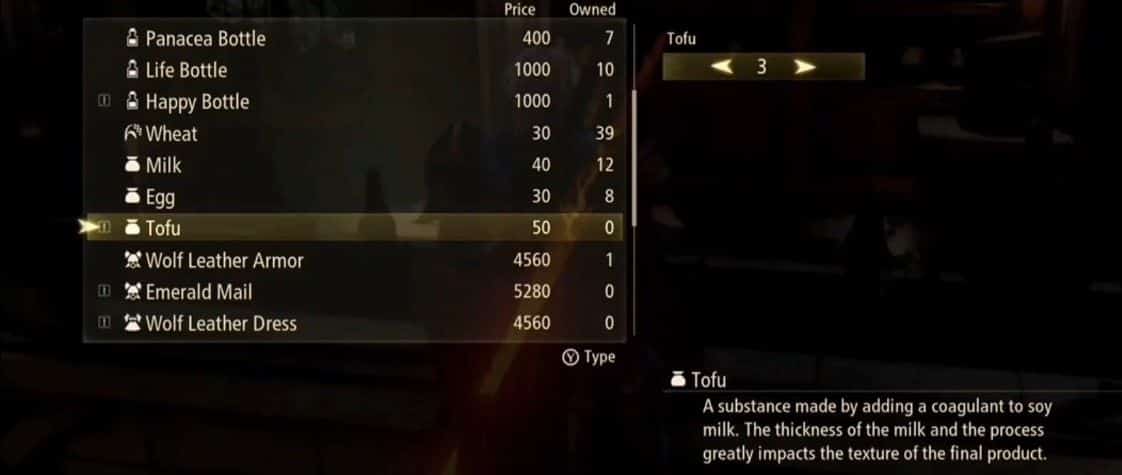 How to acquire 2 x White, Soft and Fluffy objects?
This is a cryptic description of Tofu, and probably the one that's been taxing you the most.
The good news is that Tofu is very easily obtained at this stage, and it can actually be purchased from the inn of Pelegion in Ganath Haros, near the location of the quest itself.
Tofu will set you back 50 Gald apiece, meaning you'll only need to spend 100 Gald to satisfy this requirement of the quest.
Once you have all of the above ingredients, return to Gourdeno and talk to him. Hand over the ingredients to witness another amusing scene and complete the quest.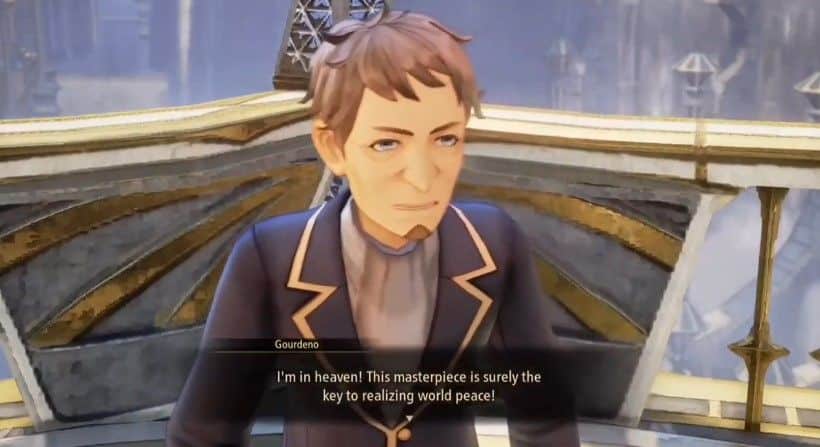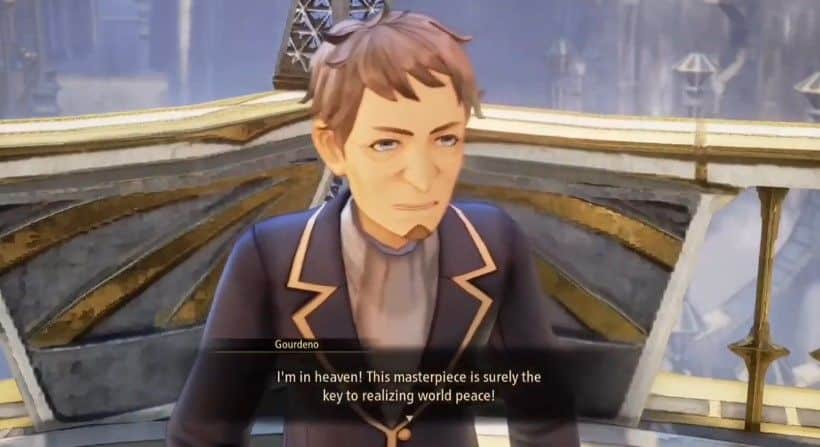 What are the rewards for the Gourmet Saga: Soft and Fluffy quest?
The rewards for this particular escapade aren't bad at all.
Completing the quest will earn you 5,100 Gald, 150 SP and the Mabo Curry recipe, which provides medium CP recovery after battle.
Recap
To beat the Gourmet Saga: Soft and Fluffy quest, this is everything you need know.
Beat all previous Gourmet Saga quests
Speak to Gourdeno on level 2 in Pelegion shortly after battling the fifth lord
Provide 6 x Rice, 4 x Pepper, 2 x Rappig Meat (raised on your ranch) and 2 x Tofu (bought in the Pelegion inn)
That's all there is to it. Also, this quest is not missable so don't worry if it's taken you a long time to crack the riddles.
Hopefully that guide to the Gourmet Saga: Soft and Fluffy quest in Tales of Arise was helpful. Check out some of our other tips and guides below.