With hundreds of different graphics cards (different features and specifications) on the market, it can be confusing for new users to know what to pick. We made a similar post on the best GeForce RTX 3080 graphics cards in our previous post. However, today, we will take a step forward by looking at the best GeForce RTX 3080 Ti graphics cards in 2023.
When NVIDIA or AMD releases a new graphics card, it usually comes out as a "Founder's Edition." These are the most basic versions of the card that a company makes.
However, once these new graphics cards hit the market, manufacturers such as MSI, Asus, Gigabyte, and others begin to develop their own versions. Hence, you can see the same graphic card with similar specifications from different manufacturers.
The Nvidia RTX 3080 Ti graphic card is a high-end graphics card that is perfect for 4K gaming. With features like DLSS support and real-time ray tracing, it performs well and has a wide range of features. 
In a hurry? Here are our top 3 favorite picks when it comes to the best GeForce RTX 3080 Ti Graphics Cards in 2023!
Name
Best Overall
Gigabyte GeForce RTX 3080 Ti
Runner Up
ASUS ROG Strix 3080 Ti
Budget Pick
EVGA GeForce RTX 3080 Ti
Preview
Best Overall
Name
Gigabyte GeForce RTX 3080 Ti
Preview
Runner Up
Preview
Budget Pick
Preview
What is a Graphic Card?
Display visuals are created by a computer component called a graphics card. You can't play video games without them. It does this by changing the information into a form that the electronics on your screen can read. Better graphics cards allow for faster processing times and higher-quality final products. Since good graphics are so important to both players and developers.
Is The RTX 3080 Ti Worth Buying?
A strong graphics card can help increase the performance of a PC. Even though they are expensive, RTX 3080 Ti graphics cards have all the features and specs you want in a good graphics card.
Therefore, it might be worthwhile if the performance is good enough for what you can pay. While it is less expensive than a 3090 card, it can compete excellently in terms of performance and cooling.
Top 7 Best GeForce RTX 3080 Ti Graphics Cards in 2023
After researching several RTX 3080 Ti graphics cards, the Gigabyte GeForce RTX 3080 Ti is the best graphics card in 2023. When it first came out, the graphics card sold out in several stores, which is why it's the best.
Let's look at the specifications. With 12GB of RAM, the Gigabyte RTX 3080 card can reach a maximum clock boost of 1710 MHz. Another noticeable feature is the card's TDP, which has increased from 350W to 360W.
Now, Gigabyte makes several versions of the RTX 3080 Ti, and all of them can be confusing and require you to check their different specifications. However, we observe that the clock speed and cooler are different for these different versions.
Furthermore, it all has the same GPU under it. Given Gigabyte's track record of producing high-quality products, we anticipate that all versions will function properly.
If you are unsure about the graphic card's performance, a 4-year warranty can give you the confidence to invest in it. Nevertheless, the warranty only covers products that you haven't overclocked. Once you overclock the card, the warranty is void. Lastly, the Gigabyte RTX 3080 Ti card is one of the few options with two HDMI 2.1 ports.
Specifications
Clock Speed Boost: 1710 MHz
Dimensions 320 x 129 x 55mm
Memory clock: 19 Gbps
Output: 3 x DisplayPort 1.4a & 2 x HDMI 2.1
Power Connectors: 2 x 8-pin
Recommended PSU: 750W
RGB: Yes
Memory Size: 12GB
Why GIGABYTE GeForce RTX 3080 Ti is the Best RTX 3080 Ti Graphic Card in 2023
The RTX 3080 Ti is a powerful card that compares well to the Nvidia RTX 3090 while being cheaper than the 24GB VRAM monster. Overall, this card is excellent because it has good cooling, and an 8-pin cable can power it.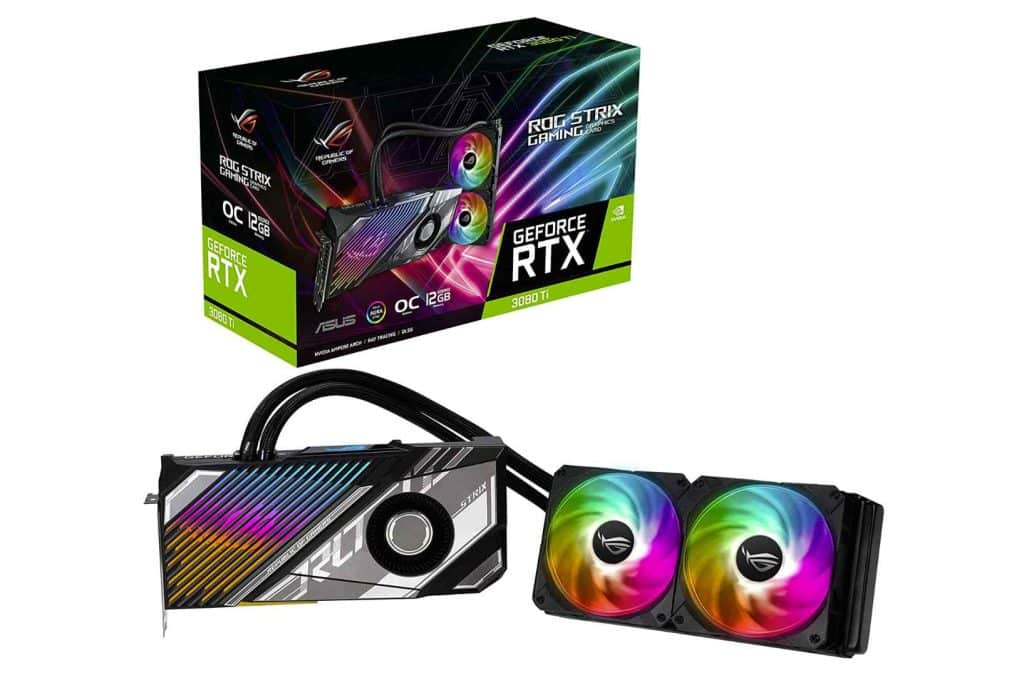 ASUS has a massive selection of products for graphics cards, especially for gamers. Whether you are a content creator, a casual gamer, or an enthusiast's video editor, you will always find something from Asus to fit your needs and budget. The ROG STRIX is a prominent graphics card brand in the industry with good cooling and performance card.
The new Axial-Tech fans give the ASUS ROG Strix NVIDIA GeForce RTX 3080 a new level of cooling. The center fan has 13 blades, while those on the left and right have 11.
The Axial-Tech fans help the bigger heatsink get rid of heat. The side fans barrier rings come smaller to allow adequate air to flow inside, while the central fan's two extra blades keep the pressure at the right level.
Like earlier versions, the two fans on the outside turn counterclockwise, while the fan in the middle turns clockwise. The fans also have a silent mode that turns them off when the card temperature drops below 50°C.
With a lot of extra space for overclocking, the LC can handle everything it faces. Even more so because it has three 8-pin connectors that give it a lot of power. Since the card is small, it is easier to get cool.
The ROG Strix RTX 3080 Ti graphic card is worth buying since ASUS products are definitely high-end. It's the fastest 3080 Ti card, and it comes with features that keep the GPU cool during high-end gaming activities.
With the new ROG STRIX RTX 3080 Ti, you can play games in 4K as you've never done before. Furthermore, with the DLSS and a few tweaks to the graphics, you can play 4K games at 120 frames per second.
Specifications
Dimensions: 293 x 133 x 52 mm
Core Clock Speed base: 1,365 MHz
Core Clock Speed boost: 1,860 MHz
Memory Size: 12 GB
PSU Required: 850 W
Output: 3x DisplayPort 1.4a & 2X HDMI 2.1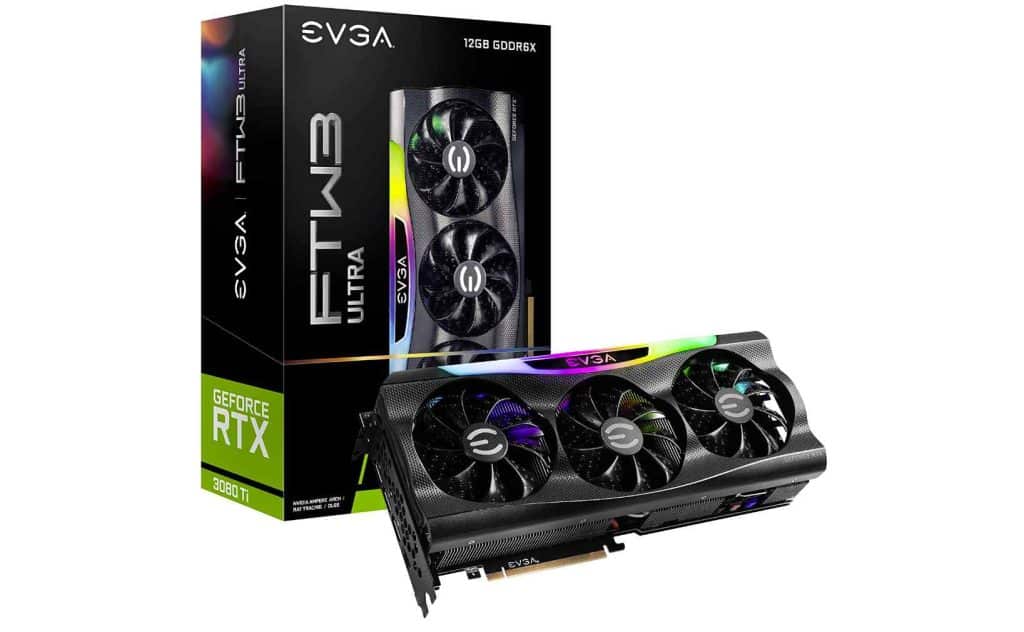 The RTX 3080 Ti FTW3 Ultra from EVGA is another unique graphics card that offers features. This is a high-end graphics card that can fit your budget. Over the past few years, EVGA has become one of the world's most popular and reliable aftermarket graphics card brands.
It has a wave-like design that is unique to EVGA. It has three iCX3 fans, a 2.7-slot form factor, and the right amount of RGB. Remarkably, you can change the RGB lighting using the EVGA Precision X1 software. Furthermore, the software also allows you to change the graphic card to fit your need.
The iCX3 Interactive Cooling technology and Ampere architecture help keep the card as cool as possible. When in an idle state, the graphics card stays around 36°C, whereas in working conditions, it can reach 77°C.
The EVGA GeForce RTX 3080 Ti card is suitable for high-performance gaming activities but not for heavy overclocking like the ASUS ROG Strix. However, it still has a place in the market because it uses high-end and durable VRM components.
In addition, the card also has smart-cut outs in the PCB and backplate that allow airflow and keep all MOSFETs, capacitors, and other VRM components cool.
According to EVGA, the GeForce RTX 3080 Ti card requires about 350W power. This means that a 750W PSU would be adequate for it. It has a unique design with a huge light bar on the side. You can change how the lights look and make them work together with the rest of your PC.
An aluminum plate with holes on the back to allow heat to pass through it. The maximum speed of the graphics card is 1800 MHz. There is one HDMI 2.1 port and three DisplayPort 1.4 ports.
You need three 8-pin power connectors to power the graphic card. Although nothing differentiates it from other aftermarket cards, its performance and features are still worth every penny.
It is one of the best versions of the RTX 3080 Ti that most people can't get. There are some advantages to getting this beast instead of the Founders Edition, such as the boost clock speed, iCX3 cooler, 3x fans, logo, bulky heat design, and ARGB-lit LED.
Specifications
Dimensions: 14.9 x 9.3 x 4.3 inches
Clock Speed Base: 1440 MHz
Clock Speed Boost: 1800 MHz
Memory Size: 10GB
Output: 1 x HDMI 2.1, 3 x DisplayPort 1.4a
Power Connectors: 3 x 8-pin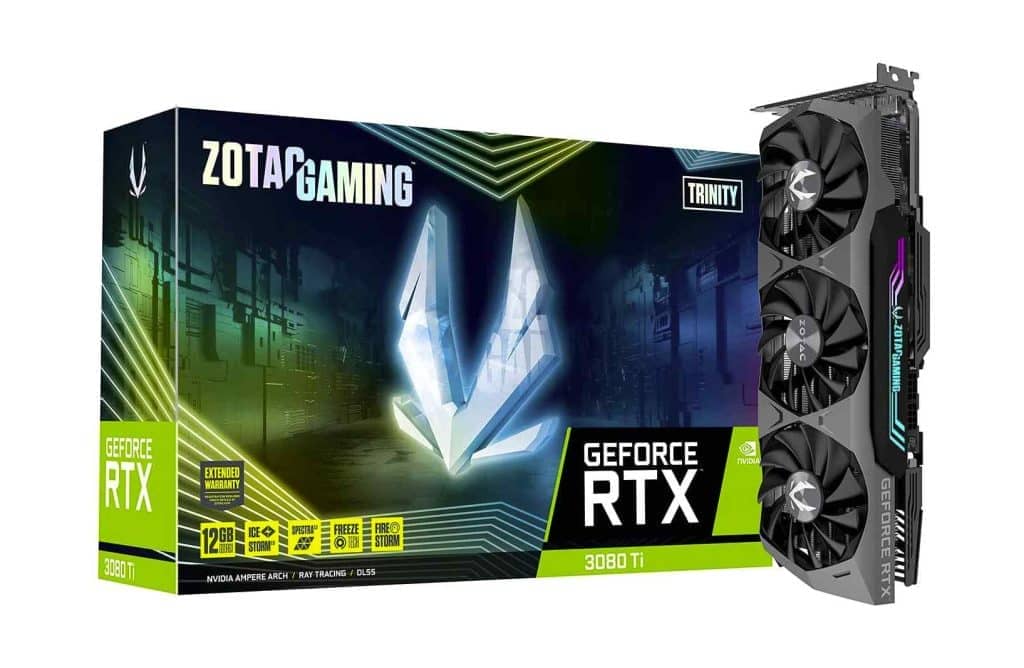 The ZOTAC GeForce RTX 3080 Ti is another affordable graphics card that doesn't lag in performance. With the design of the RTX 3080 TI, Zotac has gone all out to create something that gives users value for their money.
While there are several noticeable things about this card, we can't forget the metal backplate with RGB lights that can fit virtually any PC case.
Zotac has three slots instead of just two slots like the original products. Remember, we've already mentioned that smaller brands remanufacture most graphics cards. The IceStorm 2.0 cooler has a big heatsink and three fans to cool things within the system. According to Zotac, the heatsink is better, more refined, and covers a larger area than its predecessor.
It has a technology that stops the fan when in an idle state. This lets you play games at 0dB while giving the fan more life. The shroud's top has an RGB LED, which you can change with the fan using Zotac's FireStorm software.
If you simply want a graphics card with better cooling and likely a longer lifespan than the standard version, this is the RTX 3080 Ti to get. In addition, it's the best affordable graphic card you can get with these unique features.
With the ZOTAC Gaming GeForce RTX 3080 Ti card, the company has added another good product to its line. It might not have a faster boost clock speed than the Founders Edition, but it has everything you need in a premium high-end graphics card.
Specifications
Core Clock Speed: 1665 MHz
Dimensions: 318 x 121 x 63mm
Memory Size: 12GB
PSU Required: 750W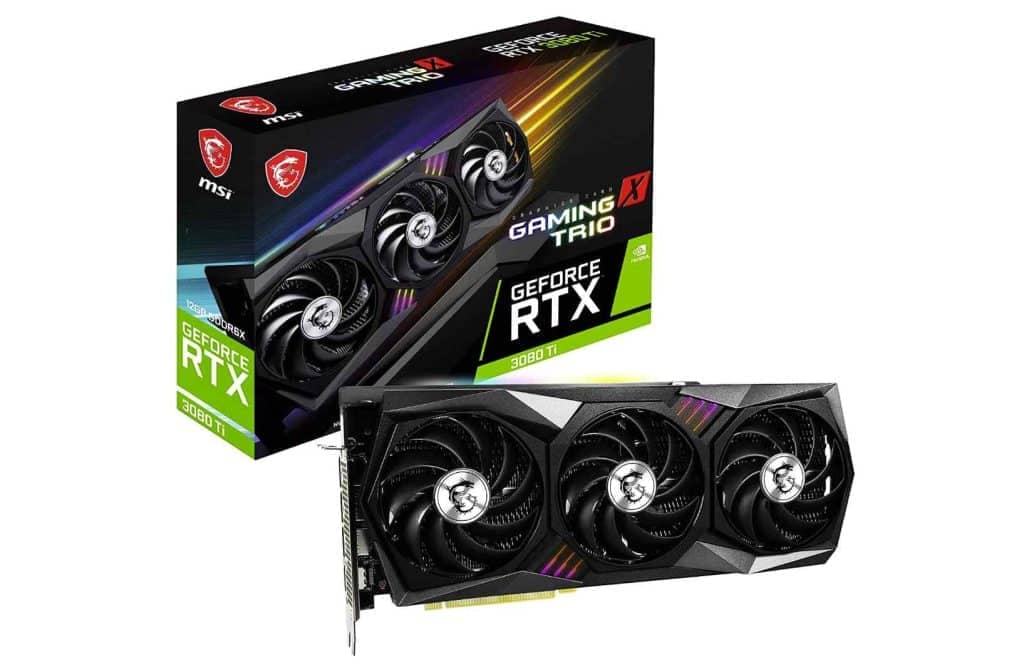 If it is not your first time shopping for a graphics card, you will know that MSI isn't a new brand. It has a long-standing history of making the fastest and most reliable graphics cards for PC owners. Like ASUS, MSI has different graphics cards that meet the needs of everyone – budget, specification, and performance.
The Gaming X Trio is their high-end, premium aftermarket graphic card product. It has a faster boost overclock and uses the TRI FROZER 2 technology to cool down things. One feature that most graphics card buyers check is the cooling capability of a card, and MSI didn't disappoint in this area.
MSI GeForce RTX 3080 Ti is one of the most popular and rarest versions of the 3080 Ti you will find online. Even though it might be expensive, the performance and specifications balance things out.
In hard games, the GPU delivers and offers impressive performance. In some games, it was even better than the RTX 3090 Founders Edition and the RTX 3080 at 4K, which is the highest graphics preset.
Specification
Dimension: 12.75 x 5.51 x 2.2 inches
Memory Speed: 19 Gbps
Video Memory: 12GB
Memory Interface: 320-bit
Output: DisplayPort x 3 (v1.4a) & HDMI 2.1 x 1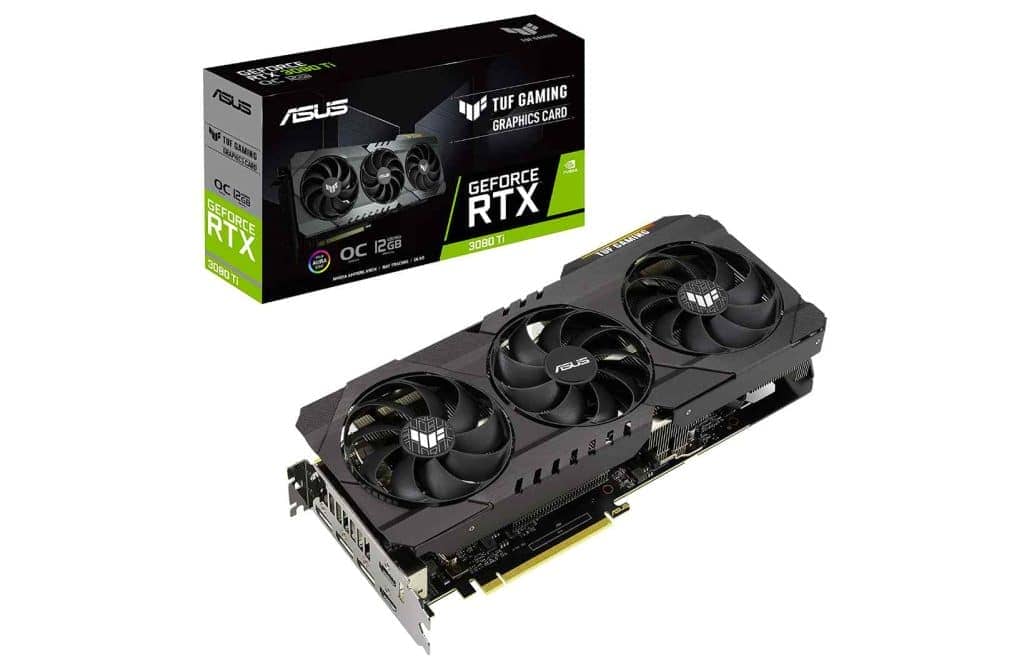 Compared to some of Asus's other models, the price of the TUF version isn't too bad. Since this is still a 3080 Ti, you can expect it to perform at the same level as others on our list. While it might have a few variations, it can play hardcore games and perform seamlessly.
It has three fans to keep the heat under control. We observe that it is not as flashy as the Asus STRIX. This is the OC version, so it comes overclocked and runs at 1755 MHz without any adjustment. This is a great option if you want an RTX 3080 Ti but don't want to spend too much money. It is a low-budget graphics card that doesn't jeopardize its quality.
For the first time, axial-tech fans cool the 2.7-slot heatsink with a VRAM heatsink. ASUS cards are known for being long-lasting and having high-quality parts, which is why they are a force to reckon with in the market.
It's 7 percent faster than the Founders Edition. Overall, it's better than the original editions in several ways. ASUS knows how to make a good product, leaving no stone unturned to ensure their products have as many features as possible.
Their TUF GPUs are made for people with a moderate to high budget. In this case, we have the TUF Gaming GeForce RTX 3080 Ti, which is a solid graphics card that checks all the boxes for the best gaming experience.
It can play any game at 4K and 60 frames per second (fps) without breaking a sweat. Not only that, but getting this GPU will be more than enough if you have a low-resolution screen with a high refresh rate.
Specification
Dimensions: 11.81 x 5 x 2.04 inches
Clock speed Boost: 1785 MHz
Ram Size: 12 GB
Output: 2x HDMI 2.1, 3x DisplayPort 1.4a
Power connectors: 2x 8-pin
Recommended PSU: 850W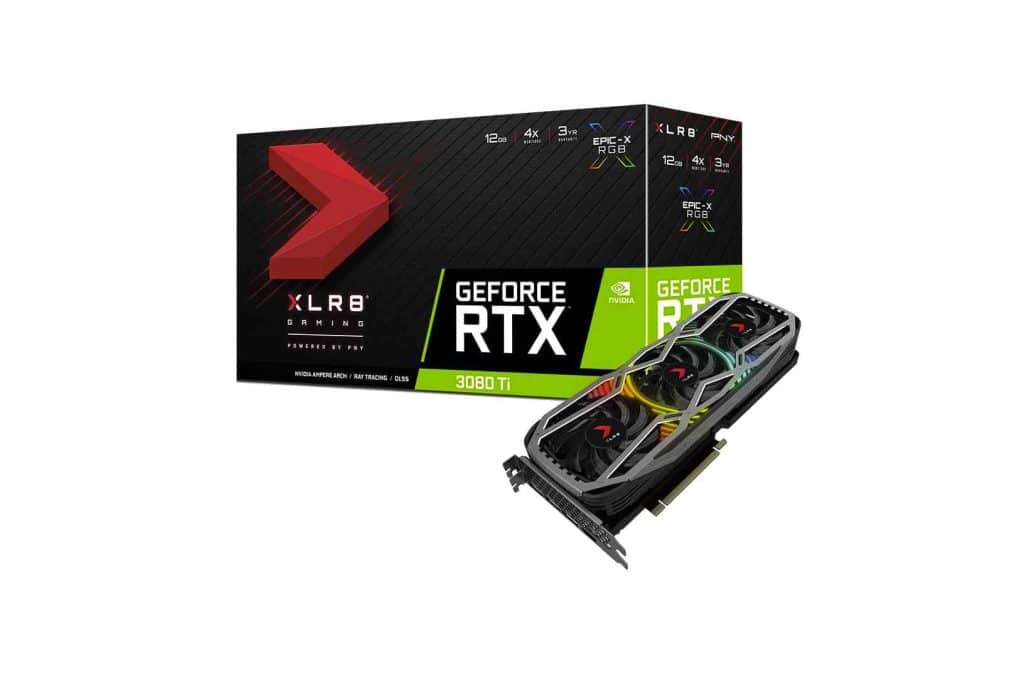 Our last review for the top 7 best GeForce RTX 3080 Ti graphic cards in 2023 is the PYN GeForce RTX 3080 Ti XLR8. It is the company's version of the top-of-the-line GA102 architecture GPU.
It uses a custom cooler designed by PNY to provide the best cooling effect. It has three axial fans to give you the best gaming experience and peace of mind regarding cooling.
It has clock speeds and performance that are about the same as the Founders Edition. The XLR8 has a bigger cooler than the Founders Edition, which means it can handle heat better.
The design is beautiful, and PNY did a great job with it. Since the front shroud has a lot of RGB lighting, it can fit in any PC case, so there is enough room to install the graphic card.
The PNY GeForce RTX 3080 comes with a nice metal backplate. However, like most RTX 3080 Ti graphics cards on the market, it doesn't have any RGB lighting on the backplate.
Specification
RAM size: 12 GB
Output: 1x HDMI 2.1, 3x DisplayPort 1.4
Dimensions: 11.57 x 4.41 x 2.20 inches
Power Connector: 2x 8-pin
Clock Speed Boost: 1665 MHz
How to Choose the Best GeForce RTX 3080 Ti Graphic Cards in 2023
If you want to buy one of the best RTX 3080Ti graphics cards, there are a few things you should look into. For instance, cooling, size, price, and performance are important things to consider in a graphic card. Even though we might give you a simple list of things to check, you should look at the "Specification" section before you buy.
Power Limit
As mentioned earlier, the higher the power limit, the better the graphic card's performance. Overclocking is a method that users often use to improve the performance of their RAM and graphics card.
However, the power limit must also increase when you overclock a graphic card. So, if you want to find the best aftermarket GeForce RTX 3080 Ti video card, you should check their OC settings and power limits. Remember, overclocking will make the warranty void if your graphics card comes with a warranty.
VRAM (Memory Size)
When it comes to gaming, the way you use your VRAM will depend on the games you play. Games with a lot of graphics, especially newer ones, will need a graphic card that renders millions of images.
It would help if you also thought about your screen's resolution since the higher it is, the more memory size you will need. Overall, you should look at a minimum of 10GB RAM for a graphics card.
Clock Speed
If you want to know how fast the clock is, look for the number of MHz in the specs. The clock speed plays a critical role in your graphics card's performance. Generally, the faster the cores process your graphics, the faster the clock speed of the GPU. In addition, the higher the clock speed, the more expensive the graphic card becomes.
Ports
Each RTX card adds new ports, so it's important to make sure that all of your equipment works together. If the required ports are not available, you will need to purchase cable adaptors.
Price
The price is another important factor that can help you decide if you should buy an RTX 3080 Ti. The price on the market right now is entirely crazy, but many graphics cards are worth it.
Even though these prices are ridiculous, the cards are still sold out. Therefore, if you have extra money and can find an RTX 3080 Ti in stock, you should buy it before anyone else does.
If you pay an extra $100 or more, the card will usually have better cooling, faster clock speeds, and a better overall build. What use is it in investing in a cheap graphics card that doesn't last for an extended period? Therefore, while trying to cut your budget, consider the card's lifespan.
Overclocking Capabilities
People who buy the RTX 3080 Ti will overclock their graphics card to get a small boost in gaming performance. The 3080 Ti has a good amount of room for overclocking, and the performance boost from stock clocks to overclocked speeds can range from 4 to 8 percent.
Out of the box, the RTX 3080 Ti can boost up to 1670 MHz. This can be changed and pushed even further, depending on its capabilities. The extra overclocked speed use more power, which causes heat.
The card tends to slow down at very high clock speeds because of heat, which affects its performance. In these situations, it's best to let the GPU run at its normal clock speed or reduce the graphics card volt.
The 3080 Ti stays around 35°C in its idle state. However, when under high operation, it can get as hot as 78°C. Nevertheless, this depends on the particular 3080 Ti graphic card.
Conclusion
The GeForce RTX 3080 Ti graphics card is among the best cards that offer high performance for gaming PCs. Interestingly, it works excellently for different gaming PCs, irrespective of the resolution. These graphics cards come with different specifications and features that compete with the original graphics cards while offering you great value for your money.
It's hard to say there aren't any issues with the GeForce RTX 30 series, which has given rise to upgrades. However, the graphics cards in this article have undergone several tests and can withstand whatever task you want to use it for.
While we only provide the 7 best GeForce RTX 3080 Ti Graphics, if you feel we miss out on any graphic card within this category, we do like to hear from you. You can give us your opinion using the comment box below.