Building your own gaming PC has many benefits, and we don't need to mention them all. The main idea is that you can choose the parts you prefer and optimize performance and efficiency while making the PC look and work the way you want. Nevertheless, setting up a PC can be challenging for some people because it requires a lot of effort.
There's something magical about searching the Internet for the best parts and then waiting patiently for them to arrive so you can start assembling the PC, which is the best part. However, some of us need more time to determine how to get the best deal for our dollars.
In addition, being a gamer doesn't mean you have to know everything about hardware. That's fine, you know. This is where sites that let you build your own PC come in.
Ready-To-Use PCs
They have already set up configurations, so you don't have to worry about whether your memory is too fast for your CPU or not fully compliant with your motherboard. Alternatively, your graphics card gives you the most for your money, or your CPU cooler is strong enough for your processor.
Sure, they usually cost more than a do-it-yourself build. In this case, you get a package with a fully assembled PC, so you don't have to invest days or weeks looking for new stock.
Building a custom PC from scratch is a hectic job that even professionals find stressful. For an amateur, it is a challenging process. However, if you want to create a personalized PC but need help figuring out where to start, you can start with the top 10 best custom PC builder websites on our list.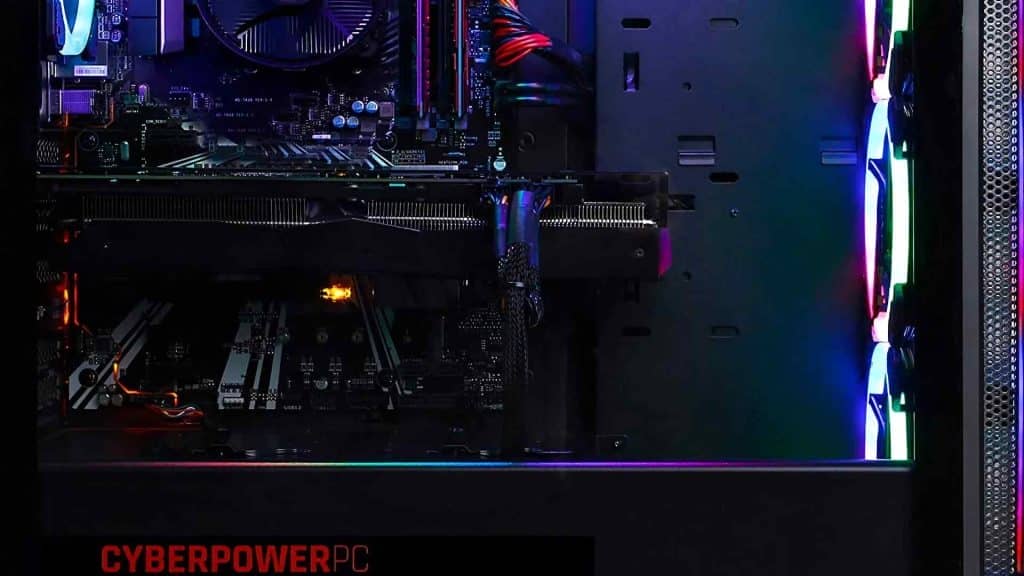 Cyber PowerPC is known for having a wide range of parts, which makes it one of the best PC builders websites. For as little as $769, you can create a simple game desktop here. Through Affirm, the website also provides financing choices. For serious gamers, there are even specialized gaming rigs available.
Also, the website has tools for building custom PCs and laptops that let you group parts based on how much you want to spend. You can choose your favorite settings or the game you want to play.
Then Cyber PowerPC creates PC components that adhere to your earlier specified FPS, resolution, and other specifications. If you want your online orders to arrive faster, you can join Amazon Prime or pay for faster shipping.
Why Is This The Best Custom PC Builder Websites In 2023?
Cyber PowerPC has a wide range of gaming PCs, from mid-range professional PCs to huge gaming consoles for avid gamers. Their PC configurator is perfect for individuals new to PCs. Cyber PowerPC provides a 3-year warranty on PCs and a 1-year guarantee.
Another of CyberPowerPC's advantages is its accessibility. A basic laptop will cost you $15 less than the cheapest PC, which is only $715. The website offers financing through Affirm so that you can pay for some things at once. A one-year guarantee and unlimited technical assistance are provided for PCs. You can extend the warranty to three years, but it comes with an additional payment.
Pros
Lifetime Technical Support
Customization options
You can buy integrated PC from Amazon
Cons
High price
Slow shipping of users' PC version
2. BLD by NZXT – Best Design Custom PC Builder
Compared to the other top custom-builder sites on our list, BLD is a fairly new one. The company is a division of the well-known computer hardware and peripheral manufacturer NZXT. It also has one of the most complete customization options for PCs, which both new and experienced PC builders can appreciate.
BLD allows you to create your own device, whereas most PC manufacturers already have the version installed. On their website, you can answer a series of questions to find a PC that fits your needs.
The initial stage is as simple as it gets, asking you to select a spending limit and the processor to build the system. These settings correspond to a display that estimates the framerate for popular games like Minecraft and Fortnite at different resolutions.
Next, you'll find a computer with hardware that works with your system and fits your budget. Then, there aren't many restrictions on how you can alter any component of it. Since it must be from NZXT, this is the only exception. Lastly, you choose the operating system, a monitor, and any other peripherals required.
NZXT offers a 2-year warranty on its computers, which is approximately the industry standard. All of them are made with great skill, and you can pay an extra fee to get them faster.
Pros
Optimal quality and support
High transport speed
Cons
Lacks built-in PCs
Limited GPU and CPU options
3. iBuyPower – Best Alternative to Cyber PowerPC
Consider iBuyPower is a hybrid of CyberPowerPC and BLD from NZXT. It has one of the best custom PC builder interfaces and a large number of PCs and parts that are already set up. Considering the fact that the site is always full of offers and promotions, it might be hard for new visitors to find their way around. However, once you find your way, you become used to the platform.
A PC construction program called EasyBuilder is also available on the iBuyPower website. As for the current processor, you have the option of AMD or Intel. Filters for setting customization include price, storage, unique visual memory capabilities, and more.
On most products, iBuyPower provides a 30-day money-back guarantee. IBuyPower, however, is not responsible for any fees or shipping charges. Additionally, a 15% purchasing fee applies to the items you select.
Today, iBuyPower, which sells a variety of desktops and PCs, is among the most well-known services in custom PC building. Most importantly, they sell several well-known gaming accessories popular among the eSports community.
Pros
Excellent custom build tool
It comes with a 3-year warranty
Selection of quality components
Straightforward payment process
Cons
4. Origin PC – Best Desktop and Laptop PC Builder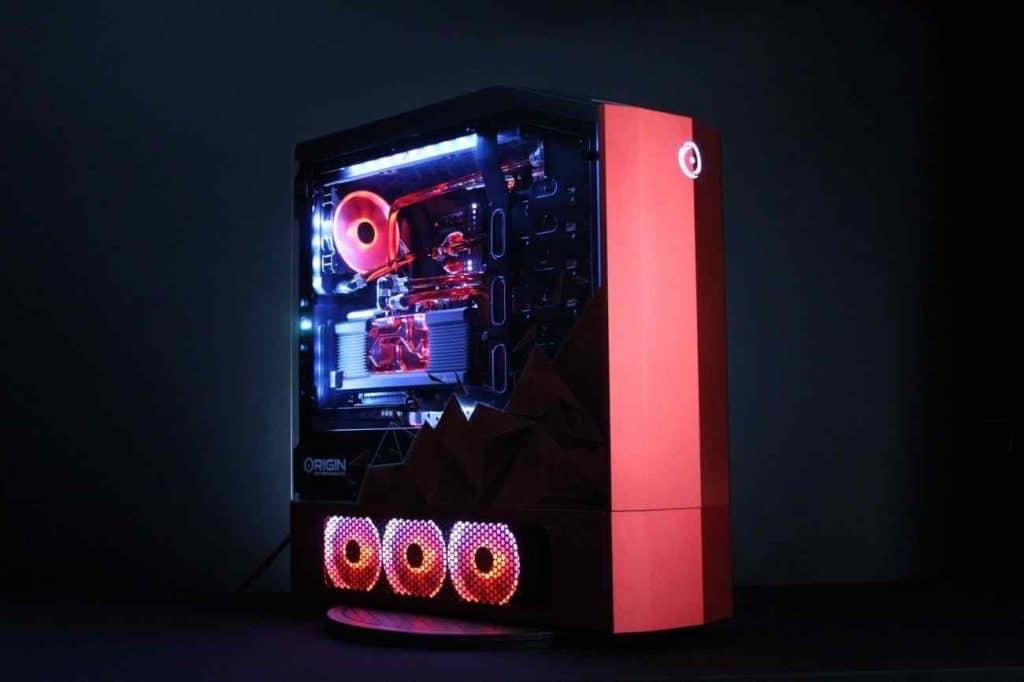 All of Origin PC's versions and classes of desktop and laptop computers are "customizable" to match the specifications you choose. They offer custom-built desktops and notebooks for gaming and business applications. They have tiny form-factor, mid-tower, full-tower, and super-tower cases for their custom PCs.
It allows you to customize your external component with several colors, lighting, and patterns. You can also change the parts to fit your tastes and the exterior and interior designs. Origin provides users with a 1-3 year warranty and a 30-day money-back guarantee.
Given how highly customizable the Evo series is, laptop enthusiasts find it attractive. You can choose from several themes for the lid's decoration and change the memory and storage drive.
Although it can be more accessible, PC customization goes even further. The Desktop Advisor takes a hint from the NZXT website, giving users several options to create their PC. Although the procedure is somewhat technical, it is simple to add the finishing touches to your modified PC from there.
Origin PC provides a range of payment options. Your best option is to either pay everything up front or choose a six-month payment schedule because the annual percentage rate for longer-term purchases might be significant. You can also increase the warranty on Origin PCs from one year to three years. One major drawback is that they only deliver to the US and Canada.
Pros
Several financing options
Worldwide delivery available
Government and business sales program
Cons
Very expensive
Limited warranty period
Delivers only to Canada and the US
5. Maingear – Best Reliable Custom builder Website
A large range of prebuilt PCs is available from Maingear, with costs starting at reasonable prices. Maingear, like Digital Storm, focuses entirely on personalized products, some of which are aesthetically pleasing. Our favorite is the ITX-based Turbo, which features the newest Ryzen CPUs, a stunning custom water cooling system with an amazing design.
Customers can even take the customization process further, especially with products such as the Rush, Turbo, and F131 lines. Each includes at least two finished PCs that you can extensively customize. You can do this by going to a detailed website page with a lot of different options, from the GPU and motherboard to accessories and software.
Maingear goes above and beyond compared to the other custom PC builder websites, as it offers a different range of case colors and custom-made single or multi color designs. These add a lot to the price, but you get a computer that is unique and fits your needs.
You can order your product within 1-2 business days without delay. However, it can take two weeks to receive your customized PC, depending on the customization you choose.
All Maingear PCs come pre-configured with a one-year guarantee that you can extend to three years. Maingear ensures all products ordered undergo thorough verification and inspection before being shipped. It ensures the right OS is installed, drivers updated, and everything is intact. It doesn't offer financing to people outside the US, but US residents can set up a payment plan.
Pros
Affordable price
Offers a 30-day money-back guarantee
Remarkable custom buckle build
Cons
Limited warranty
Poor motherboard selections
6. Xidax – Best Warranty Custom PC Builder
Xidax differs from its competitors in that it guarantees the performance and parts of a PC system for life. There are a few exceptions, though, like AMD graphics cards and liquid cooling parts, which have shorter warranties.
Most of the time, Xidax will replace broken parts without you paying a dime. If there is damage to any part of the PC, it gets fixed. However, its products come with a 20% purchase fee for Xidax's 45-day money-back guarantee.
Founded by a group of PC gamers who wanted to change the way people think about gaming PCs, the website offers high-performance computers at every price point. On their website, you can find an enormous number of prebuilt PCs. You can also build the PCs that best suit your needs and budget.
Companies like iBuyPower, Cyber PowerPC, Origin PC, and MainGear are more popular than Xidax. However, Xidax is a solid place to start if you have a tight budget.
Remarkably, you can create a customized PC starting at $565, which is the lowest price on this list. Furthermore, the websites offer workstations, desktops, and laptops suitable for work or gaming activities.
You can upgrade Xidax desktops to get better core hardware and more ways to customize them, like RGB lighting and overclocking the CPU and GPU.
Although it can't compete with other top custom PC builder websites, Xidax offers several customization options that can get the job done. You can also pay for Xidax systems over time by making monthly payments through Affirm.
Pros
Lifetime warranty
Solid Base Prices
Cons
Expensive to get a high-end PC
7. Digital Storm – Best for International Users
Digital Storm is one of the more expensive custom PC builders on this list. Even so, the easy-to-use interface helps you choose the best parts while keeping everything compatible.
Digital Storm only has two laptop models and three workstation models in each category. This may not be appealing to people who use laptops or workstations. Desktops come in a broader range of options, from the affordable $1,399 Lynx to the all-out $3,025 Aventum. Furthermore, those are only the start-up costs.
The prebuilt PCs are functional, and many options exist to improve their usage. Each model is offered in several gradually more expensive combinations. As an alternative, you can use them as a starting point to assemble your own PC from a wide range of parts.
On Digital Storm's active forum, customers can talk to each other, exchange information about their purchases, and deal with any problems that might come up. Like Maingear, Digital Storm offers easy financing through Bread and has payment options that can last up to 36 months. Their standard limited warranty is also for that period of time, with extensions of up to five years.
Pros
Rich custom curls
Different workstation design case
Custom Loops Galore
It comes with a 3-year warranty
Offers decent customization options
Cons
8. AVADirect – Best for Customization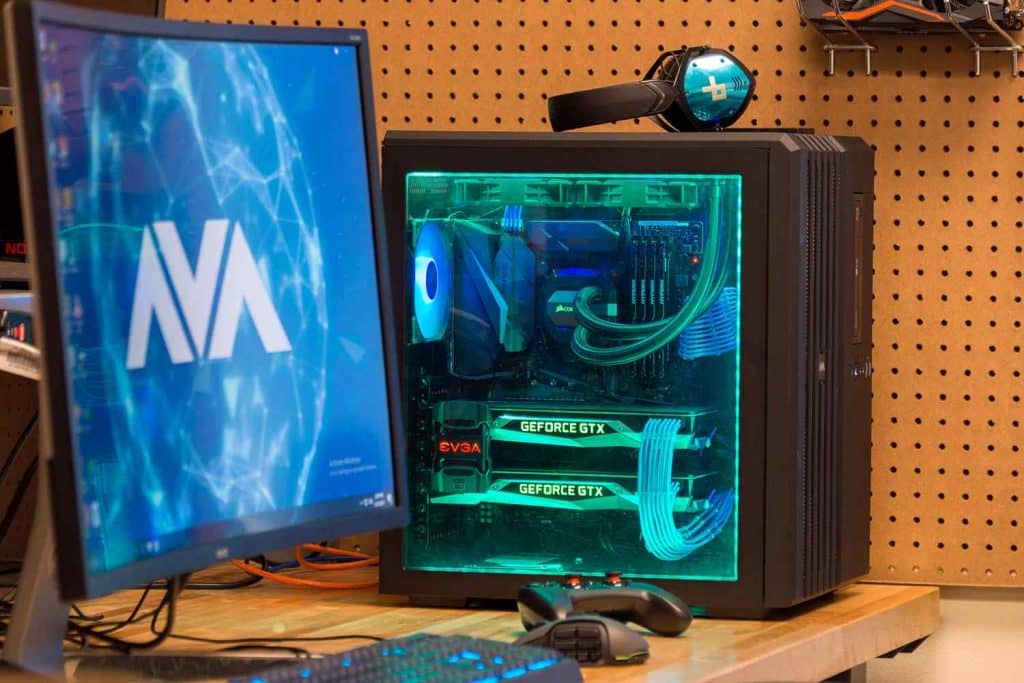 AVADirect has the most custom PCs to choose from of all the options on this list. AVADirect has many different system options and configurations, such as high-end gaming desktops, custom-built gaming laptops, workstations, mini-PC builds, and even powerful tablets.
AVADirect also sells individual parts. You can buy desktop hard drives, headsets, keyboards, and mice, among other things.
Custom-made desktops for gaming start at $919, and custom-made laptops start at $1,099. They also let you pay for any of their systems over time if you want to extend your payment period.
Pros
Numerous customization options
Reasonable price
Wide selection of workstations, servers, and other items
You can buy individual items
Cons
Too complex for newbies
Monitor Selection Is underwhelming
One of the first companies to produce PC games was Falcon Northwest, which was founded in 1992. Their first creation was a powerful PC named MachV that operated on MS-DOS. Of course, the business has come a long way since then.
There are now three different types of desktop computers: FragBox, Tiki, and Talon. The form factor is the most noticeable distinction. The Talon is a standard but highly functional mid-tower, the Tiki features a stylish mini-tower, and the FragBoxPC is encased in a small case.
There are options for customizing both the inside and outside, such as UV printing, RGB lighting, and more. The only significant drawback to Falcon Northwest's choice is the high price of PCs, which start at $2,000 each. However, with this kind of great service, this could be one of the best companies in this field. If you can afford it, you should make it one of your top options.
Pros
Highly optimized gear
Excellent technical assistance
Easy to find whatever you want
Cons
Limited motherboard options
High prices
10. Puget Systems – Best Workstation PC Builder
The last custom PC builder on our list is Puget Systems, which despite being less eye-catching than most PC builder websites, is just as reliable as the others. Their website isn't the most spectacular or captivating (in fact, it feels relatively outdated in 2023), but what matters most is that it is straightforward to use and navigate. You are not looking for the best attractive website when customizing your PCs.
You'll see immediately that the platform focuses on something other than games. Instead, they mostly sell to professionals and offer a variety of workstations that can be quickly put together by the customer based on the PC program they use.
There are now eight PC brands available from Puget Systems. As usual, these are different based on the size of the case and the chipset on the motherboard, and they all have simple, elegant cases. Naturally, there are several levels of customization available for each of these.
It allows you to choose different workstations based on your workflow. You can get a workstation explicitly designed for Redshift or Adobe Lightroom. There are four distinct workflow categories with numerous well-known tools in each.
A few words about the guarantee: you automatically get a one-year warranty, but you can choose to extend it even for a longer time. On the other hand, the company provides lifetime repairs and technical hardware support.
Pros
Different workstation customization options
Lifetime technical and labor support
Easy-to-navigate platform
Cons
How to Choose the Best User PC Builder Website in 2023?
Budget
Naturally, not everyone drives a Ferrari. Therefore your PC accessories are also on a budget. Your gaming PC may require specific parts, such as a cooling water system to maintain the temperature, so be prepared to spend more if you want the best.
Warranty Issues
Since we're talking about expensive equipment and hard-to-find parts, pay close attention to the warranty terms. Unfortunately, for some inexplicable reason, this issue has many people concerned. The most important step in selecting a custom PC builder website is learning about the extended warranty offer.
It's advisable to opt for a long-term warranty package if such a platform offers one because things can go wrong. Since a customized PC can cost up to $3,000, you want to ensure there is a warranty to cover any problems.
Custom Options
It might sound awkward, but there are many ways to use a customization option since it allows you to set up your PC. Some companies only sell parts, while others allow you to customize your PC. So, when looking for websites that let you build your own PC, ensure you know what they offer and how you can customize it. Choose one that allows complete customization.
Customer Service
The importance of customer service cannot be overstated. If you have a serious issue, you don't want to talk on the phone for two hours or chat with an incompetent robot, so we only endorse companies with a reliable customer service. You can check their support or contact page to see what they offer. Also, you can read what other customers have to say about them on review pages.
Conclusion
We've listed the top 10 best custom PC builder websites in 2023. While there are many, these are the best, considering the customization options and the customer service they offer. The custom PC builder websites in this article can help you decide which one is right for you.
Remember to cross-check the PCs you want to buy or customize with another software in case of compatibility concerns. You should do this since some websites may have compatibility requirements that don't necessarily match their features.
Please let us know if we missed any custom PC builder sites that offer even more benefits.