The development of AIO coolers has sparked intense rivalry in the CPU cooling industry. There are many fantastic devices available now in several shapes and sizes. But it can be hard to choose the suitable device for your needs because there are so many things to think about.
Through AIO CPU coolers, your CPU can cool effectively. Even AMD and NVIDIA graphics cards fit perfectly with these tiny liquid coolers! Since the air inside the casing is sealed off, cleaning dust buildup becomes simple.
There are many AIO coolers on the market, which makes it hard to pick the best one. However, we've analyzed several 240mm AIO and have discovered the top 7 best 240mm AIO coolers in 2022.
Whether you're looking for a cheap AIO or a costly one, we've got you covered. Everything you need is right in this article, as we will explore their unique features, specifications, pros, and cons.
In a hurry? Here are our top 3 favorite picks when it comes to the best 240mm AIO in 2023!
Name
Best Overall
Corsair iCUE H100i RGB Pro XT
Best Compatible Cooler
ARCTIC Liquid Freezer II
Budget Pick
MSI MAG Series CORELIQUID
Preview
What is an AIO CPU Cooler?
An all-in-one (AIO) cooler is a liquid cooler that uses a closed-loop system to pump water or other fluid to cool a CPU cooling block. The warm water then goes through a radiator with fans to cool it down before the cycle starts again.
You will find the pump around the area where the cooling block connects to the CPU. The cooling block is designed to make contact with the CPU, just like any other heat sink would do.
Normally, an AIO cooler is like a closed-loop system, which doesn't need water maintenance. Nevertheless, since the liquid stays contained, it isn't possible to take off the hose because it is crimped on the cooler.
Is an AIO CPU Cooler Important?
Yes, especially if you can afford a high-performance unit. Both air coolers and liquid cooling loops have pros, but AIO coolers offer the best combination.
It's more complicated than installing a regular air cooler, but it's still much more straightforward than building a water cooling loop from scratch.
While not as efficient as a personalized loop, it offers almost the same thermal performance for most computers. You may use it to cool high-end PCs without spending much money, providing significantly greater performance than conventional air coolers.
Top 7 Best 240MM AIO In 2023
It doesn't matter what you think or what factors you consider; the best 240mm AIO coolers must provide value, performance, and unique features. Although a few have these features on the market, finding the perfect blend of 240mm AIO coolers isn't easy. We've made it easier for you by compiling a list of the top 7 240mm AIO coolers available today.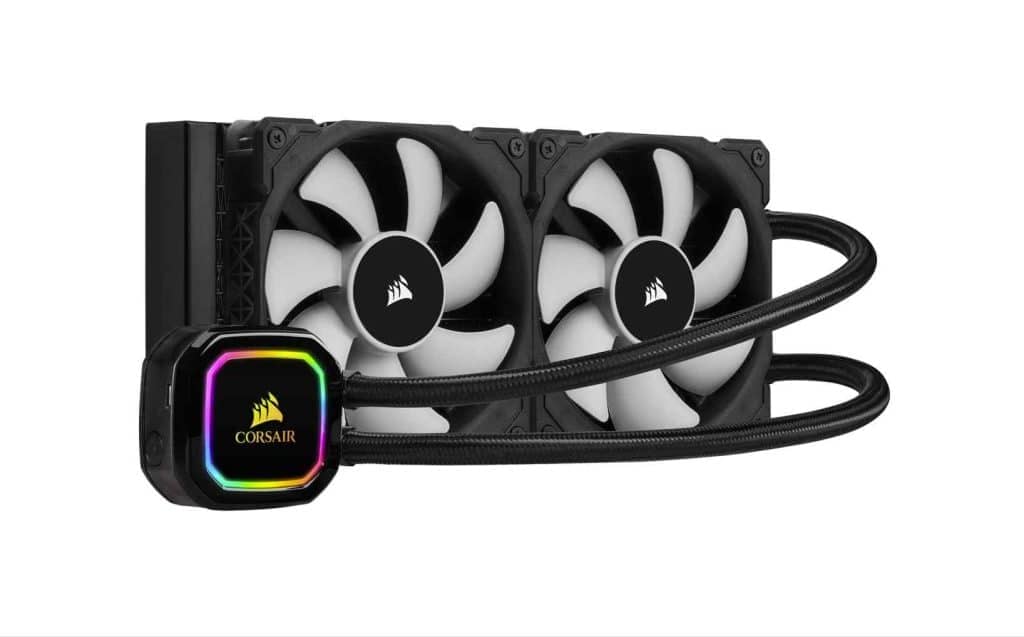 If you have searched for the best 240mm AIO cooler, you might have come across several options, including a Corsair. It is among the leading manufacturers of computer components and CPU coolers. The Corsair iCUE H100i is a premium cooler for your gaming computer. Even though it's pricey, it's worth every penny, especially if you want something easy to set up and silent when not in use.
This AIO cooler has a fan that can go as fast as 2400 RPM and works well. Interestingly, you can customize or tune the fan speed down to as low as 400 RPM if you prefer a silent performance. How many AIO coolers will offer such an option?
Specification
Dimension: 240mm (277 × 120 × 27)
Speed: 2400 RPM
Noise: 37 dB(A)
Fans: (2) 120 x 25mm
Socket Compatibility –
AMD: AM4, AM5, sTR4, sTRX4
Intel: LGA1150, LGA1151, LGA1155, LGA1156, LGA1366, LGA1700, LGA1200 LGA2011, LGA2066
Why Is This The Best 240mm Aio In 2023?
Looking at the radiator, it has quite a low profile despite the system offering fully customizable RGB lighting. In terms of noise level, this unique Corsair iCUE H100i cooler has a low dB noise output, with 377 dB as the lowest noise output setting.
While having a small noise level, it can deliver a maximum of 75 cubic feet every minute. In addition, the cooler comes with 2 120 mm fans to ensure efficient performance. The fans are ML series magnetic levitation, available on the cooler radiator.
Lastly, system builders greatly benefit from combining the cooler with customized software tools. If you are on a tight budget, this might not be the best AIO cooler. In addition, you should watch out for those noisy fans. Besides this, we believe the Corsair iCUE H100i RGB Pro XT is the Best RGB AIO cooler.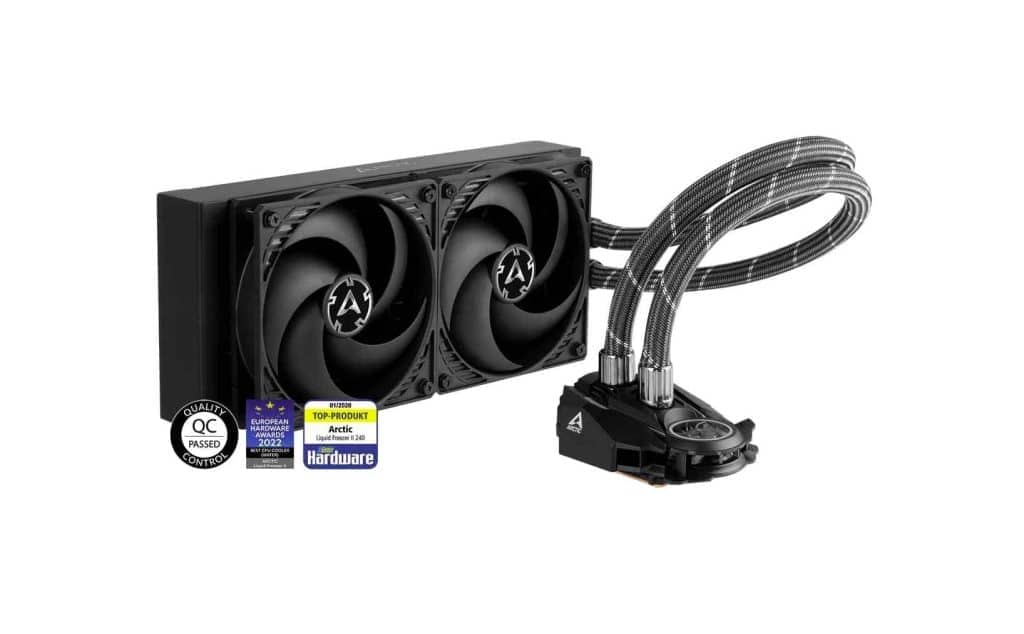 Looking at this AIO, you will discover nothing is ordinary. Unlike the usual thickness clocks, this measures 10mm with equivalent modifications in fin density. Remarkably, Arctic uses two P12 fans for efficient and unrestricted airflow. The pump head with a divisive design is more intriguing as it looks like a spaceship when you add another small fan.
However, you might need help finding RGB in other coolers. Nonetheless, it tends to balance things out because it provides a minor concern for cooling the motherboard VRM. In addition, it can help reduce your GPU temperature. Of course, you want air to flow freely; the AIO cooler blows air in three directions.
So far, all the AIO on our list are easy to install. The Arctic Liquid Freezer is not an exemption as we declare it as the best 240mm AIO cooler for newbies. The fans are well connected to the radiator because the power cables go through the pipes in the head unit, which are easy to bend. It is easy to plug and secure the pump head since it uses a single PWM cable to manage the power cables.
Overall, it is among the cheapest coolers you can find online. However, it can still perform optimally. Indeed, it is suitable for gamers who want a cheap, high-performance cooler. Using an external mounting kit, you can use the AIO cooler for AMD and Intel CPUs.
Specification
Dimensions: 240mm (98 × 78 × 53)
Tube length: 450mm
Fan RPM: 200-1,800
Noise: 22.5 dB(A)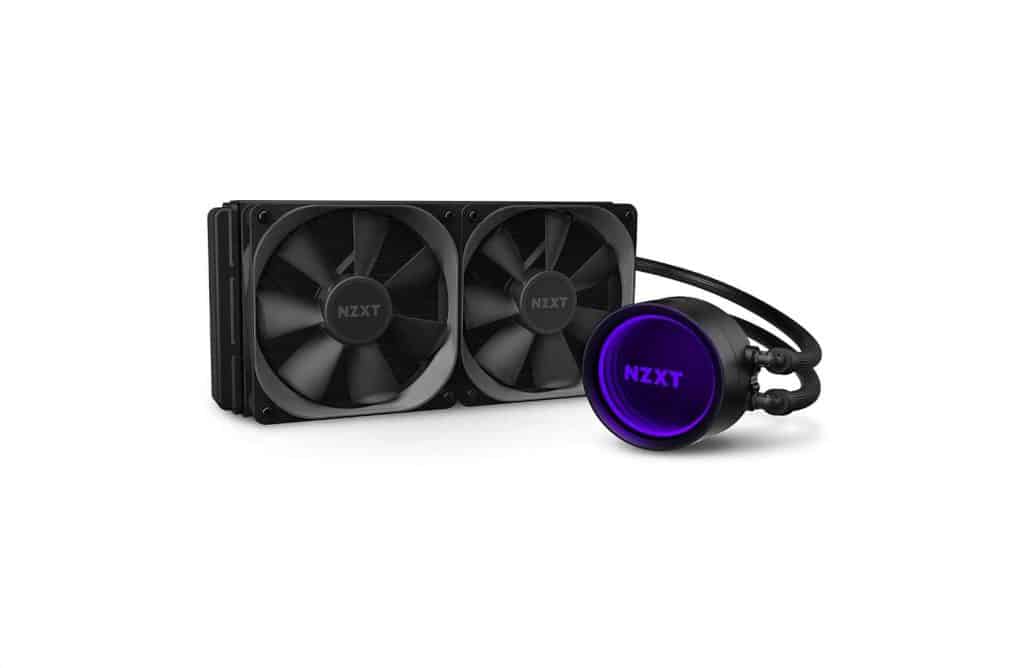 You need the best AIO coolers for optimal performance. The NZXT Kraken cooler is made by a well-known company that is known for making high-performance CPU coolers. In terms of noise level, we consider it the best-performing cooler. Let's begin with the radiator, which has a 240-mm fan. If you are familiar with radiators, you would know that 240 mm is decent for such a system.
However, when you combine it with 500 to 2000 RPM fans, you can expect an excellent performance regardless of the low noise levels. It comes with a premium price tag despite lacking any RGB fans. In terms of lighting, we consider the pump unit among the best-looking units.
You can expect a 6-year warranty since it is produced by a reputable brand. As a result, it can last for a long time before you consider purchasing a new AIO cooler. Regardless of your requirements, this CPU cooler will keep your CPU cool. While some AIOs come with integrated reservoirs, the NZXT Kraken offers more compatibility. Interestingly, compatibility isn't an issue, as it works perfectly with AMD and Intel CPU sockets.
Finally, the NZXT Kraken CPU cooler is a wise choice if you consider building a personalized water-cooling loop. If you want to cross-platform, you must install some adapters.
Specification
Dimensions: 12.09 x 8.35 x 5.39 inches
Tube length: 400mm
Fan RPM: 500-2,000
Noise Level: 21 dB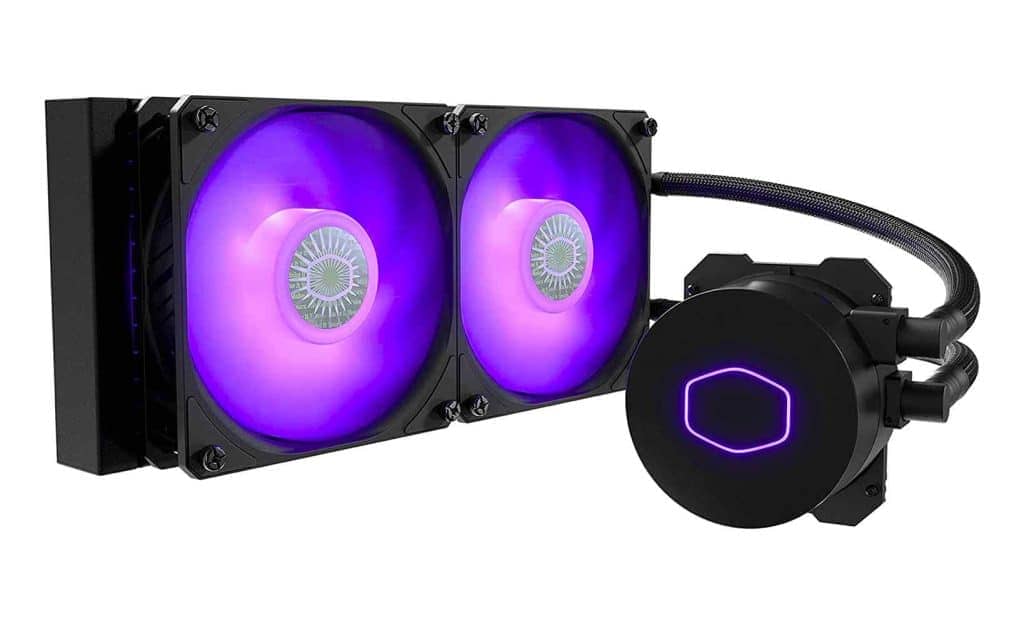 The first MasterLiquid ML240L RGB didn't get much attention because it had average specifications and boring lighting. Cooler Master returned to the drawing board, made many changes, and didn't raise the price for the second version. So, you're left with the ideal 240mm all-in-one you can get for a bargain.
People who don't know about the first AIO cooler will simply see a pump head in the shape of a puck with the Cooler Master logo attached to a regular radiator. The biggest change has been done to the pump, which now has a larger volume and longer impeller blades to keep water moving. The increase in size slows down the pump and makes the whole PC operate more quietly.
The fans and radiator also get better. The density of the first one is the same, but the tube connections are bigger, which makes the flow better. The old fans needed to be fixed.
Now you can get SickleFlow fans, which have a slightly better fixed pressure and a good CFM of 62. More importantly, they are quieter than the fans they are replacing and look better when the RGB is turned on.
The pump is also built right into the radiator. The new idea accomplishes two objectives: it makes the pump run more quietly by reducing noise and lasts longer by keeping it far from the heat source. The radiator also has a split pathway that lets it transfer heat more efficiently than most radiators.
Specification
Maximum Rotational Speed
Dimensions: 240mm (277 × 120 × 27)
Fan RPM: 650-1,800
Noise Level: 15 dB
Tube length: 300mm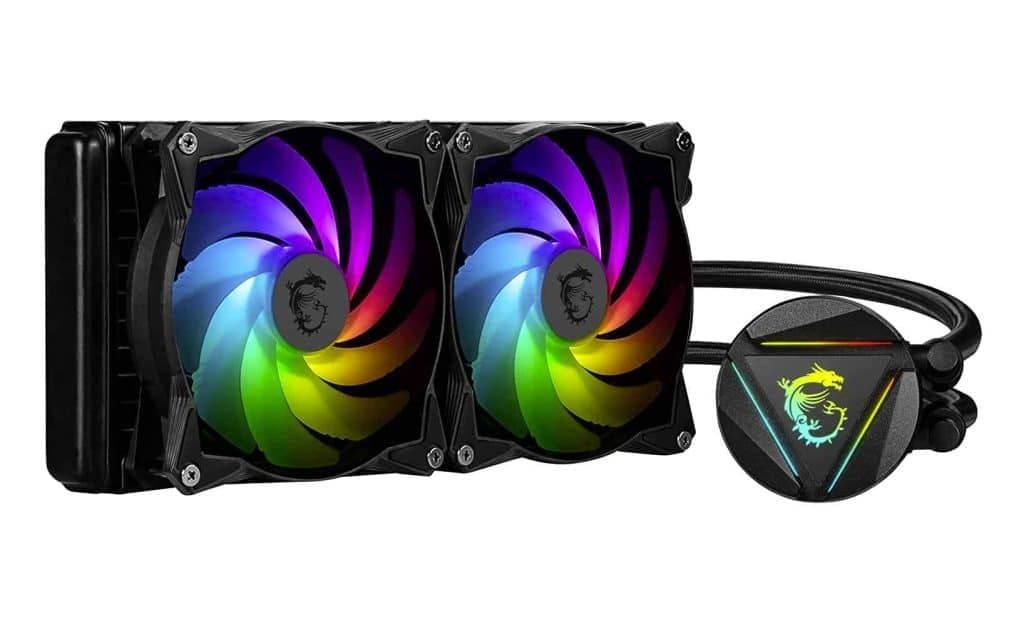 MSI makes a bunch of quality hardware, but until recently, they didn't make AIOs. The MAG CORELIQUID 240R is a new product made for gamers who care about how well it works, how much it costs, and how it looks. It has an unusual pump design and can compete with EK's model in terms of RGB.
Even though the build quality is still very good, this is much lighter than the D-RGB. This is because more of it goes to the radiator and the pump it holds. This seems like the wrong thing to do because the pump blocks a good chunk of the fin. However, the two 78 CFM fans end up making this problem go away.
The MSI MAG CORELIQUID 240R is also great for a high-profile cooler with a relatively low price tag. It is available in a 240 mm radiator that has two 120 mm fans packed into it. You can change the fan's speed from 500 to 2000 RPM. At its lowest point, it only makes about 16.7 dB of noise, which is excellent for productivity.
As expected, the CPU block is more lightweight than others and simple to maneuver into position. It has a rotating cap on top that illuminates with the SI dragon symbol. This creates a fantastic-looking, flicker-free lighting effect when combined with the matte fans. Although no specific apps exist to alter it, Mystic Light or any other mobo software works just fine.
Its pump is also incorporated inside the radiator. Due to this invention, the pump may operate more quietly and with greater longevity thanks to being kept far from the heat source.
The radiator also has a split route design, which enables more effective heat transfer than is possible with conventional radiators. The CoreLiquid 240R is an intriguing cooler thanks to these distinctive characteristics.
Specification
Fans Dimensions: 120 x 120 x 25 mm
Fan Speed: 500 – 2000 RPM
Tube length: 400mm
Fan Number: 2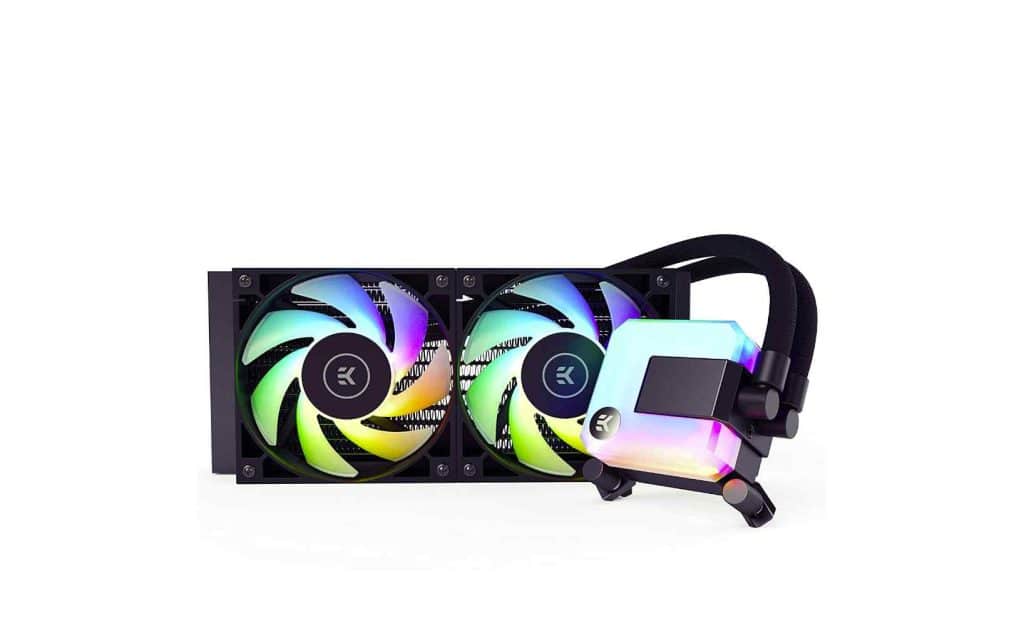 People who are interested in water cooling loops will know EK and its wide range of high-quality products. The company offers ready-made solutions that work well, such as the cooler that made it into our list. It's the finest 240mm AIO if you like RGB and one of the most durable and effective on the list.
The first thing you'll notice about this AIO is its stability. The pump head is very big and has a square top made of acrylic that diffuses the light from the installable RGBs inside.
One of the best things about this is the CPU block. The pump that comes with it is the same one that EK advertises for custom loops, so it can move coolant around very quickly. This, along with the increased airflow throughout the fins, offers effective cooling.
It has a translucent white block and illuminates the system. It looks more like something you'd see in a full personalized loop. This is a good choice if you want a liquid cooler that is efficient and looks good.
Since EK only works with liquid cooling, they will spend a lot of time looking for potential problems. That means the tubing is put in very smoothly and is protected with a high-quality woven sheath.
EK outperforms NZXT and Corsair in terms of thermal performance. It has two EK-Vardar S fans with speeds ranging from 550 to 2,200 rpm and supports additional RGB PC parts for the fans.
Specification
Radiator Dimensions: 275 x 120 x 27 mm
Fan Speed: 550 – 2200
Tube length: 350mm
Socket compatibility: AMD and Intel
Fan CFM: 66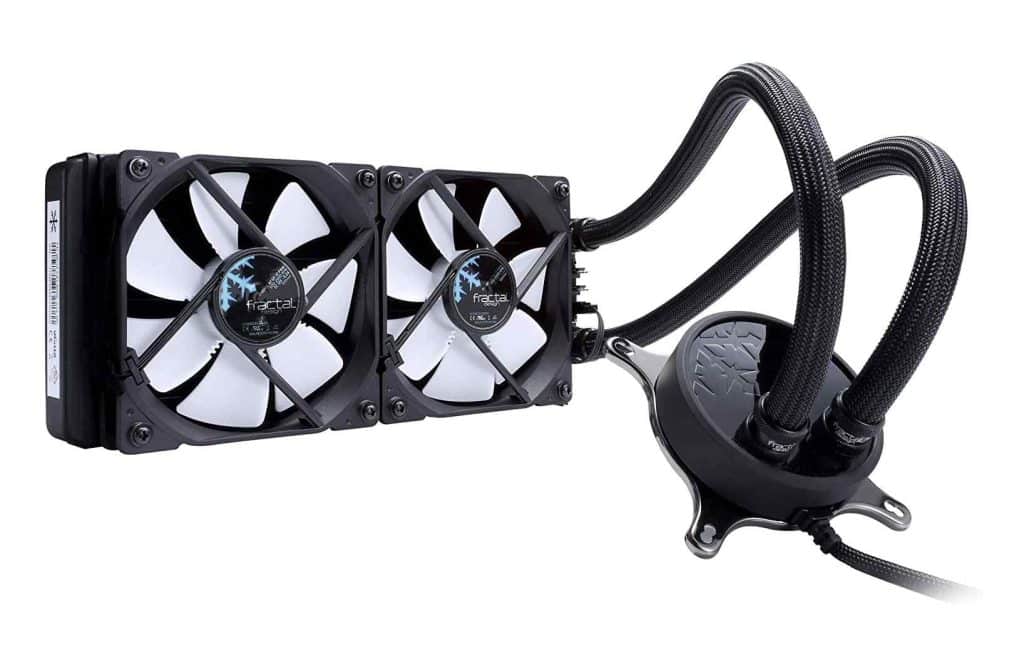 One of the very few PC manufacturers based in Europe is Fractal Design. The company produces a variety of liquid and air coolers, PSUs, and cases. Even the Celsius S24, which is one of their cheaper products, looks different because Fractal Design took some risks with its design.
You may probably predict what will be the main problem by checking the Fractal Design. Compared to other AIO coolers, the CPU block is significantly shorter. The chambers and pump have less area, significantly lowering the flow rating.
Although it will still be more effective than air cooling, if you're overclocking a processor with a high number of cores, it will struggle in a way that an EK or an NZXT Kraken would categorically not.
It has two Dynamic X2 GP-12 PWM fans on the inside, a hybrid that works well for static pressure and airflow. Unlike some other AIO coolers, they fit nicely on the top of the radiator and take up much less space between the corners.
This increases the area of the cooler that receives direct airflow. These fans are "almost silent," which is accurate at low speeds. However, at maximum speed (2000 RPM), they are fully 32db, putting them on a level with or just significantly quieter than most competitors.
Specification
Radiator Dimensions: 284 x 122 x 31 mm
Fan Speed: 500 – 2000 RPM
Noise: 32.2 dB(A)
How To Choose The Best 240mm AIO in 2023?
Both hard and soft tube water cooling alternatives are expensive and difficult to install for most people. So, it's not uncommon for people to look for an option that requires less effort.
However, what features should you look for when buying an AIO cooler? These characteristics can help you narrow your options as you look for the best product for your needs. Here is a comprehensive buying guide to help you acquire the best 240mm AIO in 2023.
Radiator Size
When looking for an AIO cooler, the radiator size is one important thing to consider. In most cases, an AIO cooler with a bigger radiator size will provide better cooling performance. Some standard radiator sizes are 360 mm, 280 mm, 240 mm, and 120mm.
When matched with each other, 360mm is the biggest size and offers the best cooling result. Interestingly, the radiator size directly influences the number of fans in an AIO cooler. If you have two 120 mm fans, it means you have a 240 mm radiator. On the other hand, if you have three 120 mm fans, you have a 360 mm radiator.
Fan Speed
The fan speed is another factor to consider that impacts the cooling performance. This is due to the fact that faster fans allow more air to flow, which usually means better cooling.
When shopping for AIO coolers, you can find fan speeds with different ranges, such as 800 RPM to 2500 RPM, 600 to 2200 RPM, and 500 to 200 RPM. The option with the highest fan speed rating (800 RPM to 2500 RPM) will usually provide the best cooling performance.
RGB Lighting
AIO coolers include RGB lighting, just like most contemporary computer hardware. Although RGB lighting doesn't influence the cooling system performance of the cooling, it undeniably improves the appearance of your computer. So, if you want to customize your AIO cooler, you should check to see if the one you want has RGB lighting options.
A few AIO coolers also have RGB fans, although most have RGB lights on the pump unit. Such AIO coolers give far better design and aesthetics within your computer. As a result, there is no need to buy RGB fans independently.
Noise Levels
Although AIO coolers are so much quieter than air coolers, they still make a bit of noise. When the pump works at its optimal level, it makes even more noise. Considering the noise level is important if you wish to have a quiet PC. For newbies, it is important to choose a noise level within 35 or 40 dB since it is quieter than a 50 dB noise level.
CPU Socket Compatibility
Another critical factor that should be taken seriously into consideration is CPU socket compatibility. Like any other CPU cooler you use on your computer, you must mount your AIO cooler on the motherboard. But you will only be able to do this if your AIO cooler is compatible with the CPU socket on your motherboard.
Therefore, you should check if the AIO is compatible with your CPU. Nowadays, the common CPU socket is the Intel and AMD sockets.
Warranty
For most people, a warranty is an important factor when choosing an AIO cooler. People want to invest in something that lasts for a long time. The same applies to 240mm AIO coolers.
When buying, ensure you check if the product has a manufacturer warranty. New entry AIO coolers usually offer a 2 to 3-year warranty. However, most high-end options offer up to a 5 to 6-year warranty. Remember, the longer the warranty, the more durable the product will be.
Frequently Asked Questions About 240mm AIOs
Does An AIO Cooler Work Well For Gaming?
Most modern games can be played at a reasonable frame rate using AIO coolers, which are affordable. They are the better option overall because they are more tolerant of different situations and cooler.
Will an AIO Cooler Leak?
As time progresses, AIO Coolers may develop leaks. If there is mechanical damage to your apparatus, the liquid can spill.
What's an AIO Cooler's Projected Life Expectancy?
The lifespan of an AIO cooler is typically 5 to 7 years. However, your device's longevity may vary depending on several external factors. Even though most manufacturers offer a basic AIO pump warranty of around 70000 hours, other factors such as usage, maintenance, and external temperature can affect that warranty.
Conclusion
Even if you have a high-end CPU, an AIO cooler, also known as an all-in-one cooler, is a full unit for cooling your computer's CPU. These CPU coolers are known as AIO coolers because they come pre-assembled with cooling fans, radiators, water pumps, and tubes, making them considerably simpler to use.
We've rounded up the top 7 best 240mm AIO coolers in 2023. The decision rests on choosing the AIO cooler that fits your purpose and budget.